Lovely crisp Scottish shortbread, made with just 4 simple ingredients! Simply mix and press into the pan. The unique twice-baked shortbread ensures perfect texture every time.
This Scottish Shortbread recipe was the WINNER of the
Pancake Princess' Best Shortbread Bake-Off!!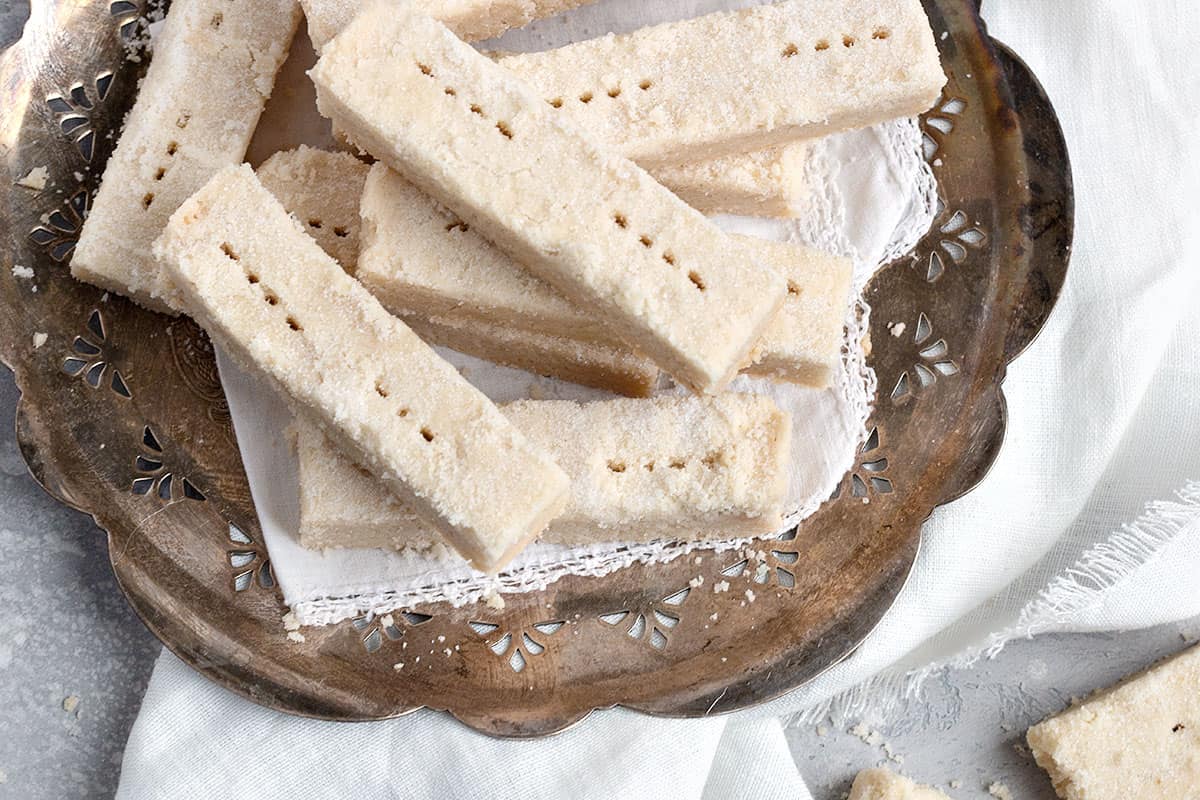 Jump to:
Why you'll love this Scottish Shortbread recipe
For me, there's just so much to love about Scottish Shortbread cookies, especially at Christmas. I love the thick cookie sticks, with its sandy texture and touch of crisp. They also tend to fall right in the middle on the sweet scale, which is just perfect for me.
I've made many, many batches, searching for the best Scottish Shortbread and this is where I have settled. Adapted from Michael Ruhlman, this recipe uses just 4 simple ingredients - all purpose flour, rice flour, good butter and sugar. The addition of rice flour is perhaps the biggest game-changer with these shortbread cookies. It produces a texture that's impossible to achieve with other additions or with simply regular flour.
Beyond the simple ingredients, I use a bit of a unique twice-cooked cooking method that ensures a lovely tender-crisp finished texture.
These cookies can be enjoyed on the day they are baked, but they only get better with each day that passes, so they are perfect for making ahead.
Recipe Ingredients
Butter - when it comes to shortbread, the better your butter, the better your shortbread! Buy the best butter you can find and if you can get your hands on some higher butterfat butter (such as Gay Lea's Baker's Gold (84% b.f. or Kerrygold 82% b.f.), definitely go for it. Alternately, just use the best butter you can find. This is no time for the value brand :)
You can use either salted or unsalted butter here, but my preference is always unsalted butter, as it tends to be the best butter. If using unsalted butter, you can add a pinch of salt to the cookie dough.
Rice Flour - rice flour is relatively easy to find and makes all the difference in these shortbread cookies. I highly recommend seeking it out and using for these cookies! Look for White Rice Flour from Bob's Red Mill or Clubhouse, among others or if you are in Canada, you'll easily find it at Bulk Barn. You don't want to use any rice flour labelled as "glutinous", as that is a different product.
If you absolutely can't find rice flour, you can substitute an equal amount of cornstarch (cornflour), though cornstarch will produce less crispy cookie.
All Purpose Flour - I prefer regular bleached all purpose flour for these cookies, as it produces a lighter coloured cookie, but unbleached all purpose flour will work here, as well.
White granulated sugar - this recipe is written for regular, white granulated sugar. If you like to experiment, instead of 1/2 cup regular white sugar, use 1/4 cup superfine white sugar and 1/4 cup regular white sugar. The superfine sugar does lovely things to the finished texture, though I found it a little too sweet when I tried all superfine sugar.
How to make Scottish Shortbread: In Photos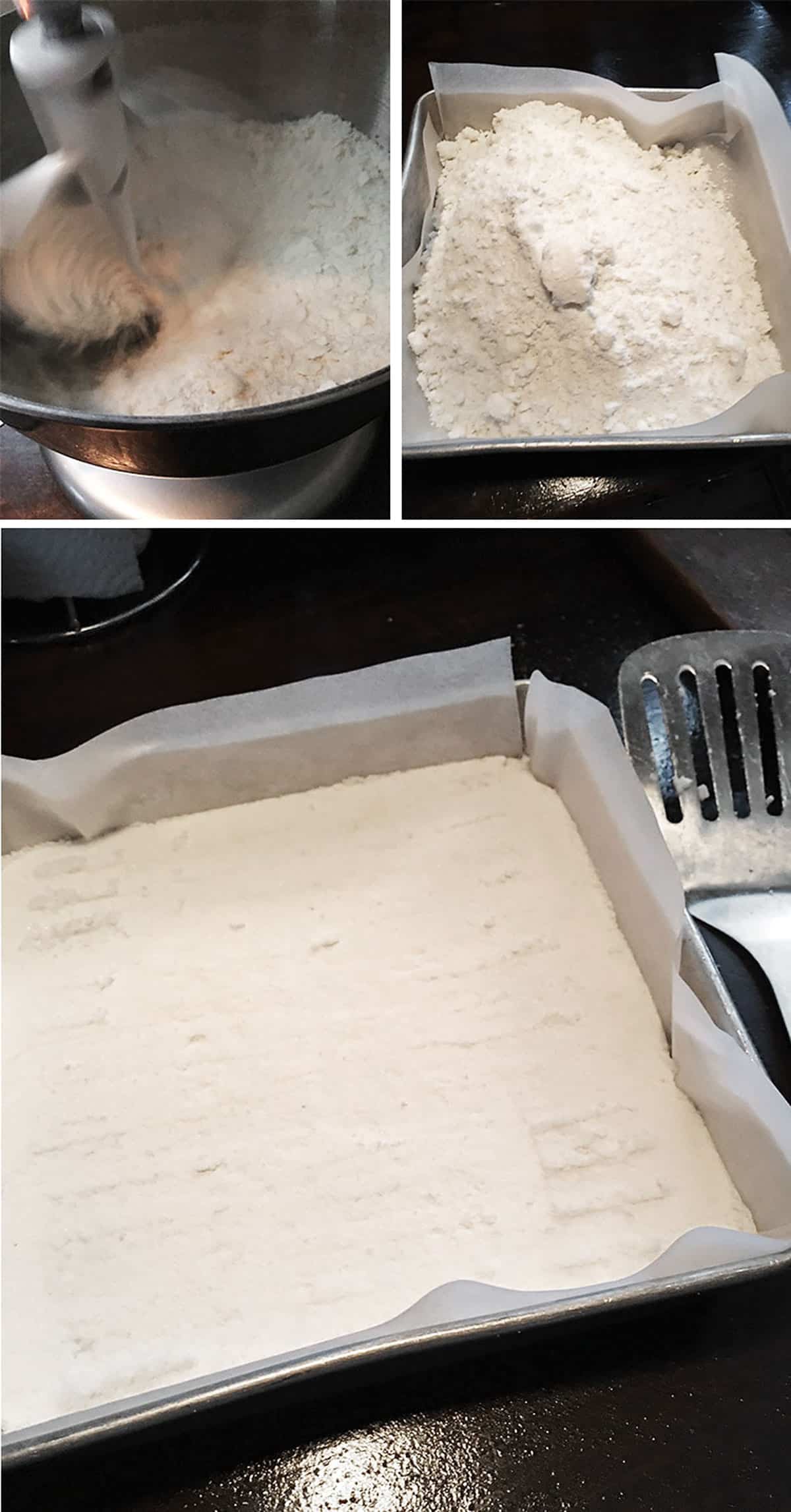 Don't expect this dough to really "come together" as you are mixing it. It will and should be sandy, with small, even-sized pieces of butter. If you squeeze a small bit together though, it should clump (you can see a "clump" in the process photo below where it's dumped into the pan. That is a clump, not a lump of butter on top.)
After adding to your pan, use your kitchen spatula to press down firmly into the pan. I've added some pictures just to assure you that yes, this is what it's supposed to look like :)
If by chance your dough has turned out more moist than shown here, it may be due to your butter having more moisture in it. As long as it isn't too moist (sticky), it will be fine. If your dough is sticky, you have likely not added enough flour (perhaps due to how you measured it). I would suggest adding a bit more flour, as needed, until the dough is no longer sticky.
Finally, if you dough doesn't clump at all (it's too dry), you have probably added too much flour. Again, it's probably due to how you measured the flour. I always recommend measuring flour using the stir, spoon and level method, for best results. To correct too dry a mixture, add a bit of water, a teaspoon at a time, until the dough clumps, as shown.
Cook's Notes
If your butter has a lot of moisture (less expensive butter tends to have more water in it), your dough may be more moist than is shown here. The cookies will still be fine, but with a slightly different texture.
For the final cooking period (with the oven off), leave in the oven for 30 minutes for crisp, but still light coloured cookies or 45 minutes for crispier, lightly golden cookies. I personally find about 40 minutes just perfect.
If you like, you can sprinkle a little white sugar on top of your cookies before the final baking.
As these cookies have a very fine texture, they are quite fragile and prone to breaking as you work through making them. If you are just making for yourself, no worries if one or two break, but if making these to gift, consider cutting smaller pieces (1-inch x 2-inch maybe) or even squares, so they will be less likely to break.
If you find your cookie sticks break in the middle, you can often "repair" them before the final cooking by simply pressing the two pieces together well. They will often mend together during the final bake.
Storage and Freezing
Shortbread cookies only get better with age, so my preference is to simply store at room temperature in an airtight container, such as a cookie tin. They will keep well for several weeks, so don't hesitate to make ahead.
While you can freeze these cookies, I always find that cookies tend to pick up some freezer flavours or slightly change in texture. As shortbread keeps so well at room temperature, for a quite long period of time, I would only freeze for much longer storage circumstances.
Variations
I'm a bit of a purist when it comes to shortbread cookies, but if you would like to dress up your shortbread, some people like to dip the bottom is melted chocolate.
Scottish shortbread is sometimes made with either all or part brown sugar. I haven't tried this myself, but if you are the experimenting type, you could try replacing half of the white sugar with brown sugar.
Recipe
More shortbread cookies you might also like ...
Save or share this recipe