Sup easy sheet pan shortbread cookies! Just mix, press into pan, bake and slice. Makes a big batch of cookies easily and they keep well for weeks.
It wouldn't be the holidays here if there wasn't some shortbread tucked away somewhere. This easy, sheet pan shortbread is just a simple, classic shortbread and a great one to fill up the cookie jar with and to enjoy with a cup of tea over the holidays. Or package it up for a lovely homemade gift.
The wonderful thing about shortbread is that it actually gets better as it sits, so make some early and enjoy them throughout the holidays!
Ingredients and Substitutions
Butter – Use a good quality unsalted butter! Shortbread cookies have very few ingredients and so each one of the is important. Bargain butter contains a high level of water, that can affect your cookie baking. If you can, get your hands on some high butterfat, premium butter (over 80%) for a real treat. If you don't have unsalted butter on hand, you can use salted butter, but omit the added salt in the recipe completely.
All-Purpose Flour – You can use unbleached or regular bleached all purpose flour here, but again, these will be best with a good quality flour.
Icing/Confectioners' Sugar – whatever you call it, this is the powdered white sugar. If you are familiar with making shortbread, you'll probably know that shortbread cookies made with icing sugar have a somewhat softer texture vs. the crispier texture of shortbread made with granulated sugar.
Cornstarch – also known as cornflour.
White granulated sugar – you'll need 1/4 cup or so to sprinkle on top of the cookies before baking.
Salt – additional salt is added as unsalted butter is specified in the recipe. As noted above, if you are using salted butter, OMIT the added salt.
Recipe Tips
Try and get your dough as level as possible when pressing into the pan, with no high or low spots, so it bakes evenly.
As this shortbread is lightly sweet, be generous with your sprinkling of granulated sugar on top after baking, to add the extra bit of sweetness to your cookies. Do this as soon as you take the cookies out of the oven and they are still hot, so the sugar will stick well.
Shortbread cookies get better (more flavour) with age, so don't hesitate to make ahead. These will keep in an airtight container for several weeks or you can freeze them.
I always think I can freehand the slicing process, but when I'm done and I see my wonky, crooked lines, I realize I should have used a ruler :) So … if you care about uniformly sized cookies and that sort of thing, take some time to measure, mark and use a straight edge to keep your cutting straight. The ideal cookie size is probably around 3/4″ wide by 3″ long for sticks, 1 1/2″ by 3″ for rectangles or 2″ by 2″ for squares.
Be sure to let your cut cookies cool completely in the pan before removing, to avoid breakage. The first piece is the hardest to get out and will often break. That's your "cook's sample", so enjoy! After that, use a wide spatula to gently lift the cookies out and you should be fine.
I have been known to twice-bake shortbread in the past. After cutting and removing from the pan, return them to a larger baking sheet spread apart a bit and bake a bit longer in a 325F. oven (10-15 minutes). The cookies will brown more, crisp up a bit and the butter flavour will become a little nuttier. It's also a great option if you find your cookies a little under-baked once you slice them.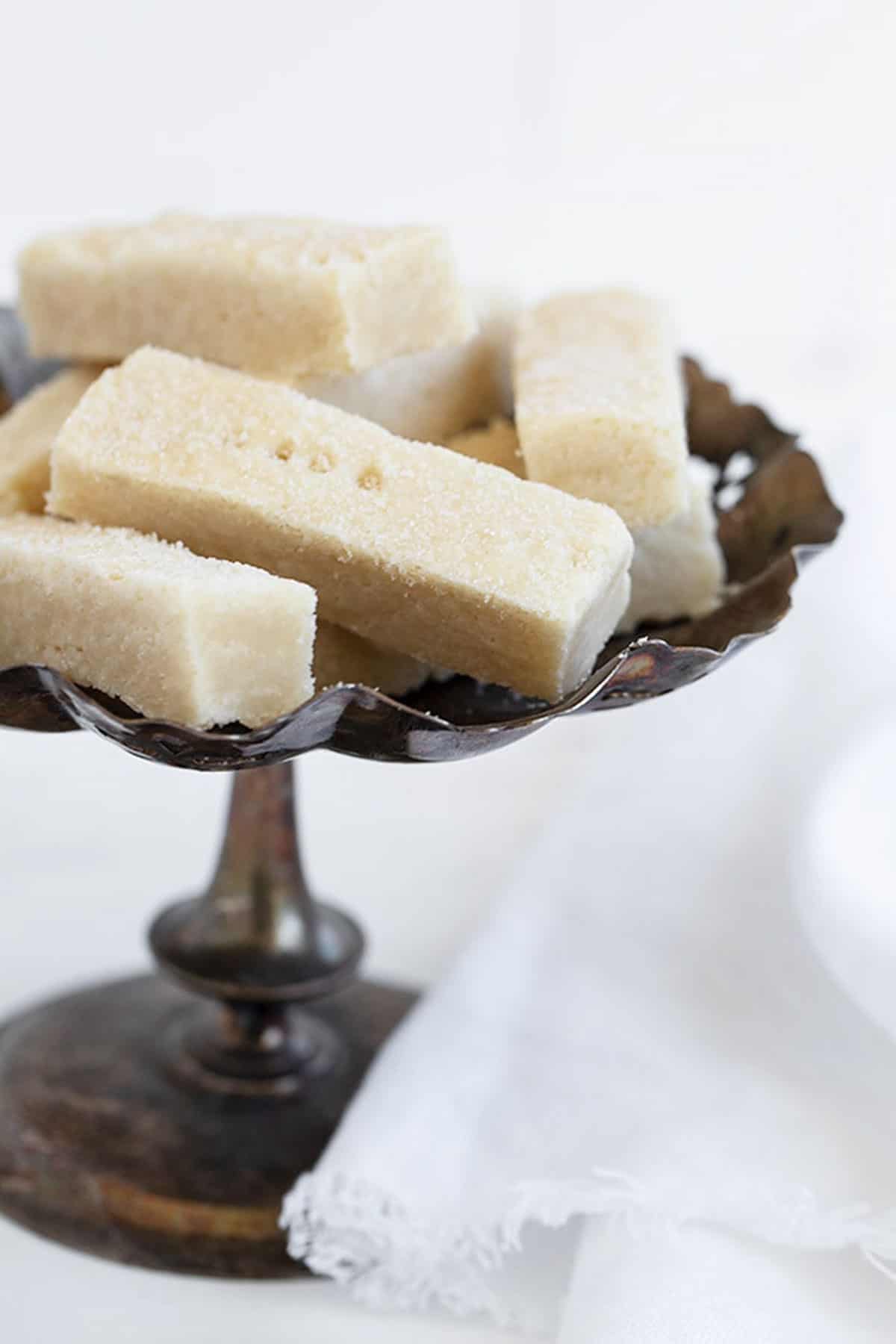 Making Ahead, Storing and Freezing
Shortbread cookies keep really well and in fact, get better with age! So don't hesitate to make these ahead. Store in an airtight container at room temperature for several weeks.
Shortbread cookies also freeze well, tightly wrapped, up to 2 months.
Easy and delicious shortbread cookies. Simply mix, press into a sheet pan, bake, cut, cool and enjoy! Makes 40-48 cookies
Ingredients
1

lb

butter

,

at room temperature

1

cup

icing/confectioners' sugar

3 1/2

cups

all purpose flour

,

spooned and levelled

1/2

cup

cornstarch

1

teaspoon

fine salt

,

omit if using salted butter
For topping after baking:
2

Tablespoons

granulated white sugar
Instructions
Take your butter out of the fridge to come to room temperature.

When ready to bake, preheat oven to 325F. (not fan assisted), with the rack in the middle of the oven. Ready a 9x13-inch baking sheet or pan. Metal baking pans are best, as they have sharper corners, though you can use glass if that's all you have. *If using a glass pan, reduce oven temperature to 300F.

In a medium bowl, whisk together the flour, cornstarch and salt (omit salt if using salted butter). Set aside.

In a large bowl with an electric mixer or the bowl of a stand mixer with a paddle attachment, cream the butter for a minute, then add the icing sugar and mix at medium speed, until smooth, 1-2 minutes. With the mixer on low, gradually add the flour/cornstarch mixture to the bowl and mix until well combined.

Spoon dough onto a 9x13-inch baking sheet or pan and press into an even layer. Get it as even as you can so it will cook evenly. Use a fork to poke liberally into the dough every couple of inches, being sure to poke right to the bottom of the pan.

Bake in preheated oven for 40-45 minutes, or until just starting to take on a golden colour. Remove from oven and immediately sprinkle the top of the cookies liberally with granulated white sugar. While still hot, slice the cookies into desired shape in the pan. For the classic stick shape, aim for about 3/4" wide by 3" long. Allow the cookies to completely cool in the pan before attempting to remove from the pan. If you try to remove the warm, they will probably break.

Remove cookies to a cooling rack (even though they are already cool). Allow to stand for about an hour to dry out a bit more, then store in an airtight container. Cookies will keep well for several weeks and will actually develop more flavour the longer they sit. You can also freeze these cookies.
Notes
Be sure to read the notes above the recipe card for more tips for making this recipe.
Serving:
1
serving
,
Calories:
141
kcal
,
Carbohydrates:
13
g
,
Protein:
1
g
,
Fat:
9
g
,
Saturated Fat:
6
g
,
Cholesterol:
24
mg
,
Sodium:
140
mg
,
Potassium:
14
mg
,
Fiber:
1
g
,
Sugar:
4
g
,
Vitamin A:
283
IU
,
Calcium:
4
mg
,
Iron:
1
mg
Hi! I'm Jennifer, a home cook schooled by trial and error and almost 40 years of getting dinner on the table! I love to share my favourite recipes, both old and new, together with lots of tips and tricks to hopefully help make your home cooking enjoyable, stress free, rewarding and of course, delicious!