Delicious dried apple scones recipe, with cream cheese for flavour and moistness. Also, how to make the dried apples at home in your oven!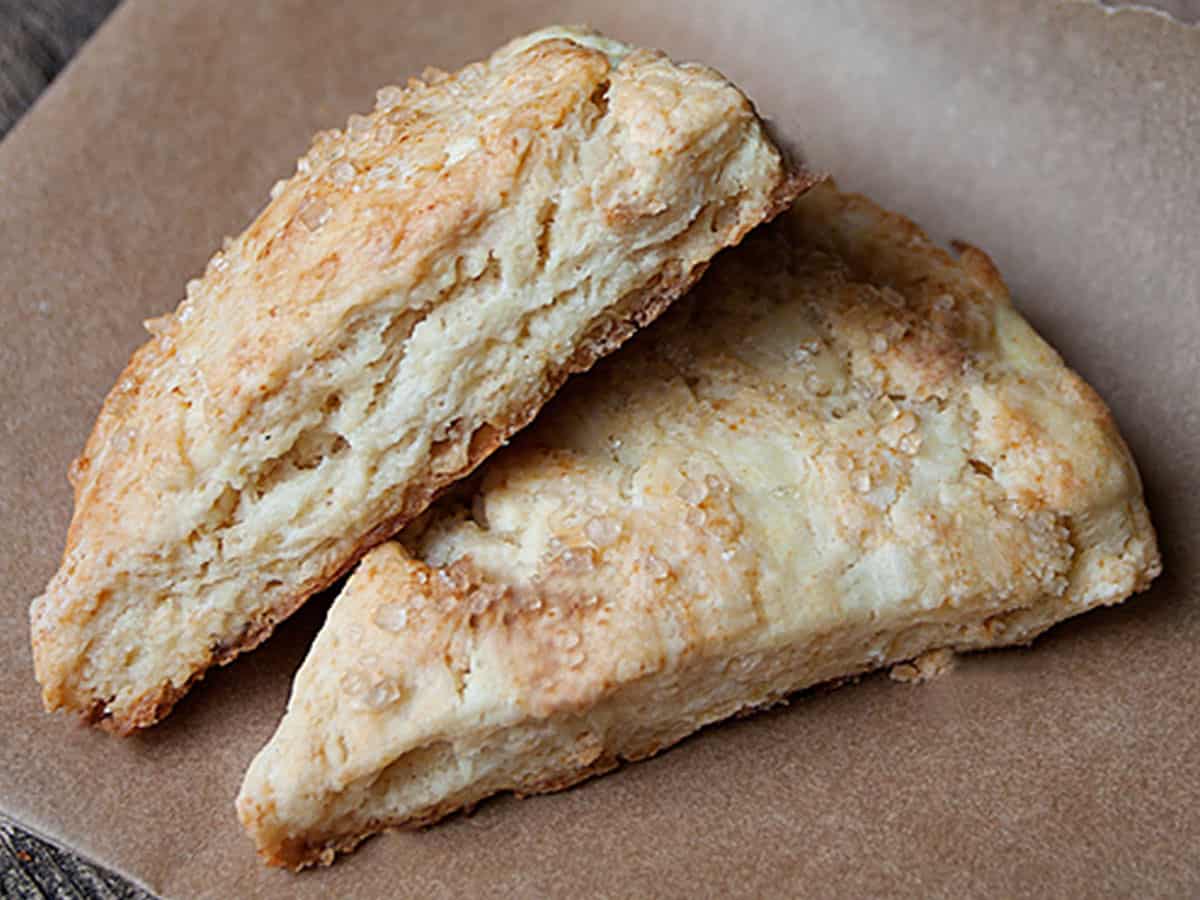 If you've never tried scones with cream cheese, you don't know what you're missing. They are incredibly moist and full of flavour. Since it's Fall, I wanted to add a little apple, but I was worried the extra from the apples might affect the texture of the scone. Dried apples seemed like the answer, so I made a small batch at home.
How to Make Dried Apples at Home in Your Oven
This method will make de-hydrated, but soft dried apples, that you can use for baking, mixing into granola, yogurt or oatmeal or snacking. Try dipping them in caramel or peanut butter.
• Preheat your oven to 175° F. (or as low as your oven will go if it doesn't go down to 175)
• Place a baking rack on top of a baking sheet and set aside.
• In a large bowl, combine the juice of one lemon with an equal amount of water (I just eye-balled it).
• Peel and core 4 or 5 apples. Any variety of apple is fine. Slice into slices.
• Put the apple slices into the bowl with the lemon juice and toss to thoroughly coat the apples.
• Remove apples to a sheet a paper towel and pat the top of the apples dry, as well.
• Transfer the apples to your prepared baking rack.
• Place in the oven and allow to bake for 5 to 6 hours.
(*Every once in a while I would open the oven door for a few seconds to allow any moisture building up in the oven to escape. Not sure it's really necessary, but if you're walking by anyway, it can't hurt).
Dried Apple and Cream Cheese Scones
The cream cheese in these scones ensure they are always moist, while the sweet, dried apples add great flavour. If you find the dried apples difficult to dice, simply tear them into small pieces.
Ingredients
3 1/4

cups

all-purpose flour

1/2

cup

granulated white sugar

2 1/2

tsp.

baking powder

1/2

tsp.

salt

8

oz

cream cheese

,

cold

1/2

cup

unsalted butter

,

cold

3/4

cup

diced dried apples

,

not apple chips though (home made or store-bought)

1

large

egg

2

tsp.

vanilla

1/4

cup

milk

,

plus 1 to 2 tablespoons more, if needed

Sparkling or demerara sugar for garnish

,

optional
Instructions
Preheat your oven to 400° F. and prepare an ungreased baking sheet by lining with parchment paper or a silpat.

In a medium-sized bowl, whisk together the flour, sugar, baking powder and salt. With a pastry blender or a fork, cut in the cream cheese and butter, until the chunks of butter are the size of peas. Stir in the dried apples.

In a separate small bowl, whisk together the egg, vanilla and milk. Add these wet ingredients to the dry mixture and stir with a fork until the dough is evenly moistened.

Turn the dough out onto a floured piece of parchment paper and fold the dough over onto itself several times, until it holds together. Pat the dough into a 3/4″ thick square or circle.

Cut the dough into desired size of squares, wedges, or diamonds.

Brush the tops lightly with milk and sprinkle with sparkling white or demerara sugar. Place the scones about 2 inches apart on the prepared baking sheet.

Bake for 18-20 minutes, until the tops are light golden brown. Serve hot, with butter or jam.
Nutrition
Calories:
176
kcal
Carbohydrates:
26
g
Protein:
3
g
Fat:
6
g
Saturated Fat:
3
g
Cholesterol:
28
mg
Sodium:
68
mg
Potassium:
115
mg
Sugar:
6
g
Vitamin A:
205
IU
Calcium:
45
mg
Iron:
1.3
mg
Nutritional information provided for general guidance only and should not be relied upon to make personal health decisions.
Never miss a new recipe!
SIGN UP for email updates!