This easy, no-mixer required strawberry cake is wonderfully moist and buttery and topped with macerated strawberries. Ready in just 30 minutes start to eating!
This recipe was the NYT Recipe of the Day last week and happened to arrived in my inbox at the precise time I was dealing with a quart of fresh strawberries that needed using.
This super easy strawberry cake (no mixer required!) was so delicious I just needed to spread the word as local Ontario strawberry season has just begun. Not only was it a perfect use for my strawberries, I could see how it could be delicious with other summer fruit as the season goes on, as well.
Ingredients
Here are the simple ingredients you will need for this cake …
Strawberries – fresh strawberries will produce the best results, but thawed frozen strawberries will work as well
Light brown sugar – dark will work if that's all you have on hand
Unsalted butter – or salted will work, but reduce the added salt as noted in the recipe
Whole milk – for best results, though 2% will work in a pinch. I haven't tested this recipe with non-dairy alternatives
Salt
All-purpose flour
Baking powder
Vanilla ice cream, for serving, optional
Step by Step Photos

Add brown sugar to smashed strawberries. Stir and let stand.

Combine the melted butter, sugar and milk.

Whisk the mixture together well.

Add the flour and baking powder.

Whisk the mixture well, until smooth.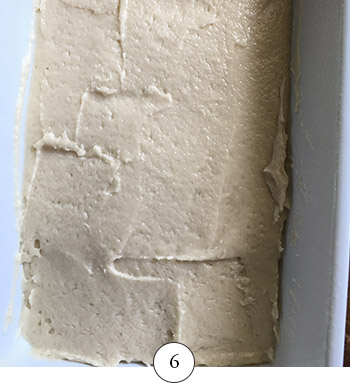 Spread the batter into the baking dish and level the top.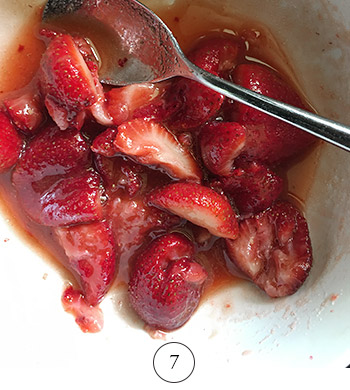 Stir the macerated strawberries after they have sat.

Spoon the macerated strawberries over-top of the batter and bake.


Tips
This is a great recipe to use up strawberries that are just slightly past their prime. As you will be smashing, macerating and baking them, you don't need to start with perfect berries.
You just want to smash the strawberries, not mash then. Use the back of a fork to press down and flatten them, just until the juices are released, but the berries keep a bit of shape.
I used a smaller pan here (8.5 x 5.5-inch), which resulted in a thicker cake. You can use any pan that you have in that approximate range though, from an 8×8-inch round or square, to even a pie plate.
If you opt for the thicker cake in a smaller pan, note that it will take longer to cook through. Likewise, a larger pan and thinner cake will cook more quickly. Anywhere from 20 minutes to 35 minutes. Cook until a tester comes out clean. My smaller pan took about 35 minutes to bake.
This dessert is best enjoyed mixed, baked and enjoyed warm from the oven. It probably isn't the best choice for making ahead. If you pop this one in the oven while you're eating your main course, it will be ready to enjoy for dessert.
Serve this warm with some vanilla ice cream.
Top Tip
This recipe could easily be adapted for different fruits. Similar tender fruits such as apricots and peaches would work perfectly. I suspect raspberries and blueberries would work nicely. A harder fruit like apple may need a slight pre-cooking before topping. A mixture of fruits (think peach with blueberries or raspberries!), would also be great.
Get the Recipe:

Quick and Easy Strawberry Spoon Cake
Warm and buttery cake, topped with strawberries. You can use fresh or frozen strawberries.
Ingredients
8

oz

strawberries

,

hulled, fresh or frozen and thawed

1/3

cup

light brown sugar

,

packed, 75g

1/2

cup

unsalted butter

,

melted, 115g

1/2

cup

whole milk

,

at room temperature 120ml

1/2

tsp

coarse kosher salt

,

use 1/4 tsp if you used salted butter. For fine table salt use 1/4 tsp for unsalted butter or just a pinch for salted butter

1

cup

all-purpose flour

,

130g

1/3

cup

light brown sugar

,

packed, 75g

1

tsp

baking powder

Vanilla ice cream

,

for serving, optional
Instructions
Preheat oven to 350F and grease an 8-inch (square or round) baking dish. Set aside.

Using the back of a fork, mash the berries to release all their juices. Stir in 1/3 cup of the brown sugar. Set aside.

In a medium bowl, whisk together the melted butter, 1/3 cup brown sugar, milk and salt. Add the flour and baking powder and continue whisking just until the batter is smooth.

Transfer the batter to the greased baking dish, and spread evenly into corners. (It will be a think layer if using the 8x8 pan). Spoon the strawberries and all their juices over the top of the cake batter. *I like to kind of mound them up in the centre, leaving the outside edges bare.

Bake in preheated over for 20 to 35 minutes, or until a tester comes out clean when inserted into the cake near the centre (avoid poking through a strawberry). *An 8x8 pan will bake for a shorter time (20-25) minutes. A smaller pan, like I used will produce a thicker cake that will take longer to bake. Mine here took about 35 minutes to test clean.

Remove from the oven and allow to cool for 3 to 5 minutes before spooning into bowls. Serve warm with ice cream.
Notes
Nutritional information does not include optional vanilla ice cream, for serving.
Calories:
247
kcal
,
Carbohydrates:
33
g
,
Protein:
2
g
,
Fat:
12
g
,
Saturated Fat:
8
g
,
Cholesterol:
32
mg
,
Sodium:
160
mg
,
Potassium:
168
mg
,
Fiber:
1
g
,
Sugar:
20
g
,
Vitamin A:
379
IU
,
Vitamin C:
17
mg
,
Calcium:
70
mg
,
Iron:
1
mg
More strawberries desserts you might like …
Easy Strawberry Pot Pie
Strawberry pie the easy way! This Strawberry Pot Pie uses store-bought puff pastry for topping, with lots of juicy strawberries underneath.
Rustic Strawberry Shortcake Cake
This Rustic Strawberry Shortcake Cake is classic strawberry shortcake in cake form! With a biscuit-like dough and filled with fresh strawberries.