These easy baked beans start with canned navy beans, that combine with bacon, onion and a simple sauce. A great Summer side dish!
I feel like I have had a bit of a bean obsession this past while, with my classic, long-cooking oven baked beans, then this delicious pork and beans dish. What can I say? I like baked beans :)
This one though is a little different. I think of these as Summer baked beans, as they start with canned navy beans, so they don't need any soaking or lots of hours in the oven.
Unlike some easy baked beans, these ones don't start with cans of baked beans, but rather canned navy beans. Added to the beans is a simple sauce, with your favourite BBQ sauce, ketchup, brown sugar, molasses and some dried mustard. Add some bacon to the mix and pop into the oven for about 2 hours.
These are perfect BBQ beans, alongside your Summer grilled sausage, pork chops, hot dogs or whatever you are grilling up.
Jump to:
Ingredients
Canned navy beans - these vary in size, but anywhere from 14-16 oz cans will work here. You could also use canned pinto beans. And of course, you can soak/boil your own navy beans from dried, if you like.
Bacon - just a couple of slices. Omit for a vegetarian version,
Onion
Ketchup
BBQ Sauce - your favourite store-bought or homemade
Brown sugar
Molasses - Fancy molasses is recommended. Cooking molasses may work, though I haven't tested it. I wouldn't recommend blackstrap molasses, as it is too strong and bitter.
Dried mustard powder - or use about 1 Tbsp of prepared, yellow mustard, in a pinch
Chicken broth - for some cooking liquid with some flavour. In a pinch, you could just use water.
Step-by-Step Photos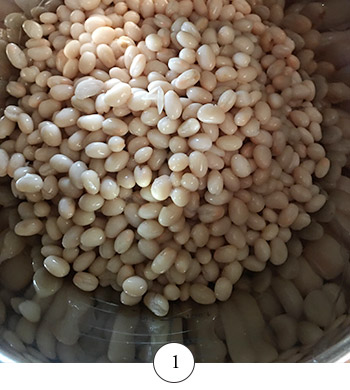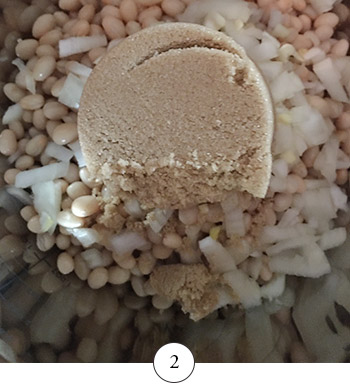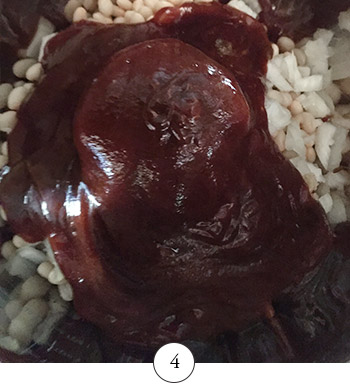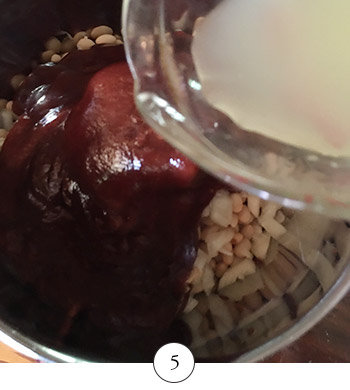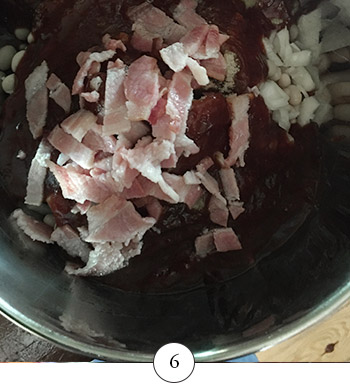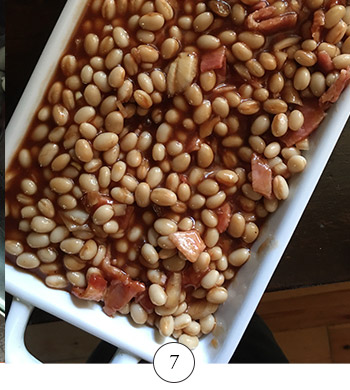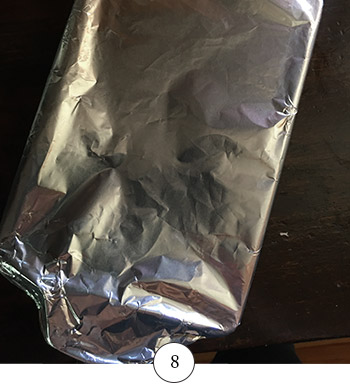 Tips
As noted above, depending on the brand of canned navy beans, they might be 14 -16 oz cans, but they may be up to 19oz. cans in some cases. I love the Eden organic brand when I can find them, which are 14oz. Using two 14oz cans (28oz total) will produce a nicely saucy bean dish.
If you have canned navy beans that are larger, you can do one of two things to keep the bean to sauce ration in order. If it's just a bit larger (up to 16oz), don't worry about it. Just use as is. If they are quite a bit larger, like the 19oz cans, you may want to make some adjustments to keep the dish saucy. You can either hold back some of the extra beans (remove and reserve for another use) or increase the sauce by 50%-ish. That said, if you don't want to do either of those things, even with the extra beans, it will still be a nice dish. I just like my beans good and saucy :)
Use your favourite BBQ sauce. I have used Stubb's Original or Sweet Baby Rays, both of which are good. Any BBQ sauce you enjoy will work well. Sometimes, if I have a couple of bottles around, I will use a combination of BBQ sauces.
Speaking of BBQ Sauce, I have experimented a bit with the ration of BBQ to Ketchup, sometimes using 2/3 BBQ sauce and 1/3 ketchup, depending on the particular BBQ sauce I was using. You may wish to experiment a bit with your favourite BBQ sauce. You want the BBQ sauce flavour to be forward, but not overwhelming.
I like to pre-cook the bacon, simply to cook off some of the fat (so I don't get too much added to the beans as they cook). That is really just my preference. You can add un-cooked, diced bacon to the beans and the bacon will cook in the beans, if you prefer. You could also lay a couple of strips over the top of the beans, as an option.
You can cook these beans early in the day (when it's cooler to put the oven on!) and re-heat for dinner. Simply bake off, cool slightly, then cover and refrigerate. Remove from the fridge a bit ahead, then simply cover with foil and pop into a 350F oven until warmed through, about 20 minutes or so.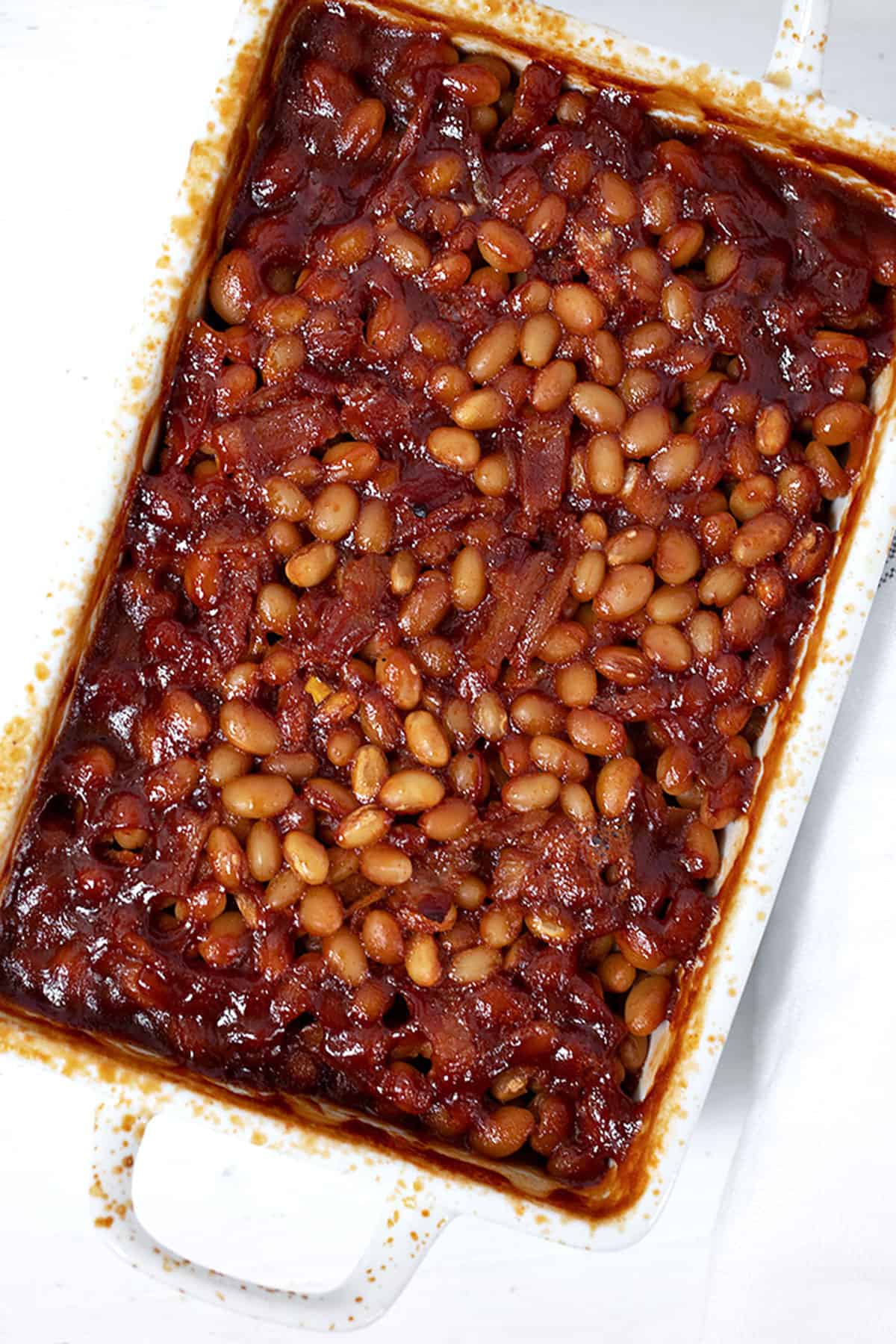 Recipe