This Flourless Chocolate Cake channels the finest truffle, with rich chocolate taste and silky smooth texture.
I have made a number of flourless chocolate cakes over the years, but all of them were comprised of using just egg whites that were folded into the chocolate. This Flourless Chocolate Truffle Cake caught my eye since it uses whole eggs, that are whipped up to frothy goodness before being folded into the chocolate.
The result? Rich chocolate taste and a silky, truffle-like texture. This is a chocolate lovers cake and perfect for any special occasion.
The other bonus of this cake is that it can (and should) be made ahead and left in the fridge to set. Simply remove from the fridge 30 minutes before serving and enjoy.
Cook's Notes
Use the best quality chocolate you can find. You'll need a full pound (16oz). for this one.
Don't rush the whipping of the eggs. You want them to be frothy before folding, carefully so as to not deflate, into the chocolate.
The cake will look very jiggly when it's ready to take from the oven. It will firm up as it cools.
You can make this one in a 9-inch springform pan if that's all you have. Reduce the cooking time to 18-20 minutes.
Feel free to dress this one up with edible flowers, as I've done here or a dusting of cocoa powder or very finely chopped nuts.
As this is very rich, only a small slice is needed. It's lovely as it, but also would be nice with ice cream or a fruit sauce, such as raspberry.
An instant-read thermometer is super handy here to test the cake for readiness to remove from the oven. Eliminate the guessing!
Seasons and Suppers Recommends
Want to add an Instant Read Thermometer to your kitchen? This one would fit the bill perfectly, at a great price!
Waterproof Digital Instant Read Meat Thermometer
Disclosure: Seasons and Suppers is a participant in the Amazon Services LLC Associates Program, an affiliate advertising program designed to provide a means for sites to earn advertising fees by advertising and linking to amazon.com.

Adapted from a Cook's Illustrated Recipe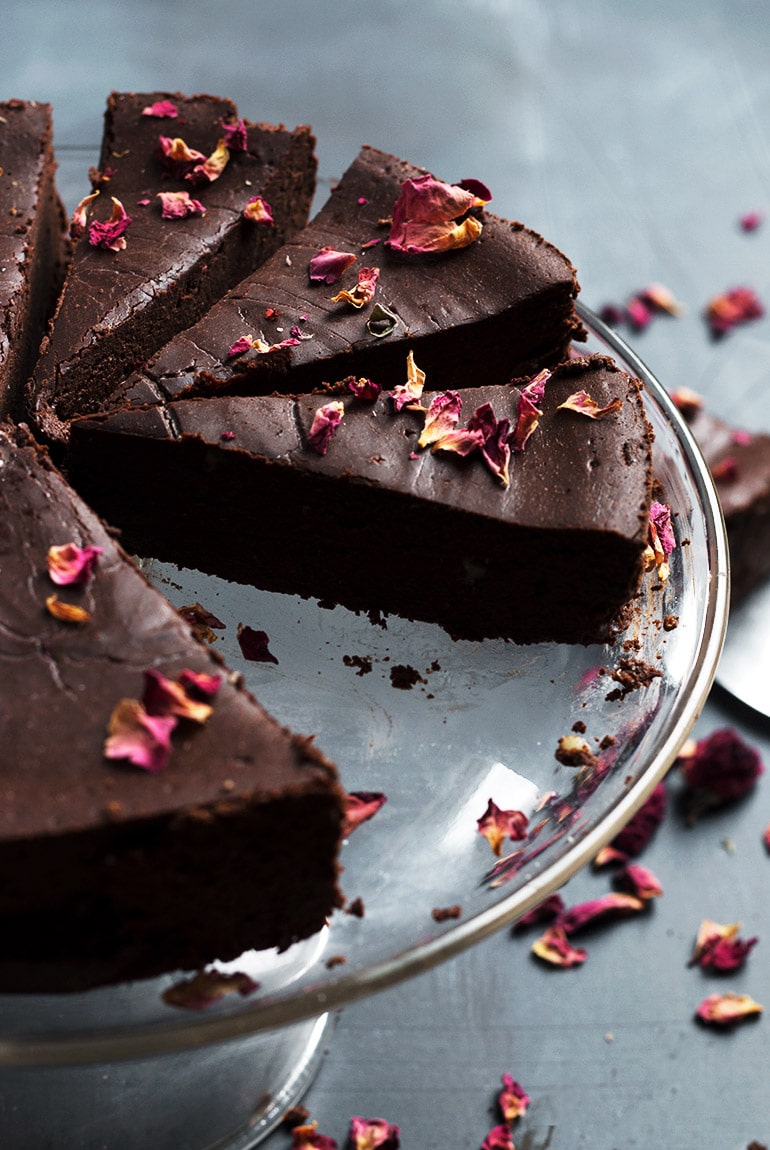 Flourless Chocolate Truffle Cake
Rich, chocolate cake, with the texture of chocolate truffles. Gluten free, too!
Ingredients
8

large

eggs

,

cold

1

lb

high-quality bittersweet or semisweet chocolate

,

coarsely chopped

16

Tbsp

unsalted butter

,

cut into 16 pieces

1/4

cup

strong black coffee or liqueur

,

optional

Confectioners' sugar or unsweetened cocoa for dusting the cake

,

optional
Instructions
Adjust an oven rack to the lower-middle position and heat the oven to 325 degrees F.

Line the bottom of an 8-inch springform pan with parchment paper and grease the sides of the pan. Wrap the outside of the pan with 2 sheets of heavy-duty foil and set it in a large roasting pan. Bring a kettle of water to a boil.

Beat the eggs in the bowl of a standing mixer at high speed until the volume doubles, about 5 minutes.

Meanwhile, melt the chocolate and the butter (adding the coffee or liqueur, if using) in a large heatproof bowl set over a pan of almost-simmering water until smooth and very warm (about 115 degrees on an instant-read thermometer), stirring once or twice.

(To melt in the microwave, heat the chocolate in a microwave-safe bowl at 50 percent power for 2 minutes, stir, add the butter and coffee, if using, and continue heating at 50 percent power, stirring every minute until the chocolate and butter have melted and are smooth, another 2 to 3 minutes total).

Fold a third of the egg foam into the chocolate mixture using a large rubber spatula until only a few streaks of egg are visible. Fold in half the remaining foam, then the last of the egg foam, until the mixture is totally combined with no visible egg.

Scrape the batter into the prepared springform pan and smooth the surface with a rubber spatula. Set the roasting pan on the oven rack and pour in enough boiling water to come about halfway up the sides of the springform pan. Bake until the cake has risen slightly, the edges are just beginning to set, a thin glazed crust (like a brownie) has formed on the surface, and an instant-read thermometer inserted halfway into the center of the cake reads 140 degrees F., 22 to 25 minutes. Remove the cake pan from the hot water bath and set on a wire rack. Cool to room temperature, then cover and refrigerate overnight to set. (The cake can be covered and refrigerated for up to 4 days.)

About 30 minutes before serving, remove the sides of the pan, invert the cake onto a sheet of wax paper, peel off the parchment paper, and reinvert the cake onto a serving platter. Sieve a light sprinkling of confectioners' sugar or cocoa powder over the cake to decorate. To slice, use a sharp, tin-bladed knife, dipping the knife into a pitcher of hot water and wiping the blade before each cut.
Notes
Be sure to read the "Cook's Notes" in the original post, for more tips, options, substitutions and variations for this recipe!
Nutrition
Calories:
306
kcal
Carbohydrates:
15
g
Protein:
5
g
Fat:
25
g
Saturated Fat:
14
g
Cholesterol:
137
mg
Sodium:
44
mg
Potassium:
203
mg
Fiber:
2
g
Sugar:
10
g
Vitamin A:
520
IU
Calcium:
37
mg
Iron:
2.3
mg
Nutritional information provided for general guidance only and should not be relied upon to make personal health decisions.
Never miss a new recipe!
SIGN UP for email updates!