A lovely fresh cherry yeast bread, with raisins and walnuts. You can start with fresh sweet cherries or frozen cherries.
I love to bake bread year round, even in my warmer summer kitchen. I will often bake in the evening though, when things cool down a bit. And in the summer, I love to add fresh fruit into my yeast bread.
This cherry bread is a great example, needing only a handful of fresh cherries or some thawed frozen cherries. Add in the raisins and walnuts and it's a wonderfully, flavourful bread. This bread is lovely eaten warm or toasted with butter, but you haven't really lived until you've tried it paired up with turkey and havarti for a great sandwich!
Jump to:
Ingredients
Here are the simple ingredients you will need for this bread ...
All-purpose flour
Salt
Instant yeast - regular instant yeast such as SAF brand, not rapid or quick rise yeast. You can also use active dry yeast. See the recipe card Notes for how to substitute active dry yeast.
Sugar
Vegetable or canola oil - or butter
Water
Raisins
Walnuts
Fresh sweet cherries - or frozen cherries, thawed completely and dried well
Cook's Notes
As with all yeast bread recipes, the flour amount you will need to add is "approximate". Simply add as much as you need to make a smooth, moist dough. The dough should not be sticky, but will be quite moist.
If you are new to yeast bread baking, you may wish to read my resource page "Getting Started with Yeast Bread Baking", for my best tips on baking bread.
Be sure to cover the top of the loaf loosely with foil after about 25 minutes of baking, so the loaf doesn't over-brown. This large, fruit filled loaf will need a total of 50-60 minutes in the oven. Use an instant read thermometer to test it for done-ness. It should reach at least 190F.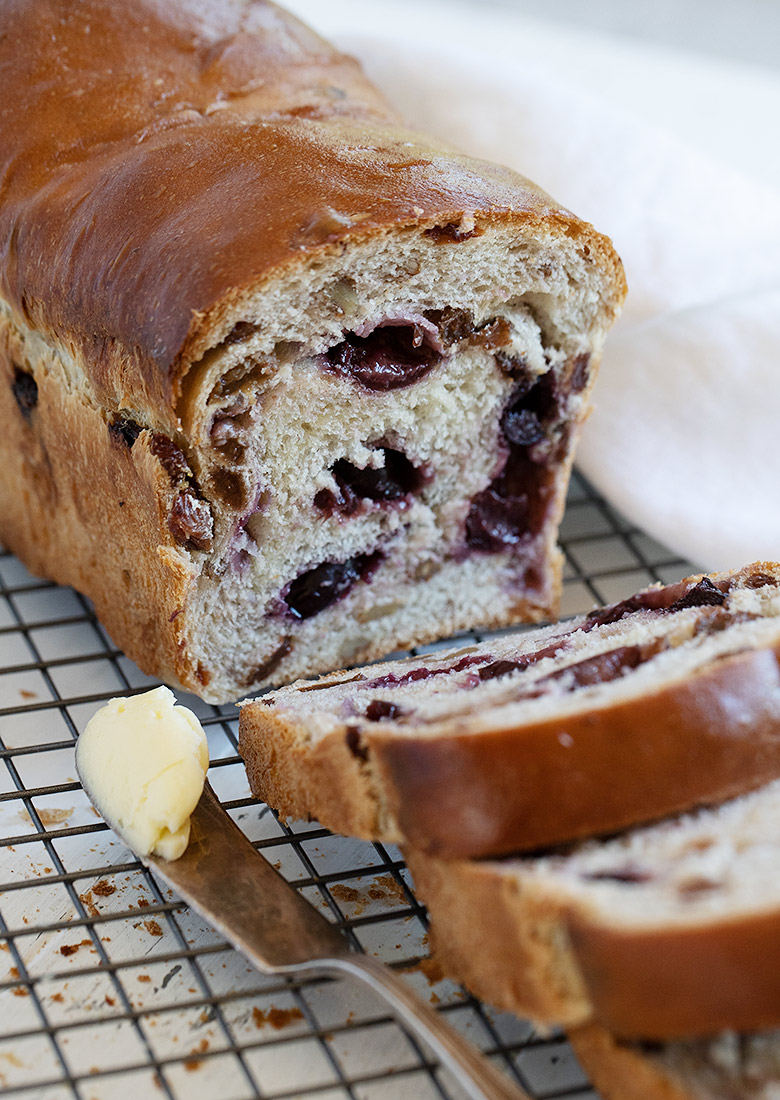 Recipe
More cherry recipes you might like ...