A quick, easy and delicious raspberry cake, flavoured with buttermilk and studded with fresh (or frozen) raspberries. A perfect dessert any time of year.
Whenever I find myself with raspberries and I'm in the mood for a little baking, this is the cake I make! I first discovered this cake in Bon Apetit and have made it countless times since. It's lightly sweet and loaded with fruit, so it's a perfect slice any time of day.
Serve simply with a dusting of icing sugar or dress it up for a lovely dessert, with a dollop of whipped cream (or vanilla iced cream), if you like.
Jump to:
Ingredient Notes
All Purpose Flour - This is regular all purpose baking flour, sometimes known as plain flour. I have not tested this recipe with gluten free flour, but I suspect a cup-for-cup gluten free blend should work here.
Butter - You can use salted or unsalted butter here. If using salted butter, you may wish to reduce the amount of added salt slightly.
White Sugar - You can reduce the added sugar somewhat, if you prefer. I wouldn't suggest going below 1/2 cup of added sugar here.
Buttermilk - Buttermilk is lovely for a nice tangy flavour to your cake. If you don't have any on hand, you can make your own, by measuring out 1/2 cup of regular milk and adding 1 1/2 tsp of either lemon juice or white vinegar to the milk. Let stand 10 minutes, then use. I haven't tested this recipe with alternative milk substitutes, though I suspect they should work here cup for cup.
Raspberries - You can use fresh or frozen raspberries here. If frozen, use from frozen and allow a little extra baking time, as the batter will stay cooler longer. If will often add more than the 1 cup recommended, though I would go beyond 1 1/2 cups of fruit.
You will also need - egg (1), baking powder, baking soda, salt.
Step-by-Step Photos
Start this cake by creaming together softened butter with the sugar. Add the vanilla and egg and beat together.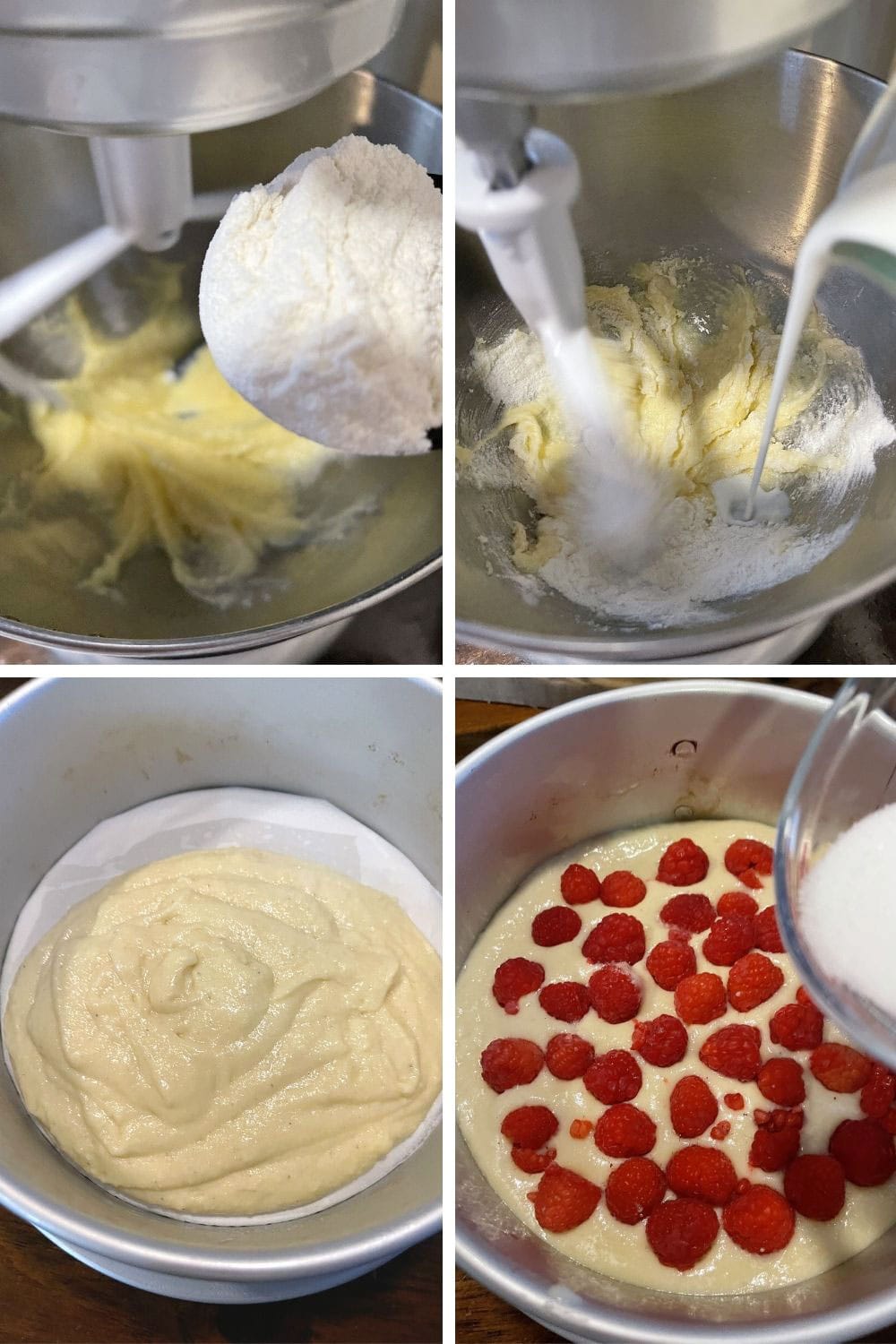 Add the flour mixture alternately with the buttermilk and mix until combined. Spoon into an 8-inch springform pan. Top with fresh raspberries and sprinkle with some white sugar. Bake.
Baker's Notes
An 8-inch springform pan is perfect for this cake. If you don't have an 8-inch springform, a 9-inch cake pan would be the next choice. The cake will be a little thinner, but I'm not sure an 8-inch cake pan (with it's shorter sides), will hold all the batter safely.
Lining the bottom of your springform pan with parchment ensures that it can be easily removed from the pan after baking. If you aren't concerned about presentation on a plate, you can just grease well and skip the parchment,
Every oven is different and darker coloured baking pans will speed up the baking process. As such be sure to check on your cake often during the last part of baking, as yours may cook more quickly. Likewise, be sure to test the cake with a cake tester inserted in the centre of the cake before removing from the oven. The tester should come out clean.
Top Tip! Try this delicious cake with other berries, as well. Blackberries or blueberries would also be lovely.
Storage Notes
This cake keeps well wrapped and stored at room temperature. It should be good for a couple of days. It does become more moist as it sits, as the moisture of the fruit will seep into the cake crumb.
This cake would also freeze well, tightly wrapped, for up to a month.
Recipe
More raspberry cake recipes you might like ...