Garlic Naan bread is so easy to make at home and this recipe makes a dozen delicious herb and garlic naan. They freeze beautifully, too!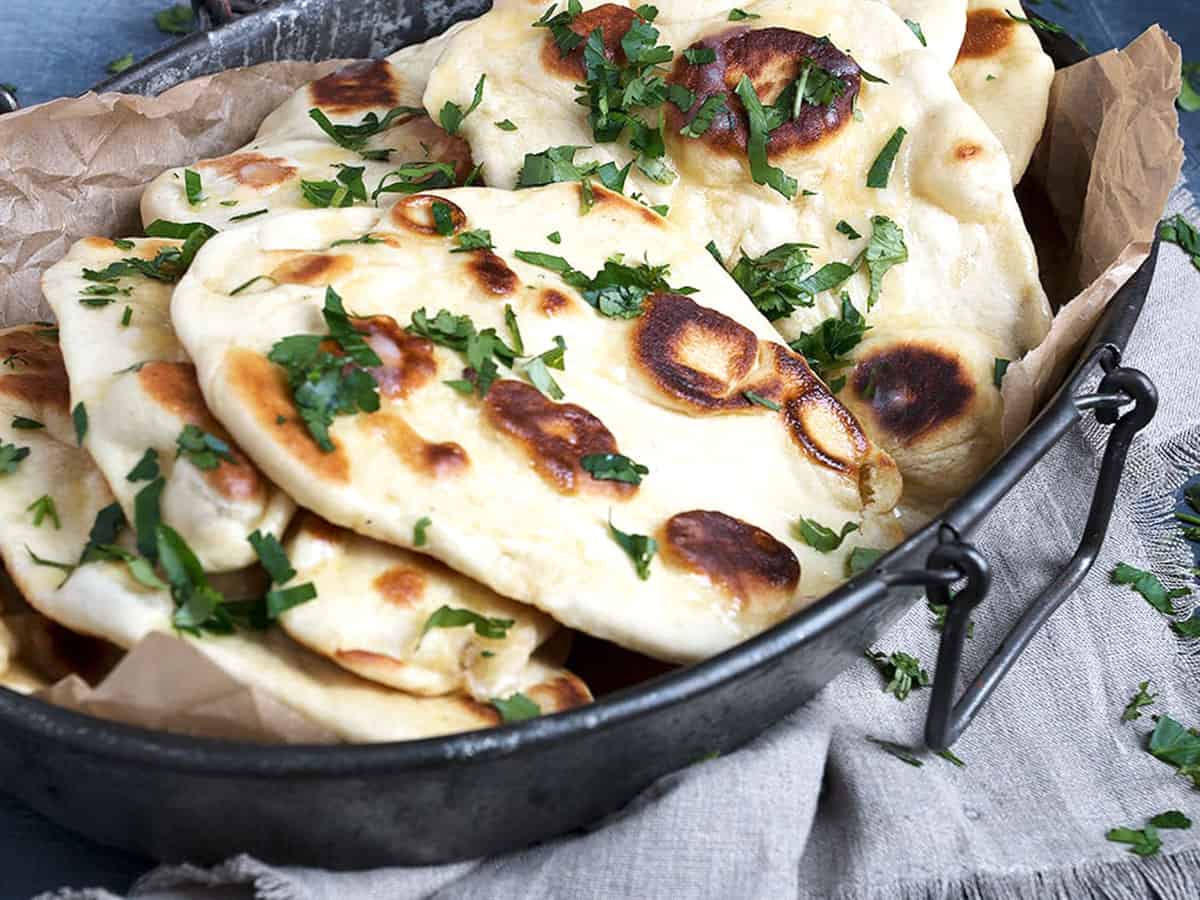 The homemade garlic Naan bread gets its garlic flavour from several brushings of garlic butter before cooking and a generous brushing or drizzle right before serving. As well, a sprinkling of chopped parsley and cilantro and a sprinkling of salt, finish them off beautifully.
I do love garlic Naan, but I've fashioned this recipe so that there is no actual garlic IN the Naan bread, so if you'd like or your prefer a plain Naan, all you have to do is skip the garlic in the butter.
These Naan freeze beautifully, so you can always have great Naan on hand.
Ingredients and Substitutions
Yogurt – full fat plain yogurt is recommended. The extra fat in the yogurt will help to keep the Naan moist.
Whole Milk – likewise, higher fat whole milk (3 – 3.5% b.f.) is recommended. 2% milk will work in a pinch.
Garlic – fresh garlic is recommended, for best flavour.
Herbs – the herbs here are simply fresh parsley and fresh cilantro.
Recipe Tips
Making Naan at home isn't hard, but it is a bit of a process and I never need 12 Naan bread at once :) As such, I rarely make Naan on the day I want to eat it, but rather save it for a nice weekend project, followed by freezing them. Then when Indian is on the menu, I'm all set!
Don't forget to take set the measured milk and yogurt out on the counter to warm to room temperature before starting. (But if you do forget, just give them a quick (5-7 second) shot in the microwave to take the chill off them.
You'll find this dough is more stiff and a little less moist than a bread dough, for example. It will soften and moisten slightly after it rises.
If you don't have a cast-iron skillet, use your heaviest bottomed skillet. You may need to adjust your heat level according to the thickness of the pan.
I found medium-low to be the sweet spot setting on my stove-top, but yours may be a little different. Watch the first couple carefully. The bottom should be deep golden after 1 minute, but shouldn't be burnt or pale, so adjust your heat accordingly, as needed.
Don't forget the sprinkling of salt after cooking and brushing with butter! As there is no salt IN the Naan, a sprinkling before serving will add great flavour!
Storing and Freezing
Store cooled Naan in an airtight container for a couple of days.
As mentioned above, Naan freezes beautifully. I like to freeze them in 4 packages of 3 Naan each, as that works for my family. To thaw, just set the Naan in the freezer bag on your countertop for an hour or so, then warm to serve.
Top Tip
Very few cast iron frying pans have lids, so when it comes to covering the pan when cooking, grab a large baking sheet and simply place it over-top of the frying pan.
Get the Recipe:

Garlic Naan Bread
Delicious garlic Naan bread, with garlic butter and fresh herbs. So easy to make at home. These freeze beautifully!
Ingredients
For the Naan dough:
1

teaspoon

active dry or instant yeast

2

Tablespoons

white granulated sugar

1/4

cup

water

,

at room temperature

4

cups

(

500

g

)

all-purpose flour

,

spooned and levelled

1

teaspoon

baking soda

1

teaspoon

baking powder

3/4

cup

whole milk

,

at room temperature

1/2

cup

full-fat plain yogurt

,

at room temperature
For brushing:
3

Tablespoons

garlic

,

minced, about 5 cloves

1/2

cup

unsalted butter

,

melted

Fine salt

,

for sprinkling
To serve:
Additional garlic butter

Chopped fresh cilantro and/or parsley
Instructions
In a medium bowl, combine the yeast, sugar and water. Let stand 5 minutes.

Meanwhile, in a large bowl or the bowl of a stand mixer fitted with a kneading hook, mix together the flour, baking soda and baking powder.

To the bowl with the yeast mixture, add the yogurt and milk and whisk together Add this mixture to the flour mixture. Knead with your hands or the kneading hook until the dough forms a smooth, soft ball, about 2 minutes. Place the dough into a greased bowl and cover with plastic wrap. Let rise at room temperature until doubled, about 2 hours.

When dough is almost risen, combine butter and garlic in a small saucepan and heat over medium heat on the stovetop until butter is melted (or heat in the microwave in a bowl for 1 minute). Turn off heat (or remove from microwave) and set aside.

Remove the dough to a well-floured surface. Knead it briefly, then divide the dough into 12 equal portions. Roll each portion into 1/4-inch thick ovals, approximately 6 inches wide.

Heat a cast-iron skillet over medium low heat. Brush one side the dough with some garlic butter and place buttered side down in skillet. *Don't crowd the skillet. The dough needs to lay completely flat. I could only cook one at a time in my 10-inch skillet.) Cook for about one minute, until the dough puffs up. Lightly brush with a bit more garlic butter, then flip dough, cover the pan, and cook for one more minute. Remove from the pan. *(If your skillet doesn't have a lid, use a large baking sheet to cover the top for the last minute of cooking).

If serving immediately: Brush both sides of hot Naan with more garlic butter and sprinkle with salt. Place in a towel-lined bowl until ready to serve.

If making ahead: Don't brush Naan with garlic butter or salt after removing from pan. Simply remove to a cooling rack to cool completely.

To serve (if serving immediately): strain remaining garlic butter to remove the garlic pieces (add a bit more melted butter, if necessary). Drizzle strained warm garlic butter over naan and sprinkle with chopped parsley and/or cilantro.

To serve (if making ahead): Make a little garlic butter by melting 1/4 cup butter with 2-3 minced garlic cloves. Drizzle over re-warmed Naan and sprinkle with salt and chopped herbs.
Notes
Be sure to read the notes above this Recipe Card, where I share some valuable tips, options, substitutions and variations for this recipe!
Serving:
1
serving
,
Calories:
247
kcal
,
Carbohydrates:
36
g
,
Protein:
5
g
,
Fat:
8
g
,
Saturated Fat:
5
g
,
Cholesterol:
23
mg
,
Sodium:
119
mg
,
Potassium:
133
mg
,
Fiber:
1
g
,
Sugar:
3
g
,
Vitamin A:
270
IU
,
Vitamin C:
0.7
mg
,
Calcium:
60
mg
,
Iron:
2
mg
More Bread Recipes to Love!
Hi! I'm Jennifer, a home cook schooled by trial and error and almost 40 years of getting dinner on the table! I love to share my favourite recipes, both old and new, together with lots of tips and tricks to hopefully help make your home cooking enjoyable, stress free, rewarding and of course, delicious!