Bringing a little bagel to a loaf of bread, with a chewy crust and a soft crumb, topped with homemade Everything Spice Mix or your favourite bagel topping.
Jump to:
Why you'll love this bagel bread!
Bring all the great flavours and texture of bagels to a loaf bread! With a chewy exterior and a soft interior and topped with homemade Everything Spice and Seed Mix or use your favourite bagel topping! (scroll down for some classic bagel topping ideas!).
You'll love how quickly this loaf comes together, too. It has a quick first rise, a very short second rise, a quick trip to some boiling water for the chewy texture, add the topping and then into the oven.
Lovely for sandwiches and perfect toasted (with butter and a bit of cream cheese), I'm sure this bread will quickly become a favourite in your home, too.
Key Ingredients
Everything Spice Mix - I've included a recipe for an Everything Spice Mix, but you can easily use a store-bought mix that you might have around. Alternately, if you prefer, simply go with sesame seeds or poppy seeds or whatever your favourite bagel topping is.
Yeast - you can start with either Active Dry Yeast or regular Instant Yeast, such as SAF Brand. Quick or rapid-rise yeast is not recommended for this recipe as written.
Bread Flour - high protein bread flour will provide the best texture for this loaf and is recommended, if you have it. If you don't have bread flour, you can use all purpose flour, though you may find you need to add a bit of extra flour at the end of mixing. The resulting loaf will have a slightly different (lighter) texture.
How to make bagel bread: Step-by-step
Step 1: Mix the dough until it forms a moist, but not sticky dough, that cleans the bowl and wraps the dough hook. You may need to add a bit of additional flour if your dough is sticky. Remove to a work surface, knead a bit, then form into a ball, place into a greased bowl, cover with plastic wrap and allow to rise until doubled.
Step 2: Gently deflate the dough, then pat the dough into a roughly 9x9-inch rectangle. Roll up jelly-roll style, then pinch together the seam. Place into a greased loaf pan, cover with a clean kitchen towel and allow to rise only 15 minutes.
Meanwhile, boil a large pot of water. Add baking soda (or honey) to the water, then boil the loaf for 1 minute on each side. *I add to the water with the top of the loaf down first, then when I flip it, the seam side is down. This makes for an easy transfer from the water to the pan, as you will already have the seam side down.
After boiling, the loaf will look a little strange, but it will be all good in the end :) The loaf is a little slippery after boiling. I found using a flat spatula, together with tongs works best to transfer the loaf from the water, back to the pan. Slide the spatula underneath, then use the tongs to grab/steady it. Return to the loaf pan (seam side down), brush with egg wash and sprinkle with Everything Spice Mix. Bake and enjoy!
Bagel Bread Topping Ideas
Sesame Seeds
Poppy Seeds
Minced Dried Onion
Oats and Grains
Minced Dried Garlic
Shredded Asiago Cheese*
French Toast (Brown Sugar and Cinnamon)
*Cheese toppings are more prone to scorching in the oven, so you may need to loosely cover the top of the loaf with aluminum foil for the last part of baking, to avoid over-browning.
Baker's Notes
If you have a kitchen scale, weighing the ingredients is the best way to ensure a perfect loaf every time! If not, be sure to measure your flour using the stir, spoon and level method, for best accuracy.
If you would prefer a more conventional crust on this loaf, you can skip the baking soda in the water and use use plain boiling water. Your loaf will be more crisp vs. chewy, but will be much lighter in colour.
As this loaf has a chewy crust, I find it easier to slice it from the sides, rather than from the top.
Storage and Freezing
This bread will keep well stored at room temperature in an airtight container or a bread bag for up to 4 days.
For longer storage, freeze well wrapped up to 1 month. Thaw bread in the wrapping, at room temperature.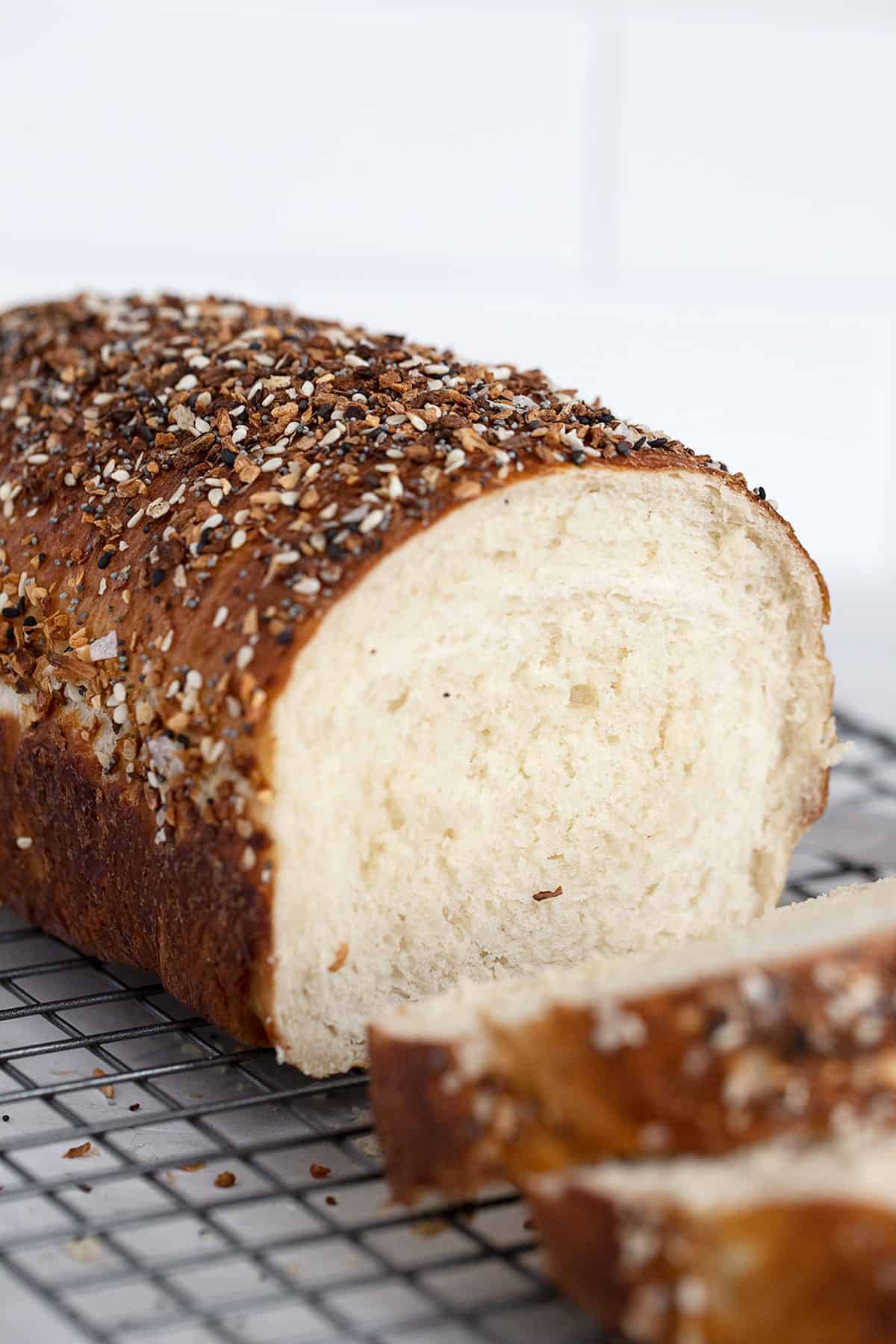 Recipe
Bagel Bread Web Story »
This recipe was adapted from a Joshua Weissman recipe. I have made several changes to his original recipe, including scaling it down to a smaller loaf, (which is easier to fit a pot for boiling) and adding baking soda to the boiling water, for a more chewy and darker loaf crust.
More yeast bread recipes you might also enjoy ...
Save or share this recipe