An easy and delicious Summer peach dessert, with maple glazed peaches, served with easy homemade buttermilk drop biscuits.
When it comes to Summer desserts, it's always nice when they check all the 3 boxes of simple, pretty and delicious. That's what drew me to this lovely dish!
These peach dessert features beautiful maple syrup glazed peaches, combined with easy drop buttermilk biscuits and a dollop of crème fraîche (or yogurt) for a simple, delicious, rustic, but elegant dessert. This is a great dish for casual entertaining or simply a perfect ending to any Summer meal.
Ingredient Notes
Peaches: You'll want to start with ripe, but still firm peaches and peaches that separate from the stone easily (Freestone variety). If you happen to have peaches that won't separate in half gracefully, simply do large chunks of peach instead of the halves.
Maple Syrup: Maple syrup can be expensive and/or unavailable, so you could use any of the following as a substitute: honey in equal measures or brown sugar, using about 2-3 Tbsp, I would guess or enough to make a glaze when combined with the butter.
Crème Fraîche: If you don't have crème frâiche, you can use plain or vanilla yogurt (a thicker, Greek-style yogurt works best) or very lightly sweetened whipped cream.
Thyme: You can omit the thyme as a flavouring with the glaze, though it's still nice as a garnish, if you have some. Alternately, something green like rosemary or basil will pretty up the dish.
Buttermilk: Make your own buttermilk by combining 1 cup milk, less 1 Tbap with 1 Tbsp lemon juice. Let stand in the fridge 15 minutes before using.
Cook's Notess
I served up this dessert in individual skillets, but you can also make and serve this dessert in one large skillet or on plates.
I plated this out with two peach halves per serving, but mostly for photographic purposes (one looked lonely through the viewfinder :). Depending on the size of your peaches (mine were quite large :), you may want to serve with just one large peach half or maybe two, if smaller.
You will probably have at least a few more biscuits than you need for this dessert. The recipe will make about 8 biscuits. Save the extra biscuits for other enjoyment later, or freeze.
The biscuits can and probably should be made ahead, just to make things easiest at dessert time. Then only the glazing of the peaches needs to be done before eating. If you If you'd like to re-heat the biscuits slightly for serving, either pop in the microwave for a few seconds, or place on a baking sheet in a 350F oven for a few minutes. Leftover biscuits will freeze beautifully.
If you are entertaining and would rather not glaze the peaches while you have guests, I think you could also glaze the peaches ahead and heat up the whole works in one large or several small skillet in a 350F oven. Of course, don't add the creme fraiche or yogurt or thyme until after re-heating and allowing to cool slightly.
Allow the glaze and peaches to cool from hot to warm or your Crème Fraîche or yogurt in your skillet will melt and be a bit messy. Melting is not so bad for ice cream, but I don't love melted crème frâiche or yogurt really.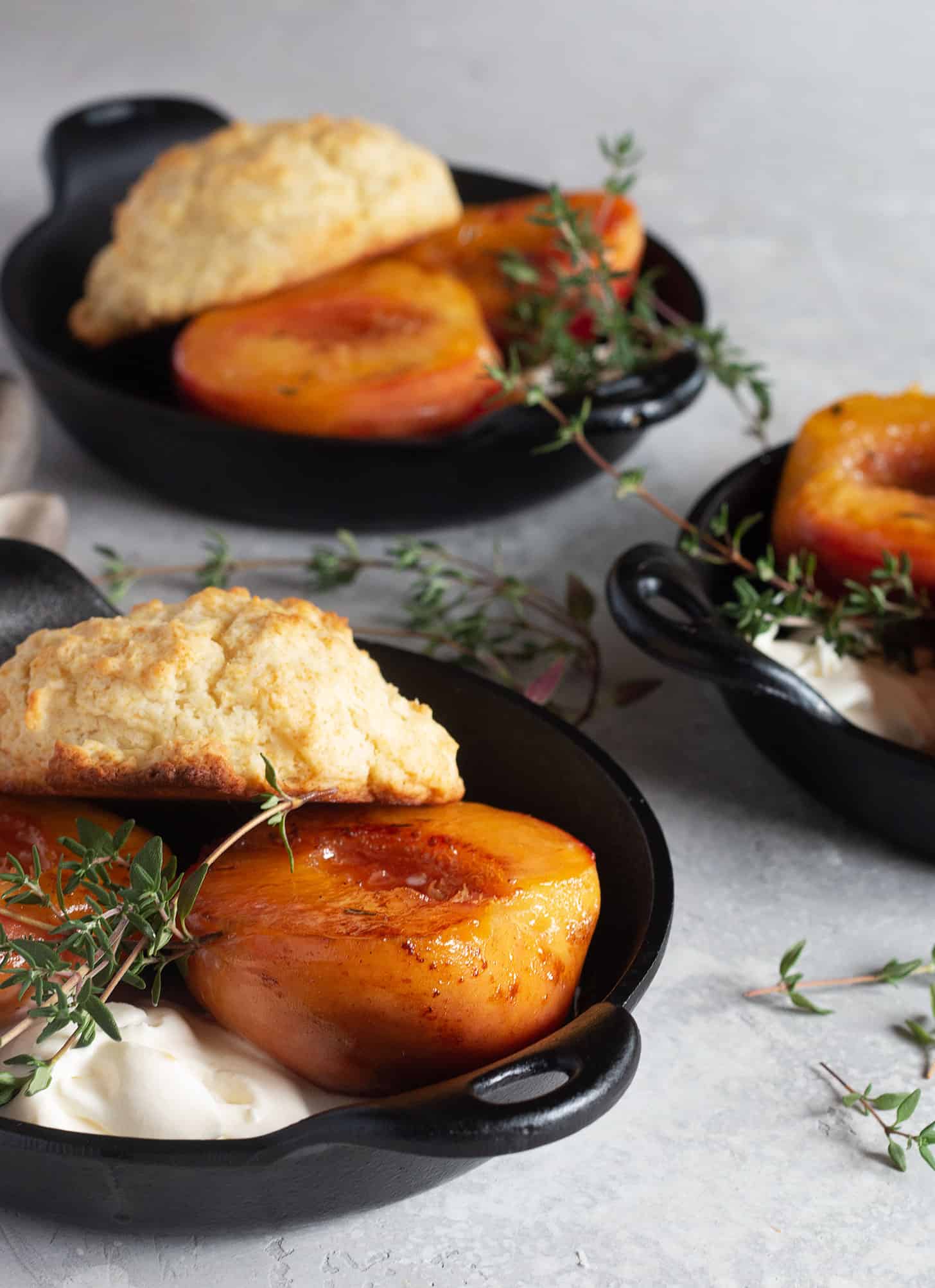 Get the Recipe:

Maple Glazed Peaches with Buttermilk Biscuits
Easy maple glazed peaches, served with buttermilk biscuits and creme fraiche or yogurt.
Ingredients
Buttermilk Biscuits (makes about 8 biscuits):
2

cups

all-purpose flour

2

teaspoons

baking powder

1

teaspoon

white sugar

1/2

teaspoon

fine salt

1/2

teaspoon

baking soda

1

cup

buttermilk

,

cold (*or see notes to make your own buttermilk)

8

Tablespoons

unsalted butter

,

melted and cooled slightly, plus more for brushing biscuits after baking
For glazed peaches:
3

medium

peaches

,

cut in half and removed from stone

3-4

Tablespoons

butter

,

cut into cubes

1/3-1/2

cup

maple syrup

,

**or see notes for substitution option

1/2

teaspoon

fresh thyme leaves

,

or pinch dried thyme, optional

1

Tablespoons

lemon juice

Pinch

salt
For serving:
3

sprigs

fresh thyme

Zest from 1/2 lemon

Crème Frâiche or Thick Yogurt
Instructions
Preheat oven to 475F with rack in centre of oven.

Make the biscuits: (Can be made several hours ahead) In a large bowl, whisk together the flour, baking powder, sugar, salt and baking soda. Set aside.

In a small bowl, whisk together the buttermilk and melted and cooled butter, stirring until the butter forms small clumps.

Add the buttermilk mixture to the bowl with the dry ingredients and stir until just combined and the batter pulls away from the sides of the bowl. Using a 1/4 cup scoop or measuring cup, scoop out dollops of batter and drop onto a baking sheet, about 1 inch apart.

Bake in preheated oven until tops are golden and crisp, about 12-14 minutes. Remove from oven and brush tops with a bit of melted butter. Transfer to a cooling rack and cool 5 minutes before serving. (If making ahead, cool completely, then store in an airtight container at room temperature. Reheat in microwave briefly or pop into a 350F oven for 5 minutes or so.

For the peaches: Preheat a large skillet on the stove-top over medium high heat. Add the butter. When the butter starts to foam, add a few thyme leaves, if using and cook for one minute. Add the halved peaches, cut side down, and cook until bottom starts to colour. Once the peaches are coloured a bit, add the maple syrup and cook for about 30 second more. Add the lemon juice and a pinch of salt, then flip the peaches over. Let the syrup simmer until it is reduced by about half. Turn off the heat under the pan.

To serve: You can serve directly from the larger skillet you cooked the peaches in or transfer to smaller skillets or plates, topping with biscuits, thyme sprigs and a dollop of crème frâiche or yogurt, and spooning reduced syrup over-top. Garnish with fresh thyme sprigs and a bit of lemon zest. *I find it best to allow the peaches and syrup to cool to a bit before serving, for best flavour and to keep the creme fraiche or yogurt from melting too much.
Notes
*Make your own buttermilk by measuring out 1 cup of regular milk. Remove 1 Tablespoon of milk and add 1 Tbsp lemon juice to the milk. Stir, then return to the fridge to stand for 10-15 minutes.
**Replace maple syrup with 2-3 Tbsp of brown sugar, or enough to make a nice, sweet glaze.
Serving:
1
serving
,
Calories:
445
kcal
,
Carbohydrates:
54
g
,
Protein:
6
g
,
Fat:
23
g
,
Saturated Fat:
14
g
,
Cholesterol:
60
mg
,
Sodium:
397
mg
,
Potassium:
449
mg
,
Fiber:
2
g
,
Sugar:
19
g
,
Vitamin A:
985
IU
,
Vitamin C:
5.8
mg
,
Calcium:
157
mg
,
Iron:
2.3
mg
More Peach Recipes to Love!
Hi! I'm Jennifer, a home cook schooled by trial and error and almost 40 years of getting dinner on the table! I love to share my favourite recipes, both old and new, together with lots of tips and tricks to hopefully help make your home cooking enjoyable, stress free, rewarding and of course, delicious!