A wonderfully moist peach ricotta cake, that is full of fresh peaches and made without oil or butter. Lightly sweet, it's perfect to enjoy any time of day.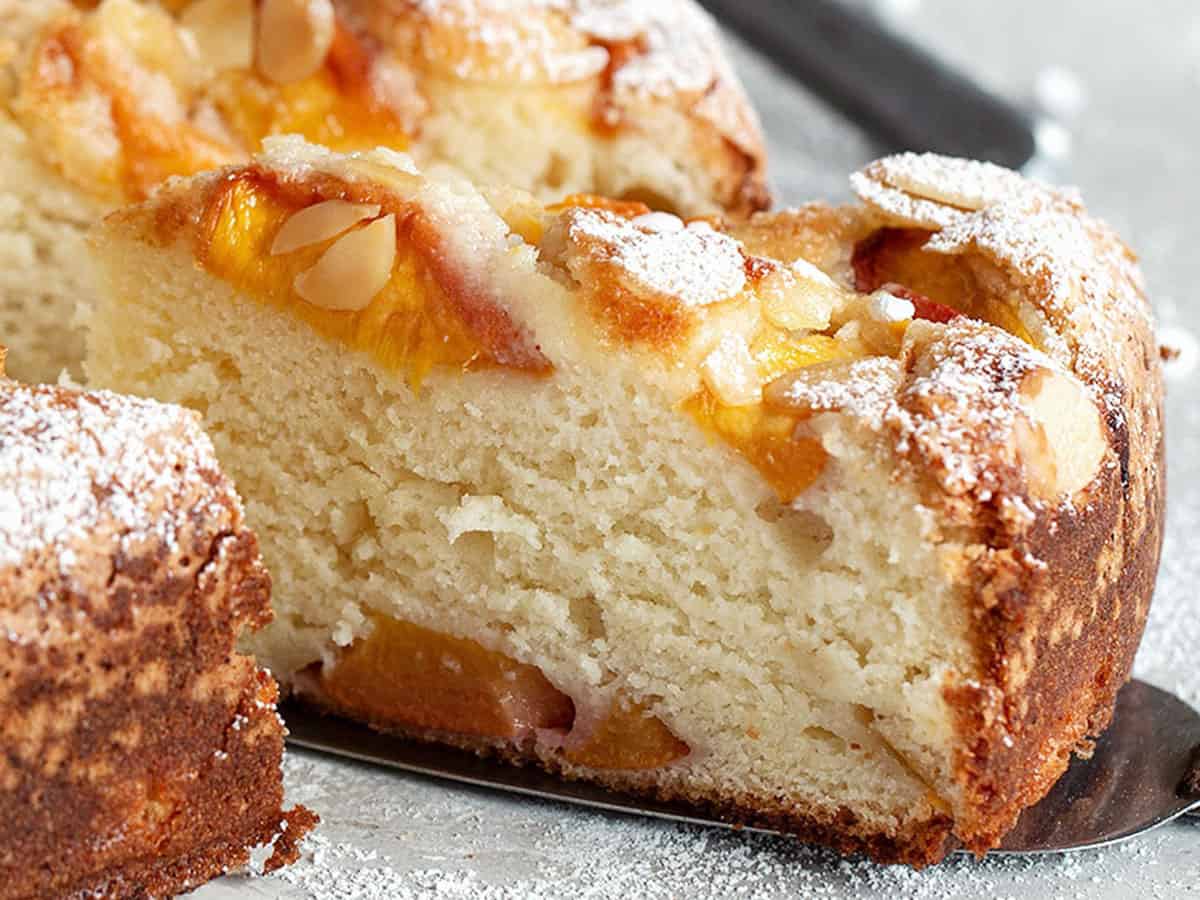 I've shared a few delicious peach recipes recently, but this is the last one for a bit before I move on to some more varieties of the Summer's bounty.
This fresh peach cake is wonderfully moist, but manages that without the need for butter or oil. Just eggs and ricotta, together with the usual suspects of flour and sugar. Into the lovely batter goes lots of fresh peach. Two of the peaches are cubed and folded into the batter, while the third is sliced and scattered on top. It's all finished off with a sprinkling of brown sugar and salt and some sliced almonds.
This cake is lightly sweet, which makes it perfect to enjoy any time of day!
Jump to:
Ingredient Notes
Peaches: Firm, but ripe peaches are best here. I haven't tried this with anything other than fresh peaches, so I don't know if frozen or canned will work here. I left the peel on for mine (be sure to scrub well). You can certainly peel if you like.
Start with 3 large peaches or if your peaches are smaller, use 4 - 6.
Ricotta: Any variety of ricotta is fine here. I always use full-fat ricotta, so I haven't tested this with "light". Keep in mind there is no butter or oil in this cake, so the only fat (moisture) will come from the ricotta. As such, full-fat ricotta is recommended here.
Cook's Notes
The perfect size springform pan for this cake is 9-inch. That will give you a cake with decent height. A 10-inch springform pan will work, though the cake will be thinner and may cook more quickly.
It can be tricky to know when this cake is cooked through. Be sure to test in the very centre of the cake and test in several spots, trying to avoid the peaches. When in doubt, leave it in the oven a few minutes longer, to be sure. The cake should be quite golden when done.
This cake keeps fairly well stored at room temperature or in the fridge. It is the kind of cake that will get more moist as it sits, due to the moisture from all the fruit.
Recipe
More peach recipes you might like ...