Hearty, healthy and filling, this is my version of the Green Goddess Sandwich, featuring spinach, avocado, goat cheese, chives, cucumber and sprouts, all between toasted grainy bread.
This week I'm all about the Summer sandwiches, using as much fresh Summer produce as I can fit between two pieces of bread! This sandwich is definitely that and let me tell you, I couldn't have fit even one more thing in this sandwich!
I debated what to call this sandwich. My daughter the vegetarian, suggested calling it "Go Veg!". My son, who eats Paleo (only meat and veg/hardly any carbs and dairy), suggested it should be called "A sandwich that would be even better with meat". Yes, such is my life! Just imagine what it's like for me to cook a meal for this bunch :)
Anyway, I settled on Green Goodness, because there's just a lot of green goodness going on between these two slices of multigrain bread.
Cook's Notes
My sandwich starts with a bit of grainy mustard (or Dijon, if you prefer). Next is a layer of baby spinach, followed by mashed avocado, then goat cheese (with a good bit of pepper), chives, cucumber and sunflower sprouts. The bread is a lovely 12-Grain bread that is toasted. It's delicious, filling and a pretty guilt-free sandwich.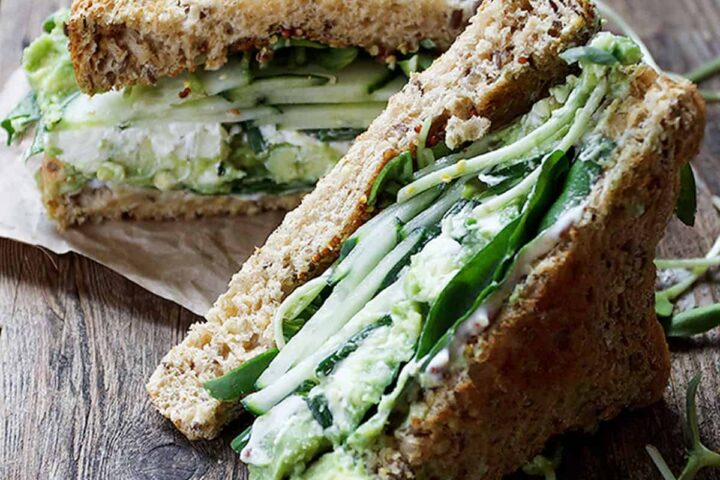 Get the Recipe:
Green Goodness Sandwich
Makes 2 large sandwiches (or 3 if you make them a little thinner :). The avocado mixture is best used soon after preparing.
Ingredients
2

avocados

,

ripe

1

tsp

fresh lemon juice

Salt and pepper, to taste

Baby spinach

1/4

cup

goat cheese

,

crumbled

Freshly ground pepper

Fresh chives, diced

Thinly sliced cucumber

Sprouts (pea, sunflower, alfalfa etc.)

2

slices

Thick of grainy bread, toasted
Instructions
Prepare avocado by cutting in half, removing pit and scooping pulp in to a small bowl. Mash with a fork until just lightly chunky. Add lemon juice and salt and pepper, to taste.

Prepare the goat cheese by adding a good amount of freshly ground pepper to the goat cheese crumbles.

Toast bread until golden. Once toasted, butter the slices and then add a bit of grainy or Dijon mustard to one slice of each sandwich. Top the mustard with a layer of baby spinach. Top the spinach with a layer of the mashed avocado. Top the avocado with some crumbled goat cheese. Top the goat cheese with diced chives. Add a layer of cucumber and then top with a layer of sprouts. Add top slice of bread. Press down to compress slightly and cut in half diagonally to serve.
Calories:
397
kcal
,
Carbohydrates:
17
g
,
Protein:
9
g
,
Fat:
35
g
,
Saturated Fat:
8
g
,
Cholesterol:
13
mg
,
Sodium:
118
mg
,
Potassium:
974
mg
,
Fiber:
13
g
,
Sugar:
1
g
,
Vitamin A:
585
IU
,
Vitamin C:
21
mg
,
Calcium:
64
mg
,
Iron:
1.6
mg