Jump to Recipe
Total Time:
3
hours
35
minutes
Elevate your burger game with these delicious Homemade Hamburger Buns. These brioche-like buns are light in texture and high in flavour.
Someone asked me recently if I had a good recipe to make homemade hamburger buns. Yes I do! This is the only recipe I've used to make hamburger buns for years and since we are on the eve of the first long-weekend of the "Summer" season here in Canada, it seemed like a great time to share it.
This recipe made the rounds several years back when it was first published as "Light Brioche Buns" in the New York Times. It's just a fabulous bun. While these buns are enriched with eggs and a bit of butter for flavour, they somehow still manage to be light in texture, yet sturdy enough to hold all the burger and the toppings.
So if you're looking to elevate your burger game this Summer, these delicious homemade hamburger buns are a great place to start. They freeze beautifully, so make a couple of batches and load up the freezer and you're always ready for a leisurely Summer BBQ.
Ingredient Notes for Homemade Hamburger Buns
Bread flour: You'll get the best results if you start with bread flour and even better, if you start with unbleached bread flour. Here in Canada, that's not the easiest to find on the shelf in grocery stores. I get mine at Bulk Barn. Failing that, bleached bread flour is fine. You can use just all-purpose, but your buns might not rise quite as high.
Active Yeast: This is the standard dry active yeast that needs to be proofed (soaked) in warm water before using. I never use dry active yeast myself, but prefer to use Instant Yeast. While Instant Yeast doesn't require proofing in water before using, it doesn't hurt if you do, so I just go ahead and proof the Instant Yeast in the same manner as described in the recipe.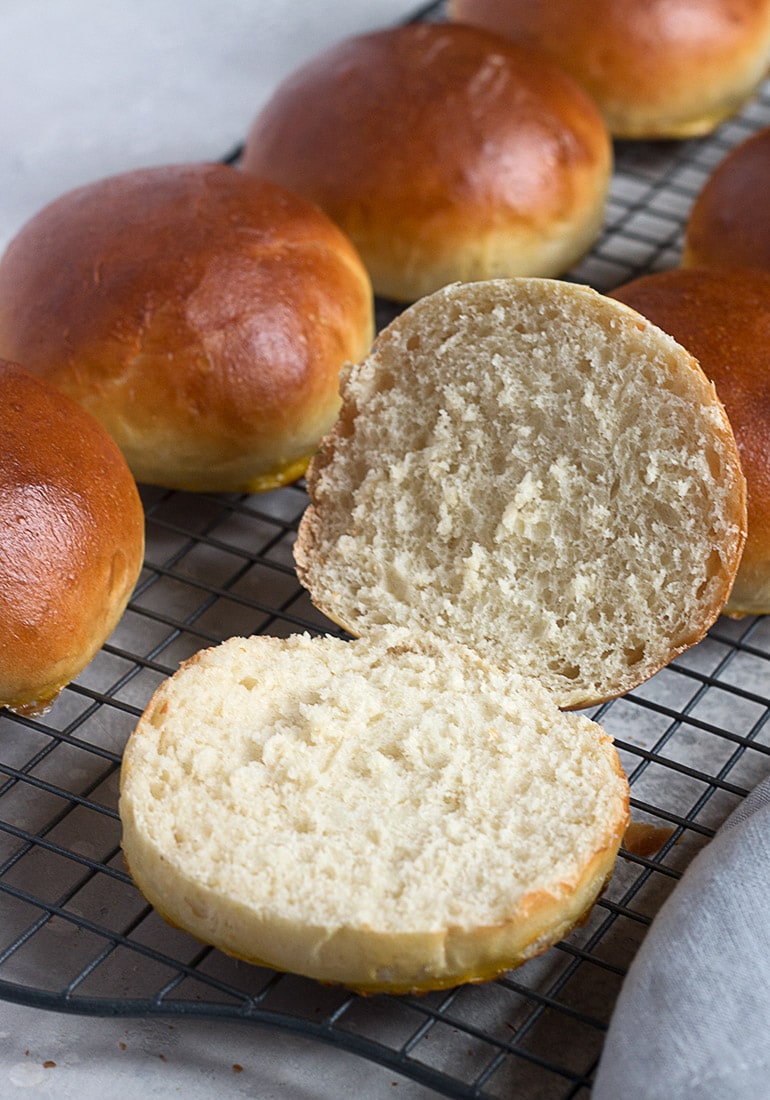 Cook's Notes for Homemade Hamburger Buns
The first thing you need to know about this dough is that it is very moist and almost sticky when made as prescribed. To get the best (lightest) results, you want to avoid as best you can adding much more flour here. Add just the bare minimum you need to, so you can handle the dough.
This dough is also a slow riser, so be patient and allow it to rise for however long it takes to double etc. In a warm Summer kitchen, it will probably rise a little more quickly.
I like to weigh the whole dough before dividing into balls. I then divide the total weight by 8, to calculate the dough weight of each roll. Weigh them out separately and you will have 8 identically sized rolls!
Be sure to brush the egg wash on the dough evenly and thoroughly, being sure to get all around the bun and right to the bottom. Any bare spots left from your brushing will leave pale spots on the finished buns.
Right after egg washing the buns and just before popping them in the oven, top buns with sesame seeds, poppy seed or "everything" mix if you'd like to add some toppings to your homemade buns.
These buns freeze beautifully! Thaw at room temperature inside the freezer bag or container.
How to shape dough into balls
I think the one thing that tends to trip people up when making buns is the shaping of "the ball". It's quite understandable that someone might think that you just need to grab a piece of dough and form/squeeze it into a ball shape. In fact though, there is a bit of a technique to creating "a ball" with dough, that creates what's known as "surface tension" or tightness on the top of the ball. It's this tension that encourages the dough to rise higher, while also creating a lovely smooth top.
Here's a quick video of how I do it. It's the easiest way, I think and produces great results.
1. Stretch the top to create a smooth top.
2. Flip over and stretch the sides in towards the centre and pinch together.
3. Do this all around the edges, until the sides are smooth, too.
4. Flip the ball over, so your pinched part is down.
Adapted from "Light Brioche Buns" by Jane Sigal as shared by the New York Times
Homemade Hamburger Buns
Delicious homemade hamburger buns recipe. Makes 8 buns. Freeze beautifully!
Ingredients
1

cup

water

(warmed to about 105-110F)

3

Tbsp

milk

(warmed slightly to lukewarm)

2

tsp

active dry yeast

2 1/2

Tbsp

white sugar

1

large

egg

(beaten with a fork)

3

cups

bread flour

1/3

cup

all-purpose flour

1 1/2

tsp

fine salt

2 1/2

Tbsp

unsalted butter

(at room temperature)
Instructions
In a small bowl, combine the warm water, warmed milk, yeast and sugar. Let stand until bubbly, about 5 minutes.

In a large bowl, whisk together the bread flour, all purpose flour and salt. Add the butter. Using your fingers, rub the butter in to the flour mixture, making crumbs.

Add the yeast mixture and the beaten egg to the bowl and using a dough scraper or silicone spatula, stir until a moist dough forms.

Scrape the dough on to an unfloured counter. At this point the dough is very moist and sticky and not really able to be kneaded traditionally. You will be tempted to dust with flour but do resist. Instead of traditionally kneading, use your dough scraper or silicone spatula to scoop up the dough and then slamming it back on the counter. Turn and repeat. Just keep going. After about 5-7 minutes your dough should be still moist but not quite as sticky.

Shape dough into bowl and place into a greased bowl. Cover with plastic wrap and let rise until doubled, 1-2 hours.

Line a large baking sheet with parchment paper and set aside.

Using a dough scraper, divide the dough into 8 equal pieces. (* I like to weight the dough ball and then divide that weight by 8, to get a weight for each piece. I then weigh out each piece to that weight, to get 8 exactly equal pieces.)

If your dough is still too sticky at this point to form into balls, very lightly dust with a tiny bit of four.

Form each of the 8 dough pieces into balls (* See video above on how to do this!). Place balls on parchment lined baking sheet about 2-3 inches apart. Cover loosely with a clean kitchen towel and let rise until doubled again, 1-2 hours.

Set a large shallow roasting pan of water on the lowest rack of the oven. Preheat oven to 400F, with a rack in center of the oven, as well.

When buns have doubled, beat remaining egg with 1 tablespoon water and brush the buns thoroughly. Bake, turning sheet 180 degrees halfway through baking, until tops are golden brown, about 15 minutes.

Immediately transfer buns to a rack to cool completely.
Notes
These buns freeze beautifully! Freeze in a freezer bag or container. Thaw in the container at room temperature.
Be sure to read the "Cook's Notes" included with this post, where I share some valuable tips, options, substitutions and variations for this recipe!
Nutrition
Calories:
260
kcal
Carbohydrates:
42
g
Protein:
8
g
Fat:
5
g
Saturated Fat:
2
g
Cholesterol:
62
mg
Sodium:
462
mg
Potassium:
89
mg
Fiber:
1
g
Sugar:
4
g
Vitamin A:
200
IU
Calcium:
22
mg
Iron:
0.9
mg
Get more deliciousness delivered.
Subscribe to my weekly email newsletter!