This easy and delicious honey garlic shrimp is ready in a flash. Serve with rice and broccoli or spinach or try it for a shrimp stir fry with vegetables.
Jump to:
Why you'll love this quick and easy shrimp recipe!
I always keep frozen shrimp on hand, as it is always perfect for a quick, easy and delicious meal. This one is a favourite!
You'll love how quick, easy and delicious this shrimp is!
The sauce is a wonderful blend of sweet, a bit of heat and garlic.
You just need a few easy ingredients.
Serve this honey garlic shrimp in a variety of ways - as a rice bowl, as a shrimp stir fry or with noodles - to change it up or to suit what you have on hand.
Ingredient and Substitution Notes
Shrimp - you'll have best results starting with raw, peeled and deveined large or jumbo shrimp. I love Argentinian shrimp, as it is wonderfully meaty shrimp. You can leave the tails on or take them off, as you like.
Mirin - Mirin is widely available in with the Asian sauces or online. I use it often and recommend adding it to your pantry if you don't have it already. I have included an easy substitute for Mirin in the Recipe Card below though, if you don't have it on hand.
How to Quickly Thaw Frozen Shrimp
To quickly thaw frozen shrimp, empty the package into a large bowl of cold water and let it soak for about 15 minutes. The shrimp should be thawed by that point. Take the shrimp out and place onto doubled-up paper towel and dry off well before using.
(If time is not an issue, thaw frozen shrimp in the fridge overnight or for 6-8 hours).
Step-by-Step Photos
Heat oil in skillet over medium heat.
Add some of the marinade to the shrimp.
Stir to coat shrimp in marinade.
Add cornstarch and water mixture to the remaining marinade and set aside.

Add shrimp to hot skillet.
Cook shrimp for 2-3 minutes.
Remove shrimp to bowl.
Wipe excess liquid from skillet.

Add reserved marinade to skillet.
Return shrimp to skillet.
Cook shrimp with sauce a couple minutes more, until shrimp is cooked and sauce thickens.
Finish with a squeeze of lime juice and bit of salt and pepper.
What to serve with Honey Garlic Shrimp
I love to serve this honey garlic shrimp as a bowl, with white or brown rice (or cauliflower rice), and something green. Steamed or roasted broccoli is always a good choice. Quick sautéed spinach or other greens is another great addition to a bowl. If serving with plain rice, I like to double up the sauce, so there is extra for the rice.
Another option is to skip the rice and serve with some sesame noodles.
Another option is to turn it into a bit of a stir fry, by sautéing some onion, bell pepper and maybe pea pods after you take the shrimp out of the skillet and before you add the sauce. Serve with rice or noodles.
More shrimp dinner recipes you might also like!
Try it with Chicken, too!
Yes! This sauce is lovely with chicken, as well. Simply cut up some boneless chicken breasts or chicken thighs and cook in exactly the same way, allowing a little extra time in the skillet, as needed, to cook the chicken through.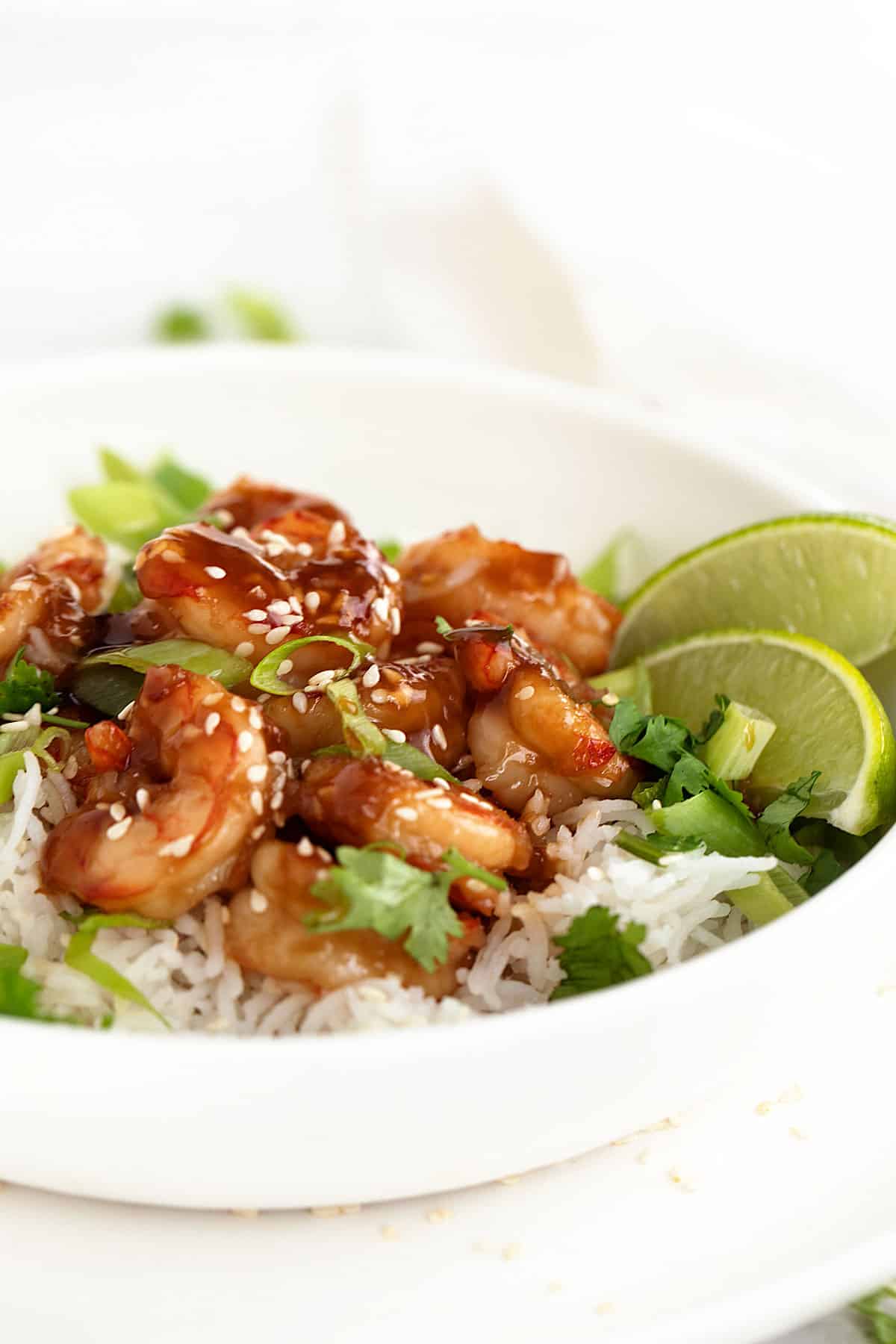 Recipe