Quick, easy, delicious and pretty, this Invisible Apple Cake is perfect for everything from the brunch table, to an afternoon snack to a warm and comforting dessert.
There are a few recipes that come around in my kitchen quite a bit and this is one of them, so I thought I'd share it now as we enter the entertaining and houseguest season. It's a great recipe to have in your back pocket! This Invisible Apple Cake is perfect for any time of day, from breakfast, to brunch, to afternoon tea, to dessert. It comes together quickly and delivers an always delicious slice of apple goodness.
Enjoy this cake cold from the fridge, at room temperature or warm for dessert with ice cream or a drizzle of Creme Anglaise. A slice of a great cheddar on top is also a nice way to enjoy this.
The secret to this cake is thinly sliced apples, so for this one, a mandolin is your best friend. If you don't have one (or are afraid of it, as I was for years :), you can certainly use your knife skills to create the thin apple slices. It will take a little longer, but still be totally worth the effort.
This cake is mostly apple, with just a bit of batter holding it all together. It slices perfectly when cooked though. Look for a great cooking apple, so the apples don't disintegrate while cooking. Golden Delicious and Jonagold are perfect sweet choices. Granny Smith also bakes up well, but will produce a more tart cake. I prefer the sweeter varieties for this cake.
Cook's Notes
As I mentioned above, I was afraid of my mandolin for years. It doesn't take much imagination to realize that there is potential for injury with these things. I finally dealt with it by purchasing cut-resistant gloves, that I use in combination with the mandolin guide. It just gives me the peace of mind I needed to use my mandolin with confidence :)
Looking for more apple recipes? How about my Sticky Apple Cinnamon Rose Buns, Rustic Skillet Spiral Apple Pie or my Apple Buttermilk Honey Scones.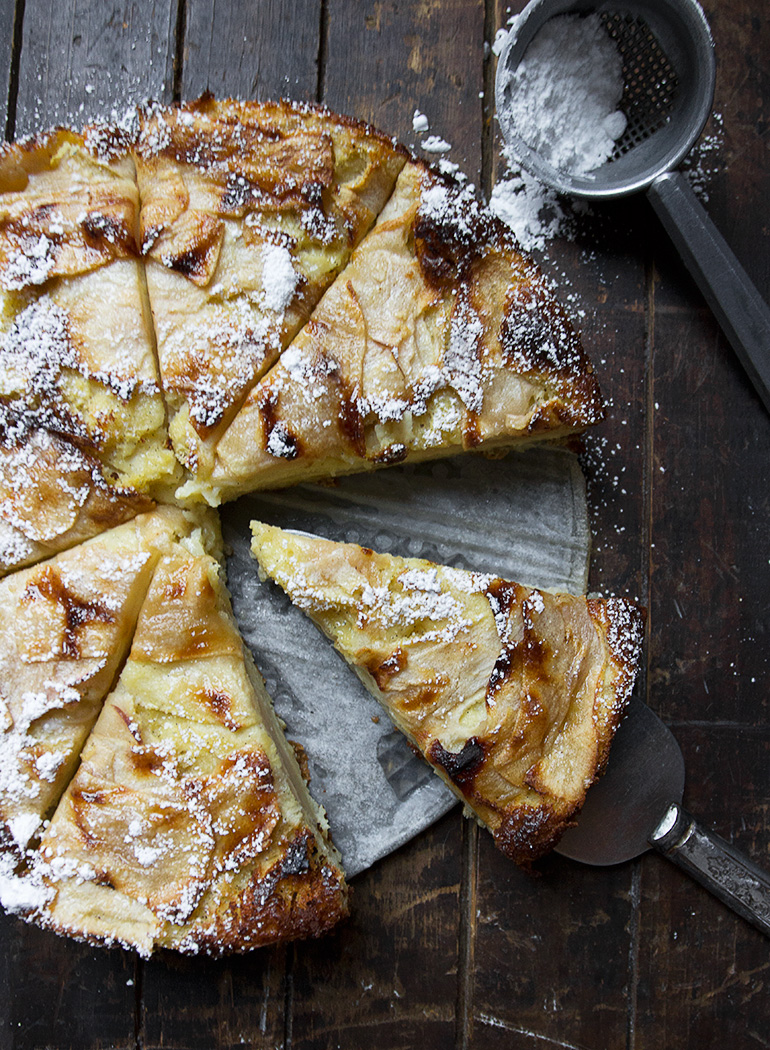 Invisible Apple Cake
A quick, easy, delicious and pretty apple cake, that's perfect for any time of day! Recipe type: Dessert
Ingredients
6

large

Golden Delicious apples

,

peeled

2

large

eggs

1/4

cup

brown sugar

1

tsp

vanilla

,

or vanilla bean paste

1 1/2

Tbsp

butter

6 1/2

Tbsp

milk

1/2

cup + 1 Tbsp

all-purpose flour

1

tsp

baking powder

Pinch of salt
Instructions
Line the bottom of an 8-inch springform pan with parchment paper and spray with cooking spray. Preheat oven to 400 F.

In a large bowl with an electric mixer or the bowl of a stand mixer with the paddle attachment, beat the eggs with the sugar and vanilla until very light and fluffy (about 3 minutes). Melt the butter in saucepan or microwave bowl. Add the milk and stir well to combine. Allow to cool slightly, then add to the egg/sugar mixture. Mix to combine.

Sift together the flour and baking powder, the sprinkle over the egg/sugar mixture. Mix just until combined.

Quarter the peeled apples and remove the core. Use a mandolin to slice each quarter into thin slices. Add the apple sliced to the batter regularly (don't wait until you've done them all) and push them below batter, so they don't brown. Reserve the last handful of apple slices to scatter on top of batter. Gently stir the apples in the batter to ensure all apples are coated. Pour in to prepared springform pan and scatter the reserved apple slices randomly over-top. Bake in preheated oven for 30-35 minutes, or until set. If desired, you can turn on the broiler for a minute to brown up the top of the cake.

Leave in pan to cool, then run knife around edges and remove outer springform pan ring. Serve slightly warm, at room temperature or cold dusted with icing sugar.
Notes
Golden delicious apples are specified here, as they don't break down as they cook. Using another type of apple might have a different result.
You should have a good amount of apple to batter ratio. If it seems like there is a lot more batter than apples, add a bit more apple.
Nutrition
Calories:
220
kcal
Carbohydrates:
43
g
Protein:
4
g
Fat:
4
g
Saturated Fat:
1
g
Cholesterol:
59
mg
Sodium:
49
mg
Potassium:
306
mg
Fiber:
4
g
Sugar:
24
g
Vitamin A:
255
IU
Vitamin C:
7.7
mg
Calcium:
68
mg
Iron:
1.3
mg
Nutritional information provided for general guidance only and should not be relied upon to make personal health decisions.
Never miss a new recipe!
SIGN UP for email updates!