A quick, easy and pretty apple cake, this Invisible Apple Cake uses thinly sliced apples in a custard base. Perfect to enjoy any time of day.
This Invisible Apple Cake is a great recipe to have in your back pocket! It is perfect to enjoy any time of day – from breakfast, to brunch, to afternoon tea, to dessert. It also comes together quickly and delivers an always delicious slice of apple goodness.
Enjoy this lovely cake cold from the fridge, at room temperature or slightly warmed. This cake is wonderful on its own, or dress it up with a dollop of creme fraiche, whipped cream or ice cream.
Why is it called an "invisible" apple cake?
This cake is called invisible apple, due to the fact that the very thinly sliced apples appear to disappear in the cake. The best way to get really thinly sliced apple is with a mandolin. Don't be afraid to slice them super-thin (almost see-through), but if they are a little thicker, the cake will still work out, the apples just won't be so invisible :)
If you don't have one (or are afraid of it, as I was for years :), you can certainly use your knife skills to create the thin apple slices or you may be able to (carefully!) try the wide slot side of a box grater.
Recipe Video
Ingredients and Substitutions
Apples – Golden Delicious apples are perfect for this cake and are generally easy to find year round. For best results, stick with Golden Delicious. If for some reason they aren't available, look for a great cooking apple, so the apples don't disintegrate while cooking. Jonagold would be a good option. Granny Smith also bakes up well, but will produce a more tart cake. (I prefer the sweeter varieties for this cake.)
Brown Sugar – this would be light brown sugar (sometimes called "Golden"). You can replace with white granulated sugar, if you have no brown sugar on hand.
Milk – a full-fat, whole, 3% milk will give you the best results, but 2% would also work. I wouldn't go any lower in that. I haven't tested this recipe with non-dairy milks.
Recipe Tips
As I mentioned above, I was afraid of my mandolin for years. It doesn't take much imagination to realize that there is potential for injury with these things. I finally dealt with it by purchasing cut-resistant gloves, that I use in combination with the mandolin guide. It just gives me the peace of mind I needed to use my mandolin with confidence :)
When placing the apples on the top of the cake, try to keep them as flat as possible, as pieces sticking up tend to brown more quickly. If you feel the cake is at risk of over-browning, you can always lay a sheet of aluminum foil loosely over the top for the last few minutes of baking.
The batter for this cake is very thin, so if your springform pan is prone to leaking (doesn't form a nice, tight seal) or "just to be sure", wrap the outside, bottom of the springform pan tightly with aluminum foil. Baking on a baking sheet is also a good idea, just in case.
Enjoy this cake cold from the fridge, at room temperature or warm for dessert with ice cream or a drizzle of Creme Anglaise. A slice of a great cheddar on top is also a nice way to enjoy this.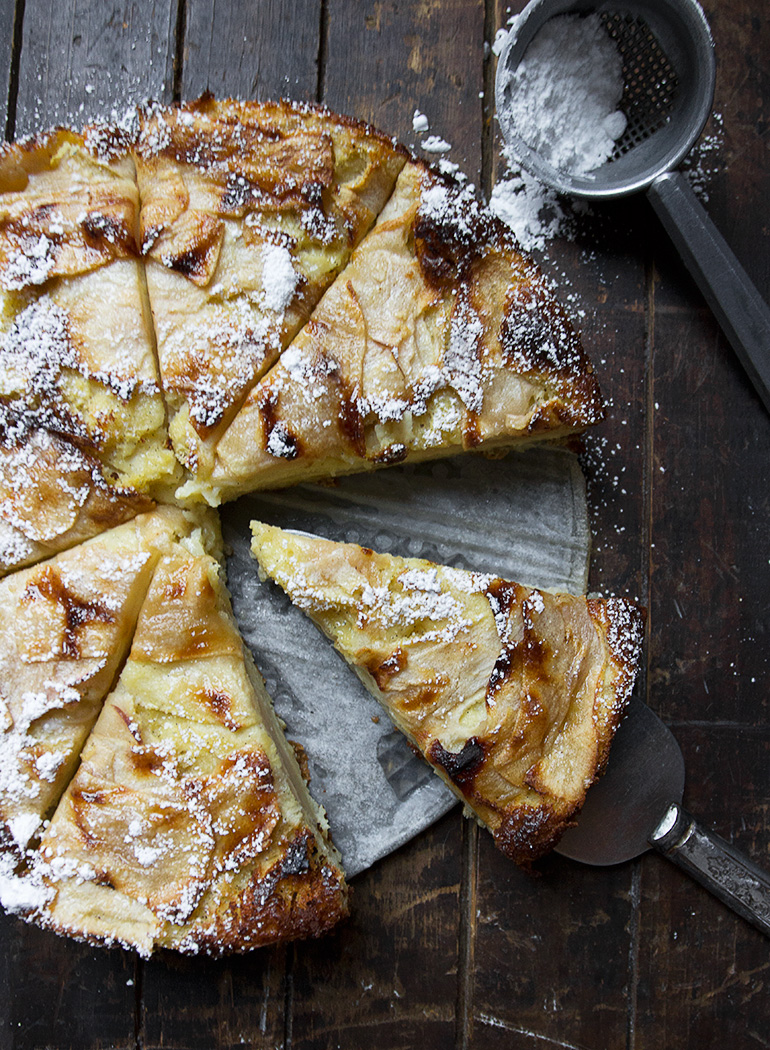 Making Ahead, Storing and Freezing
This cake is best enjoyed on the day it is made. I generally store it in the refrigerator if not eating right away, or for left-overs, though I think it is best at room temperature or even slightly warmed. This cake should freeze, though I wouldn't freeze it as a first option, but only to preserve left-overs that might otherwise go to waste, as the texture may change slightly from the freeze/thaw.
Get the Recipe:

Invisible Apple Cake
A quick, easy, delicious and pretty apple cake, that's perfect for any time of day! Thinly sliced apples combine with a custard base, for a delicious apple-filled cake. It's called Invisible because the really thinly sliced apples seem to disappear into the cake.
Ingredients
6

large

Golden Delicious apples

,

peeled *see Note 1

2

large

eggs

1/4

cup

brown sugar

,

or can substitute white granulated sugar if brown sugar is unavailable

1

teaspoon

vanilla extract

,

or vanilla bean paste

1 1/2

Tablespoon

butter

,

salted or unsalted

6 1/2

Tablespoons

milk

,

whole (3%) or 2% recommended

1/2

cup + 1 Tablespoon

all-purpose flour

1

teaspoon

baking powder

Pinch of salt
Instructions
Line the bottom of an 8-inch springform pan with parchment paper and spray with cooking spray. Preheat oven to 400 F. (regular bake/not fan assisted) **If your springform pan is prone to leaking (they often warp and don't form a tight seal) or if you just want to make sure there is no leaking of the thin batter, wrap the outside, bottom of the pan tightly with aluminum foil.

Before you start the batter, melt the butter in saucepan or microwaveable bowl just until melted and set aside to cool while you start the batter.

In a large bowl with an electric mixer or the bowl of a stand mixer with the paddle attachment, beat the eggs with the sugar and vanilla until very light and fluffy ,about 3 minutes. (**Make sure the melted butter is not hot when added to the batter or it will cook the eggs and make a lumpy batter! If you feel the butter is still too warm, mix it with the cold milk to cool it further, then add to the batter.) Add the cooled, melted butter and the milk to the egg mixture and mix well to combine.

Sift or whisk together the flour, baking powder and salt in a bowl, then sprinkle the flour mixture over the egg mixture. Mix just until combined.

Quarter the peeled apples and remove the core. Use a mandolin to slice each apple quarter into thin slices. Add the apple slices to the batter as you go regularly (don't wait until you've done them all or they will start to brown. Push the apples into the batter so they are covered). Reserve the last handful of apple slices to scatter on top of the batter.

Gently stir the apples in the batter to ensure all apples are well coated. Pour the apple mixture into the prepared springform pan and then scatter the reserved apple slices randomly over-top. *Adjust any apples that may be sticking up into a someone flat surface, as apples sticking up higher have a tendency to over-brown.

Place the springform pan on a baking sheet (in case of leaks) and bake in preheated oven for 30-35 minutes, or until set. If desired, you can turn on the broiler for a minute to brown up the top of the cake.

Remove cake from oven and leave in the pan to cool. Run knife around edges and remove outer springform pan ring. Enjoy right away, or cover and refrigerate to enjoy later. You can serve cold from the fridge or let it come to room temperature before serving. You can also re-warm slightly in the microwave, if you like.

Enjoy slightly warm, at room temperature or cold from the fridge dusted with icing sugar, if you like, or add a dollop of creme fraiche, whipped cream or ice cream on top.
Notes
Golden delicious apples are specified here, as they don't break down as they cook. I recommend Golden Delicious if you can get them. Alternately, use a good cooking apple that you might use for pies. Jonagold is a good option. Granny Smith may work, but might be too tart for this cake
Serving:
1
serving
,
Calories:
217
kcal
,
Carbohydrates:
44
g
,
Protein:
4
g
,
Fat:
4
g
,
Saturated Fat:
2
g
,
Polyunsaturated Fat:
1
g
,
Monounsaturated Fat:
1
g
,
Trans Fat:
1
g
,
Cholesterol:
53
mg
,
Sodium:
46
mg
,
Potassium:
293
mg
,
Fiber:
4
g
,
Sugar:
25
g
,
Vitamin A:
247
IU
,
Vitamin C:
8
mg
,
Calcium:
63
mg
,
Iron:
1
mg
More Apple Cake Recipes to Love!
Hi! I'm Jennifer, a home cook schooled by trial and error and almost 40 years of getting dinner on the table! I love to share my favourite recipes, both old and new, together with lots of tips and tricks to hopefully help make your home cooking enjoyable, stress free, rewarding and of course, delicious!