Easy, perfectly creamy and smooth lemon cheesecake, lighter in texture than some, but full of cream cheese flavour and a touch of lemon. Made with a graham cracker crust.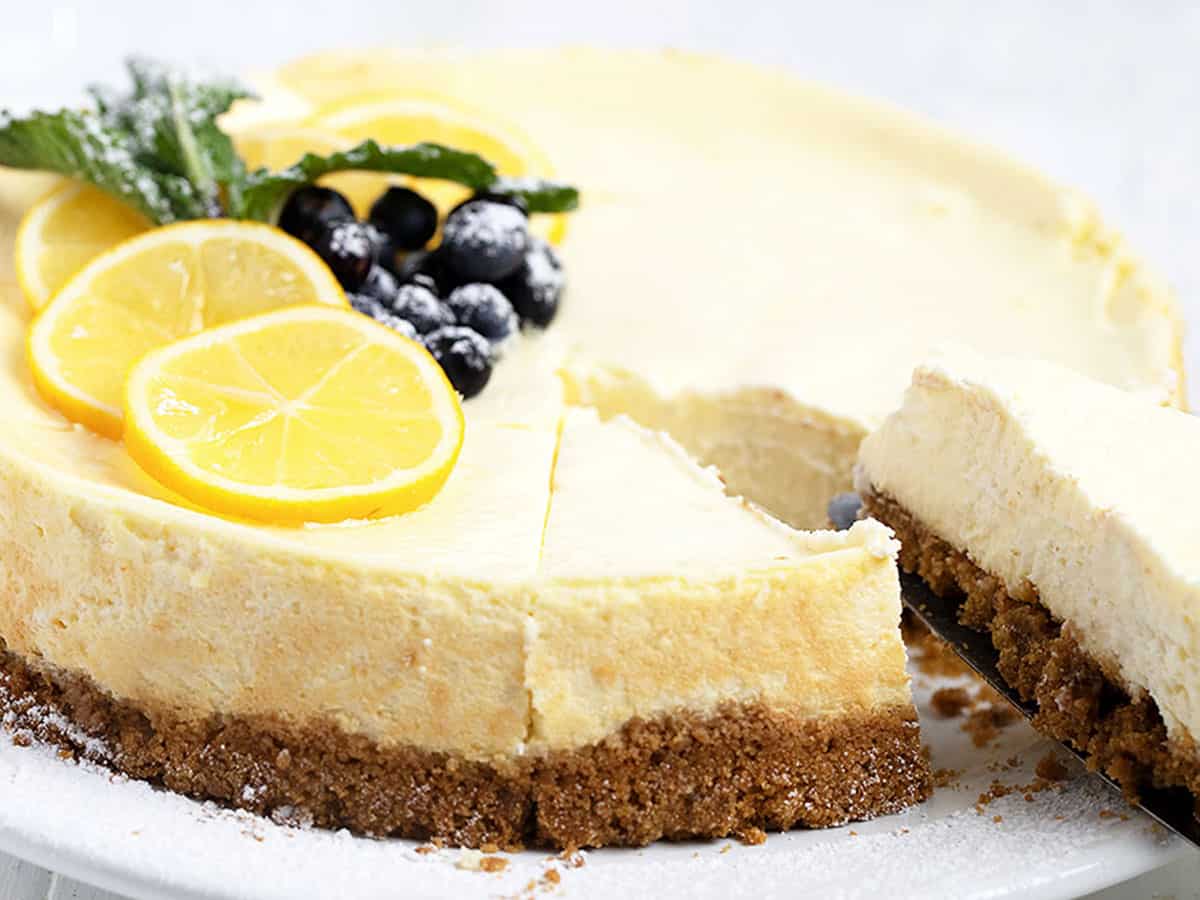 Why you'll love this easy lemon cheesecake recipe
This lemon cheesecake is simply perfect, in my opinion. The smooth and creamy texture is everything I want from a cheesecake. While it's lighter in texture than some other cheesecake's I have made, there is plenty of that lovely cream cheese flavour I want, with just the right amount of lemon flavour.
You'll love how easy this lemon cheesecake is. Simply mix and bake. No lemon curd to make or whipped cream to whip. Garnish simply and enjoy.
And what's more, this cheesecake is wonderfully easy and endlessly adaptable to any variety of citrus flavours.
Ingredients and Substitutions
✓ Cream Cheese: You will 2 standard, 8 oz block of cream cheese (not the Whipped kind). Use full-fat cream cheese as the additives and extra moisture of the reduced fat cream cheese can negatively affect both the taste and texture of your finished cheesecake.
✓ Sour Cream: Again, use a full-fat sour cream here for best results. For a reduced fat option, go with full-fat Greek yogurt instead of a reduced fat sour cream.
✓ Lemons: I love Meyer Lemons when they are in season. If Meyer lemons aren't available regular lemons are just fine. You will need 1 medium-sized regular lemon or 2 of the smaller Meyer lemons. Other citrus such as orange or grapefruit could also be used here.
✓ Graham Cracker Crumbs: I love the convenience of Graham Cracker Crumbs, though you can start with whole graham crackers and process them down to crumbs yourself, then measure out. Alternately, you could use vanilla wafer cookies that you process down to crumbs in the same amount.
✓ Additional ingredients you will need: Light brown sugar, butter, eggs and salt.
Recipe Tips
Starting with your cream cheese at room temperature will make your life so much easier when it comes to making cheesecakes! The batter will blend more completely and evenly and that will help to prevent cracks in your finished cake. Allow a couple of hours on the counter for cream cheese blocks to loose their chill.
Be sure to really get into your food processor and hunt out chunks of cream cheese as your process it. I found some stuck underneath the large blades in mine, so be sure to use a tool that will allow you to get under there, as you usually can't remove the blade mid-processing.
If you don't have a food processor, you could use a blender (with a very light touch, as you don't want it to get frothy and incorporate too much air) or alternately, try a stand-mixer with the paddle attachment.
You can use either an 8 or 9-inch springform pan. I have used an 8-inch here, as I like the extra height in my cheesecakes. If using an 8-inch, you won't need quite all of the crust crumb. Remove 1/2 cup and set aside. If you like, you can save it and sprinkle a bit around the outside edge of the finished cheesecake. For the 9-inch pan, use all the crumbs in the base.
If you are like me, you might be skeptical of the short baking time. Trust it! Your cheesecake is done when there is still some jiggle in the very centre of the cake (the centre 3 or 4 inches), or so, but the outside looks set and puffy. Give the pan a gently tug to test for jiggle.
Top Tip
If your springform pan happens to be black, your cheesecake will cook more quickly as the dark colour will attract and retain heat. To compensate, either reduce the oven temperature by 25 degrees F. or test your cheesecake up to 10 minutes earlier than the stated baking time.
How do you prevent cracks in cheesecake?
1. Use room temperature cream cheese.
2. Make sure there are no lumps in your cheesecake batter.
3. Avoid opening the oven door during baking until near the end of baking, when you need to test.
4. Don't over-bake. A cheesecake is done when there is a sill a little jiggle in the middle, but the edges are set and puffy.
5. Don't remove the cheesecake from the oven right away. Sudden changes in temperature can cause the cheesecake to crack. Simply turn the oven off and stick a wooden spoon in the door to have it slightly ajar. Allow to sit in the oven for 10-15 minutes, or as specified in the individual recipe.
6. Allow the cheesecake to cool to room temperature before refrigerating, again, to avoid a sudden temperature change.
7. Cooking cheesecakes in a water bath is often recommended. This would involve double wrapping outside of the springform pan in aluminum foil, then placing it inside a larger baking pan. Right after placing the cheesecake in the oven to bake, fill the outer pan with boiling water halfway up the sides of the cheesecake pan. The additional humidity and more even baking is thought to prevent cracking.
How to know when your cheesecake is done?
To check if your cheesecake is done: the cheesecake should look set and puffy on the outer edges. Gently shake the pan. If only a small 3-4 inch circle in the centre of the cheesecake jiggles slightly, it is done. The centre will firm up during the cooling time.The cheesecake should not be allowed to brown at all. Do not use a knife to check doneness, as you will leave that knife mark in your finished cake.
How long to cool should your cheesecake before refrigerating?
Always let your cheesecake cool completely in the pan, at room temperature, before refrigerating. This prevents a sudden temperature change which can cause cracking. Cool at least 1 hour at room temperature or up to 3 hours.
How should you store cheesecake?
Once cooled completely, you can either leave in the pan to refrigerate or remove from the pan to refrigerate on a plate. I find leaving it in the pan keeps it nice and secure in the refrigerator. I like to cover the top of the pan with plastic wrap, then a layer of aluminum foil, to keep the plastic wrap securely on top.Refrigerate your cheesecake for at least one hour or up to to 24 hours. Generally, the longer the better, in my opinion. To remove the cheesecake from the pan after refrigerating, simply remove the sides of the pan (the cheesecake should have contracted away from the sides already) the gently nudge the crumb base until it loosens from the bottom pan and slide onto your serving plate.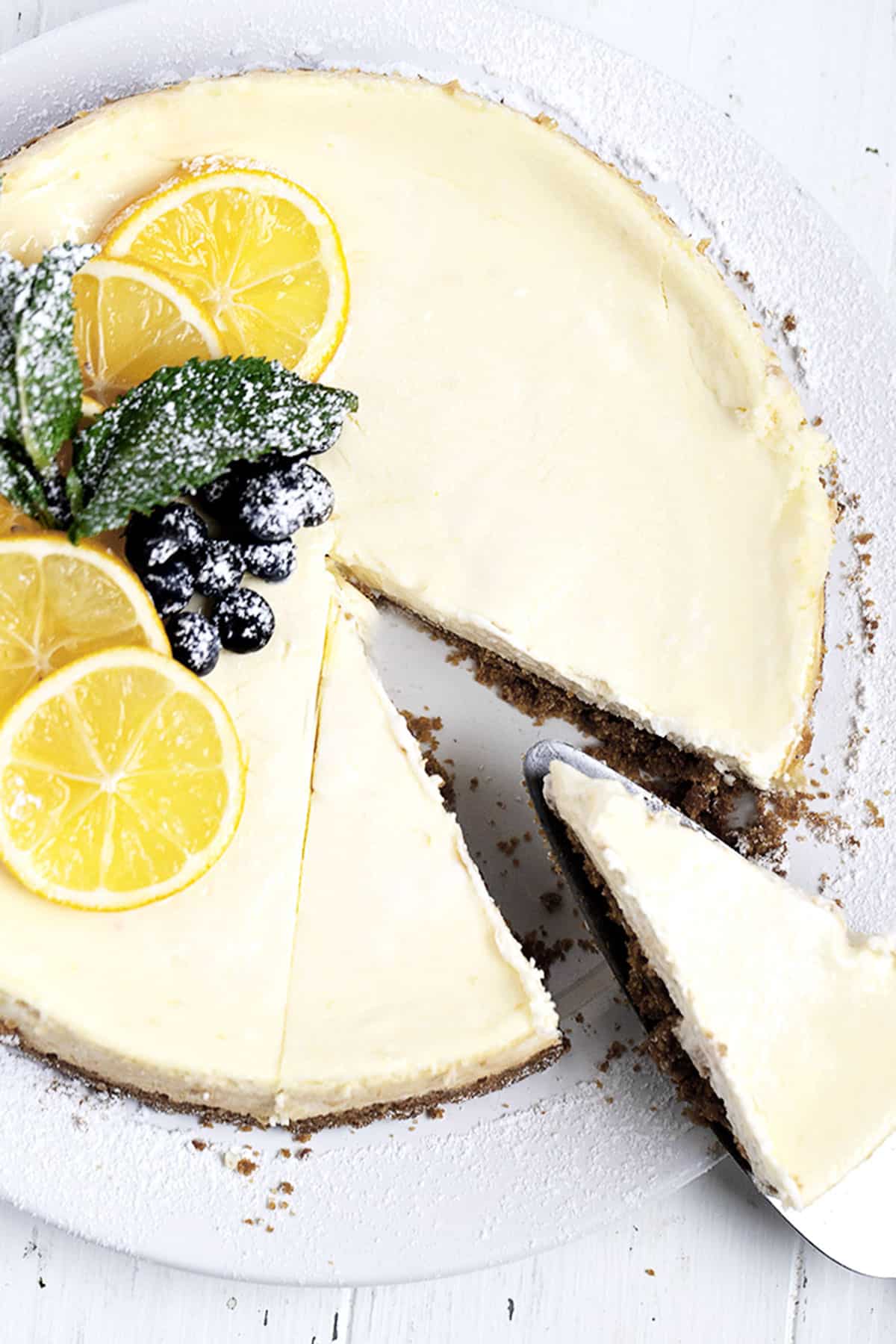 Serving, Storing and Freezing Cheesecake
Room temperature: A cheesecake can be kept at room temperature up to 6 hours, either for the cooling down period or after refrigerating and serving (on a party table, for example).
Refrigerating: Cheesecake will keep in the fridge up to 5 days, though it's quality decreases slightly after about 3 days (crust gets soggier and the cheesecake can pick up fridge odours).
Freezing: Any cheesecake made with full-fat cream cheese/sour cream will freeze well. Tightly wrapped, cheesecake can be frozen up to 2 months. Thaw in the fridge, on the counter or microwave lightly.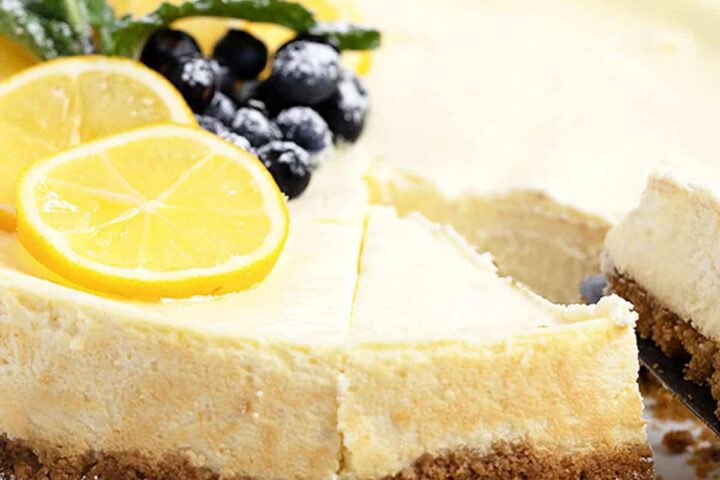 Get the Recipe:

Simply Perfect Lemon Cheesecake
An easy and perfectly smooth and creamy lemon cheesecake, with a graham cracker base.
Ingredients
For the crust:
2

cups

graham cracker crumbs

3

Tablespoons

light brown sugar

6

Tablespoons

butter

,

melted, salted or unsalted

Pinch

salt

,

if using unsalted butter or omit for salted butter
For the filling:
16

oz

full-fat cream cheese

,

at room temperature, 2 standard sized blocks (not Whipped

1

cup

full-fat sour cream

,

or full-fat Greek yogurt

1/2

cup

granulated white sugar

2

large

eggs

1 – 1 1/2

Tablespoons

lemon zest

2 – 3

Tablespoons

lemon juice

,

see Note 2

Pinch

salt
For garnish:
Sliced citrus, fresh blueberries, mint leaves, icing sugar

,

Optional, for serving
Equipment
Equipment:

8 or 9-inch Springform pan, or see Note 1

Food processor (or blender/stand mixer)
Instructions
Preheat the oven to 325F (not fan-assisted/not convection)

Make the Crust: Add graham cracker crumbs to a medium bowl and stir in the brown sugar. Pour the melted butter overtop, then stir until all the crumbs are moistened and have a wet sand texture. Add a pinch of salt if you used unsalted butter.

*If using an 8-inch springform pan, remove 1/2 cup of the crumb mixture, as you won't need it all for the base. You can reserve to sprinkle on top of the finished cake, if you like (sprinkle around the outside edge in a ring).

Press the moist crumb mixture into the bottom of your springform pan. Use the bottom of a dry measuring cup to make sure the crust is really pressed down, to make it easiest to cut later on.

Bake the crust until it is lightly golden brown, about 10 minutes. Remove from oven and set aside to cool. Leave oven on and set at 325F.

Make the Filling: Combine the room temperature cream cheese, sour cream and granulated sugar in the bowl of a food processor. Process until the mixture is extremely smooth and well blended, a minute or two. Remove the lid of the food processor and scrape down the sides and bottom of the food processor and try to reach under the blades if you can, to fine and incorporate any stubborn chunks of cream cheese. Process again briefly after scraping. (Getting a perfectly smooth batter at this point is important to prevent cracks in your finished cake, so take the time here to make sure it's well blended and smooth).

Add the eggs, lemon juice and zest and a pinch of salt and keep processing until it's super smooth and creamy, another 30 seconds or so.

Pour the filling into the baked crust *You may have some leftover filling if you are using a regular cake pan.

Bake in preheated 325F oven until mostly set, with a little jiggle in the centre 3-4 inches, with the outsides looking set and puffy, about 20 to 30 minutes. The filling should not brown at all. Don't over-cook, as this can cause your cheesecake to crack.

Turn the oven off and open the door a crack (inserting a wooden spoon in the crack will help it say open). Let the cheesecake sit in the oven for about 10 minutes before transferring it to a wire rack on the counter to cool completely.

Once cooled completely, over the top of the springform pan with plastic wrap, then a layer of aluminum foil. Place the cheesecake in the refrigerator to chill for at least 1 hour or up to 24 hours.

To serve, remove from springform pan. Topping option: citrus slices, a scattering of blueberries or blackberries, a mint leaf and a dusting of icing sugar, if you like.
Notes
1. Alternatively, you could use an 8 or 9-inch cake pan lined with parchment. It will be a bit trickier to get out of the pan, so probably better to just serve slices from the pan.
2. Lemon flavour is very subjective. Some taste it more than others. I prefer a more subtle lemon flavour, so I use the lesser of the amounts listed in the ingredients. You can use more, as you like and to taste. The amount listed roughly equal the juice and zest from 1 medium lemon.
Be sure to read the notes above this Recipe Card, where I share more detailed

 

tips, variations and substitution suggestions for this recipe!
Serving:
1
serving
,
Calories:
245
kcal
,
Carbohydrates:
26
g
,
Protein:
9
g
,
Fat:
12
g
,
Saturated Fat:
7
g
,
Cholesterol:
65
mg
,
Sodium:
437
mg
,
Potassium:
180
mg
,
Fiber:
1
g
,
Sugar:
17
g
,
Vitamin A:
365
IU
,
Vitamin C:
4
mg
,
Calcium:
176
mg
,
Iron:
1
mg
More Cheesecake Recipes to Love!
Hi! I'm Jennifer, a home cook schooled by trial and error and almost 40 years of getting dinner on the table! I love to share my favourite recipes, both old and new, together with lots of tips and tricks to hopefully help make your home cooking enjoyable, stress free, rewarding and of course, delicious!