A hearty and delicious meatless main dish, with a mushroom and spinach layer, topped by sliced potatoes and cheese and cooked a bit of garlic and herb infused cream.
I came across the idea for this recipe from Melissa Clark. She made this recipe with a ground beef base. I have no doubt that's delicious (and you can certainly go that route), but I wanted to try it as a meatless dish.
For my version, cremini mushrooms replaced the meat and combined with a bunch of baby spinach. For the topping, thinly sliced Russet (baking) potatoes are topped with a generous sprinkling of Gruyere cheese. What brings it all together is a garlic and herb infused cream, that gets poured over the whole thing before baking.
Proving that a meatless meal can still be hearty and delicious comfort food!
When I first served this to my meat-loving husband, I mentioned that it was based on a recipe that used ground beef for the base and suggested that he probably would prefer it that way. Nope. He replied that he didn't miss the meat! We've come a long way :)
So yes, this dish is meatless, but I don't think you'll miss the meat either. It's a great way to add another meatless meal to your week!
Jump to:
Ingredient Notes
Here are the ingredients you will need to make this recipe. I've included some substitution suggestions, as well.
✓ Russet Potatoes: Russet potatoes would be the first choice for the potato topping. These are "baking" potatoes, the are oblong, bumpy and often dirty looking. A yellow-fleshed, Yukon potato will work, if that's what you have on hand. They may take longer in the oven, so be sure to test with a knife to make sure they're tender before uncovering the foil.
✓ Gruyere Cheese: Yes, Gruyere can seem shockingly expensive, but I find that it's so full of flavour, that a little goes a long way. So you don't need a big chunk of it and it really does make the best gratin, in my opinion. Alternate cheeses would be something like an Jarlsberg or Emmenthal or the French equivalent of Gruyere, Comte. Less ideal, but still a good option would Asiago, Fontina or Parmesan.
✓ Cremini Mushrooms: I love the deeper colour and flavour of cremini mushrooms vs. white mushrooms, though you can use any mushroom you like here. If you are buying fresh, go for the whole cremini mushrooms and cut them yourself. That way you will have a chunkier mushroom layer, as you can cut them thicker and include the rounded edges that are absent from the sliced packages. You will need 2 standard, 8oz trays of mushrooms.
✓ Baby Spinach: Being able to add a good amount of greens to this dish is appealing for me, but if you'd prefer, you could easily leave out the spinach. Any green that wilts quickly and well would also work here.
✓ Fresh Thyme: Fresh thyme is best, if you have it. Alternately, you can used dried thyme to infuse your cream. About 1/4 tsp of dried thyme leaves in the cream should work. You may want to add a pinch to your mushrooms, as well.
✓ Fresh Garlic: When it comes to garlic, fresh is best. Alternately, a pinch of garlic powder in the cream would work.
✓ Heavy Cream: Heavy or whipping cream (35% b.f.) will produce the best results here. You could use another cream, such as 10% b.f. Half and Half cream, though your sauce will be runnier, especially as it combines with liquid from the mushrooms. You may wish to cook off a bit more liquid from the mushrooms (cook longer on the stovetop) to mitigate the lighter cream.
Cook's Notes
As noted above, this recipe originally used ground beef instead of mushrooms. If you want to go that route, you will need 1 lb. of lean ground beef. Another option would be to use 1/2 lb. ground beef together with 1 8oz tray of mushrooms.
The spinach is going to virtually disappear in this dish, so don't hesitate to cram as much in to the skillet as you can. It may not be visible, but all its goodness will be in there :)
While I haven't tried it yet, if you wanted to add more goodness to this skillet, you could add some sweet potato slices to the potato slices.
Be sure to generously season well with salt and pepper throughout the cooking process, as each of the elements will benefit from a good salting. There is also nothing else in this dish (like chicken stock etc), that will provide any seasoning.
Don't be tempted to cook all the mushrooms in one batch. Mushrooms release a lot of liquid and you will just end up steaming your mushrooms, which doesn't produce the best results. Not over-crowding the pan will allow the liquid to cook off and build some great mushroom flavoured browning in the pan.
Top Tip! When cooking the mushrooms on the stove-top, cook them to the point that you prefer for mushrooms. Despite the hour in the oven, the mushrooms come out of the oven pretty much how they went it. So if you prefer well-cooked mushrooms, do that on the stove-top. For this dish, I like to just cook off most of the moisture, but not cook them down completely, as I like the plumpness in the finished dish. Well-cooked mushrooms will still be good, but will create quite a flat layer.
What to serve alongside this dish
As this is a creamy dish that's already chock full of vegetables, you may want to just enjoy it on it's own. A simple green or vegetable salad would also be a nice side.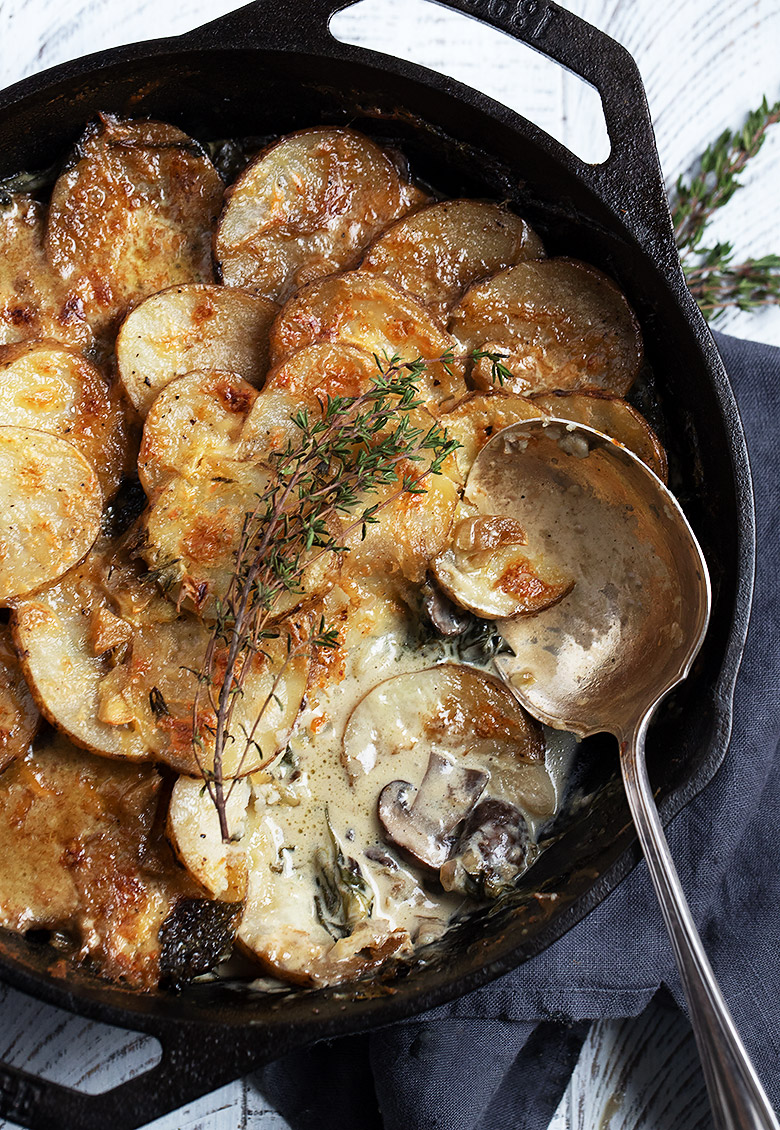 Recipe
More skillet recipes you might like ...