A hearty and delicious meatless main dish or side dish, with a mushroom and spinach layer, topped by sliced potatoes and cheese and cooked a bit of garlic and herb infused cream.
This creamy skillet potatoes and mushrooms recipe starts with cremini mushrooms, that are combined with a bunch of baby spinach. For the topping, thinly sliced Russet (baking) potatoes are topped with a generous sprinkling of Gruyere cheese. What brings it all together is a garlic and herb infused cream, that gets poured over the whole thing before baking.
Ingredients and Substitutions
✓ Russet Potatoes: Russet potatoes would be the first choice for the potato topping. These are "baking" potatoes, the are oblong, bumpy and often dirty looking. A yellow-fleshed, Yukon potato will work, if that's what you have on hand. They may take longer in the oven, so be sure to test with a knife to make sure they're tender before uncovering the foil.
✓ Gruyere Cheese: Yes, Gruyere can seem shockingly expensive, but I find that it's so full of flavour, that a little goes a long way. So you don't need a big chunk of it and it really does make the best gratin, in my opinion. Alternate cheeses would be something like an Jarlsberg or Emmenthal or the French equivalent of Gruyere, Comte. Less ideal, but still a good option would Asiago, Fontina or Parmesan.
✓ Cremini Mushrooms: I love the deeper colour and flavour of cremini mushrooms vs. white mushrooms, though you can use any mushroom you like here. If you are buying fresh, go for the whole cremini mushrooms and cut them yourself. That way you will have a chunkier mushroom layer, as you can cut them thicker and include the rounded edges that are absent from the sliced packages. You will need 2 standard, 8oz trays of mushrooms.
✓ Baby Spinach: Being able to add a good amount of greens to this dish is appealing for me, but if you'd prefer, you could easily leave out the spinach. Any green that wilts quickly and well would also work here.
✓ Fresh Thyme: Fresh thyme is best, if you have it. Alternately, you can used dried thyme to infuse your cream. About 1/4 tsp of dried thyme leaves in the cream should work. You may want to add a pinch to your mushrooms, as well.
✓ Fresh Garlic: When it comes to garlic, fresh is best. Alternately, a pinch of garlic powder in the cream would work.
✓ Heavy Cream: Heavy or whipping cream (35% b.f.) will produce the best results here. You could use another cream, such as 10% b.f. Half and Half cream, though your sauce will be runnier, especially as it combines with liquid from the mushrooms. You may wish to cook off a bit more liquid from the mushrooms (cook longer on the stovetop) to mitigate the lighter cream.
Recipe Tips
The spinach is going to virtually disappear in this dish, so don't hesitate to cram as much in to the skillet as you can. It may not be visible, but all its goodness will be in there :)
Be sure to generously season well with salt and pepper throughout the cooking process, as each of the elements will benefit from a good salting. There is also nothing else in this dish (like chicken stock etc), that will provide any seasoning.
Don't be tempted to cook all the mushrooms in one batch. Mushrooms release a lot of liquid and you will just end up steaming your mushrooms, which doesn't produce the best results. Not over-crowding the pan will allow the liquid to cook off and build some great mushroom flavoured browning in the pan.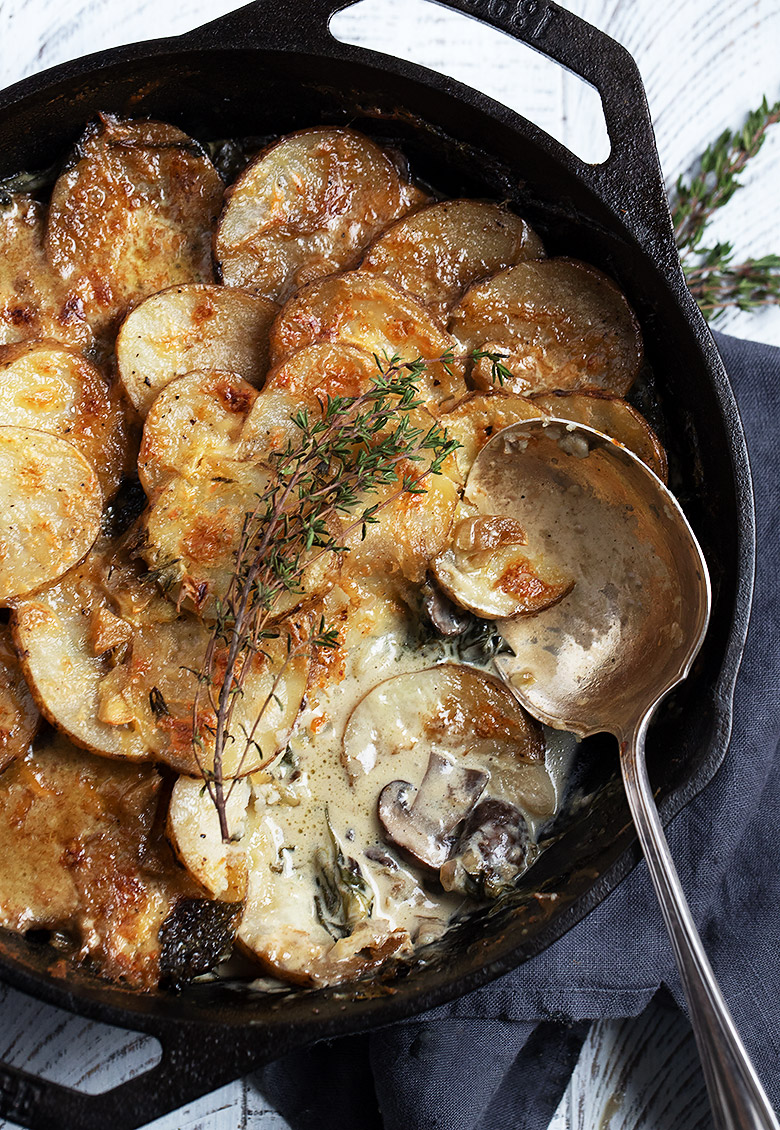 Top Tip!
When cooking the mushrooms on the stove-top, cook them to the point that you prefer for mushrooms. Despite the hour in the oven, the mushrooms come out of the oven pretty much how they went it. So if you prefer well-cooked mushrooms, do that on the stove-top. For this dish, I like to just cook off most of the moisture, but not cook them down completely, as I like the plumpness in the finished dish. Well-cooked mushrooms will still be good, but will create quite a flat layer.
Get the Recipe:

Creamy Skillet Potatoes and Mushrooms
A hearty and delicious meatless main dish or side dish, with cheese-topped sliced potatoes on top of sautèed mushrooms and spinach and cooked in a bit of cream.
Ingredients
Infused Cream:
2

cloves

garlic

,

roughly chopped

1

cup

heavy whipping cream

,

35% b.f. or see Note 1 below

2

sprigs

fresh thyme

,

or 1/4 tsp dried thyme leaves
Mushroom Layer:
1

Tablespoon

extra-virgin olive oil

,

plus more as needed

1

lb

whole cremini mushrooms

,

see Note 2

Salt and freshly ground pepper

1/2

cup

onion

,

diced

2

cloves

garlic

,

roughly chopped

3

cups

baby spinach

,

packed
Potato Topping:
1/2

lb

Russet baking potatoes

,

about 2 medium sized or see Note 3

1

cup

Gruyere cheese

,

grated, or see Note 4

Salt and freshly ground pepper
Instructions
In a small saucepan, combine the 2 cloves chopped garlic with the cream. Place the thyme branches in and push down into the cream. Heat cream over low heat a few minutes, or just until warm (*do not boil!), then turn the heat off under the saucepan and allow to sit while you cook the mushrooms.

Preheat oven to 350F.

Heat oil in a large, oven-proof skillet over medium-high heat on the stovetop. Cook 1/2 of the mushrooms, stirring regularly, until most of the liquid has cooked off, but the mushrooms are still holding their shape. (If you are someone who prefers well-done mushrooms, feel free to cook longer). Remove mushrooms to a bowl and repeat with the second half of the mushrooms, cooking the same way. Remove to the same bowl.

Add a splash of cooking oil to the skillet, if dry. Add the diced onion and cook, stirring, until softened. Add the 2 cloves and stir/cook and additional 30-45 seconds. Return the mushrooms to the skillet, together with any liquid in the bowl. Stir to combine. Scatter baby spinach over the top and cook, stirring, just until the spinach wilts (you may need to do this in batches for it all to fit). *Note: The liquid from the mushrooms will help to wilt the spinach. Once the spinach is wilted and stirred in, if there is a lot of liquid in the pan, you could spoon some off, to avoid watering down the cream sauce.

Remove skillet from heat.

Wash and peel the potatoes, if desired (peeling isn't necessary though, if clean). Slice into thin rounds. Arrange the potato rounds in a single layer, slightly over-lapping, on top of the mushrooms in the skillet. Season with salt and freshly ground pepper. Top with Gruyere cheese. Slowly pour the infused cream mixture over-top, pouring all over the skillet. *You could strain out the garlic and thyme, but I like to keep it in).

Cover skillet with aluminum foil (or a lid) and cook in preheated oven for 60-75 minutes, or until the potatoes test tender when tested with the point of a knife. Remove foil and continue cooking an additional 15 minutes, or until bubbly and golden. Allow to stand a 5-10 minutes to set, then spoon out of the skillet to serving plates.
Notes
1. You could use a lighter cream, such as 10% b.f. Half and Half Cream, for a lighter dish. The sauce will be a bit runnier.
2. This would be 2 standard 8oz trays of mushrooms. You can use any type of mushroom your prefer, but buying whole and slicing yourself if recommended for a chunkier layer, though not necessary.
3. Alternately, you could use yellow-fleshed, Yukon potatoes, though they may require longer in the oven to soften. Be sure to test with a knife to be sure they are tender before removing the foil. If not, continue cooking covered until they test tender.
4. Alternate cheese options: Jarlsberg, Emmenthal, Comte. Asiago, Fontina or Parmesan are less ideal, but will work.
Be sure to read the notes above this Recipe Card, where I share more detailed tips, variations and substitution suggestions for this recipe!
Serving:
1
serving
,
Calories:
307
kcal
,
Carbohydrates:
14
g
,
Protein:
11
g
,
Fat:
24
g
,
Saturated Fat:
14
g
,
Cholesterol:
79
mg
,
Sodium:
108
mg
,
Potassium:
647
mg
,
Fiber:
2
g
,
Sugar:
2
g
,
Vitamin A:
2214
IU
,
Vitamin C:
9
mg
,
Calcium:
288
mg
,
Iron:
1
mg
More Creamy Potato Recipes to Love!
Hi! I'm Jennifer, a home cook schooled by trial and error and almost 40 years of getting dinner on the table! I love to share my favourite recipes, both old and new, together with lots of tips and tricks to hopefully help make your home cooking enjoyable, stress free, rewarding and of course, delicious!