Creamy lemon pasta, tossed with asparagus and shrimp, for an easy and delicious weeknight meal that's ready in just 30 minutes!
Lemon pasta is one of my favourites, but it's especially nice this time of year, when I'm craving fresher flavours. And there's nothing fresher that lemon! Combine it with fresh Spring asparagus and toss in some cooked shrimp and you have a delicious and easy meal, that's ready in just 30 minutes.
While I love to toss in some shrimp here, this dish is still lovely with just the asparagus, so don't hesitate to try it, even if you don't have some shrimp on hand. It's a great way to enjoy Spring asparagus.
For my photos here, I put the shrimp and asparagus on top of the pasta, so you could see all the lovely ingredients of this pasta. And you can do that and mix it together at the table, if you'd like to present it this way. That said, the easier way to make this dish is to just mix everything up together in the pan, so the delicious sauce coats everything, and serve it already mixed. That's the way I've written the recipe below.
Cook's Notes
While you could use any pasta for this dish (and I have tried many different shapes), I think you just can't beat spaghetti here. It just grabs the sauce so well and creates the perfect balance between pasta and sauce.
Frozen, cooked shrimp is such a time-saver and always a great addition to a dish! I always have a bag in my freezer. They defrost quickly by running under cold water, so no need to thaw ahead. That said, you could definitely use uncooked shrimp here and cook them separately, before adding to the pasta. You might even want to make use of your pasta boiling water after you take the pasta out.
I suggest just using asparagus tips here, since it's difficult to eat a whole, long spear of asparagus in a pasta dish. But do save the rest of the asparagus stalk and use for a soup or or chunk up to use in a stir fry!
Don't forget to scoop out a cup or so of pasta cooking water before draining your pasta, to use to thin the sauce, as needed. If your pasta seems to seize up a bit near the end, adding a bit of the pasta cooking water will loosen it up.
Top Tip! Heavy, whipping cream is used here, because the higher fat whipping cream won't break or curdle when mixed with an acid like lemon juice (or wine). So while you may be tempted to use a lower fat cream here, your sauce will most likely curdle or have a less desirable texture. If you don't want to use that much cream, the better option is just to use less cream and more pasta cooking water (or some olive oil and/or chicken broth), rather than substituting a lower fat cream.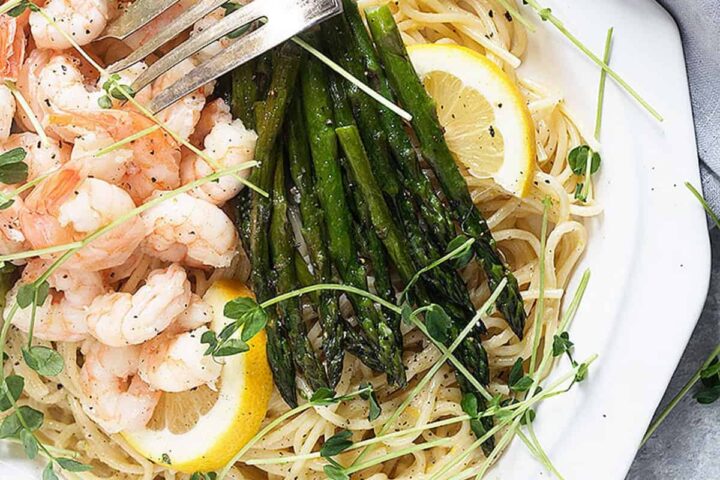 Get the Recipe:

Lemon Pasta with Asparagus and Shrimp
Pasta in a creamy lemon, Parmesan sauce, tossed with asparagus and shrimp.
Ingredients
1

lb.

fresh asparagus

,

tips only

7

oz

spaghetti

,

or other pasta

2

cups

cooked shrimp

,

thawed
Creamy Lemon Sauce:
1

cup

whipping cream

2

Tbsp

butter

Salt and freshly ground pepper

1

Tbsp

lemon zest

1

Tbsp

lemon juice

,

plus more, to taste

1/4

cup

Parmesan

,

grated, plus more for garnish

1/4

cup

pasta cooking water
For garnish:
Lemon slices

Pea shoots

,

optional
Instructions
Boil water in a large pot and salt generously. Cook pasta per package directions. Trim the tips off the asparagus, down to about 3 inches from the tip. Add the asparagus tips into the boiling water with the pasta for the last 2-3 minutes of cooking.

Meanwhile, heat the cream, butter salt and pepper in a large skillet over low heat. Add the lemon zest, lemon juice and Parmesan and stir to combine. Add the (cooked, thawed) shrimp to the sauce. Keep warm over low heat until the pasta is done.

If draining pasta and asparagus, remove 1 cup of the pasta cooking water and set aside, otherwise, use tongs to transfer the pasta and asparagus to the skillet with the cream/shrimp mixture. Add 1/4 cup of the pasta cooking liquid and cook over medium-low heat, tossing well, until well coated and the shrimp is warmed through. Taste and add more salt, pepper and additional lemon juice, as needed.

Serve garnished with lemon slices, additional Parmesan cheese and pea shoots, if desired.
Calories:
552
kcal
,
Carbohydrates:
43
g
,
Protein:
25
g
,
Fat:
31
g
,
Saturated Fat:
18
g
,
Cholesterol:
262
mg
,
Sodium:
676
mg
,
Potassium:
435
mg
,
Fiber:
4
g
,
Sugar:
3
g
,
Vitamin A:
1960
IU
,
Vitamin C:
12.7
mg
,
Calcium:
243
mg
,
Iron:
4.5
mg
More Pasta Recipes You Might Like …
Creamy Goat Cheese Pasta with Spinach and Tomatoes
This Creamy Goat Cheese Pasta with Spinach and Tomatoes is perfect for when you're craving pasta with creamy cheese. With lots of vegetables, this one can be a main or a side with grilled meat.
www.seasonsandsuppers.ca
Blistered Tomato and Mascarpone Pasta
Delicious pasta dish, featuring blistered tomatoes and arugula in a creamy mascarpone sauce. A quick and easy dinner, ready in about 20 minutes!
www.seasonsandsuppers.ca