Easy to make, can be made ahead and a simply perfect and delicious way to end any meal, the lemon posset is creamy, but light, thick and velvety and with a fresh lemon flavour.
I'm not sure there is a dessert more deliciously satisfying than a lemon posset. With just 4 ingredients and about 15 minutes of cooking on the stove-top, there are also few desserts that can rival its simplicity of ingredients or process. It is, in my opinion ... the most simply perfect dessert.
If you've never experienced a lemon posset, once you do, you will find yourself making it just because you dreaming about opening up the fridge and finding one inside. And you'll find yourself making it when you need a dessert that will be the perfect ending for a special dinner. And you'll find yourself making it when you just need a dessert that is easy and can be made well ahead. And you'll find yourself making it whatever the season. It's the little black dress of desserts :)
Jump to:
Ingredients
Here are the simple ingredients you will need ...
Heavy (whipping) cream, 35% butterfat
White granulated sugar
A couple of lemons
Pinch of salt
(Optional, but recommended) Some fresh berries for topping
(Optional, if you want to dress it up) - Mint leaves and a dusting of confectioners' sugar for garnish
Refer to the FAQ section below for ingredient substitution advice.
Step by Step Photos
Step 1: Gather and measure the simple ingredients.
Step 2: Add the cream, sugar and lemon zest to a medium saucepan. Heat over medium heat, stirring regularly, until the mixture comes to a boil.
Step 3: Lower the heat to medium low. Vigorously simmer the mixture until it thickens slightly and reduced to 2 cups. On my stovetop, a "vigorous simmer" was achieved with the burner a touch lower than medium-low.
Step 4: Remove the saucepan from the heat and add the lemon juice. Stir to combine then let stand 20-25 minutes to cool
Step 5: After sitting, the mixture should have developed a thin skin on top of the mixture.
Step 6: Strain the mixture to remove the lemon zest if you like, then divide between 6 small ramekins. Chill uncovered for at least 3 hours before serving.
FAQ
I'm going to start off by explaining the magical, but fragile process that takes place in making this simple dessert. The high fat heavy cream works with the acid of the lemon juice to curdle the fat and change it from a liquid to a set mixture. Likewise, the sugar works to ensure those curds are smooth and silky and not lumpy.
So all that said, this is not one of those recipes that you can change up the ingredients and expect a good result, particularly with respect to the cream. The high fat cream is what makes this recipe work. Plain and simple and there is no substitute for it. And I don't say that very often, but honestly, some recipes just can't be altered to fit various preferences and this is one of them.
Can I use a lower fat cream, milk or yogurt? No, you can't, as they don't have enough fat to react with the acid to create the curd that thickens this dessert.
Can I use nut milk or coconut milk? No, as both don't have the necessary fat content to work.
Can I reduce the sugar? The sugar in this dessert is doing more than sweetening. It ensures the creation of a smooth (vs. lumpy) curd and a lovely silky texture to the finished dessert. It's also intended, of course, to balance the tart lemon flavour. My advice would be to try it as written once. If you find it too sweet, remove a tablespoon or so of the sugar the next time you make it until you find your sweet spot flavour-wise.
Can I use another type of citrus? Yes! Orange or grapefruit would work here in the same way, in the same quantities.
Tips
Even though the posset just has a few simple ingredients and is pretty simple to make, it is important that you follow the directions carefully, in terms of simmering level, simmering time and making sure it cooks down to exactly 2 cups of liquid. Have a measuring cup handy to test it regularly. This simmering process is cooking off the water in the cream, leaving the perfect amount of butterfat to react with the lemon juice you will be adding later, for a perfectly textured finished dish.
Simmering vigorously doesn't mean boiling vigorously. Boiling vigorously could cause the mixture to scorch or boil over. Adjust the heat under the pot to find that spot between a gentle simmer and boiling.
It is not absolutely necessary to strain the mixture. The straining is simply to remove the lemon zest. You can skip the straining and leave the zest in, if you prefer (or you don't have a fine strainer :)
This is not the type of dessert where you definitely don't need a large serving to be satisfied. It is best enjoyed in very small servings, in my opinion. The 2 cups of liquid could definitely be distributed between 5 or even 6 serving dishes. It may seem small, but it's a little-goes-a-long-way dessert.
You can definitely make these well ahead and in fact, you will need to make them ahead to allow them a full 3 hours to set and chill before eating. They will keep well for a couple of days in the fridge.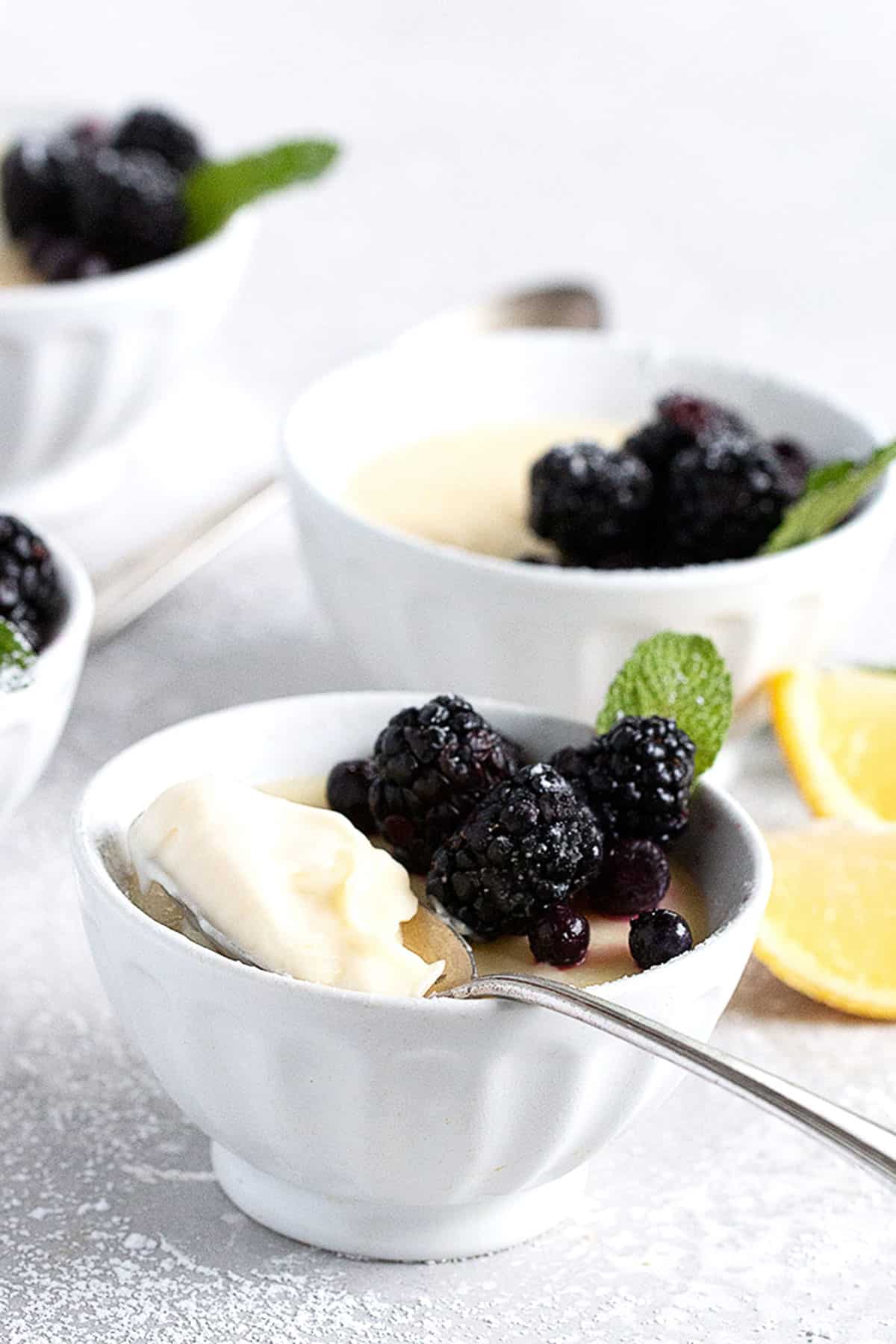 Recipe
Adapted from a Melissa Clark recipe
More lemon desserts you might like ...