Lemon Posset is a luscious, creamy lemon dessert, that is thick and velvety, with a fresh lemon flavour. Posset is incredibly easy to make, can be made ahead and is a simply perfect and delicious way to end any meal.
I'm not sure there is a dessert more deliciously satisfying than a lemon posset. With just 3 ingredients and about 15 minutes of cooking on the stove-top, there are also few desserts that can rival its simplicity of ingredients or process. It is, in my opinion … simply perfect.
If you've never experienced a lemon posset, once you do, you will find yourself making it just because you dreaming about opening up the fridge and finding one inside. And you'll find yourself making it when you need a dessert that will be the perfect ending for a special dinner. And you'll find yourself making it when you just need a dessert that is easy and can be made well ahead. And you'll find yourself making it whatever the season. It's the little black dress of desserts :)
What is lemon posset
Lemon posset is a traditional British dessert that dates back to the Middle Ages. It is a simple, yet luxurious creamy dessert, made with just a few basic ingredients: cream, sugar, and lemon juice. The result is a smooth and velvety custard-like dessert with a rich and tangy flavour.
How does lemon posset set?
Lemon posset sets and thickens primarily due to a chemical reaction between the acidic lemon juice and the proteins in the cream. The proteins in the cream coagulate when they come into contact with the acid from the lemon juice. This coagulation process is what gives lemon posset its characteristic custard-like texture.
The correct balance of acid and dairy is critical for achieving the perfect texture. Too much acid can cause the mixture to curdle too quickly and become grainy, while too little acid might not set into a thick, creamy texture. The refrigeration further helps the proteins to set and solidify, creating the smooth and creamy texture of lemon posset.
Ingredients You'll Need
Basic posset needs just 3 ingredients – heavy cream, sugar and lemons. Here are a few more details on these ingredients.
Heavy Cream – also known as whipping cream, this is typically 35% butterfat. Heavy cream is required for proper setting of this posset.
Sugar – white granulated sugar is recommended, for best results. Reducing the sugar is not recommended, as it may affect the setting of the posset, as well as possibly being overly tart in flavour. Additionally, the sugar works to ensure those curds are smooth and silky and not lumpy. Alternate sweeteners may work in posset. Refer to the FAQ section below for more information.
Lemons – this recipe uses regular lemons. It is possible to use Meyer lemons for posset. See the FAQ section below for some additional information for using Meyer lemons.
Optional, but recommended ingredients …
Pinch of salt
Some fresh berries for topping (or see below for other topping options)
Mint leaves and a dusting of confectioners' sugar for garnish
Step by Step Photos
Step 1: Gather and measure the simple ingredients.
Step 2: Add the cream, sugar and lemon zest to a medium saucepan. Heat over medium heat, stirring regularly, until the mixture comes to a boil.
Step 3: Lower the heat to medium low. Simmer actively, but gently, until it thickens slightly and reduces to 2 cups. On my stovetop, a "gentle, active simmer" was achieved with the burner a touch lower than medium-low.
Step 4: Measure the cream mixture in a measuring cup to check it has reduced to 2 cups.
Step 5: Remove the saucepan from the heat and add the lemon juice. Stir to combine then let stand 20-25 minutes to cool. After sitting, the mixture should have developed a thin skin on top of the mixture.
Step 6: Strain the mixture to remove the lemon zest and any curds, then divide between 6 small ramekins. Chill uncovered for at least 3 hours before serving.
FAQ
Can you use Meyer lemons for posset?
Yes, you can absolutely use Meyer lemons to make a posset. Meyer lemons are sweeter and less acidic than regular lemons and will make a posset with a milder and more delicate lemon flavour. Since Meyer lemons are sweeter, you might need to reduce the amount of sugar in this recipe. Start with a smaller amount of sugar and taste as you go, adding more if needed to achieve the desired level of sweetness. The reduced acidity in Meyer lemons might also affect the coagulation process, so you may need to use slightly more lemon juice. Take care not to overheat the cream mixture during the cooking process. *Note! This recipe has not been tested with Meyer lemons.
Can you use a lower fat cream, milk or yogurt for posset?
While it is possible, the resulting posset would lack the creamy, luscious texture that many enjoy with posset. *Note! This recipe hasn't been tested with lower fat cream etc.
Can you use nut milk or coconut milk for posset?
While it is possible to make posset with non-dairy milks, they do require adjustments to properly set. This recipe hasn't been tested with non-dairy milks, so you would be best to seek out a posset recipe specifically developed for that substitution. Note! This recipe hasn't been tested with non-dairy milk alternatives.
Can you reduce the added sugar in posset?
The sugar in this dessert is doing more than sweetening. It ensures the creation of a smooth curd and a lovely silky texture to the finished dessert. It's also intended, of course, to balance the tart lemon flavour. My advice would be to try it as written first. I think you'll find it's perfectly balanced. If you so find it too sweet, remove a Tablespoon of the sugar the next time you make it until you find your sweet spot flavour-wise, keeping in mind that reducing it too much might affect the quality of the finished posset.
Can you use alternate sweeteners for posset?
Again, it is possible to make posset with alternate sweeteners. Typically, you would use a sweetener developed for baking and use the amount that would be equivalent to the amount of sugar specified in the recipe. *Note, I have not tested this recipe with alternate sweeteners.
Can you use another type of citrus for posset?
Yes! Orange or grapefruit would work, but my require adjustments to the added sugar. Note! This recipe hasn't been tested with different citrus options.
Can lemon posset be made ahead?
Can lemon posset be made ahead? Absolutely, in fact it needs to be made ahead, as the refrigeration period is necessary to complete the setting of the posset.
What are some good toppings for posset?
Fresh berries, such as blueberries, raspberries or blackberries are great. A mint leaf is a nice addition. Fruit compote spooned on top is also nice, as is honey or caramel sauce. Chopped nuts or shaved chocolate would also work. Finally, edible flowers make a great presentation.
Top Posset Tips
Even though the posset just has a few simple ingredients and is pretty simple to make, it is important that you follow the directions carefully, in terms of simmering level, simmering time and making sure it cooks down to exactly 2 cups of liquid. Have a measuring cup handy to test it regularly. This simmering process is cooking off the water in the cream, leaving the perfect amount of butterfat to react with the lemon juice you will be adding later, for a perfectly textured finished dish.
A gentle, active simmering doesn't mean boiling. Boiling could cause the mixture to scorch or boil over and may affect the set of the posset. Adjust the heat under the pot as necessary, so the mixture bubbles gently over much of the surface, but the bubbles don't burst or disappear quickly.
This is a little-goes-a-long-way dessert, so you definitely don't need a large serving to be satisfied. It is best enjoyed in very small servings, in my opinion. The 2 cups of liquid could definitely be distributed between 5 or even 6 serving dishes. It may seem small, but it's a little-goes-a-long-way dessert.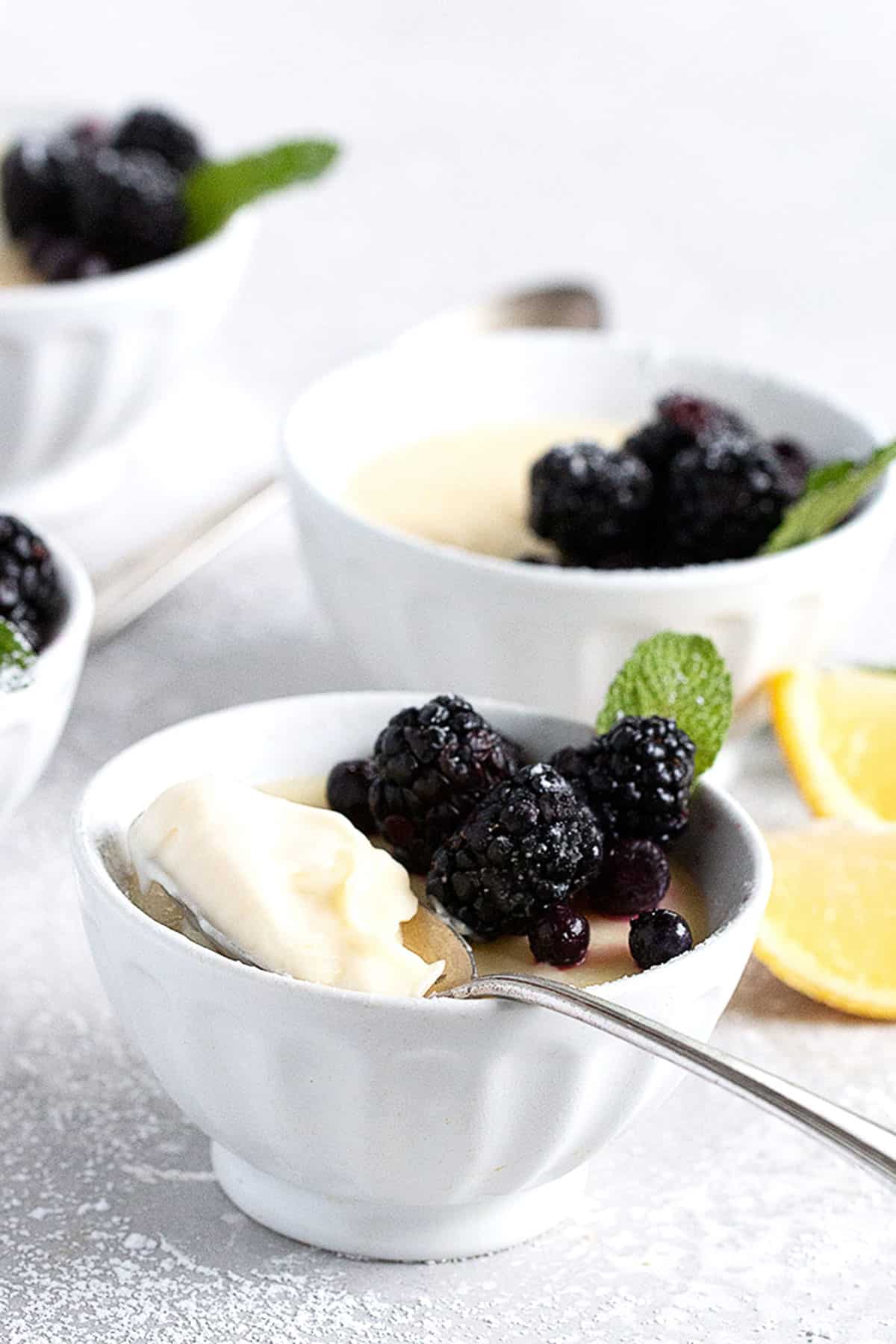 Storing and Freezing Posset
Store the posset, covered with plastic wrap (after the 3 hour setting period), for for about 2-3 days, after which it starts to loose quality.
Lemon Posset can be frozen, but it should never be the first option, as the texture of the posset will change somewhat from the freeze/thaw process. I would freeze only to avoid wasting left-overs.
Get the Recipe:

Simply Perfect Lemon Posset
Lemon posset is a creamy, silky smooth dessert, that's bursting with lemon flavour and topped with fresh berries. A perfect-for-anytime dessert. Can be made ahead, too!
Ingredients
For the possets:
2

cups

heavy whipping cream

,

35% butterfat

2/3

cup

granulated white sugar

2

teaspoons

lemon zest

,

finely grated

Pinch

salt

1/3

cup

lemon juice

,

freshly squeezed, from about 2 lemons
For the berry topping:
Fresh blueberries, blackberries or strawberries

Fresh mint

,

for garnish

Dusting of icing/confectioners' sugar

,

if desired
Instructions
In a medium saucepan over medium heat, combine the heavy cream, sugar, lemon zest and salt. Bring to a simmer, stirring frequently to dissolve the sugar. Simmer gently, but actively (which means bubbles are breaking the surface all over the surface, but not bursting, which was a bit below medium-low on my stovetop), stirring regularly, until the mixture thickens slightly and reduces to 2 cups (test by pouring into a measuring cup to be sure), about 8-10 minutes.

Remove the pot from the heat and stir in the lemon juice. Let the mixture sit until it has cooled slightly and a skin forms on top, about 20 minutes. Stir mixture. To remove the zest in the mixture,, strain through fine-mesh strainer into a measuring cup with a spout. Discard zest. Pour mixture evenly into six small ramekins or small custard bowls.

Refrigerate, uncovered, until set, at least 3 hours. *For longer refrigeration, cover the top with plastic wrap after the 3 hours, so they don't pick up fridge odours. Can be made and refrigerated for up to 2 days before serving, but top with berries just before serving.

To serve, top each lemon posset with some berries. To dress it up, add a fresh mint leaf and a dusting of icing/confectioners' sugar.
Notes
Be sure to read the notes above the recipe card for many more tips on making this recipe, as well as step-by-step photos that you might find useful.
Serving:
1
serving
,
Calories:
363
kcal
,
Carbohydrates:
25
g
,
Protein:
2
g
,
Fat:
29
g
,
Saturated Fat:
18
g
,
Cholesterol:
109
mg
,
Sodium:
31
mg
,
Potassium:
73
mg
,
Fiber:
1
g
,
Sugar:
23
g
,
Vitamin A:
1166
IU
,
Vitamin C:
7
mg
,
Calcium:
52
mg
More Lemon Recipes to Love!
Hi! I'm Jennifer, a home cook schooled by trial and error and almost 40 years of getting dinner on the table! I love to share my favourite recipes, both old and new, together with lots of tips and tricks to hopefully help make your home cooking enjoyable, stress free, rewarding and of course, delicious!