This delicious and easy soup starts with canned navy beans and comes together with leftover cooked ham and carrots for a quick and hearty soup.
For our Easter Dinner "for two", I bought the smallest ham possible and I still had leftovers! Some things don't change. Time for soup. This Easy Ham and Bean Soup relies on easy canned navy beans, a healthy bit of carrot and some of that leftover ham, all cooked up in a lightly tomato-flavoured broth. Since the ham is already cooked and canned beans are just drain and add easy, you can be enjoying this delicious soup in no time.
This is one of my favourite hearty soups. No need to wait for left-over Easter ham. Buy a little ham steak to cut up and enjoy it any time!
Jump to:
Ingredient Notes
Chicken broth - or substitute vegetable broth, if you prefer
Canned navy beans - be sure to rinse the beans thoroughly before use.
Cooked ham - this can be left-over cooked ham or I often like to pick up an economical ham steak and cut it up to use in soup.
Liquid Smoke or Worcestershire sauce - to add a bit of smokey taste to the soup. This is optional.
Step by Step Photos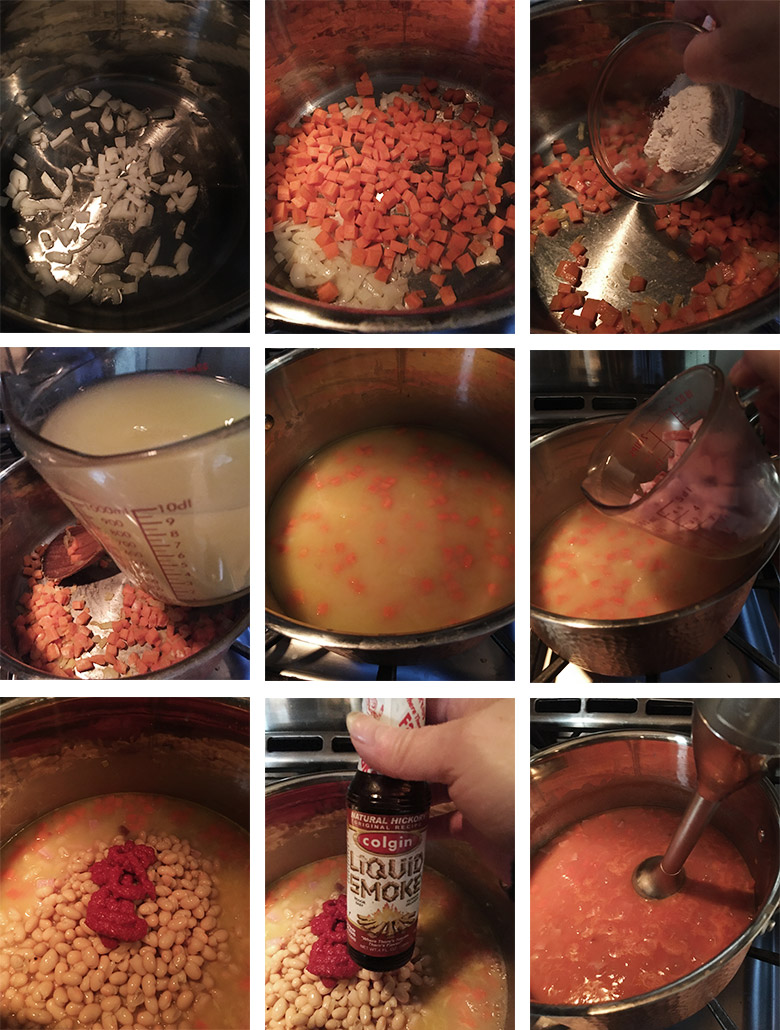 Step 1: Soften onions in a bit of oil
Step 2: Add carrots and cook a few minutes
Step 3: Add flour and cook for 1 minute
Step 4: Add broth
Step 5: Cook carrots in the broth for 5-10 minutes
Step 6: Add cooked ham
Step 7: Add beans, tomato paste
Step 8: Add seasoning (liquid smoke or Worcestershire and a bay leaf, if you have one)
Step 9: Once the carrots are tender, if you like, blend the soup very lightly with 4-5 pulses of an immersion blender, to thicken slightly.
Tips
If you don't have ham, substitute bacon or sausage. Simply saute either until cooked through, drain off most of the fat, then proceed with the recipe as written.
I love to buy the tubes of tomato paste, which are particularly handy when small amounts of tomato paste are needed. Look for them in with the canned tomato paste.
Adjust the amount of chicken broth added depending on the size of your can of navy beans, to ensure a nice, thick soup. See the recipe notes for specific adjustments.
Cut your carrots into a fairly fine dice, so they will cook more quickly. Be sure to taste test your carrots to be sure they are tender before you stop cooking. They take a surprisingly long time to cook to tender and there is nothing worse that a soup with hard carrots :)
You shouldn't need too much extra salt with this soup, as the chicken broth and ham are both salted. Definitely don't add any extra salt to the pot before the very end of cooking. At the end of cooking, taste your soup at the end of cooking and add salt as needed to round out the flavours.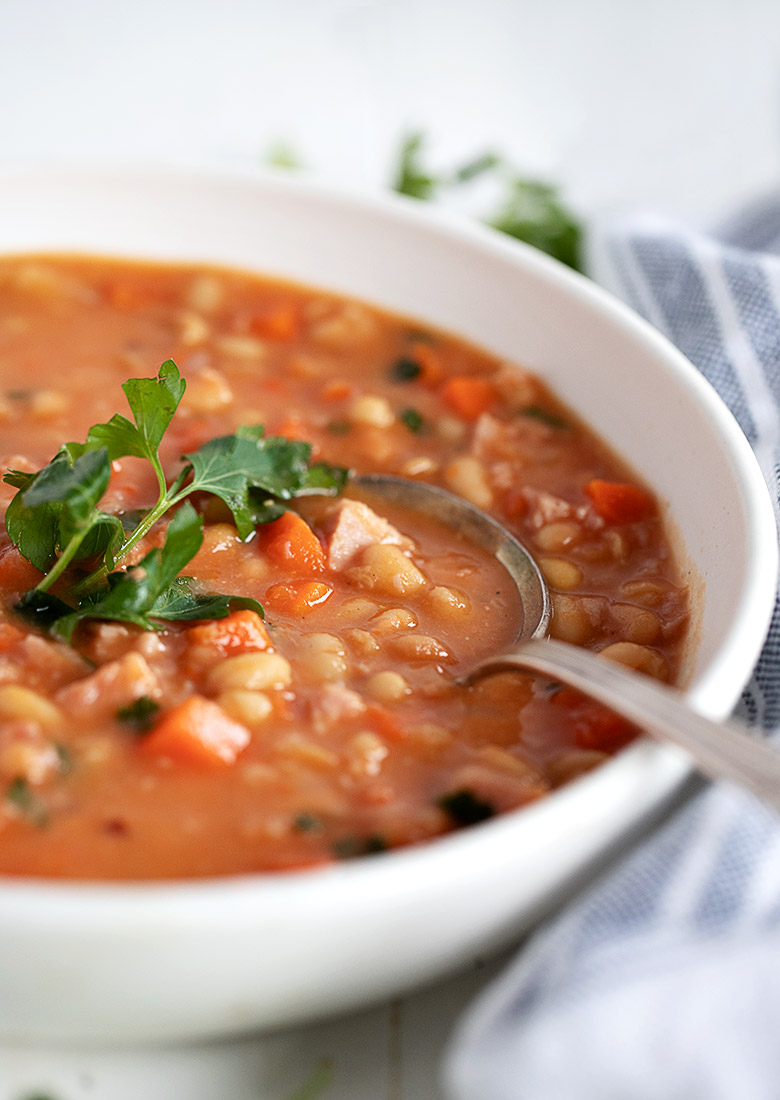 Recipe
More bean soup recipes you might like ...