Pasta in a creamy cheese sauce, combined with canned, diced tomatoes, for a delicious bowl of comfort food. Enjoy as a stove-top or baked dish.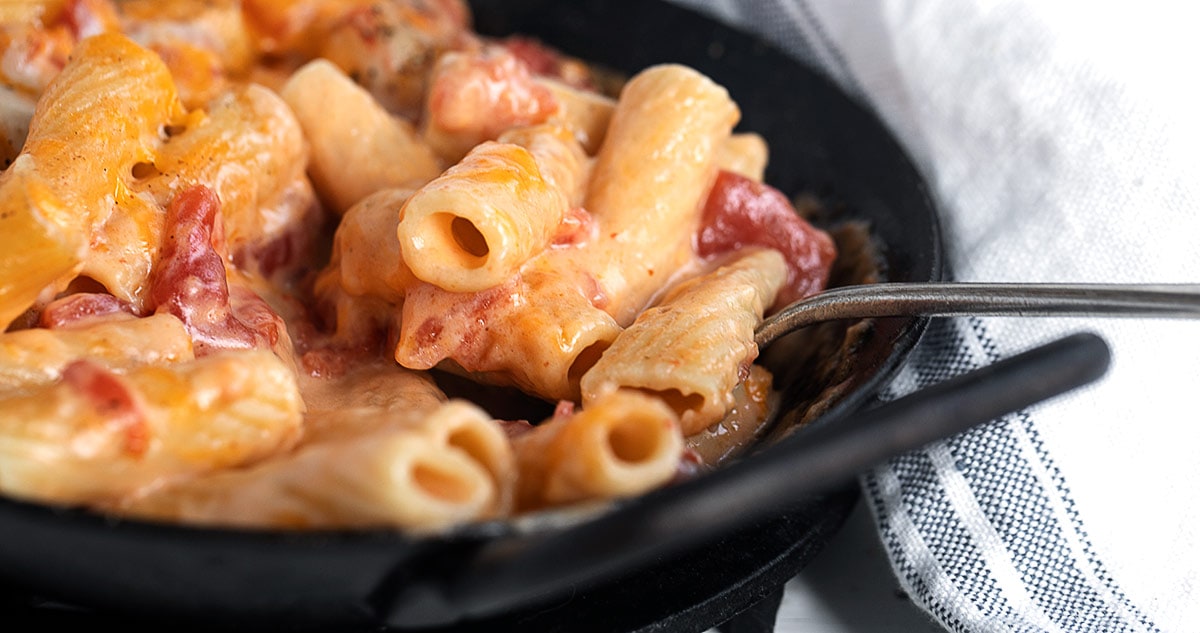 When I'm craving warm, cheesy, carb-filled comfort food, but need to rely on basic pantry and fridge staples, this is the dish I will make. This dish is a simple mac and cheese with tomatoes in it. It can be made with any pasta shape or size, needs just standard supermarket cheddar cheese and a can of tomatoes. I love diced tomatoes, but canned whole tomatoes will work, too. And of course, if you happen to have fresh tomatoes to use, they will work here, as well.
You can enjoy this pasta as a stove-top dish or spoon it into a baking dish and bake it off. The baking step allows you to add some additional toppings, such as more cheese on top, or crispy breadcrumbs or panko.
Jump to:
Ingredient Notes
Pasta - I love rigatoni with this dish, though any shape pasta will work here, from spaghetti, to macaroni, to penne etc.
Cheese - No fancy cheese needed here. Just use regular supermarket cheddar, preferably Old, for best flavour. I sometimes use a mixture of white and yellow cheddar, if I have both, though it's not necessary. You can experiment with different cheese, as you like.
Tomatoes - I've used canned diced tomatoes here. Alternately, you could use one or two canned whole tomatoes that you hand-crush. Even canned crushed tomatoes would work, though you would lose the chunky tomato texture. Fresh tomatoes that you dice up, will also work here you'll just need to cook them in the pot longer so they soften.
You will also need - Butter, milk, flour and salt to make the cheese sauce. Optionally, chili powder and garlic powder can be used to flavour the dish, though you can omit, if you don't have these on hand.
Step-by-Step Photos
1. Boil Pasta and start sauce: First, start a large pot of water boiling to cook your pasta. Be sure to salt it well! Add the dried pasta once the water is boiling and cook it to al dente. In another large saucepan, you'll make a basic cheese sauce, by melting butter, adding flour, then milk and seasonings. Cook this mixture a few minutes, until it thickens slightly.
2. Finish cheese sauce, add tomatoes and bake: Once the sauce mixture thickens a bit, remove the pot from the heat and add the shredded cheddar cheese to the sauce. I've used a mixture of white and yellow old cheddar cheese here. Stir in the cheese, then let stand about 1 minute. Stir until smooth. Spoon in some of the drained, cooked pasta and stir in. Add a bit at a time, until you have a nice, saucy mixture.
Add some drained, canned diced tomatoes and stir in. Add additional tomatoes and a bit of the juice from the can of tomatoes. Taste and season well. Spoon into one large baking dish or individual dishes and bake in a 350F oven for about 20 minutes. If you like, you can top with additional shredded cheddar cheese, dried breadcrumbs or Panko before baking.
Cook's Notes
The cheese to tomato ratio is really a matter of personal taste, so add as much or as little as you like.
When it comes to cooking pasta, unless you weigh it out, you might end up cooking more than you actually need. As such, don't dump it all into the pot with the cheese sauce, but rather spoon it in in small increments and stir it in. That way you'll know when to stop adding pasta and avoiding a too much pasta/too little sauce situation. If baking, make sure the pasta is left extra saucy, as some of the sauce will be absorbed in the baking process.
Be sure to drain the diced or whole tomatoes (or use a slotted spoon) and add just the solids to start, to avoid watering down the cheese sauce. Then, at the end, you can add a splash of the tomato liquid to slightly flavour the cheese sauce with tomato, if you like. (You can also use a small bit of tomato paste to accomplish the same thing, without worry of watering down the cheese sauce.)
If baking the pasta, you can bake as is, or top with additional grated cheddar cheese. You can also sprinkle with dried breadcrumbs or panko, for a crispy topping.
This dish benefits from adequate salting, so be sure to taste at the end of cooking on the stove-top and add additional salt, as needed.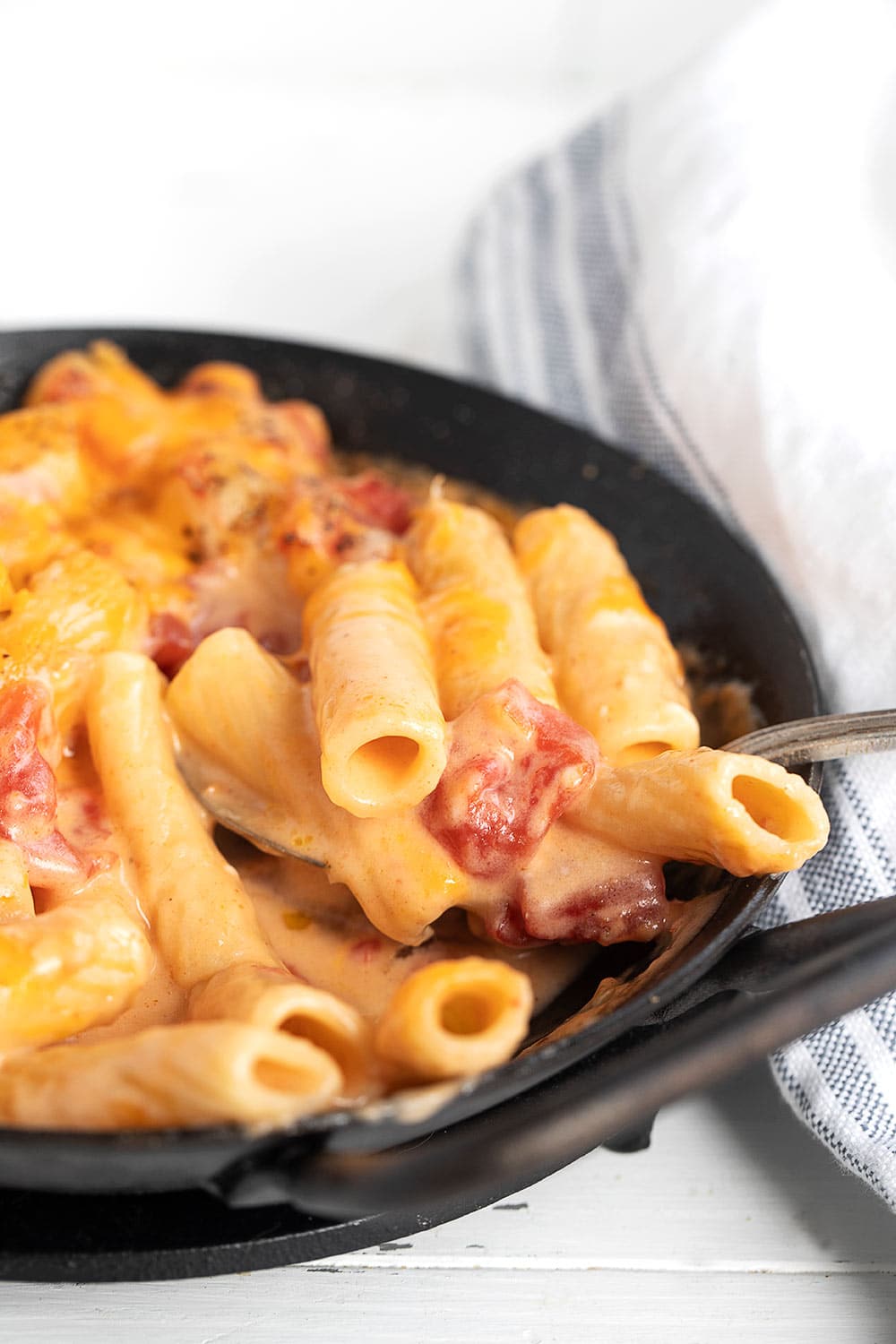 Recipe
More pasta recipes you might like ...