How to make Detroit style pizza at home, from the airy crust, to the crispy cheese edges. With lots of cheese a pepperoni layer and the sauce on top.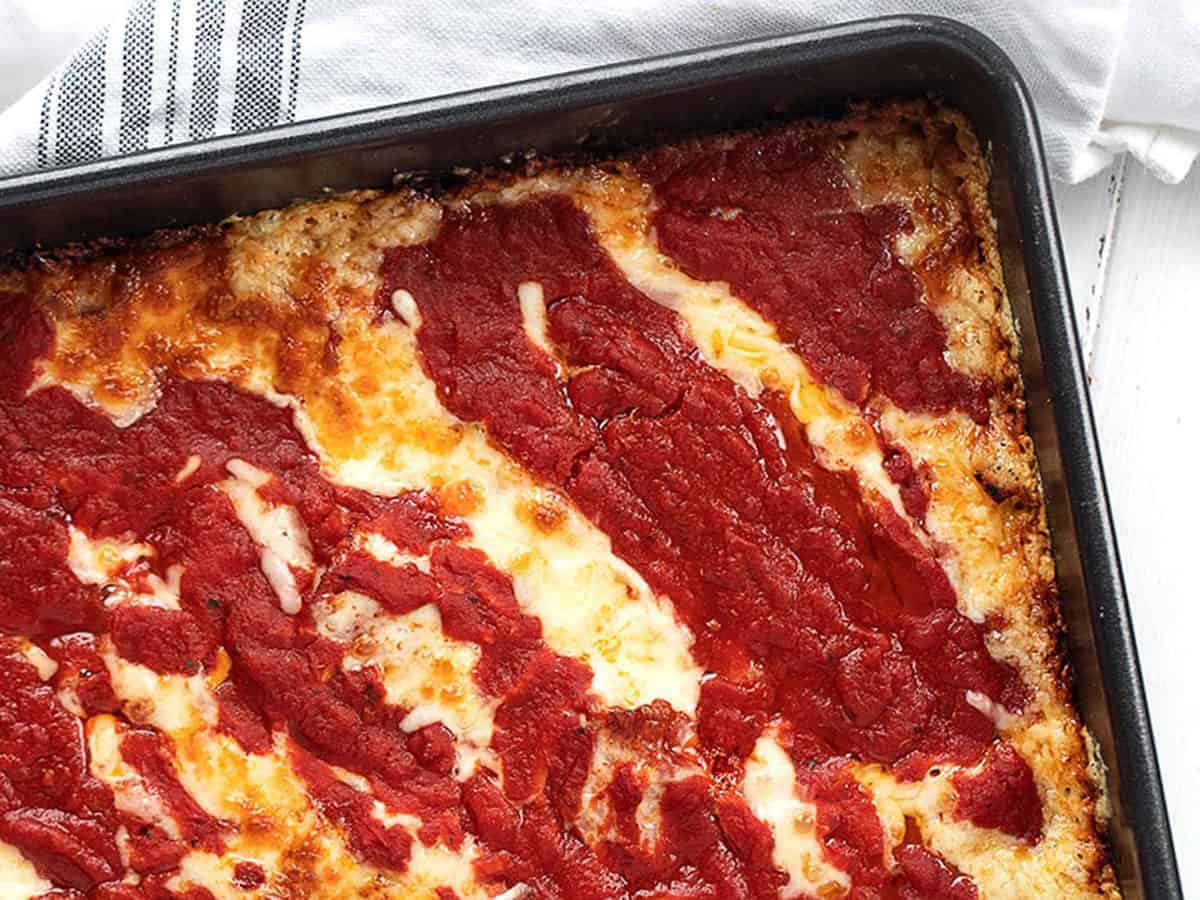 Detroit Style Pizza may not be as famous as its New York and Chicago counterparts, but there is definitely a lot to recommend it! The dough is thicker, but light and airy. It has lots of pepperoni, but on the bottom, rather than on top. The pizza sauce goes on the top, not the bottom. And then there's the cheese. Not only lots of cheese, but a ring of crispy, caramelized cheese around the edges.
Traditional Detroit-style pizza is rectangular in shape and is served in generous square pieces. Baked inside an oiled steel pan, this pizza comes out crispy and light. You can even buy a special Detroit pizza pan (affiliate link), if you like. Or just bust out your metal 9×13-inch cake pan and you'll be good to go.
Characteristics of a Detroit Style Pizza
Baked in a rectangular steel pan.
Serve in square pieces.
Thicker, but light and airy crust, similar in style to Sicilian pizza.
Crisp, caramelized cheese edges, traditionally using Brick cheese.
Pepperoni on the bottom, right on top of the dough.
Lots of cheese.
Generous tomato/pizza sauce on the top of the pizza.
Ingredient Notes
For the dough, you will need – all-purpose flour, water, instant or active dry yeast and salt. Note that the instant yeast here is conventional Instant Yeast (such as SAF Brand) and not a quick or rapid-rise instant yeast.
For the cheese you will need – Brick cheese is the traditional cheese for Detroit Style Pizza and would be the first choice if you have easy access to it. Brick cheese is a great melting cheese that resembles mozzarella in melting ability, but with more flavour. Unfortunately, Brick cheese isn't readily available where I live. A mix of Provolone and mozzarella (preferably low moisture mozzarella) is a solid substitute. For me, old white cheddar is another great option to add to the mix. It's not quite the same in terms of flavour, but it's hard to beat cheddar's ability to cook up into super tasty, crispy edges, so it's worth considering for the edge cheese, especially.
For the sauce you will need – If making your own sauce, you will need a can of good quality crushed tomatoes, along with some fresh garlic, dried oregano, red pepper flakes, sugar and salt. Another option, is to go for a good quality canned pizza sauce, such as Mutti™, which is my favourite and what I've used here.
You will also need – sliced pepperoni, for a traditional "Detroit", though if you want to veer off the traditional path, cooked and crumbled sausage and/or bacon would be a great option. Just be sure you don't load up on toppings too much. or you will weigh down the dough underneath and possibly lose the airy texture.
Step-by-Step Photos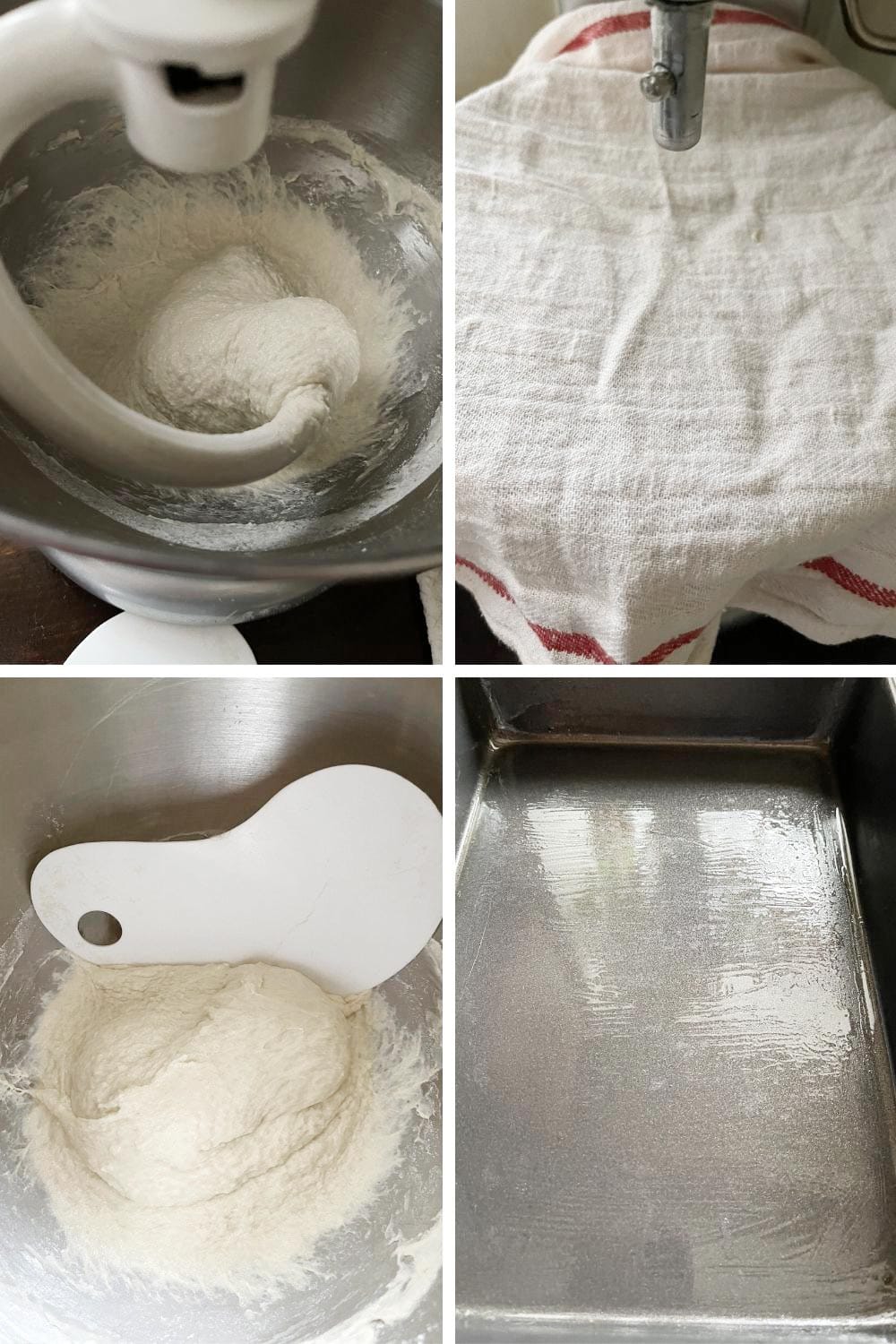 First Step is to make the dough. You'll want to do this about 4-5 hours before you want to eat your pizza. The dough is very wet and it will never be hand-kneadable. Instead, we will just work it in the stand-mixer for 6-8 minutes, to develop some gluten in the dough. After than, we will cover the bowl and rest the dough for 20 minutes, before spreading it into a greased baking pan.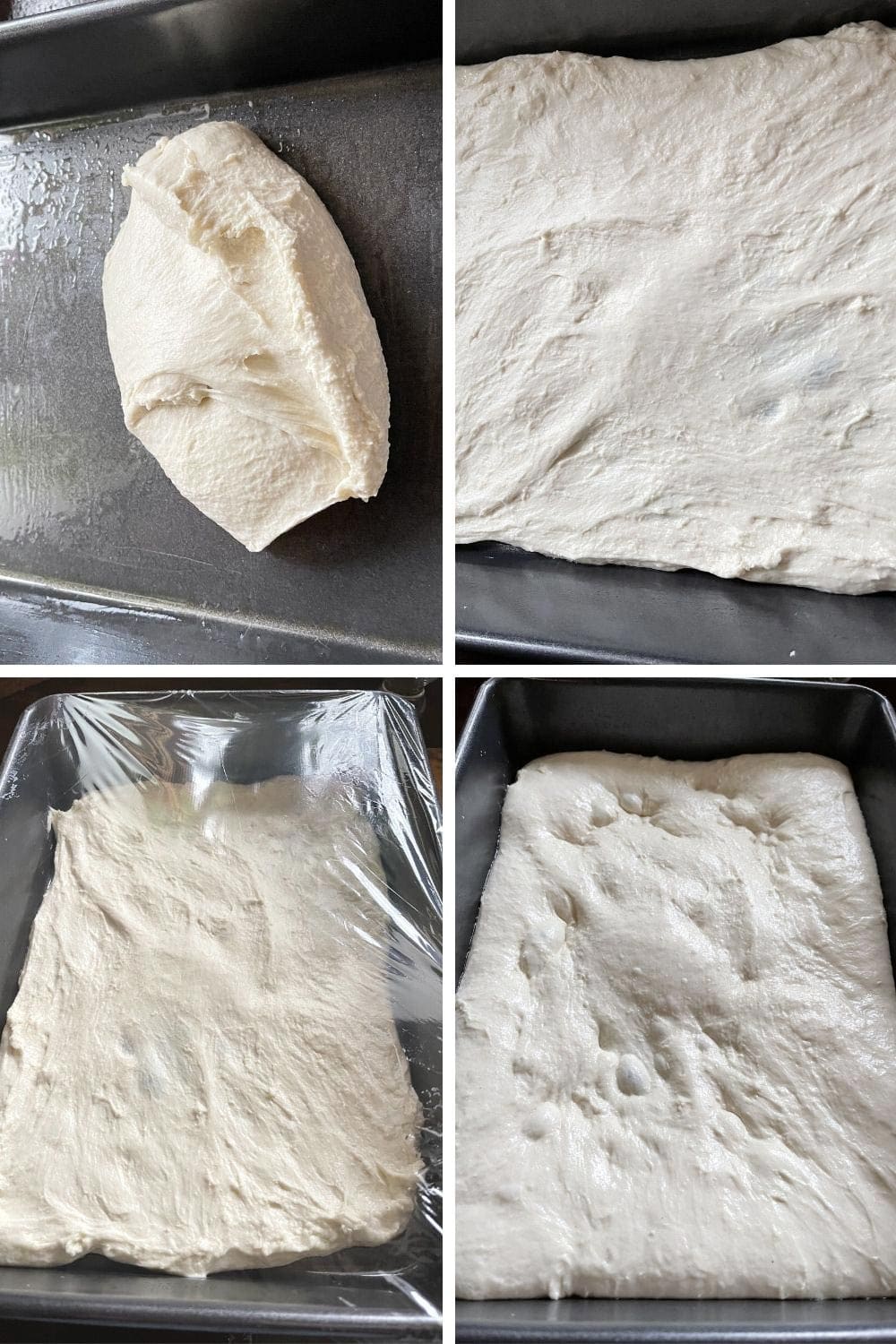 As the dough is still quite moist at this point, oil or wet your fingers to spreading the dough into the pan. If you find it just isn't spreading easily, walk away for 5 minutes to let the dough relax some more and try again. Spread until the dough is a roughly even layer that covers the entire bottom of the pan. Cover the pan with plastic wrap and set at room temperature to rise for 3-4 hours.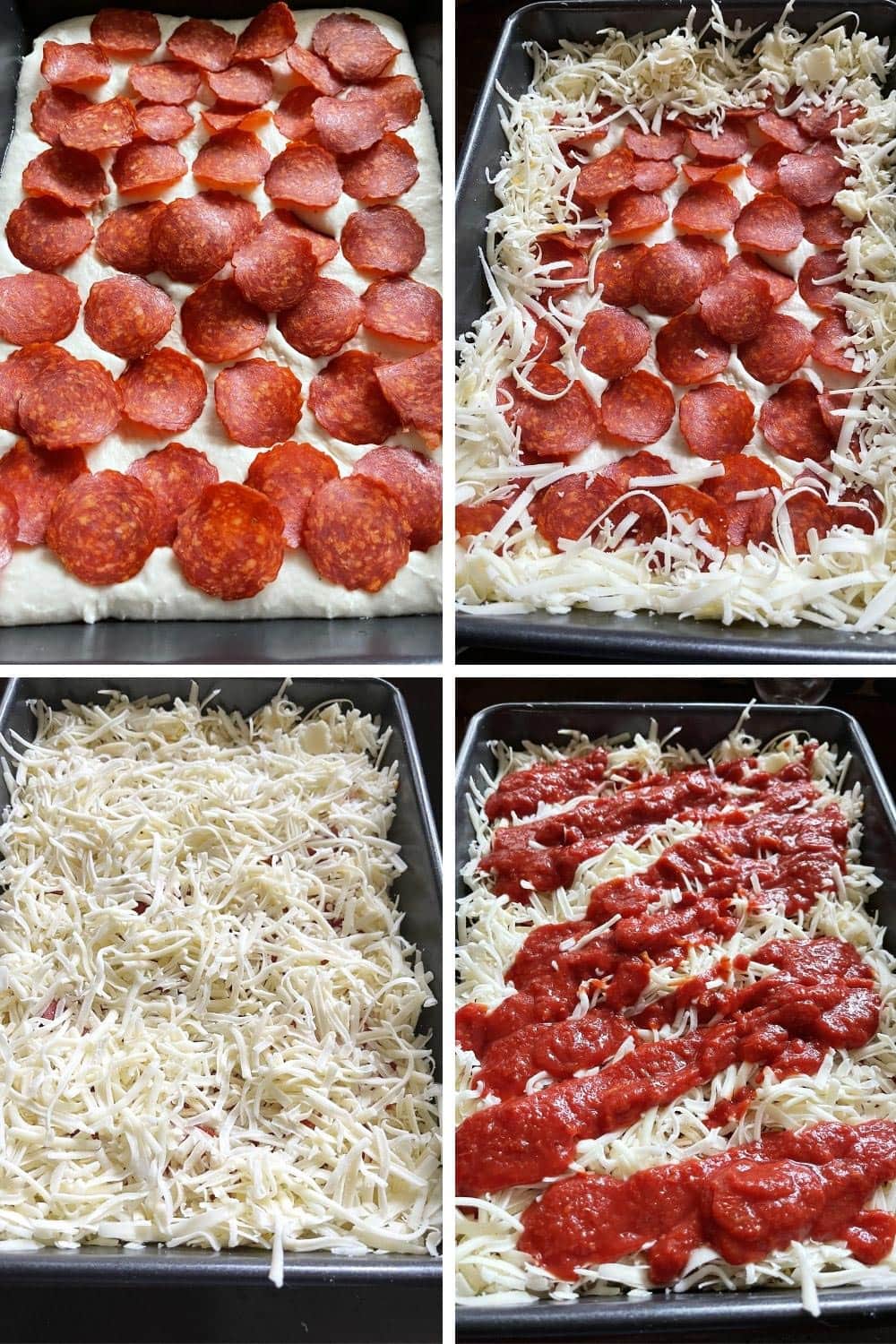 To top the risen dough, place a layer of pepperoni slices right on top of the dough. Next, build a wall of cheese around the outside edges of the pan. I used old white cheddar here, though you can use Brick, mozzarella or Provolone, as you like. Next, Fill the centre with more cheese. I used a mix of old white cheddar, mozzarella and Provolone. Finally, pour the pizza sauce over the top. You can pour it in a zig-zag pattern, or two lines from end to end. Just don't cover the entire top with the sauce, as you want the cheese to stay exposed in spots. (I use my favourite pizza sauce from Mutti™ here, but I've also included an easy recipe to make your own pizza sauce).
Finally, you'll bake your pizza on the lowest rack in the oven at 425F, for about 25-30 minutes. Let rest about 10 minutes to set, then slice and serve.
Cook's Notes
If you don't have a 10×14 or a 9×13-inch metal pan, you can divide everything between two 8×8-inch square pans.
If you don't have a stand-mixer to "knead" this moist dough, there are a number of techniques for working a wet dough by hand. This article from King Arthur Flour offers up several methods you could use.
If you find you are fighting with your dough trying to spread it out into the baking pan, walk a way for 5 or 10 minutes, then give it another go. Sometimes it just needs a bit of rest to relax the dough and make it more spreadable.
Try not to rush the dough rising time, as it's that rise that will produce the light and airy dough that Detroit pizza is famous for. Plan on at least 3 hours of rising time and up to 4 hours, if you can.
Cooking time will vary by oven and size and type of pan used, but you want to make sure your crust is cooked through thoroughly, since there is nothing more disappointing that ending up with under-cooked crust. So err on the side of leaving it in the oven longer, rather than rushing it out of the oven. Once out, use a spatula to lift the pizza and take a peek at the colour of the underside of the crust. It should be deep golden in colour. If it isn't, pop it back in the oven for a bit longer.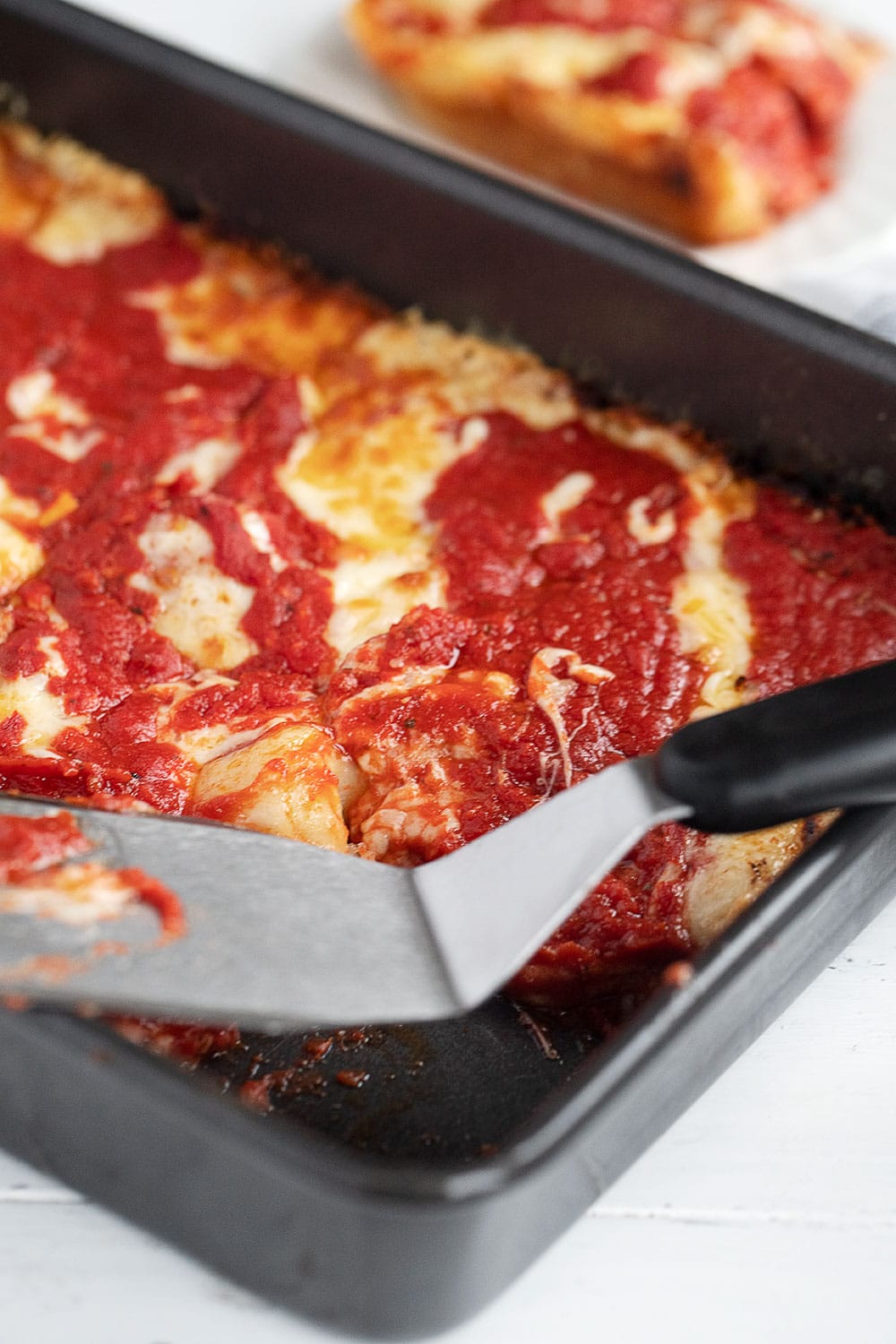 Get the Recipe:

Detroit Style Pizza
Delicious Detroit Style Pizza, with an airy crust, a pepperoni layer on the bottom, sauce on the top and lots of cheese.
Ingredients
For the Detroit pizza dough:
1

cup

lukewarm water

,

(205g)

1/2

tsp

active dry or instant yeast

,

not rapid or quick-rise (1.5g)

2 1/4

cups

all purpose flour

,

preferably unbleached (273g)

3/4

tsp

fine salt

,

(4g)
For pizza sauce: (or use you 400ml/14oz of your favourite store-bought pizza sauce)
1

Tbsp

olive oil

1

clove

garlic

,

chopped

3

Tbsp

tomato paste

14

oz

can crushed tomatoes

,

400ml

1/2

tsp

white sugar

1/4

tsp

salt

1/2

tsp

dried oregano

1/2

tsp

dried basil

Pinch

red pepper flakes

,

optional
For the toppings:
4-5

oz

Pepperoni slices

,

125-150g

2

cups

Brick cheese or old white cheddar

,

shredded and packed (475ml)

3

cups

additional shredded cheese

,

mozzarella, provolone, white cheddar mix recommended (700ml)
Instructions
Make the dough: Add the lukewarm water to the bowl of a stand mixer fitted with a kneading hook. Add the yeast and stir. Let stand a few minutes. Add the flour and salt and mix until the flour is moistened. Knead with the kneading hook (on Speed 2) for 6-8 minutes. Dough will be very moist and will only wrap the kneading hook slightly at the bottom. It definitely wouldn't be hand-kneadable. Cover the bowl with a clean tea towel and let the dough rest for 20 minutes. *If you don't have a mixer to make the dough, you can mix in a bowl. As it's a very wet dough, you won't be able to knead it by hand. Refer to the Cook's Notes above the recipe card for some tips on kneading wet dough by hand. Cover the bowl and rest the dough in the bowl for 20 minutes, as above.

For the pizza sauce, if making your own: Heat olive oil in a medium saucepan. Add garlic and cook, stirring, about 45 seconds. Add the tomato paste and cook, stirring, another 45 seconds or so, or until it darkens slightly. Add the remaining ingredients and stir to combine. Cover pot with a lid and cook until mixture comes to a boil (won't take long so don't wander off). Reduce the heat to low and allow to simmer, covered, about 20-3-minutes. Remove lid. Sauce should be nice and rich at this point, but if you'd like it a little thicker, cook uncovered for a few more minutes. Allow to cool before putting on top of pizza. If making ahead, cover and refrigerate.

Once dough has rested, brush a 10x14 or 9x13-inch metal baking pan (with at least 2-inch high sides) with 2 tsp olive oil. Using a silicone bowl scraper or rubber spatula, scrape the dough into the oiled pan. Oil or wet your fingers slightly, then press/stretch the dough into pan until it covers the entire bottom. If it seems to be fighting you, walk away for 5 minutes and let the dough rest, then try again. Once the dough is shaped, cover the pan with plastic wrap and set to rise for at least 3 hours or preferably 4 hours.

Preheat oven to 425F (not fan assisted), with the rack on the lowest oven position (*important!).

Once the dough has risen, remove the plastic wrap. Place pepperoni in an even layer on top of the dough, over-lapping slightly and covering almost to the point where little of the dough is visible. Working with the Brick cheese (or old white cheddar), sprinkle a row/wall of cheese along the outside edge, then fill the centre of the pizza with 3-cheese mix or cheese of your choice. Pour about 2 cups of pizza sauce over-top of the cheese layer, in a zig zag or line pattern, so it doesn't cover the cheese completely.

Bake on the bottom oven rack of a preheated 425F oven for about 25 - 30 minutes, or until dough is cooked through. Baking time will vary by oven and by the size/colour of the baking pan you use so err on the side of cooking it longer, rather than rushing it out of the oven. To check if it's done, remove from oven and use a spatula to gently lift up the edge of the pizza so you can peek underneath. The bottom of the pizza should be quite golden. If not, pop it back in the oven to cook longer.

Let pizza stand in pan 8-10 minutes to set up, then slice and serve.
Notes
I've provided metric measurements (grams and ml) in the recipe, for those that prefer to measure that way, but do note that they will not scale up automatically with the "2X/3X" buttons. 
Be sure to read the Ingredient and Cook's Notes above the Recipe Card for more tips on making this pizza.
Calories:
320
kcal
,
Carbohydrates:
23
g
,
Protein:
18
g
,
Fat:
18
g
,
Saturated Fat:
9
g
,
Trans Fat:
1
g
,
Cholesterol:
45
mg
,
Sodium:
738
mg
,
Potassium:
241
mg
,
Fiber:
2
g
,
Sugar:
2
g
,
Vitamin A:
492
IU
,
Vitamin C:
4
mg
,
Calcium:
363
mg
,
Iron:
2
mg
More Pizza Recipes You Might Also Like …
Easy Skillet Deep Dish Pizza
Deep dish, cast-iron skillet pizza recipe, with sausage and bacon and a homemade pizza sauce. Perfect for meat lovers.
www.seasonsandsuppers.ca
Three Cheese Hawaiian Pizza
Goat, cheddar and mozzarella cheese meet chunks of ham and pineapple on this Three Cheese Hawaiian Pizza.
www.seasonsandsuppers.ca