This homemade maple granola is made with real maple syrup and lots of fruits and nuts. Endlessly customizable with any combination of add-ins.
I start many days with granola, mixed into some Greek Yogurt. Not just any granola though. I have been making homemade granola for some time. This one is my favourite granola recipe.
Ingredient Notes
Oil – If you want crispy granola, you need oil. I use vegetable or canola oil. You could also use coconut oil if you prefer.
Maple Syrup – pure maple syrup brings both flavour and sweetness to this granola. That said, you could also use an equal amount of honey or other syrup, if you prefer.
Brown Sugar – I love the bit of extra sweetness and flavour from brown sugar, but if you prefer a lower sugar granola, you can reduce or omit the brown sugar.
Other Additions – I add almonds, dried cranberries, raisins, coconut and sunflower seeds to my granola, but you are certainly free to add or omit just about dried fruit, seed or nut you like. Other options include dried cherries, blueberries, strawberries, mango or apricots, other nuts such as pecans or walnuts or other seeds such as pepitas.
Cook's Notes
You need to cook the granola until it is well-toasted. Toasted oats have the most flavour. You also need to stir the granola regularly as it cooks, to ensure it toasts evenly. Without stirring, it may over-cook around the edges. As such, when you are "stirring", focus on moving the granola closest to the edges into the centre and the granola in the centre towards the edges.
You don't need to use parchment paper for cooking granola. It is surprisingly neat. I find cooking directly on the baking sheet both easier and it produces the best results.
There is a proper time to add different items to the mix when cooking granola. You don't want to cook any fruits, so save them to stir in at the end, once the granola is out of the oven. Add coconut and walnuts/pecans near the end of the cooking time to avoid burning or bitterness. Almonds can be added from the start.
Want clumps? I find honey tends to produce better clumps than maple syrup, but you can get clumps with either. The trick is simply not to stir the granola. That said, you need to be sure that it cooks in an evenly thick layer, without thinner bits around the edges, which may over-cook. Add the other ingredients as usual, but just place on top, then let the whole thing cool on the pan, before breaking into clumps.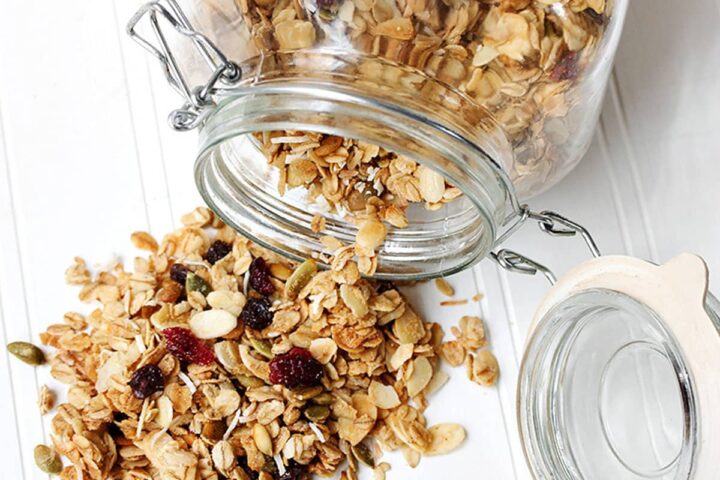 Get the Recipe:
Homemade Maple Granola
This granola can be made with maple syrup or honey. And of course, you can change up the add-ins to suit your taste.
Ingredients
4

cups

large-flake, old fashioned oats

1

cup

sliced almonds

1/2

cup

sunflower seeds

,

raw, unsalted

1/2

cup

brown sugar

,

packed

1/4

tsp

salt

1/4

cup

vegetable oil

,

or other neutral tasting oil

1/2

cup

real maple syrup

,

(you could substitute honey)

1

Tbsp

vanilla

1/2

cup

shredded coconut

1/2

cup

dried cranberries

1/2

cup

raisins
Instructions
Preheat oven to 300 ° F.

Combine the oats, almonds, sunflower seeds, brown sugar and salt in a large bowl. Stir well to combine, breaking up any lumps of brown sugar.

In a glass measuring cup, combine the oil and the maple syrup. Microwave for 45 seconds to 1 minute. Remove. Add vanilla and stir well.

Pour oil/maple syrup mixture over the oats mixture. Using two spoons, stir and toss the mixture until all of the oats are coated with the syrup.

Place granola directly onto a baking sheet and place in the oven. Set the timer for 10 minutes. At the end of 10 minutes, remove the granola and stir, moving the granola around the outside edges into the middle and the middle out towards the edges. Set the timer for another 10 minutes. After the second 10 minutes, sprinkle with the coconut and then stir well again. Return to oven and set the timer for one last 10 minute bake. (30 minutes total, stirred twice at 10 minutes and 20 minutes). At the end of the last 10 minutes (30 minutes in the oven), remove the granola from the oven. Stir just a bit then sprinkle with the cranberries and raisins and leave undisturbed until it is completely cooled. Once cooled, stir the granola. Store at room temperature in an air-tight container. Will keep for several weeks (although it may not last that long).
Calories:
151
kcal
,
Carbohydrates:
21
g
,
Protein:
2
g
,
Fat:
6
g
,
Saturated Fat:
2
g
,
Sodium:
29
mg
,
Potassium:
127
mg
,
Fiber:
2
g
,
Sugar:
9
g
,
Vitamin C:
0.2
mg
,
Calcium:
27
mg
,
Iron:
0.9
mg
More maple recipes you might also like …
Maple Cinnamon Rolls
These Maple Cinnamon Rolls are tender and light, maple-flavoured sweet rolls topped with a delicious maple glaze!
www.seasonsandsuppers.ca
Maple Walnut Pudding Chômeur
A French-Canadian classic, this Maple Walnut Pudding Chômeur is essentially a self-saucing cake, with a maple syrup flavoured sauce.
www.seasonsandsuppers.ca
Maple Sugar Ragamuffins
These Maple Sugar Ragamuffins are delicious, flaky buttery biscuits rolled up with maple sugar and butter. As they bake up, the sugar and butter caramelizes in to such sweet goodness!
www.seasonsandsuppers.ca