A wonderfully delicious, moist and light old-fashioned Devil's Food, Nana's chocolate cake can be baked up as a chocolate bundt cake, sheet cake, cupcakes and more!
About Nana's Devil's Food Cake
No, it's not my Nana's Chocolate cake. It's from a Reddit user known as u/iamktf, who shared this recipe on the subreddit Reddit Old Recipes.
This easy chocolate cake was a pandemic hit, with thousands of people trying their hand at it and many declaring it the best chocolate cake! I have to say, I agree. It's a fabulous chocolate cake, that I've made several times in various forms. If you've been looking for a scratch-made chocolate cake with the light, moist texture of a box cake mix, this is it! But better :)
Nana's Chocolate Cake is a classic Devil's Food Chocolate Cake, with a moist, but light crumb and made with oil (so it stays moist for days!) and cocoa powder and coffee, for rich chocolate flavour.
Why you'll love this delicious chocolate cake
This is a wonderfully light, but moist chocolate cake, with rich chocolate flavour, both from the cocoa powder and the addition of coffee.
You don't need a mixer or beater to make this cake.
This Cocoa powder and oil-based chocolate cake can be made any time, with just pantry staples. No butter or chocolate needed.
You can use this batter to make, a bundt cake, a 9×13 sheet cake, a layer cake with two 8 or 9-inch layers, a chocolate cake loaf or even cupcakes.
This cake keeps well for days on the counter and also freezes beautifully.
Made as a bundt, it's easy to it dress up to suit any occasion.
Key Ingredients
Cocoa – I recommended Dutch Processed Cocoa Powder for it's smooth flavour and darker colour. Natural cocoa powder will work here, but won't produce a dark cake as shown here (it will come out a little reddish).
Coffee – any cup of coffee will work here, whether brewed or instant. If you have no access to coffee at all, just replace with an equal amount of hot water.
Oil – I like vegetable oil myself, but any neutral-tasting cooking oil should work here (such as canola, sunflower etc.).
I haven't tested replacing the oil with melted (and cooled) butter myself, but understand that it will probably work just fine. That said, it will affect the flavour, texture and shelf-life of the cake somewhat.
Step-by-Step Photos
I feel like you could pretty much make this cake any number of ways and it would still work out just fine. That said, this is how I mix it up. I'm using my mixer here, but you can easily make this cake with a bowl and a whisk, as well.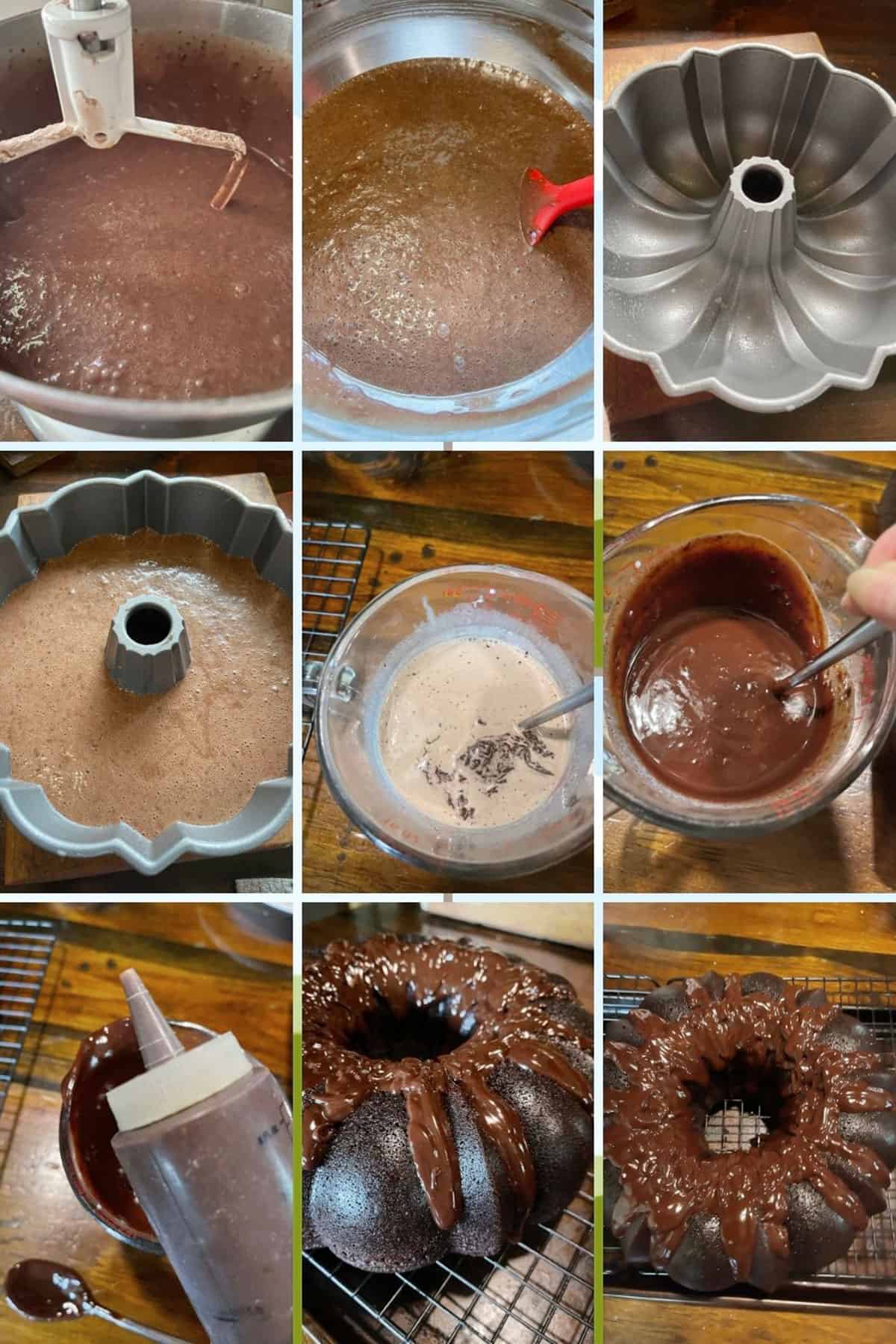 Baking Pan Options and Bake Times
10-inch bundt pan – bake for 40-50 minutes
Two 8-inch round pans – bake for 30-35 minutes
9×13-inch pan – bake for 40-45 minutes
Loaf pan (for a small cake) – *Halve the recipe and bake in an 8×4 or 9×5 loaf pan for 35-45 minutes.
Cupcakes – divide batter between cupcakes, filling about 3/4 full. Bake for 20-25 minutes.
In all cases, bake until a tester inserted in the centre comes out clean.
How to prepare a bundt pan
Grease your pan right before adding the batter, so it doesn't sit and perhaps run down the sides and pool at the bottom of the pan.
I'm a big fan of Pam™ baking spray, which rarely lets me down when it comes to nice, clean bundt pan release. Alternately, I think brushing with shortening (Crisco™) and then dusting with flour or cocoa powder is probably the best way to go. Do not use butter (soft or melted).
Homemade "cake goop" is a combination of shortening, oil and flour that you can make at home that really works. There are several recipes online that you can find by searching that name.
Use a pastry brush to make sure you get into all the nooks and crannies of your bundt pan.
Getting a bundt cake out of the pan
This particular cake is quite tender and as such, is especially prone to bundt cake #fail (half of it staying in the pan). Preparing the bundt pan carefully is really important!
The sweet spot for removing a bundt cake from the pan is at the 10 minute mark after it is removed from the oven. Too early or too late and you risk the dreaded sticking to the pan.
At the 10-minute mark, I like to just use a knife to very gently loosen the cake from the centre piece. Have a look around the edges, too and loosen any spots that look a little stuck to the pan. Place a cooling rack over the top of the pan, then gently flip it over and let gravity do its job. If it doesn't fall out of the pan, jiggle the pan a bit side-to-side to loosen the last bit.
Don't stress if you have a little bit stick and the top of the cake isn't perfect. A ganache or other topping will hide it perfectly :)
Cake Decorating Ideas
You could easily top this cake with just a dusting of icing/confectioners' sugar. A classic buttercream frosting is also a good option if making a sheet or layer cake or cupcakes.
I've included the basic chocolate ganache recipe, for a great topping option. It's also a great base to hold any number of additional toppings and decorations, such as …
Chocolate dipped strawberries
Crushed chocolate bars
Chocolate curls
Chocolate sprinkles or other decorative sprinkles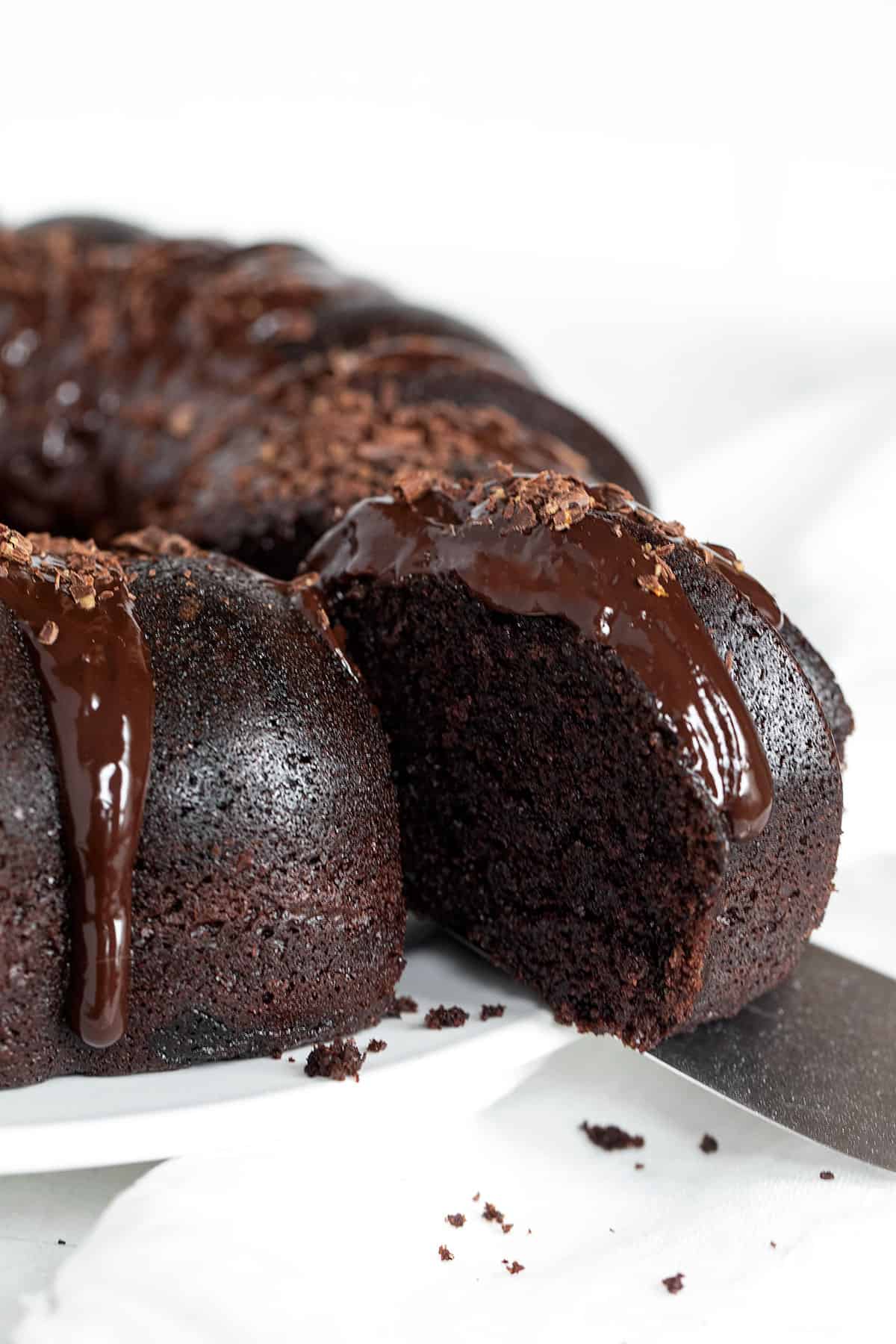 Making ahead, storing and freezing
This cake keeps really well on the counter for several days. It can also be frozen up to 3 months.
Get the Recipe:

Nana's Chocolate Cake
An old-fashioned Devil's Food chocolate cake, the is wonderfully light and moist and can be used to make a bundt, sheet cake, layer cake or cupcakes.
Ingredients
For the cake:
2

cups

(

260

g

)

all purpose flour

,

measured with the spoon and level method

1

tsp

fine salt

1

tsp

baking powder

2

tsp

baking soda

3/4

cup

(

70

g

)

cocoa powder

,

Dutch-processed recommended

2

cups

(

400

g

)

white granulated sugar

1

cup

(

227

ml

)

vegetable oil

,

or similar neutral-tasting cooking oil

2

large

eggs

1

tsp

vanilla

1

cup

(

227

ml

)

milk

,

whole (3%) milk recommended

1

cup

(

227

ml

)

brewed or instant coffee

,

hot
For the optional chocolate ganache topping:
6

oz

(

170

g

)

chocolate chips

,

about 1 cup

1/2

cup

(

113

ml

)

heavy

,

whipping cream

1

tsp

vanilla or liqueur
Instructions
Preheat oven to 350F (regular bake/not fan-assisted). Reduce baking temperature by 25F if using a glass pan.

In a medium bowl, whisk together the flour, salt, baking powder, baking soda and cocoa powder. Set aside.

In a large bowl with an electric mixer or with a hand whisk, or the bowl of a stand mixer fitted with the paddle attachment, mix together the white sugar and vegetable oil. Mix in the eggs and vanilla and beat until smooth and fluffy, about 2 minutes.

Combine the hot coffee with the milk. Add to the batter alternately with the flour mixture and mix until well combined.

Prepare your baking pan(s): For a 10-inch bundt pan, spray with Baking Spray (not cooking spray) or brush with shortening and dust with flour or cocoa powder. For a 9x13-inch pan, spray with baking or cooking spray. For Two 8 or 9-inch round cake pans, spray with baking or cooking spray and line the bottom of the pans with a round of parchment paper. For a smaller loaf, halve the recipe and bake in a parchment lined 8x4 or 9x5 loaf pan. For cupcakes, fill cupcake liners 3/4 full.

Pour batter into prepared baking pan and bake in preheated oven as indicated below, or until a tester inserted in the centre of the cake comes out clean. For Bundt pan, cool cake in pan 10 minutes, then remove to a cooling rack. For all other pans, allow to cool completely in the pan.

(Baking times are approximate and will vary between ovens and different types of pans. Always watch closely and bake until a tester comes out clean.)

10-inch bundt pan - bake for 40-50 minutes

Two 8 or 9-inch round pans - bake for 25-35 minutes

9x13-inch pan- bake for 40-50 minutes

Loaf pan - **Halve the recipe and bake in one 8x4 or 9x5 loaf pan for 30-45 minutes.

Cupcakes - divide batter into cupcake liners, filling about 3/4 full. Bake for 20-30 minutes.

For the chocolate ganache: Combine chocolate and heavy cream in a small saucepan and warm over medium-low heat, whisking continually, until the chocolate is completely melted. Remove from heat and whisk in vanilla or liqueur. Allow to cool 10-15 minutes, whisking every couple of minutes, until the mixture thickens to a consistency that will not immediately run off the cake, but will flow down like lava (10-15 minutes). Don't let it sit too long or it will start to set. Spoon ganache over the top of the cake (or use a squirt-type bottle), pushing some down the edges around the cake to make drips. Jiggle the rack/cake a bit to smooth the ganache on the cake. Allow ganache to set on the cake 30 minutes.
Notes
Be sure to read the information detailed above this Recipe Card, for more tips on making this recipe. You'll also find Step-by-Step photos there, as well.
Nutritional information does not include the optional ganache topping.
Calories:
273
kcal
,
Carbohydrates:
54
g
,
Protein:
5
g
,
Fat:
6
g
,
Saturated Fat:
3
g
,
Polyunsaturated Fat:
1
g
,
Monounsaturated Fat:
2
g
,
Trans Fat:
1
g
,
Cholesterol:
46
mg
,
Sodium:
403
mg
,
Potassium:
188
mg
,
Fiber:
2
g
,
Sugar:
35
g
,
Vitamin A:
229
IU
,
Vitamin C:
1
mg
,
Calcium:
61
mg
,
Iron:
2
mg
More Chocolate Cake Recipes to Love!
Hi! I'm Jennifer, a home cook schooled by trial and error and almost 40 years of getting dinner on the table! I love to share my favourite recipes, both old and new, together with lots of tips and tricks to hopefully help make your home cooking enjoyable, stress free, rewarding and of course, delicious!