This quick, easy and delicious no yeast bread is topped with a seed mixture, for great flavour. Ready in about 45 minutes!
I've shared a couple of yeast bread recipes recently, so today, I thought I'd share a quick and easy no yeast bread, for those that may still be having trouble finding yeast.
This seeded no yeast bread is about as close to the texture of yeast bread as I have ever made. It's a small loaf, about 8-inches in diameter, but it bakes up to a decent height. It's also nicely sliceable. Though it will never be as sturdy as a yeast bread, it makes a great bread to enjoy eaten out of hand with butter or alongside a pot of soup or stew.
It's important to know that bread made without yeast will never be the same texture as bread made with yeast. Bread made without yeast is generally a shorter, more dense, slightly crumbly loaf.
Jump to:
Ingredients
Here are the simple ingredients you will need ...
All purpose flour
Baking powder
Baking soda
Salt
Butter
Buttermilk or Milk
Mixed seeds - sunflower, flax, sesame, poppy seed etc.
See the FAQ below for tips and substitution suggestions.
FAQ
Can I use oil or shortening instead of butter? Yes, you can use any neutral-tasting cooking oil or solid shortening in place of the butter. In the case of oil, you may need to use slightly less milk, so don't add it all at first, adding only as much as is needed.
Can I make my own buttermilk? Yes! Simply add 1 1/2 Tbsp of lemon juice or white vinegar to 1 1/2 cups of regular milk. Stir and let stand 10 minutes before using.
Can I use whole wheat flour, bread flour or gluten free flour? Possibly. I haven't tested any of these flours with this recipe. In the case of whole wheat flour, you may need to add more liquid to the dough and the resulting bread will obviously be heavier. Bread flour may also absorb liquid differently, but otherwise shouldn't be a problem. As for gluten free flour, I suspect you will need to add additional ingredients to maintain the structure of the bread. I suggest seeking out a dedicated gluten-free recipe for best results.
Can I use a dairy-alternative/nut milk? Possibly. If you've had success with milk alternatives in similar recipes (biscuits, perhaps), it should work here as well. I haven't tested any alternative milks with this recipe myself.
Can I double this recipe? This recipe does make a small loaf, but I have always enjoyed it that way, as it is quick and easy to make and I just enjoy it right away. I suspect you could double it and bake it in something like a 10-inch (top diameter) cast-iron pan, though again, I haven't tested it myself.
Can I freeze this bread? Absolutely! Simply wrap well and freeze up to 2 months, though it is best enjoyed within the first month.
Step by Step Photos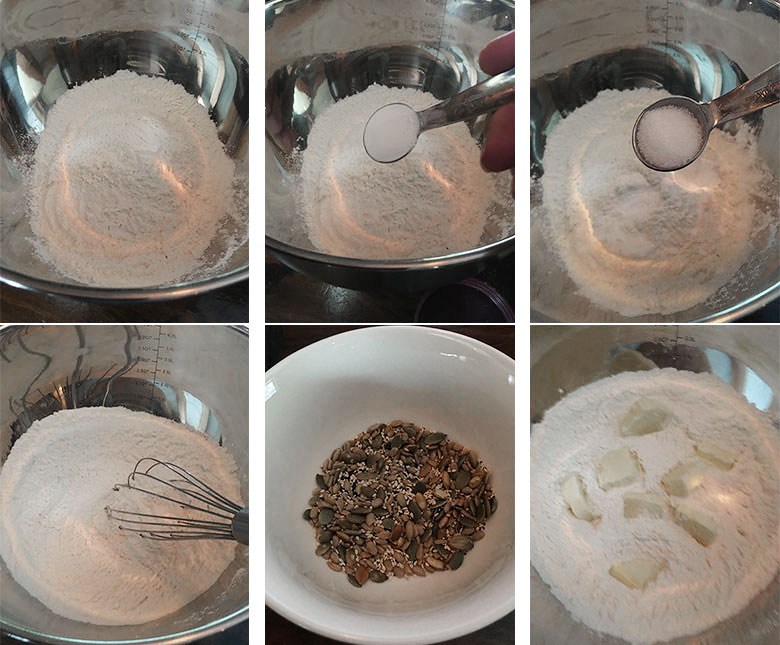 Step 1: Add flour to large bowl
Step 2: Add baking powder and baking soda
Step 3: Add salt
Step 4: Whisk well to combine
Step 5: Take a minute to make your seed mixture and set aside
Step 6: Add cold butter pieces to flour mixture
Step 7: Using your fingertips, rub the butter into the flour, breaking it up into small pieces no larger than a pea and evenly distributed in the flour.
Step 8: Add about 3/4 of the buttermilk (or milk) and stir into the flour. Begin adding a bit more, in very small increments, stirring in between, adding just as much as you need, until you get a moist dough. Watch the bottom of the bowl for dry flour. If you have some, add a bit more liquid, then stir in.
Step 9: Dough should be quite moist, but not super sticky. Definitely not dry and crumbly.
Step 10: Turn the dough out onto a floured surface.
Step 11: Shape into a ball (dusting with a bit of flour if it's sticking to your hands), then press into a round about 7-inches in diameter.
Step 12: Grease a small skillet, 8-inch round baking pan (such as a round cake pan) or even a baking sheet.
Step 13: Sprinkle the greased skillet or baking dish with some of the seed mixture.
Step 14: Place the dough on top of the seeds, then brush with more buttermilk or milk.
Step 15: Sprinkle top with remaining seeds and press onto dough lightly with the palm of your hand. Cut an "X" in the top of the dough and bake.
Top Tip
The key to this recipe is to add just as much or as much liquid (buttermilk or milk) as you need to create a moist dough - not too sticky/not too dry. Everyone's flour will absorb liquid differently, depending on your general climate or the climate of your own kitchen, so the amount needed will vary slightly between kitchens. Start by adding about 3/4 of the liquid, then go from there, adding in ver small increments and stirring in between. Watch for dry flour at the bottom of the bowl. That's a sign you need to add a bit more liquid. Don't be afraid to go beyond the 1 1/2 cups if your dough needs it.
Recipe
More no-yeast breads you might also like ...