A lovely, moist bread, flavoured with rolled oats and honey, with a bit of whole wheat flour as well. Keeps fresh for days and makes great sandwich bread!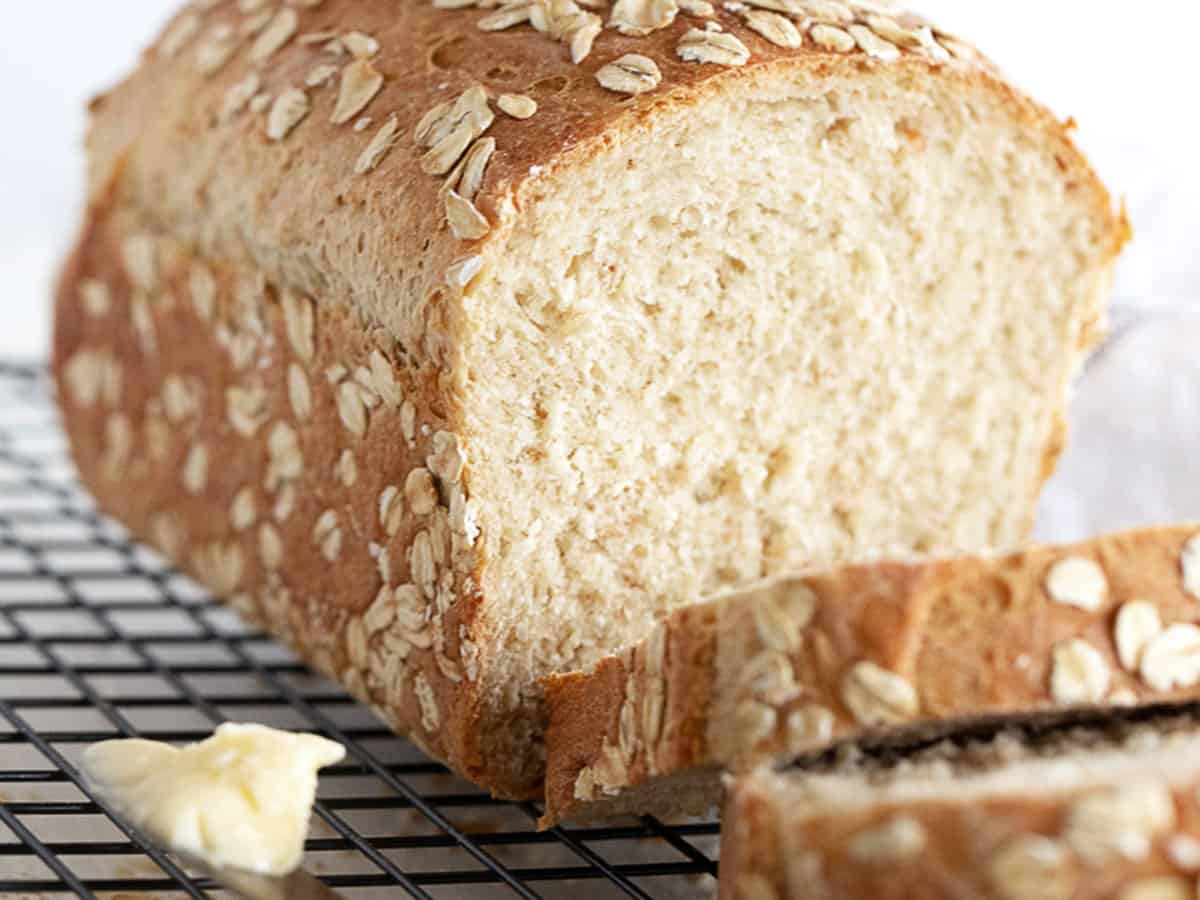 When it comes to bread, I love a loaf that delivers some whole grain goodness, but that also maintains a lovely soft crumb, like my Seeded Multigrain Sandwich Bread. This Honey Oatmeal Bread also falls very much into that camp, with a good bit of rolled oats and a touch of whole wheat flour added into the mix.
I love this loaf for its great flavour from the oats and honey, its tender, moist crumb and its rustic, oat-rolled appearance. This oatmeal bread keeps well, slices beautifully and makes the most fabulous sandwiches!
Jump to:
Ingredients
Here are the simple ingredients you will need for this bread ...
Rolled oats - the large-flake, old-fashioned rolled oats are best, though quick oats will work here as well.
Whole wheat flour - regular whole wheat or white whole wheat are both fine
All-purpose flour - unbleached recommended, but regular bleached is fine
Honey - or alternately maple syrup or brown sugar
Boiling water, salt and butter (or oil)
Step by Step Photos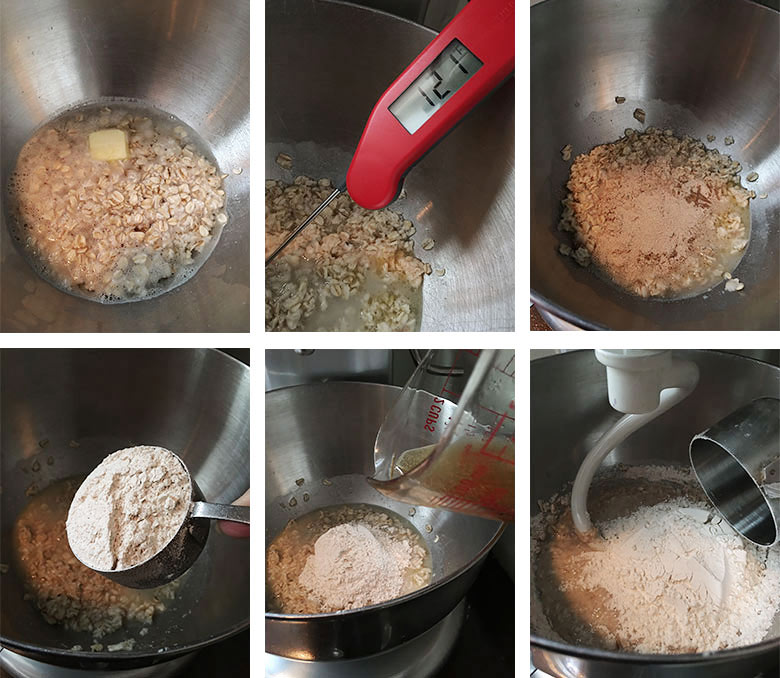 Step 1: Soak the oats in boiling water with the butter and salt, for 20-25 minutes.
Step 2: Check the temperature of the mixture. Make sure it's cooled to lukewarm, about 110F. If it's too hot when you add your yeast, it will kill the yeast.
Step 3: Add the proofed yeast mixture.
Step 4: Add the whole wheat flour.
Step 5: Add the honey.
Step 6: Add the first cup of all purpose flour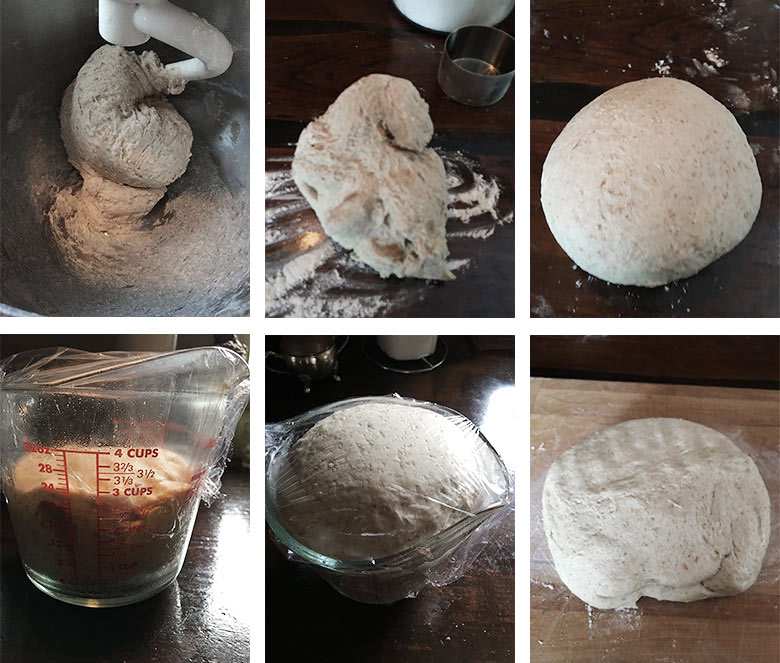 Step 7: Add another 1 - 1 1/2 cups all purpose flour until you have a moist dough that wraps around the hook and cleans the bowl a little.
Step 8: Remove the dough to a floured surface and knead, adding just as much flour as need to prevent the dough from sticking.
Step 9: Form dough into a ball.
Step 10: Place dough into a greased bowl or measuring cup. Cover with plastic wrap.
Step 11: Let dough rise until doubled.
Step 12: Remove dough to a floured surface and gently deflate.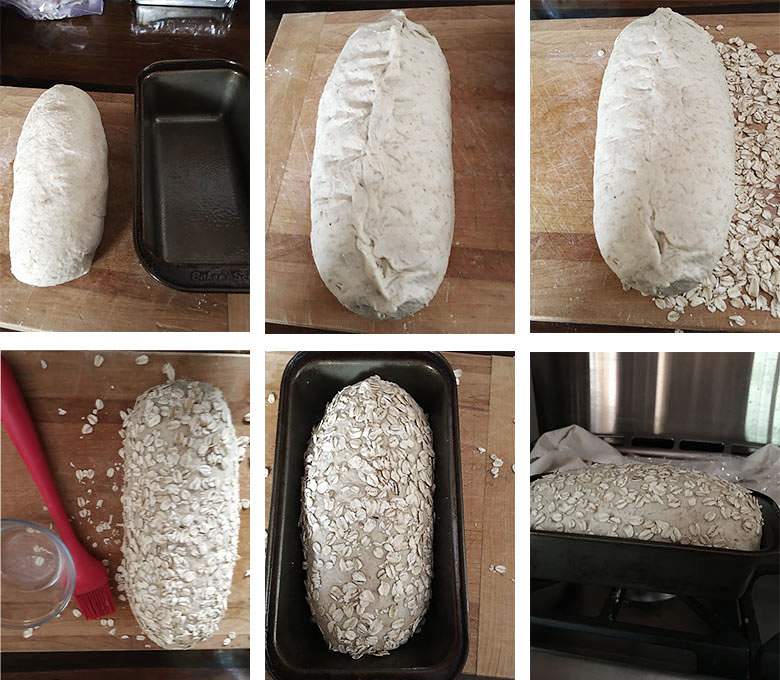 Step 13: Form dough into a rough oval, about as long as the loaf pan.
Step 14: Flip the dough over and pinch the sides into the centre, down the length of the loaf, pinching the ends in as well.
Step 15: Flip back over right side up. Scatter some rolled oats on your work surface.
Step 16: Lightly brush your loaf with water, then roll over the oats, coating top, sides and bottom of the loaf.
Step 17: Place loaf into a greased 8x4-inch loaf pan. Cover with a greased piece of plastic wrap.
Step 18: Let loaf rise until doubled. Remove plastic wrap and bake.
Tips
If you are new to bread making, I highly encourage you to check out my Getting Started With Yeast Bread Baking resource page, to get a good understanding of the process of making homemade bread.
This loaf will need a solid 45 minutes in the oven or until it reach at least 200F internal temperature when tested with an instant read thermometer. Be sure you are inserting the thermometer in the dead centre of the loaf for the most accurate reading. It shouldn't over-brown in that time, but check your loaf at about 35-40 minutes and if it seems in danger of over-browning, lay a sheet of aluminum foil loosely over-top for the last part of baking.
This bread will keep well stored well wrapped on the counter for several days. This bread will also freeze beautifully up to 3 months, though it will be best used within about 1 month.
Top Tip
The addition of soaked oatmeal to this bread produces a lovely, moist loaf, but it also means the loaf will need longer to bake off some of that moisture. This loaf will need at least 45 minutes in the oven, which is quite a bit longer than most bread loaves. A thermometer is best for testing done-ness, but if you don't have a thermometer, err on the side of leaving it in the oven a few minutes longer, rather than rushing it out, to ensure you don't end up with a loaf with an under-done middle.
Recipe
More bread recipes you might like ...