Paccheri pasta, with a simple burst cherry tomato sauce and chunks of Buffalo mozzarella, combine with fresh basil and garlic for a classic pasta Sorrentina! One of my favourite pasta dishes, that can be enjoyed year round, but is especially nice with wonderful fresh Summer tomatoes and basil.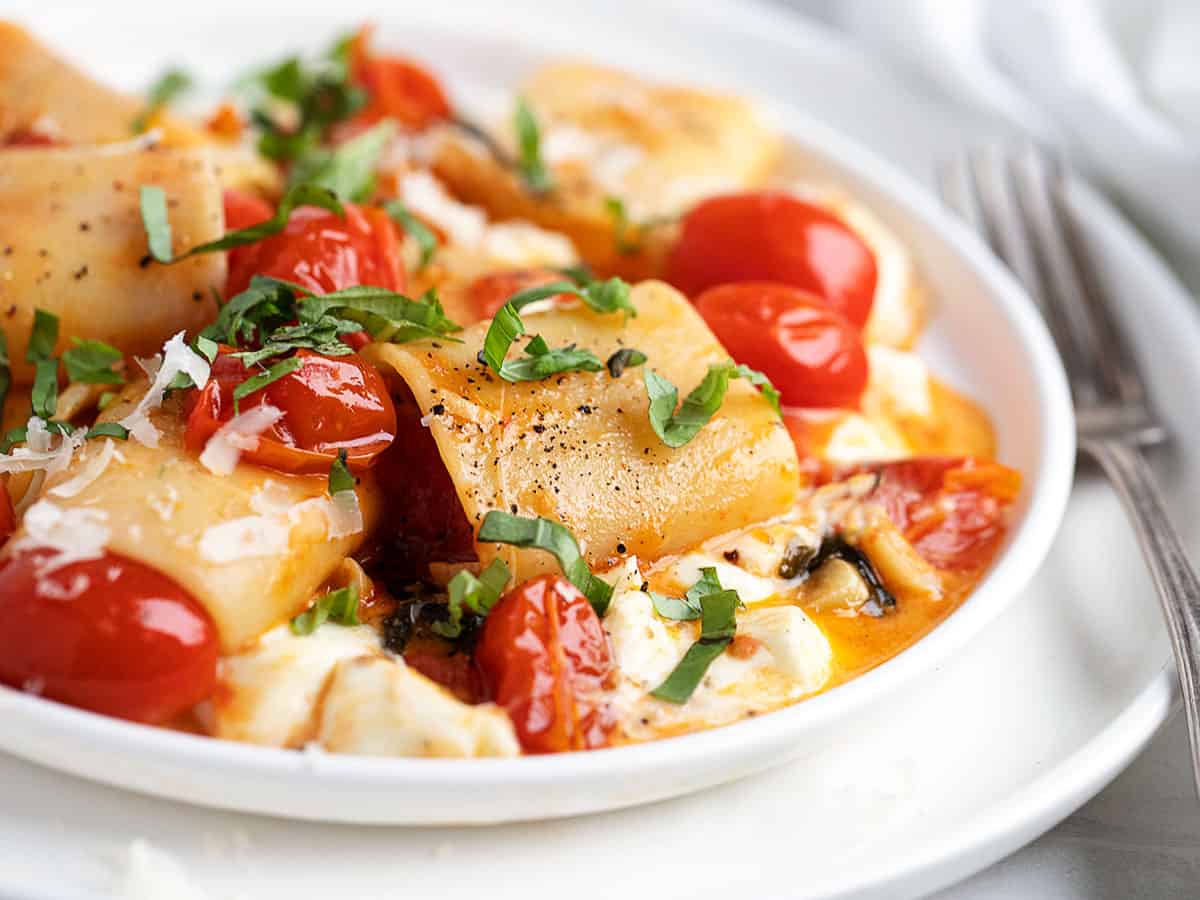 Pasta alla Sorrentina is a fancy name for a simple pasta dish, but a simply perfect one! It's a dish that allows great ingredients to shine – from the hearty Paccheri pasta, to the simple tomato sauce, the fresh basil, the abundant garlic and last (but definitely not least!), the melty cheese. It's perfect for Summer eating, as fresh basil and cherry tomatoes at their best.
Ingredients and Substitutions
Simple dishes like this one hugely benefit from the best and freshest ingredients. Great pasta, perfect tomatoes, fresh basil and garlic and a ball of good mozzarella. I have offered some substitution suggestions here, as well though, if you need to substitute.
Pasta – I've used Paccheri pasta here, which are large tube-shaped pasta. They aren't the easiest to find for me (small town), but I pick it up when I am at an Italian market somewhere else. They are also available from online Italian markets. This pasta always feels like a treat, so it's well worth seeking out and trying. That said, it certainly is only one option for pasta to use here. I think a tube-shaped short pasta works the best, but use what you like or have on hand. Penne is always a great option.
Tomatoes – I tend to gravitate to cherry tomatoes here, as they are available year round and make a nice, fresh tomato sauce. Even better if they are fresh from your garden! Unless I have nice, fresh cherry tomatoes, I will default to best-quality canned whole tomatoes. If whole, I just use the whole tomatoes (not the juice) and I crush them up by hand. If using canned, you can skip the cooking down of the cherry tomatoes in the recipe, too.
Basil – this is a dish that just demands fresh basil, so I highly recommend getting your hands on some for this dish. In a pinch, you can used dried. I like the freeze-dried basil as the best option, if fresh is unavailable. Look for it in the big jars in the produce section.
Mozzarella Cheese – I've used a ball of Buffalo Mozzarella here (Formaggio Di Bufala Mozzarella). I find it has a bit more flavour than a regular ball of fresh mozzarella. Again though, you can use any type of mozzarella here. If Buffalo isn't available, maybe try a ball of fresh mozzarella. Alternately, maybe some bocconcini. If none of that is available, just cut up cubes of regular, block-type mozzarella. For block mozzarella, it may need a little more heating to start melting in the pan.
Garlic – again, you just can't beat fresh garlic in a dish like this. For best results, start with a bulb of garlic, that you peel yourself fresh for this dish.
Step-by-Step Photos
This is a summary of the steps to make this simple pasta dish. Always refer to the complete instructions in the Recipe Card below when making the recipe, as not all steps may be illustrated here.
Hearty Paccheri pasta takes longer to boil, so start the water boiling and add the pasta to the boiling, salted water first, before starting the sauce. Heat the olive oil and garlic together over medium-low heat. As soon as it starts to sizzle, add the tomatoes and basil, along with the chili flakes, salt and sugar (if using)
Cook, stirring until tomatoes soften, but watch the garlic and make sure it doesn't colour too much (which can introduce a bitter flavour to the dish). Add a Tbsp of water to the pan, if needed, which will stop the garlic from over-browning.
When the tomato skins start to crack, smash about 1/2 of the tomatoes with the back of a spoon. Add a pat of butter, if you like. Add the cooked pasta and a 1/2 ladle of pasta-cooking water to the pan and cook together, stirring, about 2 minutes.
Remove from heat and stir in the cubed Fresh mozzarella. (It will soften with the residual heat from the pan). Season with some freshly ground pepper and serve with freshly grated Parmesan and fresh basil.
Recipe Tips
Large Paccheri pasta takes a surprisingly long time to cook (longer than the package might indicate), so start the pasta cooking before you start the sauce. Look for it to loose its perfectly round shape and collapse into more of an oval shape. Still, only cook it to al dente, as it will cook a bit more with the sauce.
Still draining your pasta in the sink? I'd urge you to re-think this habit. I switched a long time ago and I'll never go back. Instead of draining, simply remove the cooked pasta from the boiling water with tongs (for long pasta) or a spider strainer (for short pasta), draining any excess water over and back into the pot, then transfer the pasta to the pan with the sauce. The first benefit of doing this is that it will keep lots of pasta cooking water easily available to you, if needed to add to the sauce. And don't worry that the pasta isn't drained well enough, as any extra bit of water on the pasta that transfers to the pan with the sauce will quickly cook off. And finally, you'll never be carrying a big, heavy pot of boiling hot water across your kitchen again (and good riddance to doing that!!)
Recipe Video
Baked Pasta alla Sorrentina
Pasta alla Sorrentina can also be baked, if you like. Simply pop the skillet into a 400F oven as soon as you stir in the cheese and bake for 6-8 minutes. It's also nice if it's a bit drier and a bit crispy.
Top Tip!
Be careful you don't burn the garlic! Garlic is fabulous in dishes like this, but not so much if it scorches in the pan. Burnt garlic is bitter and will transfer the bitter flavour to your finished dish. Follow the tips in the recipe to keep your dish burnt-garlic-free!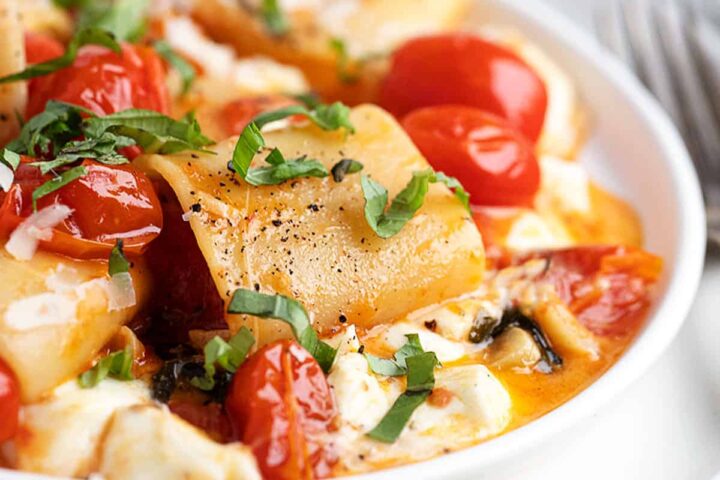 Get the Recipe:

Pasta alla Sorrentina
Paccheri pasta, with burst cherry tomato sauce and chunks of Buffalo mozzarella, combine with fresh basil and garlic for a classic pasta Sorrentina!
Ingredients
3

Tablespoons

extra-virgin olive oil

,

plus more for drizzling

3-4

cloves

garlic

,

roughly sliced (not too thin)

1

lb

fresh cherry tomatoes

,

or canned whole tomatoes *see Note 1

1/2

cup

basil leaves

,

loosely packed and torn if large

1/8 - 1/4

teaspoon

crushed red pepper flakes

3/4

teaspoon

Kosher salt

,

plus more, to taste

Pinch

sugar

,

optional

1

teaspoon

butter

,

optional

12

oz

Paccheri pasta tubes

,

16-18 paccheri or more if using smaller pasta, about 14 oz *see Note 2

3.5

oz

Buffalo or Fresh Mozzarella Ball

,

cut into 1/2-inch cubes (100g) *see Note 3
For serving:
Finely grated Parmesan

Fresh basil

,

thinly sliced
Instructions
Start a large pot of water boiling for the pasta and salt it well. Once boiling, add the pasta to the pot and cook according to package directions, or until al dente.

Add the olive oil and garlic to a skillet on the stovetop. Turn the heat on to medium-low and heat the oil and garlic slightly. As soon as the oil is heated and you can see tiny bubbles around the garlic, add the cherry tomatoes and basil to the pan and raise the temperature slightly. Add the red pepper flakes and salt (and a pinch of sugar, if using). Cook, stirring, until the skin on the cherry tomatoes starts to crack open. **Make sure the garlic doesn't brown during this process. If it is starting to colour at all, add a Tbsp or 2 of water to the pan to stop the garlic browning.

When the tomatoes start cracking, use the back of a large spoon to smash about 1/2 of the cherry tomatoes. Add the butter (if using) and stir to combine.

When pasta is ready, spoon out of pot with a slotted spoon, allowing the excess water to drain off back into the pot. Add the drained pasta to the skillet with the tomatoes. Stir to combine. Add a 1/2 ladle or so of pasta water to the skillet and cook the pasta with the sauce about 2 minutes. Season with some freshly ground pepper.

Remove skillet from heat and stir in the cubed fresh mozzarella. Stir in and allow the residual heat from the pan to soften the cheese. Serve immediately with freshly grated Parmesan and some fresh, chopped basil. *If using regular mozzarella cheese, you may need to leave it on the heat for a bit to soften the cheese.
Notes
1. If you prefer, you can use a good-quality, canned whole tomatoes. Just use the whole tomatoes (not any liquid in the can) and crush them into the pan by hand. If using canned tomatoes, you can skip the process of softening and crushing in the instructions.
2. I love the large, hearty Paccheri pasta, but you can use any short pasta here. Penne works nicely. For smaller pasta, use more than specified.
3. Fresh mozzarella is lovely in this dish and I like Buffalo mozzarella for a bit more flavour. You can also use regular mozzarella, if you like. Keep it in cubes, but you may want to add it to the pan before removing from the heat, as it will need a bit more than residual heat to start melting. Stir in the pan over the heat and as soon as it starts to soften, remove from heat and serve.
Serving:
1
serving
,
Calories:
511
kcal
,
Carbohydrates:
70
g
,
Protein:
17
g
,
Fat:
18
g
,
Saturated Fat:
6
g
,
Polyunsaturated Fat:
2
g
,
Monounsaturated Fat:
10
g
,
Trans Fat:
1
g
,
Cholesterol:
22
mg
,
Sodium:
494
mg
,
Potassium:
481
mg
,
Fiber:
4
g
,
Sugar:
5
g
,
Vitamin A:
1613
IU
,
Vitamin C:
27
mg
,
Calcium:
595
mg
,
Iron:
2
mg
More Pasta Recipes to Love!
Hi! I'm Jennifer, a home cook schooled by trial and error and almost 40 years of getting dinner on the table! I love to share my favourite recipes, both old and new, together with lots of tips and tricks to hopefully help make your home cooking enjoyable, stress free, rewarding and of course, delicious!