If the idea of ooey, gooey melted cheese appeals to you, then this Provoleta is for you! Melted provolone cheese with a variety of toppings, served with bread.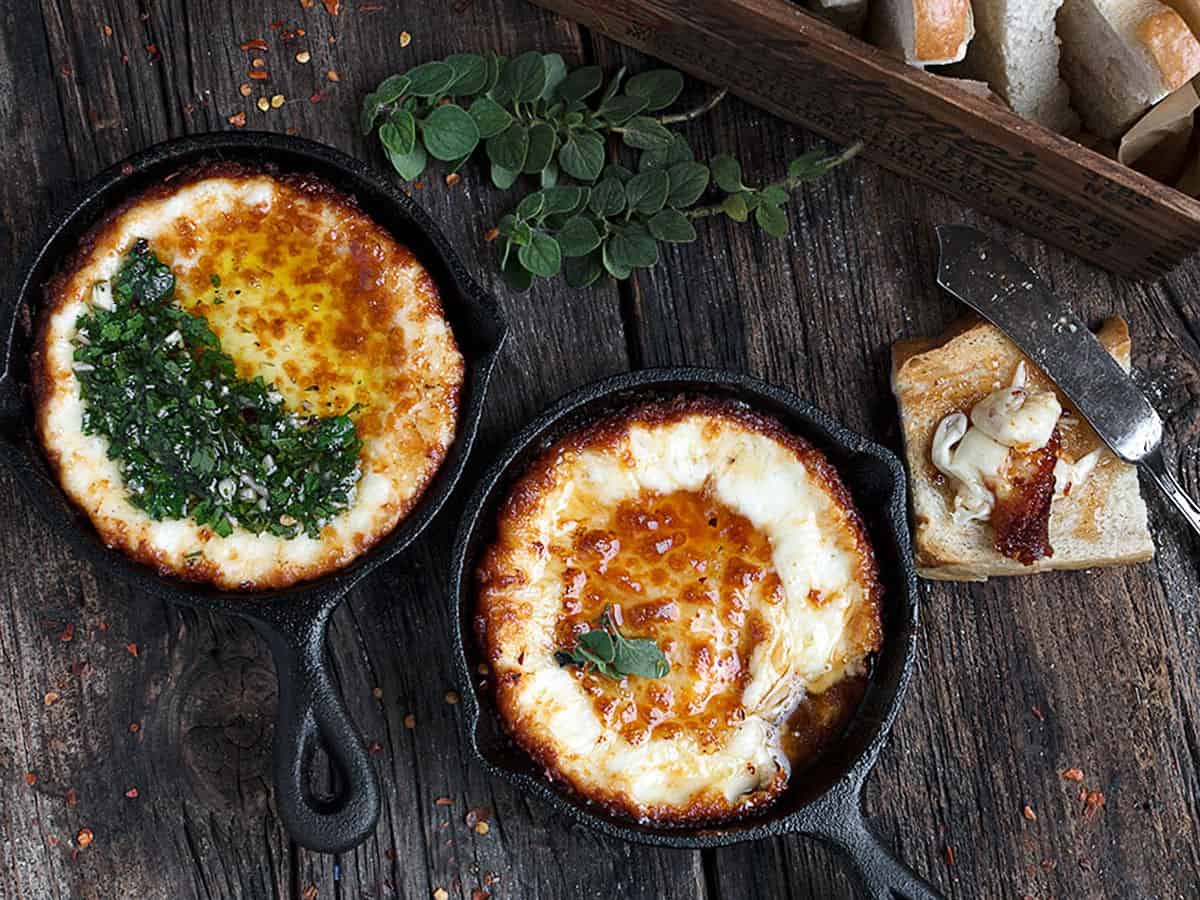 Somewhere in my travels around the Internet recently, I bumped in to the Provoleta. Or rather a picture of one. And since it's virtually impossible for me to resist any idea that involves an abundance of melted cheese, I didn't waste any time in experiencing for myself.
What is Provoleta?
Provoleta is melted provolone cheese, served hot from the BBQ or oven, with a variety of toppings. The one I saw most often was a Chimichurri, which makes perfect sense, since both hail from Argentina.
Provoleta hails from Argentina. Traditional Provoleta is made with a unique Argentinian type of provolone cheese. For the rest of us, the readily available Italian provolone is a good substitute.
Beyond the melted cheese goodness, is the fabulous crispy crust that develops as the cheese melts in a hot skillet. I can attest to the fact that the only thing better than ooey, gooey melted cheese, is when it is combined with crispy, cheesey bits!
I made two little skillets of provoleta – a classic Chimichurri topped version and for the second, a simple, but fabulous combination of melted provolone with Hot Honey. The easy recipe for both is in the recipe card below.
This easy and delicious appetizer is a great one to turn to for a fun starter, to kick up a wine and cheese moment or for some football watching food.
Recipe Tips
You ideally want to start with a 1-inch thick slice of provolone, so look for the "cylinder" of cheese that is 6-7 inches high and 4-5 inches in diameter. Then simply cut your 1-inch slices from it.
Little cast iron skillets are perfect for this. One that is just a bit bigger than your slice of cheese is perfect. You'll want to use something that can both cook on the stovetop and under the broiler.
You need to eat this one up fairly quickly, as the cheese will stiffen up as it cools. Shouldn't be a great challenge ;)
How to Serve Provoleta
Serve provoleta with sliced baguette or bread, either plain or toasted. Scoop out the melted cheese onto the bread and enjoy!
Provoleta Topping Ideas
Beyond the ideas presented here, you can also top provoleta with diced tomatoes, olives, roasted red peppers, or sautéed onions.
Storing
Store left-overs in the skillets, wrap well and refrigerate. To re-warm, pop into a 350F oven to until warmed through.
Get the Recipe:

Melted Provolone Cheese Provoleta
Warm melted provolone cheese, served with tasty toppings and toasted bread pieces.
Ingredients
1-inch thick

slice

Provolone cheese

,

unsmoked
Hot Honey Topping:
2

Tablespoons

honey

1/2

teaspoon

hot sauce

,

such as Frank's or Tabasco

Pinch

crushed red chili flakes
Chimichurri Topping:
3

Tablespoons

flat-leafed parsley

,

finely chopped

1/8

teaspoon

dried oregano

,

or 1/2 tsp fresh oregano leaves, chopped

1

garlic clove

,

minced

3

Tablespoon

extra virgin olive oil

1

teaspoon

red wine vinegar

,

or lemon juice

2

teaspoon

water

Pinch

crushed red chili flakes

Salt and freshly ground pepper
To serve:
Baguette or bread slices

,

toasted
Instructions
Prepare your topping of choice by combining all ingredients in a small bowl and set aside.

Preheat oven broiler with oven rack 6-8 inches from the heat source.

Wipe a small (just slightly larger than the cheese round) cast iron skillet or a similar, oven-safe skillet lightly with vegetable or canola oil.

Place skillet on stove-top over medium-high heat and allow to heat up. Place provolone cheese slice into the skillet and reduce heat to medium (or just slightly lower). Cook, until bottom part of cheese melts out to the edges and starts to crisp and bubble.

Transfer skillet to the oven and broil until cheese is fully melted and golden. Top with topping and serve immediately with toasted bread pieces. *Cheese will stiffen as it cools, so eat up right away.
Notes
Be sure to read the notes above this Recipe Card, for more tips, options, substitutions and variations for this recipe!
Serving:
1
serving
,
Calories:
75
kcal
,
Carbohydrates:
4
g
,
Fat:
6
g
,
Saturated Fat:
1
g
,
Cholesterol:
2
mg
,
Sodium:
38
mg
,
Potassium:
4
mg
,
Sugar:
4
g
,
Vitamin A:
30
IU
,
Vitamin C:
0.3
mg
,
Calcium:
26
mg
More Appetizer Recipes to Love!
Hi! I'm Jennifer, a home cook schooled by trial and error and almost 40 years of getting dinner on the table! I love to share my favourite recipes, both old and new, together with lots of tips and tricks to hopefully help make your home cooking enjoyable, stress free, rewarding and of course, delicious!