Have you ever tried rainbow trout cooked in parchment? This is an entire meal, cooked quickly in the oven in parchment (en papillote).
A nice piece of fish cooked in parchment (papillote) is one of my favourite ways to make a simple meal special, so I thought I'd share this delicious rainbow trout recipe, one for anyone looking for a little something special for dinner.
Rainbow trout is such a nice change from salmon, I think and cooks up perfectly flaky in parchment, too. I added in some broccolini and combined it all with a delicious Parmesan lemon pasta. And best of all, it only needs about 12 minutes in the oven! And of course, the pretty heart shaped packets are so fitting for the day :)
Ingredient Notes
Rainbow Trout: Rainbow Trout is a mild fish, so it's a perfect for people who don't like "fishy" fish. You can substitute salmon, Arctic Char or just about any fish here, if you like.
Broccolini: Broccolini is very much like broccoli, just longer and more tender. It cooks up quickly, which makes it perfect for these packets. I actually prefer it to broccoli and it looks very pretty in dishes like this. You can substitute broccoli, though I would blanche it or microwave it slightly before adding to the packets and it likely won't cook to tender in the short time the packets are in the oven.
Lemon: Nothing can compete with fresh lemon slices here.
Pasta: I love the bit of carb in these packets, but there is not doubt it does add a little extra work. You can certainly skip it, if you prefer. Cooked rice would also be nice here.
Cook's Notes
If you can't find rainbow trout fillets this size, buy a larger piece and cut them yourself. The extra trout can be frozen for another meal.
When cutting your parchment packets, don't cut the half-heart too narrow. You want to leave lots of room for food :) I start from the bottom point and cut the bottom curve. Leave several inches of the flat side, then make a curved cut at the top (see photo below).
I wasn't sure if the broccolini would cook enough in the packets from raw, so I hedged my bets by microwaving briefly (30 seconds) to give it a head start. It was well cooked after 12 minutes in the oven, so I'm thinking it would probably have been fine (tender-crisp), without the pre-cooking. You can go either way, depending on how you like your veggies cooked.
Since you're cooking just a small amount of pasta here, you can complete the process more quickly by boiling water in a deep, wide skillet. The water will boil more quickly!
Speaking of pasta, I used Farfale (bow tie) pasta here, but obviously any pasta you have or like is fine.
A Bit About Cooking Fish in Parchment
What is Cooking in Parchment Called? The method of cooking in parchment is called En Papillote. It is a French term that basically translates to "in pouches".
Is Parchment Paper Safe in the Oven? Absolutely! While parchment paper will brown at very high temperatures (450-500F), it is very unlikely to ever catch fire. It is not recommended to put parchment paper under the broiler, however, due to the extreme of temperatures produced there.
Can I Use Foil Instead of Parchment? In theory, yes, but some find a bit different texture in the fish between foil and parchment. Also note that foil doesn't have near the non-stick properties of parchment, so you will need to grease it well to avoid a sticky situation. Beyond that, foil with crimp and seal much like parchment, so the contents will cook in the oven in the same manner.
How Long Do You Cook Fish in Parchment Paper? With oven at 400F and cooking your parchment packets on a baking sheet, most fish will be cooked in 14-16 minutes. The timing will be dependent on the thickness of your piece of fish. Salmon and Rainbow Trout will cook in about 15 minutes, while a delicate, whitefish fillet such as sole, may be done in 10-12 minutes.
What Fish Can I Cook in Parchment Paper? You can cook any fish in parchment! Salmon, Rainbow Trout and any white fish will cook up perfectly in parchment paper. And you don't need to limit it to fish. Other seafood such as shrimp and scallops will also cook up well with this method.
How to Fold Parchment Packets for Cooking in the Oven
The easiest method is to cut your piece of parchment into a heart shape. Place your food onto the right side of the heart, close to the center, leaving an inch or so clear at the edges. Fold the left side of the heart over the food-filled right side. Starting at the top left of the heart, begin folding the edges in, overlapping your folds as you go (crimping) to make a secure edge. Continue until you get to the bottom point, where you can twist the point to close the pouch.
It is important that your edges are folded securely, to ensure your pouch is well sealed and will steam your food properly. If you feel it isn't securely sealed, go ahead and fold around the edge second time, just to be sure.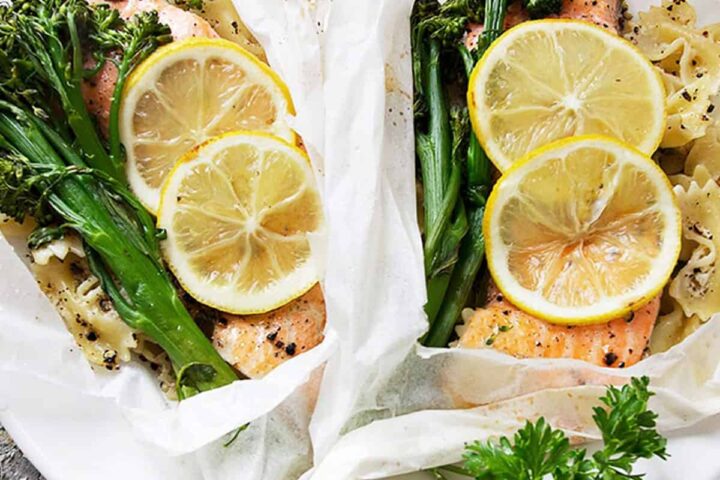 Get the Recipe:
Rainbow Trout and Pasta in Parchment
Delicious parchment packets, with rainbow trout, broccolini and lemon Parmesan pasta all in one. Cooks up quickly in a hot oven!
Ingredients
2

rainbow trout fillets

4

thin slices

lemon

,

seeds removed

4-6

stalks

broccolini

,

bottom 1/2- of stalk trimmed off
Pasta:
1 1/2

cups

dried Farfale (bow tie) pasta

,

(or pasta or your choice - enough for 2 small servings

1

Tbsp

butter

1/3

cup

Parmesan

,

grated

2

Tbsp

fresh parsley

,

chopped

Juice of 1/2 fresh lemon

Salt and freshly ground pepper
Equipment
Two 12x15-inch pieces of parchment paper
Instructions
Preheat oven to 400 F.

Boil water for pasta. *Tip: for this small amount of pasta, use a deep, wide skillet for the job. The water will boil more quickly! Once water is boiling, salt water and add your pasta. Cook until al dente. Drain well and remove to a medium bowl. Add butter and stir until butter is melted and pasta is coated well. Add Parmesan, parsley, salt and pepper. Stir well to combine. Drizzle with lemon juice and stir to combine. Set aside.

While pasta is cooking, prepare your parchment hearts. Cut two pieces of parchment 15-inches x 12-inches. Fold in half to make a 7 1/2-inch x 12-inch rectangle. Starting from the bottom fold corner, cut the bottom of the heart shape to the open side. Leave a few inches of the open side flat, then cut the top curve back towards the top fold edge (see photo below). Open up your parchment hearts and lay flat on a work surface.

Place a pile of your pasta in the centre, just to the right of the centre fold. Keep it a couple of inches from the side edge. Top with a fillet of rainbow trout. Season trout with salt and pepper and a pat of butter. Top with a couple of thin slices of lemon. Tuck a couple of broccolini stalks next to it (on the centre fold side). Fold the unfilled parchment side over-top to enclose. Starting from the bottom heart point, begin folding the edges in, over-lapping and pinching as you go to keep the shape. Once you get to the top, work your way back down, folding over again and folding/pinching as you go. End with twisting the bottom point a bit to seal. Place packets on a baking sheet.

Bake in preheated 400 F oven for 12-14 minutes (depending on thickness of fillets). Remove from oven. Place packets on plates and cut open to enjoy.
Calories:
405
kcal
,
Carbohydrates:
58
g
,
Protein:
16
g
,
Fat:
11
g
,
Saturated Fat:
6
g
,
Cholesterol:
27
mg
,
Sodium:
330
mg
,
Potassium:
188
mg
,
Fiber:
2
g
,
Sugar:
2
g
,
Vitamin A:
980
IU
,
Vitamin C:
24.5
mg
,
Calcium:
232
mg
,
Iron:
1.5
mg