This delicious, Asian-inspired orange salmon (or trout) bakes up in the oven in just 15 minutes, with an easy orange and soy sauce. A great weeknight meal!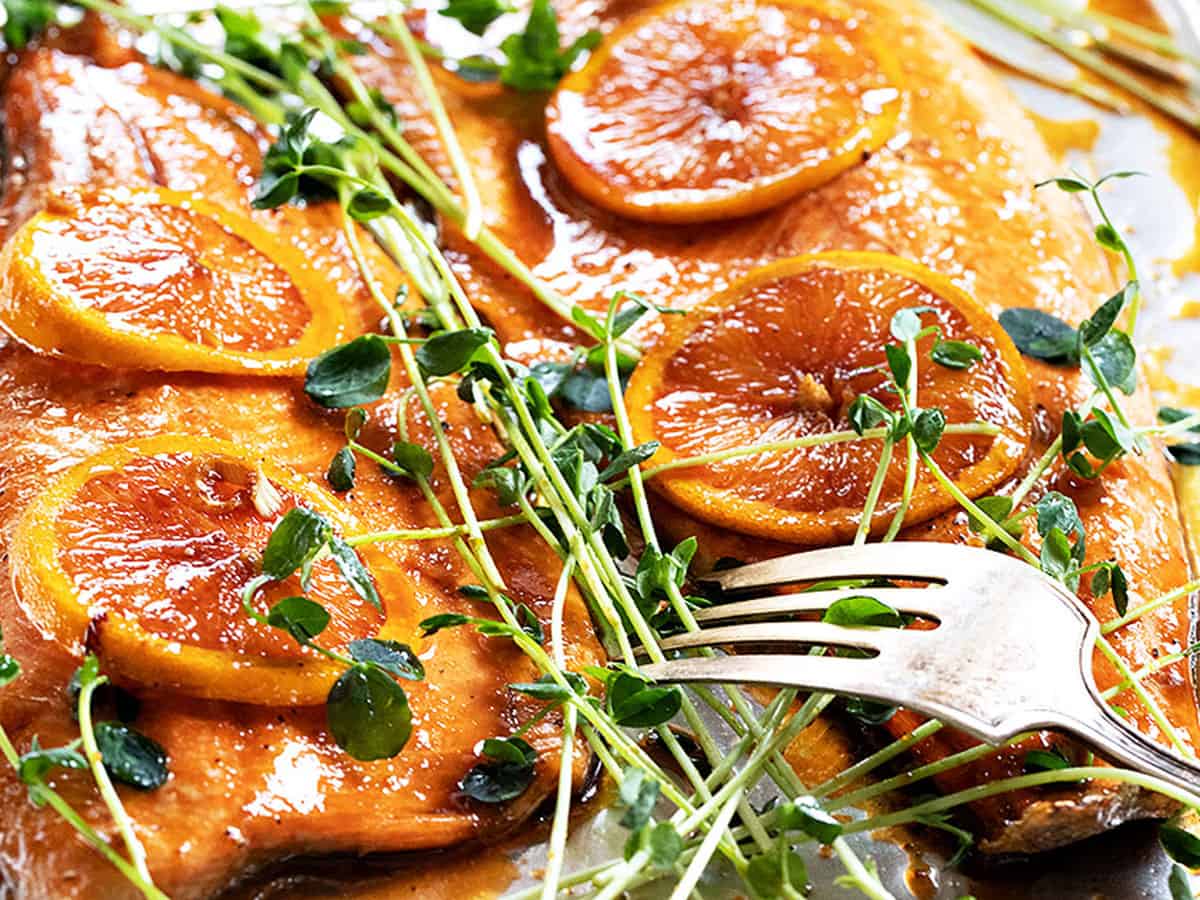 When it comes to quick, easy and delicious dinner ideas, this oven baked, Asian-inspired orange salmon is always high on my list. As we are in the season of beautiful citrus, it's the best time of year to enjoy it, as well. It is sure to brighten up even the dreariest Winter day.
If you are always looking for new and different ways to enjoy salmon, as I am, I think you'll love the orange and Asian-inspired flavours here. It's a great way to enjoy salmon or rainbow trout fillets and is a feast for the eyes as well as the palette.
I especially love that this dish cooks up completely in the oven, on one pan. And it's ready in about 15 minutes! The easy orange soy sauce doesn't need any pre-cooking. Simply mix it together and use it to baste/broil the fish at the end of cooking.
Ingredients and Substitutions
Salmon or Trout: This recipe works equally well with either salmon or trout. I have actually used rainbow trout here. I've used the long, thin fillets here, but this recipe would also work nicely with the smaller, thicker salmon pieces, though the oven cooking time will be a little longer.
Oranges: You can use any kind of orange you like or have on hand. I've used Cara Cara oranges here. I love to add a few orange slices on top along with the sauce, for a really pretty presentation. If you'd like orange slices on top, you'll need 2 medium oranges – one for juicing for the sauce and another to use for the slices.
While it's hard to compete with fresh-squeezed orange juice for flavour, if you don't have any fresh oranges on hand, orange juice (from concentrate) could be used for the sauce.
Sriracha: If you'd like a touch of heat in your sauce, add a splash of Sriracha to the sauce, to taste.
Recipe Tips
I used to reduce down this sauce in a saucepan on the stove-top, but I've found I can achieve the same results (and save dirtying another pot) by using the oven to do the reducing for me. If you prefer, you can go the stove-top route. Simply bring the sauce ingredients to a boil, then simmer over low heat to reduce while the fish is in the oven. Then just brush on the reduced sauce to in the last few minutes of baking.
The sauce, as written, isn't thick, but more of a basting sauce. If you'd like a thick sauce, go the stove-top route. To thicken, mix up a a mixture of 1 Tbsp cold water mixed with 2 tsp of cornstarch and add a bit at a time to your simmering sauce near the end of cooking, until it thickens to the point you're after.
If you are not a fan of the fish skin, it's very easy to leave it behind on the pan when serving. Simply slide a spatula between the fish and the skin and lift off. It's won't be as pretty when you're done (it will break into pieces), but you won't have any skin on your plate. Of course, you could also plate your fish with the skin and simply eat the fish part, as it separates easily from the skin.
Be sure your oven rack is not too close to the broiling element while broiling, as it's much easier to control the heat/cooking from a distance. If your broiler has a Hi and Low setting, start with the Hi setting. You can always turn it down if it seems too hot.
What to serve with Asian Orange Salmon
This dish is lovely with a simple vegetable side, such as asparagus, broccoli (or broccolini) or green beans. You could do an easy side-salad, as well. If you want to add a carb, a bit of rice or something like coconut rice would be perfect.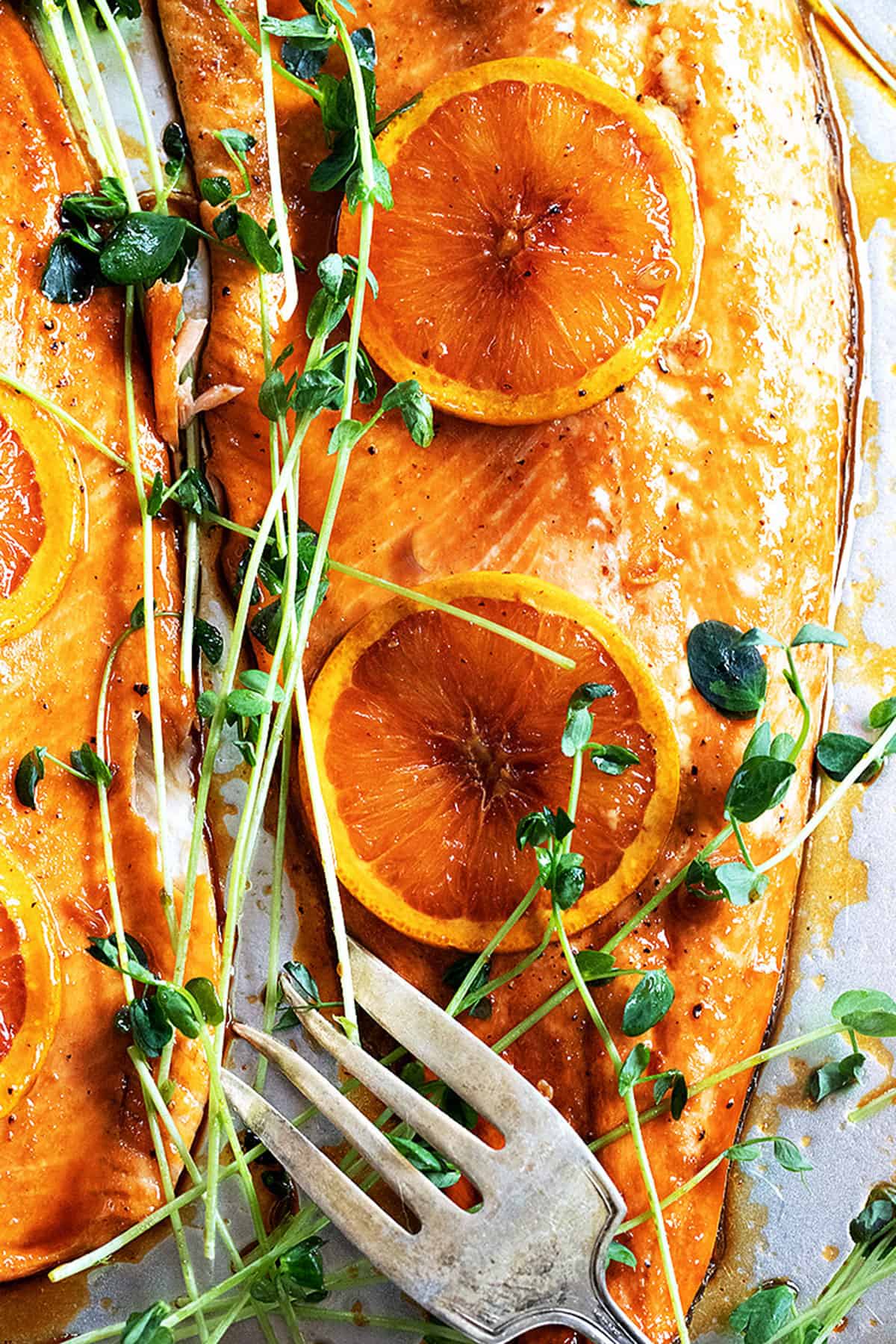 Top Tip
For skin-on salmon or trout fillets, be sure to grease your baking pan well with oil before baking, so the skin crisps up and doesn't stick to the pan. It also makes clean-up easier.
Get the Recipe:

Asian Orange Salmon or Trout
Easy baked orange salmon or trout, with an Asian-inspired orange-soy sauce. Ready in just 15 minutes!
Ingredients
2

salmon or trout fillets

,

long, thin skin-on fillets or *See Notes

1

Tablespoon

olive oil

,

plus more for greasing the pan

Salt and freshly ground pepper

1

medium

orange

,

sliced, for topping
Sauce:
4

Tablespoons

orange juice

,

freshly squeezed recommended

3

Tablespoons

light brown sugar

2

Tablespoons

soy sauce

,

low sodium recommended

1

teaspoon

sesame oil

Splash of Sriracha

,

optional, if you'd like a touch of heat
Instructions
Preheat oven to 400F., (regular bake setting / not fan assisted) with the oven rack in the centre of the oven.

Add a little olive or cooking oil onto a baking sheet and use a brush to evenly coat the bottom of the baking sheet. Set aside.

Pat the salmon or trout fillets dry with paper towel. Brush the top of the salmon lightly with olive oil, then season with salt and freshly ground pepper. Lay the fillets onto the prepared baking sheet, skin side down.

Make the sauce by stirring together all the sauce ingredients. Set aside until needed.

*Note: Baking time will vary depending on the size/thickness of your fish. Your first baking period should produce a fish that is cooked/lighter coloured on the outside, but still not quite cooked through the thickest part. Extend your baking time if needed.

When oven is preheated, place the salmon into the oven and roast for 10 minutes. (Fish should be cooked-looking on the outside edges with the thicker middle still a little pink at this point). Remove from oven and baste the fish generously with some of the sauce and place a few orange slices on top, if desired. Return to the oven for an additional 5 minutes. (Fish should be evenly coloured at this point.

Remove fish from oven and again baste generously. Switch the oven from the Bake setting to the Broil setting (use the "Hi" setting if your oven has both Hi and Lo). Return the fish to the oven to the same middle oven rack and broil for 1 minute. Baste again and broil for another 1-2 minutes. Watch closely so the sauce doesn't begin to scorch, as that will introduce a bitter taste to the sauce.

Remove from oven and spoon any sauce that may be in the pan over-top of the salmon. Serve immediately.
Notes
*For the smaller, thicker salmon fillets, you will need to extend the cooking time to account for the thicker fish.
Be sure to read the notes above this Recipe Card, where I share more detailed

 

tips, variations and substitution suggestions for this recipe!
Serving:
1
serving
,
Calories:
305
kcal
,
Carbohydrates:
15
g
,
Protein:
36
g
,
Fat:
10
g
,
Saturated Fat:
2
g
,
Cholesterol:
100
mg
,
Sodium:
558
mg
,
Potassium:
942
mg
,
Fiber:
1
g
,
Sugar:
13
g
,
Vitamin A:
213
IU
,
Vitamin C:
30
mg
,
Calcium:
135
mg
,
Iron:
1
mg
More Salmon and Trout Recipes to Love!
Hi! I'm Jennifer, a home cook schooled by trial and error and almost 40 years of getting dinner on the table! I love to share my favourite recipes, both old and new, together with lots of tips and tricks to hopefully help make your home cooking enjoyable, stress free, rewarding and of course, delicious!