A handy reference, with links to over 40 recipes to use leftover egg yolks. Great for frequent bakers who hate to waste.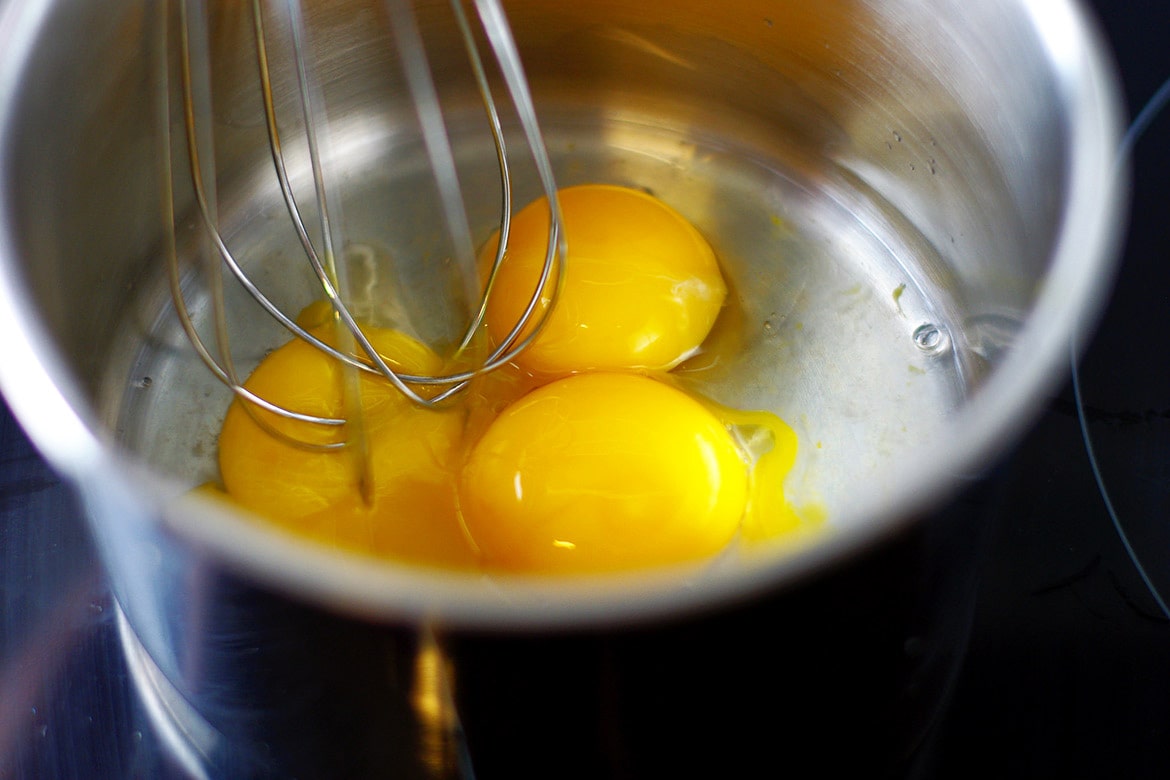 If you bake often, you have no doubt had to deal with what to do with leftover egg yolks. They're too good to waste!
So here are over 40 recipe ideas that are perfect for using up those leftover yolks. Recipes are categorized according to how many egg yolks they take, so you can find the perfect recipe for the number of yolks you have to use up! And if all else fails, scroll down to the bottom to learn how to freeze egg yolks!
Over 40 recipes to use up those leftover egg yolks, categorized by the number of egg yolks you need to use up.
Two Egg Yolk Recipes
Vanilla Bean Pudding from Cooking Light
Almond Butter Snickerdoodles from Cooking Light
Chocolate Pudding from the Pioneer Woman
Small Batch Meyer Lemon Curd from Pinch Me I'm Eating
Three Egg Yolk Recipes
Egg Yolk Sponge Cake from McBaby Cakes
Lemon and White Chocolate Egg Yolk Cookies from Actually Mummy
Classic Bread Pudding from Genius Kitchen
Maple Pot De Creme from Saveur
Four Egg Yolk Recipes
Traditional Vanilla Custard from Taste
Lemon Pound Cake Loaf from The Spruce
Lemon Curd from Savour and Save
Egg Custard Squares from The Spruce
Creme Brulee from Eggs.ca
Classic Vanilla or Chocolate Pudding from Martha Stewart
Old-Fashioned Vanilla Ice Cream from Add A Pinch
Five Egg Yolk Recipes
Alton Brown's Lemon Curd from The Food Network
Vanilla Custard Sauce from Epicurious
Rose Downey's Yellow Butter Cake from Epicurious
Classic Vanilla Ice Cream from Epicurious
Crema Gelato from DeLallo
Six Egg Yolk Recipes
Egg Yolk Cookies from Genius Kitchen
Pecan Pie Ice Cream from Cooking Light
Citrus Egg Yolk Cookies from All Recipes
Egg Yolk Cookies from Genius Kitchen
Martha Stewart's Classic Lemon Curd from Martha Stewart
Orange Spiced Pound Cake from Taste Food Blog
Lord Baltimore Cake from Bake from Scratch
The Only Ice Cream Recipe You'll Ever Need from Melissa Clark
Pan de Mallorca from The Serial Hobbyist Girl
Chocolate Pot de Creme from Serious Eats
Seven Egg Yolk Recipes
Seven Yolk Pasta Dough from Smitten Kitchen
Eight Egg Yolks
Egg Yolk Challah from Eva Bakes
Creme Brulee from CBC
New Orleans Bread Pudding with Bourbon Sauce from Brown Eyed Baker
Bread and Butter Pudding from Telegraph
Ten Egg Yolk Recipes
10 Yolk Homemade Pasta from Gourmet Traveller
Twelve Egg Yolk Recipes
Twelve Yolk Pound Cake from Call Me PMC
Gold Cake from All Recipes
How to Freeze Egg Yolks
Egg yolks can be frozen, but they can't be frozen "as is". You'll need to add either salt or sugar to the egg yolks to prevent them from becoming unusable. Salt is the easiest addition. To prepare, simply whisk 1/8 tsp salt per 4 egg yolks together. Pour into 4 ice cube molds and freeze. When frozen, transfer to a freezer bag. Each cube will then equal one egg yolk.
Top Photo Isabelle Hurbain-Palatin Used Under Creative Commons License
Hi! I'm Jennifer, a home cook schooled by trial and error and almost 40 years of getting dinner on the table! I love to share my favourite recipes, both old and new, together with lots of tips and tricks to hopefully help make your home cooking enjoyable, stress free, rewarding and of course, delicious!