An easy and delicious savory Dutch baby, with Prosciutto and Swiss cheese and topped with mustard and maple syrup dressed arugula.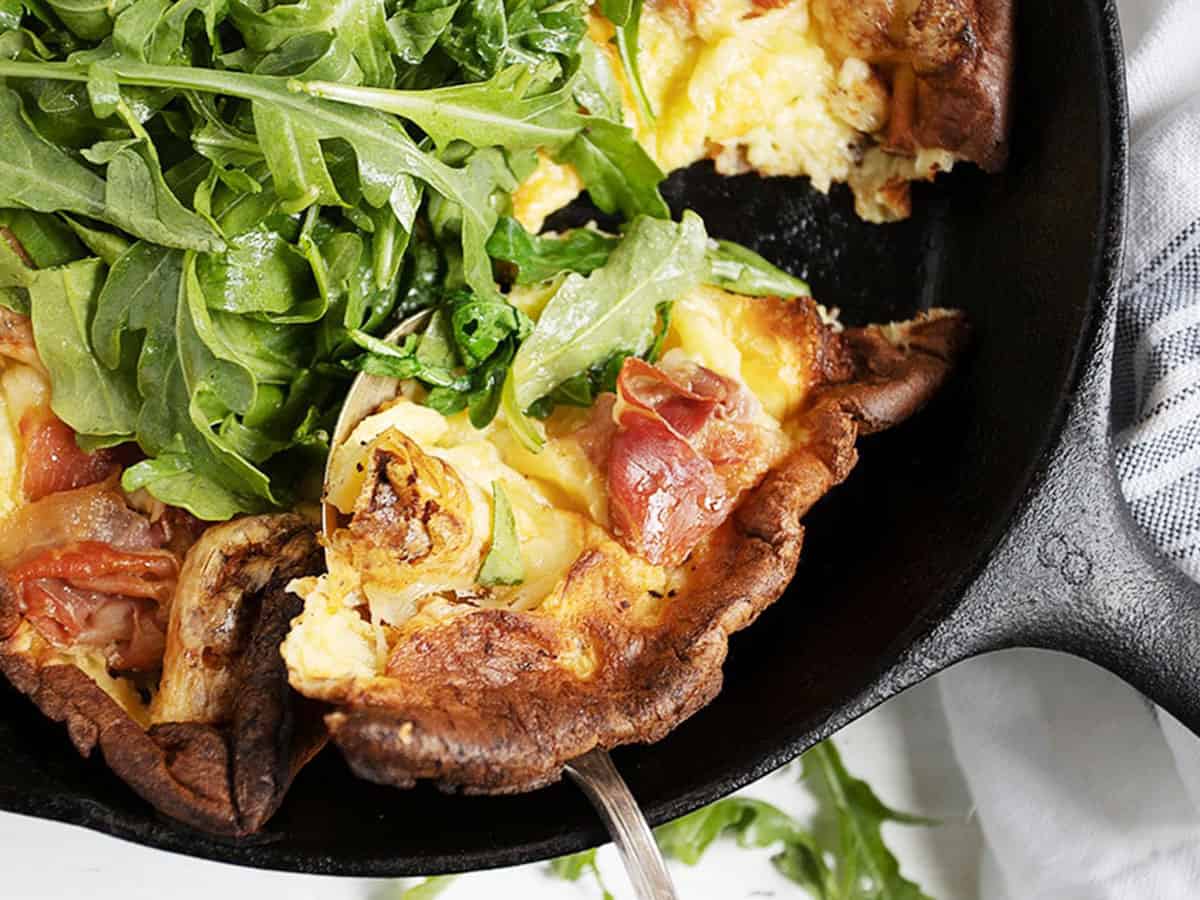 While this savoury Dutch baby may seem like great brunch food (and it is!), my favourite way to enjoy it is for dinner. Easy to make and made from pantry items, this is a delicious and easy dinner. I love the combination of the warm and flavourful Dutch baby with the sweet mustard dressed arugula on top. It's like main and salad in one skillet :)
This Dutch baby is also endlessly customizable. Swap up the meat and cheese based on what you have on hand. Try spinach instead of arugula. It's all good!
Jump to:
Ingredient Notes
For the Dutch baby:
Polenta - refers to the dried, uncooked polenta. Alternately, you could use a coarse cornmeal. While the polenta adds flavour and texture, if you don't have either, you can omit.
Prosciutto - I usually have prosciutto around, so it's what I used here. That said, deli ham would be a great alternative, as it's a natural with the Swiss as well. I think Speck would also be great here.
Swiss cheese - I used deli-sliced Swiss cheese, that I just cut into thirds. Shredded Swiss would also work. Alternately, any nutty cheese like Gruyere or Emmental, would be nice here.
You will also need - salt, milk, eggs (3), butter, all-purpose flour, white granulated sugar for the Dutch baby batter.
For the arugula topping:
Arugula - I love baby arugula, though regular will work as well. If you don't have arugula, pretty much any green would work nicely here, such as spinach or baby kale.
You will also need - Dijon mustard, White Wine vinegar, maple syrup or honey, vegetable oil (or any neutral tasting oil), salt and freshly ground pepper for the dressing.
FAQ
Do I need to do the arugula topping? Of course you don't need to. But you really don't want to miss it :) It really balances the dish and provides a lovely fresh and slightly maple mustard flavour. As noted above, if you don't have arugula, baby spinach or any green really, would work nicely, as well. All that said, this is a delicious Dutch baby without any green topping.
Why did my Dutch baby deflate? If you haven't made a Dutch baby before, do know that while it will be beautiful and puffy right out of the oven, it will deflate quite quickly. That's just what Dutch babies do.
Do I really need to do the 2 hour refrigeration? While I have made Dutch babies without refrigerating the batter, there is definitely a benefit to resting/refrigerating your Dutch baby batter. In this recipe, the process will soften the polenta. More importantly, it will also build more complex flavour. With a little planning, I don't find the rest a huge problem. I either mix it up the night before and refrigerate overnight to cook in the morning. Or mix in the morning to enjoy for dinner. Worst case, if you absolutely can't wait, mix and rest one hour at room temperature.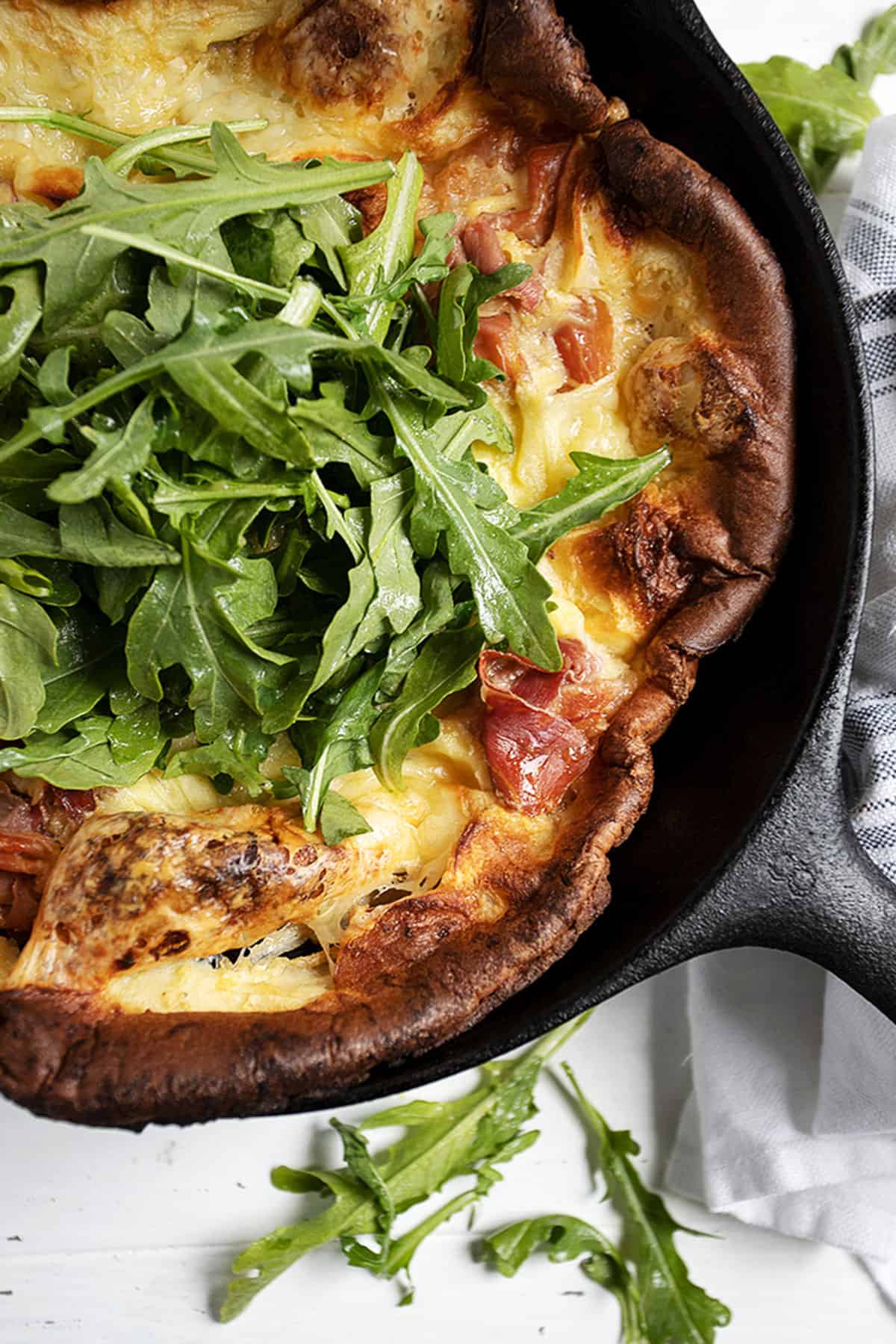 Recipe
Recipe adapted from a Food & Wine recipe
More Savory Dutch Baby Recipes You Might Like ...
Save or Share this Recipe