Delicious soft homemade cheese bread, made two ways – a lovely Cheddar cheese version and a Parmesan and Herb version.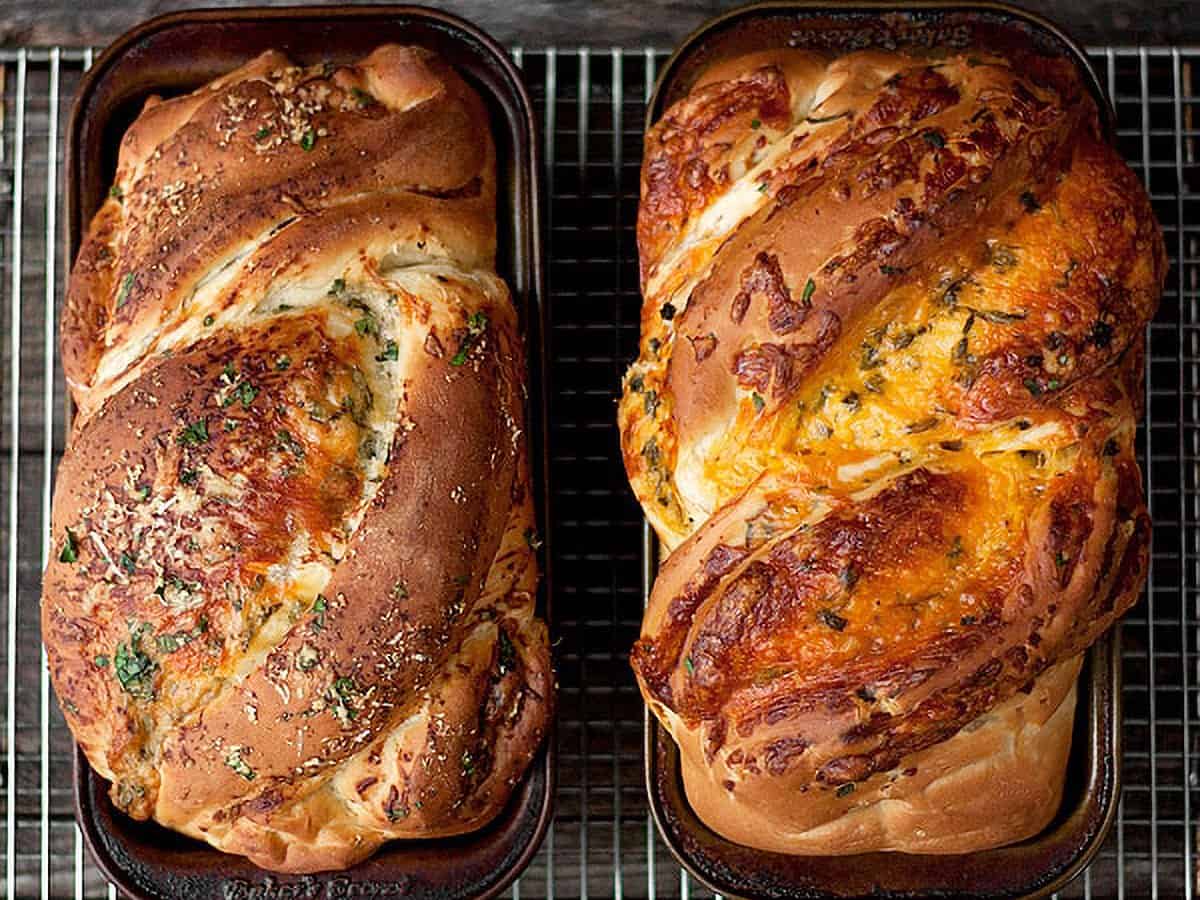 I love to cook new things. I have a cooking queue of new recipes to try that's a mile long. So many recipes, so little time! So when something makes a repeat performance in my kitchen (or several, in this case), I figure it's worth sharing.
That's definitely the case with this Soft Cheese Bread Loaf, first discovered a couple of years ago in Peter Reinhart's book "Artisan Bread Every Day". A batch makes two loaves, so I have taken to making two different versions when I make it. Today, it was a Cheddar and Herb and a Parmesan Garlic and Herb.
Of course, this is a yeast bread, so it doesn't really qualify as "quick", but it is easy and with one baking session, you'll be rewarded with two great and different loaves. And these loaves freeze beautifully, so slice them up and pop them in the freezer and pull some out whenever a side of bread is in order. Pasta night? Toast up some of the Parmesan Garlic Herb (toasting or popping under the broiler for a bit, really brings the flavours out in this one!). Soup night? Cheddar and Herb will go perfectly with it. And of course, either of these would make a great sandwich bread.
Ingredient Notes
Bread Flour – high protein bread flour will provide the nicest texture for your finished loaf. If you only have all-purpose flour, you can use it, but do note that you may need to add a bit more flour to get that moist, smooth dough when using all purpose flour. The texture of your loaf will be slightly heavier than it would have been if using bread flour, but will still be nice and soft.
Yeast – Regular Instant Yeast, such as SAF Brand is specified here. Quick or rapid-rising Instant yeast is NOT recommended. If you only have Dry Active Yeast, you can use it, but you will have to proof it in the warm water portion for the dough first (add a pinch of sugar), and then add to the dough when the water is specified.
Milk – you can use either milk or buttermilk here. For milk, anything 1% or higher is best. I like to use whole milk (3.5% b.f.), when I can. If you don't have buttermilk, but would like a bit of buttermilk flavour, you can mix the 1 cup milk with 1 Tbsp of either lemon juice or white vinegar, then let it stand 10 minutes until thickened.
Cheese – use a sharp cheddar cheese for best flavour and grate it yourself. I find a yellow cheddar makes a prettier loaf, as you can see the cheese, but an old white cheddar also works here.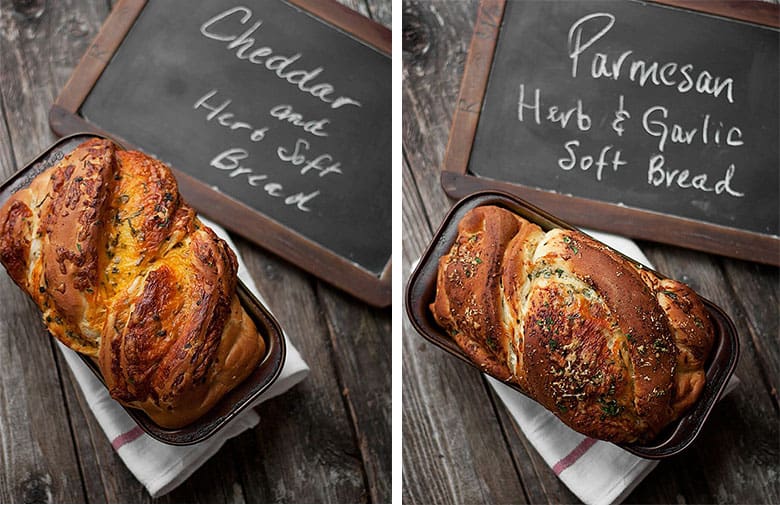 Recipe Video
Confused about how this cheese bread is shaped? Watch the video, that shows how easy it is!
Cook's Notes
This bread is endlessly customizable. All kinds of cheese, herb and other add-in combinations will work. Want to throw in some sun-dried tomatoes and/or a bit of pesto? Why not! Olives? Sure. Lots of cheese or just a bit? It's up to you.
This recipe will make two loaves of bread. You can make one of each – one cheddar and one Parmesan and herb – or you can just make two of the same one. Do note that the ingredients for the filling in the Recipe Card are for one loaf, so if you want to make two of the same loaf, simply double the filling amounts.
Finally, there is an option to overnight-rise this dough in the fridge. I rarely do that, because I'm a) impatient and b) not that organized, but feel free to do so. There's no doubt that any bread benefits from a longer rise for better flavour.
My Best Tips for Baking with Yeast
I think most of the problems people have when starting out baking with yeast, is treating yeast-based recipes like say, a cake recipe, where you just measure the ingredients, mix them all together and bake.
Yeast-based recipes will never be that precise. Things like kitchen temperature, humidity, moisture in the flour you are using, the season your are baking in and rising time can differ from one kitchen to the next. All that makes yeast recipes less consistent from one kitchen to the next.
Now that you know this though, that's more than half the battle :) What you'll need to add to the mix to be a successful bread baker is some trust in what you see and feel. Does the dough look and feel too sticky? Add a bit more flour (regardless of how much flour the recipe says should go in.) Does the dough look nice and smooth before you've added all the flour specified? Trust it and don't add any more flour. How much has the dough actually risen? When it comes to rising time, trust your eyes and not the clock. Trust what you SEE and FEEL and don't be too tightly tied to the specifics of the recipe. Do that, and all will be good!
Be careful with the temperature of your proofing liquid before adding the yeast, so you don't compromise the yeast from the start. If the liquid is too cold, the yeast won't activate. Too hot and it will die. The best temperature range for proofing liquid is 105-110F for Active Dry Yeast. Instant yeast is a bit more forgiving and can take temperatures up to 120F. All yeasts die at about 140°F. An Instant Read thermometer is handy to have on hand to check.
Always treat the amount of flour specified in yeast-based recipes as "approximate". Flours will vary from kitchen to kitchen and by season, so the amount needed to make a smooth, soft dough will vary.
Given tip #2, I always hold back 1/4-1/3 of the flour specified in a recipe and add in only as much as is needed. If you dump all the flour in at the start, you may find that it is too much and it's difficult to adjust well after that.
Use a large glass measuring cup to proof the dough, if you can. The markings on the measuring cup make it easy to see when the dough has doubled.
Be patient. Rising times are also "approximate" and will vary as well. Trust what you see and not the clock.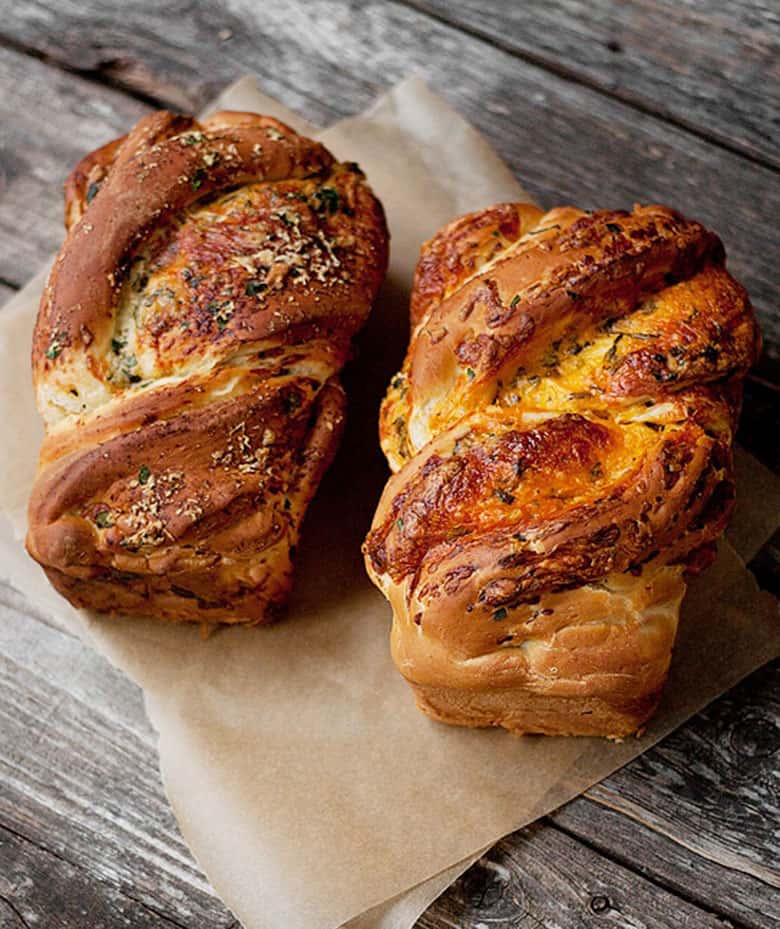 Get the Recipe:

Simply Perfect Homemade Cheese Bread (Two Ways)
Delicious, soft cheese bread that can be filled with different cheese fillings - cheddar cheese and herb and Parmesan, Garlic and Herb. If you want to make two of the same loaves, simply double the filling amounts listed below. Makes 2 loaves.
Ingredients
6 1/2

cups

(

794

g

)

unbleached bread flour

,

spooned and levelled (can use all purpose, flour *see Note 1 below)

2

teaspoons

(

14

g

)

fine salt

,

or a bit more, if using coarse kosher salt

5

Tablespoons

(

64

g

)

white sugar

,

or 5 Tbsp brown sugar or 3 1/2 Tbsp. honey or agave nectar

1

cup

(

227

g

)

lukewarm water

,

about 95F (for even softer bread, you can use 1 cup water leftover from boiling potatoes, cooled)

1

cup plus 2 Tablespoons

(

255

g

)

milk or buttermilk

,

lukewarm, about 95F

1 1/2

Tablespoons

(

14

g

)

Instant yeast

,

(can also use Active Dry yeast *see Note 2 below

1/4

cup

(

57

g

)

unsalted butter

,

melted, or the same amount of vegetable/canola oil
Cheddar and Herb (to make one loaf):
2

cups

(

340

g

)

shredded sharp cheddar cheese

1/4

cup

(

60

ml

)

minced fresh herbs

,

parsley and chives are good choices or a heaping tablespoon of dried herbs
Parmesan, Garlic and Herb (to make one loaf):
1 1/2

cups

(

375

ml

)

Parmesan cheese

,

freshly grated

1/2

teaspoon

garlic powder

,

or about 2 tsp. minced fresh garlic

1/4

cup

(

60

ml

)

minced fresh herbs

,

parsley works well, or a heaping tablespoon of dried herbs

1/4

cup

(

57

g

)

butter

,

at room temperature
Instructions
In a mixing bowl or the bowl of a stand mixer, combine the flour, salt and sugar* together. (Tip: If measuring your flour in cups, without a scale, hold back 1 cup of the flour, to add as needed later, as needed). *If you're using honey or agave, add with the liquid ingredients instead.

In a large measuring cup or bowl, combine the water and buttermilk and whisk in the yeast until dissolved. Add this mixture, along with the melted butter, to the dry ingredients. Mix by hand or with a dough hook, until the mixture is combined, about 2 minutes. Let the dough rest for 5 minutes.

Continue mixing the dough, adding more flour in very small increments, as needed, until the dough becomes soft, smooth and tacky, but not sticky.

Transfer the dough to a lightly floured surface and knead for a couple of minutes, adding more flour only if the dough is sticking to your hands or the work surface, then form dough into a ball. Place the dough in a lightly oiled bowl, cover with plastic wrap and either refrigerate for up to 4 days, or allow to sit at room temperature until doubled in size (about 60-90 minutes). (*Tip: I like to use an 8-cup glass measuring cup, so it's easy to see when it's doubled by the markings).

Note: If you have refrigerated your dough, remove from the refrigerator 2 hours before you plan to bake, to allow it to come to room temperature.

Grease two 8-inch by 4-inch loaf pans and set aside.

Divide the dough into 2 equal pieces. Dust each with a bit of flour and then, using a rolling pin, roll into a rectangle approximately 10 inches wide and 16 inches long.

**If you are unclear about the shaping process for this bread, scroll up to the Recipe Video above this Recipe Card. You may wish to watch before starting the shaping process** 

For the Cheddar and Herb Bread: spread the shredded cheddar and herbs evenly over the surface of the dough. Starting with the shortest side, roll the dough up jelly-roll style and pinch the seam together.

For the Parmesan, Garlic and Herb: spread the softened butter over the surface of the dough. Sprinkle evenly with Parmesan, garlic and herbs. Press lightly with the palm of your hand to press the toppings into the butter. Starting with the shortest side, roll the dough up jelly-roll style and pinch the seam together.

Shaping: Using a sharp knife, cut the roll of dough down the centre, lengthwise. Rotate each piece so that the cut sides are facing upward and place them side-by-side. Pinch together the farthest end. Keeping the cuts sides facing upwards as much as possible, place the right-side piece over the left-side piece. Straighen it up all up and then repeat, pinching together the end closest to you. If any cheese escapes, just place it back on top. Using a bench scraper or spatula, carefully lift the dough into the greased loaf pan. Repeat with the other dough log, then cover both with a greased piece of plastic wrap and allow to rise until the dough rises to about 1-inch above the side of the pans in the middle.

Preheat oven to 350° F. (not fan assisted). Bake for 45-50 minutes total, but after 25 minutes of baking, rotate pans front-to-back in the oven and loosely cover with a piece of aluminum foil if necessary (if bread is already well-browned), to prevent the top from over-browning. Bread should reach about 185° internal temperature in the centre.

Remove the bread from the oven and allow to cool in the pans for a couple of minutes. Run a sharp knife around the edge of the bread and carefully remove the loaves to a cooling rack. Allow the loaves to cool for 1 hour before slicing. *Slicing hot or very warm bread will make for a gummy crumb, so resist the urge and let it cool :)
Notes
High protein bread flour is recommended for best texture and lightness. If you only have all purpose flour on hand, you can use it, but your bread may be a bit less light. If using all purpose flour, you may find you have to use a bit more flour to get to that moist, smooth dough stage.
If you only have Active Dry yeast, you can use it, but you will need to proof it in the lukewarm water first (add a pinch of sugar). Allow to stand 5 minutes, then add it to the dough when the water is specified.
Be sure to read the Ingredient and Cook's Notes above this Recipe Card, for more tips, options, substitutions and variations for this recipe! You'll also find My Best Tips for Baking with Yeast and a video of the shaping of this cheese bread, too.
Serving:
1
serving
,
Calories:
237
kcal
,
Carbohydrates:
28
g
,
Protein:
9
g
,
Fat:
9
g
,
Saturated Fat:
5
g
,
Cholesterol:
25
mg
,
Sodium:
397
mg
,
Potassium:
69
mg
,
Fiber:
1
g
,
Sugar:
3
g
,
Vitamin A:
280
IU
,
Calcium:
160
mg
,
Iron:
0.4
mg
More cheese bread recipes you might also like …
Chunky Cheddar Cheese Bread
Soft bread, loaded with both shredded and chunks of cheddar cheese. Lightly flavoured with a bit of mustard powder, garlic salt and topped with sesame seeds.
www.seasonsandsuppers.ca
Jalapeno Popper Cheese Bread
All the flavours of jalapeno poppers, in bread form, with veins of cream cheese, jalapenos and cheddar running through it. A great side for chili or soup. Makes 2 loaves, but freezes well, so none will go to waste.
www.seasonsandsuppers.ca
Hi! I'm Jennifer, a home cook schooled by trial and error and almost 40 years of getting dinner on the table! I love to share my favourite recipes, both old and new, together with lots of tips and tricks to hopefully help make your home cooking enjoyable, stress free, rewarding and of course, delicious!