Soft pretzels and beer cheese is a classic combination and are easily made at home! Both the pretzels and the beer cheese freeze beautifully, so you're always prepared for a treat!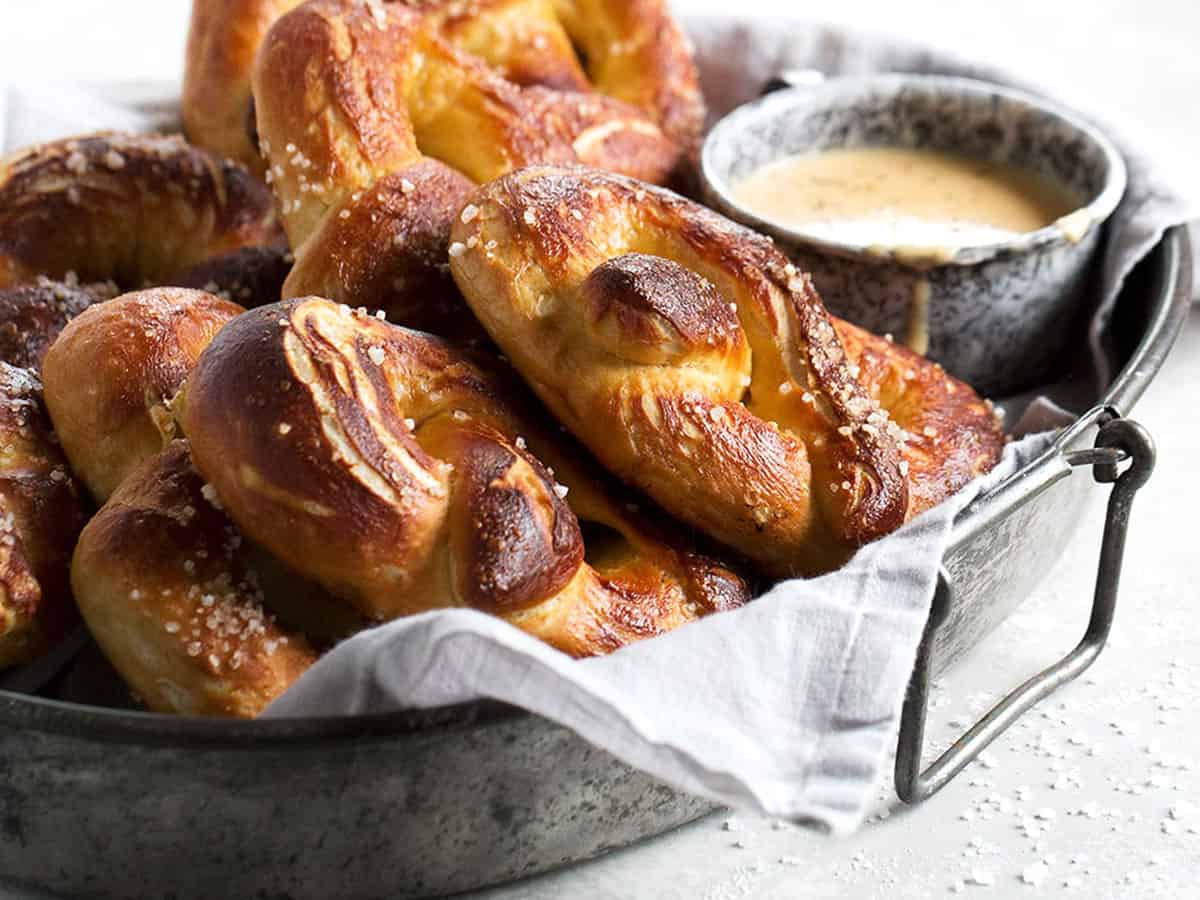 It may seem like an undertaking to make homemade pretzels, but you can be enjoying these and the beer cheese in just about 2 hours. I don't know too many people who wouldn't want to enjoy this warm-from-the-oven treat!
Enjoy these fresh from the oven or take a rainy day and make them ahead to freeze and enjoy anytime.
Ingredients and Substitutions
Yeast: I use Instant Yeast for all my yeast baking, but you can also use Active Dry yeast here, just substituting an equal amount.
Flour: Standard all-purpose flour is just fine here. Unbleached all-purpose flour is best for bread baking, if you have some on hand.
Kosher Salt: I use Windsor brand Kosher salt, which is a uniformly sized coarse salt. If you don't have Kosher salt, use fine salt, using a bit less.
Unsalted Butter: If you only have salted butter, reduce the added salt about by a tiny bit more.
Baking Soda: The boiling before baking requires 2/3 cup of baking soda, which is a lot. Make sure you have that much on hand before starting.
Beer: I used a lager, but I'm not sure it matters if you use a lager or an ale. Whatever you have around and enjoy drinking is just fine.
Dry Mustard: I love the flavour of dry mustard in cheese sauce over any prepared mustard, so I do recommend it if you can. I love Keen's myself. Adjust the amount to taste, starting with 1/4 tsp and adding more, to taste. If you don't have dried mustard, add a bit of prepared yellow or Dijon mustard, to taste.
Cheese: I use mostly basic orange cheddar, with the addition of a bit of another kind of cheese, just to add a more complex flavour to the cheese sauce. This time I combined the basic cheddar with a bit of a really old and crumbly white cheddar. For Canadians, a chunk of McLaren's Imperial Cheese is a nice addition. I wouldn't suggest a mozzarella, as the consistency is a bit off for this kind of melting.
How to Roll the Pretzel Dough into a Rope
Working on an un-floured surface, take a ball of dough and stretch it slightly into an oblong shape. Using the palms of both hands, begin rolling in the centre of the dough, then slowly spread your palms apart, rolling out towards the end of the dough rope. Repeat rolling, starting from the centre and rolling outward or if your rope is getting thin in the middle, move your palms over the thicker area and roll from there. Keep rolling until your rope is 24-inches long.
Don't worry if your rope of dough isn't perfectly even. Somehow, the boiling/baking process seems to sort it all out.
Recipe Tips
I like to start my water for boiling the pretzels before baking well ahead, setting it on low to start. When I'm close to boiling, there's no waiting for it to boil and holding up the process.
After shaping into the pretzel shape, after boiling and just before baking, I like to re-stretch the pretzel a bit, making sure that the holes are generous enough that they don't close in during baking.
I don't like to crowd the baking pan by trying to bake all 8 pretzels at the same time, and I'm never happy with the uneven results when I bake two pans on two different racks and swapping them around. For these, I shape and boil the first 4, then pop them in the oven. While they are baking, I shape and boil the last 4, placing them on a separate sheet of parchment paper. When the first batch is done, simply slide the last 4 on the the parchment onto the baking sheet and into the oven.
Note that your second batch of pretzels will cook slightly more quickly that your first batch, due to the heat from the baking sheet. Set the timer a few minutes earlier and watch, so you can pop them out when dark enough. In my oven, my first batch took 12 minutes, while my second was ready at about 11 minutes.
Be sure to taste and adjust the seasoning of the beer cheese to taste, adding more mustard and or salt and pepper, as needed. A generous salting really brings together all the flavours.
Top Tip!
Always remember that when baking with yeast, the flour quantity is never exact. Always hold back 1/4 of the flour and add only as much as needed to make a soft, moist dough. You may not need to all, so don't feel you need to use it all. Likewise, if you've added the specified amount and your dough is still sticky, don't hesitate to add more, 1 Tbsp at a time, until you get the dough to where it needs to be.
Making Ahead, Storing and Freezing
The pretzels can be made ahead and frozen for up to 3 months. The beer cheese can be made ahead and should keep well in the fridge for several days or it can also be frozen.
Get the Recipe:

Soft Pretzels and Beer Cheese
Homemade soft pretzels, served with a warm Beer Cheese dip. A classic combination and both the pretzels and beer cheese freeze well!
Ingredients
For pretzel dough:
1 1/2

cups

lukewarm water

,

warmed to 110-115F

1

Tablespoon

white granulated sugar

2

teaspoons

Kosher salt

,

less if using fine salt and a bit less if using salted butter

2 1/4

teaspoons

instant or active dry yeast

4 1/2

cups

all-purpose flour

,

spooned and levelled, unbleached flour recommended

1/4

cup

unsalted butter

,

melted
For boiling:
10

cups

water

2/3

cup

baking soda
For brushing before baking:
1

large

egg yolk beaten with 1 Tbsp water
For topping:
Coarse Kosher or Pretzel salt
Beer Cheese:
3

Tablespoons

butter

3

Tablespoons

all purpose flour

1/2

cup

lager beer

1

cup

milk

,

at least 2%

1/4 - 1/2

teaspoon

dry mustard powder

1/2

teaspoon

Worcestershire sauce

1/4

teaspoon

garlic powder

1/2

teaspoon

Kosher salt

1/4

teaspoon

black pepper

1/8

teaspoon

cayenne pepper

2 - 2 1/2

cups

cheddar cheese

,

grated

1/2

cup

old white cheddar cheese

,

or other cheese or just more orange cheddar
Instructions
To make the pretzel dough: In a large bowl or the bowl of a stand mixer fitted with a kneading hook, combine the water, sugar and yeast. Let stand 5 minutes. Add the salt, butter and about 3 cups of the flour. Mix on low speed until well combined. Add one more cup of flour and mix to combine. Begin adding last 1 1/2 cups, a bit at a time, until you have a soft, moist dough that pulls away from the side of the bowl. Allow to knead for 4-5 minutes. *You may not need to use all the flour if dough reaches that stage with less flour. You may need to add a bit more if dough is still sticky when you have added it all.

Remove the dough to a greased bowl, cover with plastic wrap and let rise until doubled, about 50-60 minutes.

Preheat the oven to 450F. (regular bake setting/not fan assisted) Line a large baking sheet with parchment paper and set aside.

In a large pot, bring the 10 cups of water and the baking soda to a rolling boil.

When dough has doubled, turn out onto a lightly floured work surface and divide into 8 equal pieces. Form into a ball and let stand 5-10 minutes, covered with a clean tea towel.

Starting with just 4 of the balls of dough, roll each into a 24-inch rope. Make a U-shape with the rope, holding the ends of the rope, cross them over each other and press onto the bottom of the U in order to form the shape of a pretzel. Place onto the parchment-lined half sheet pan.

Place the pretzels into the boiling water, 2 at a time, for 30 seconds. Remove them from the water using a large flat spatula. Return to the half sheet pan, brush the top of each pretzel with the beaten egg yolk and water mixture and sprinkle with the kosher salt. Bake until dark golden brown in color, approximately 12 to 14 minutes. Transfer to a cooling rack.

While the first 4 pretzels are baking, shape and boil the last 4 pretzels and place on a sheet of parchment paper. Brush with egg yolk and sprinkle with salt. When the first batch comes out of the oven, slide the last 4 on the parchment paper onto the baking sheet. Bake 12-14 minutes, or until deep golden. Enjoy warm or cooled. Store in an airtight container for a couple of days or freeze for longer storage.

To make the beer cheese: In a medium saucepan, melt the butter over medium heat. Add the flour and cook, stirring constantly, for about 1 minutes. Slowly add the beer and stir well until smooth. Add the milk, mustard, Worcestershire, garlic powder, salt, pepper and cayenne. Cook, stirring, until mixture thickens. Remove from heat. Stir in grated cheese, then let stand 1 minute. Stir again, until all the cheese is melted into the sauce. Taste the sauce and add more salt, pepper and/or mustard as needed. Enjoy warm with pretzels. *Can be made ahead and refrigerated up to 3 days or freeze for longer storage.
Notes
Be sure to read the notes above this Recipe Card, for more tips on making this recipe.
Serving:
1
serving
,
Calories:
377
kcal
,
Carbohydrates:
59
g
,
Protein:
9
g
,
Fat:
11
g
,
Saturated Fat:
6
g
,
Cholesterol:
28
mg
,
Sodium:
3538
mg
,
Potassium:
130
mg
,
Fiber:
2
g
,
Sugar:
3
g
,
Vitamin A:
380
IU
,
Calcium:
61
mg
,
Iron:
3.4
mg
More Appetizer Recipes to Enjoy!
Hi! I'm Jennifer, a home cook schooled by trial and error and almost 40 years of getting dinner on the table! I love to share my favourite recipes, both old and new, together with lots of tips and tricks to hopefully help make your home cooking enjoyable, stress free, rewarding and of course, delicious!