Easy and delicious sugar seared salmon, served with wilted baby bok choy and a coconut lime sauce. Ready in less than 30 minutes, too!
This Sugar Seared Salmon with Coconut Lime Sauce is one of my favourite easy weeknight meals. It's such a pretty dish, a great way to enjoy always healthy salmon and greens and with a touch of saucy indulgence from the flavourful coconut lime sauce.
Perhaps best of all? This sugar seared salmon dish cooks up in one skillet and is ready in less that 30 minutes!
Jump to: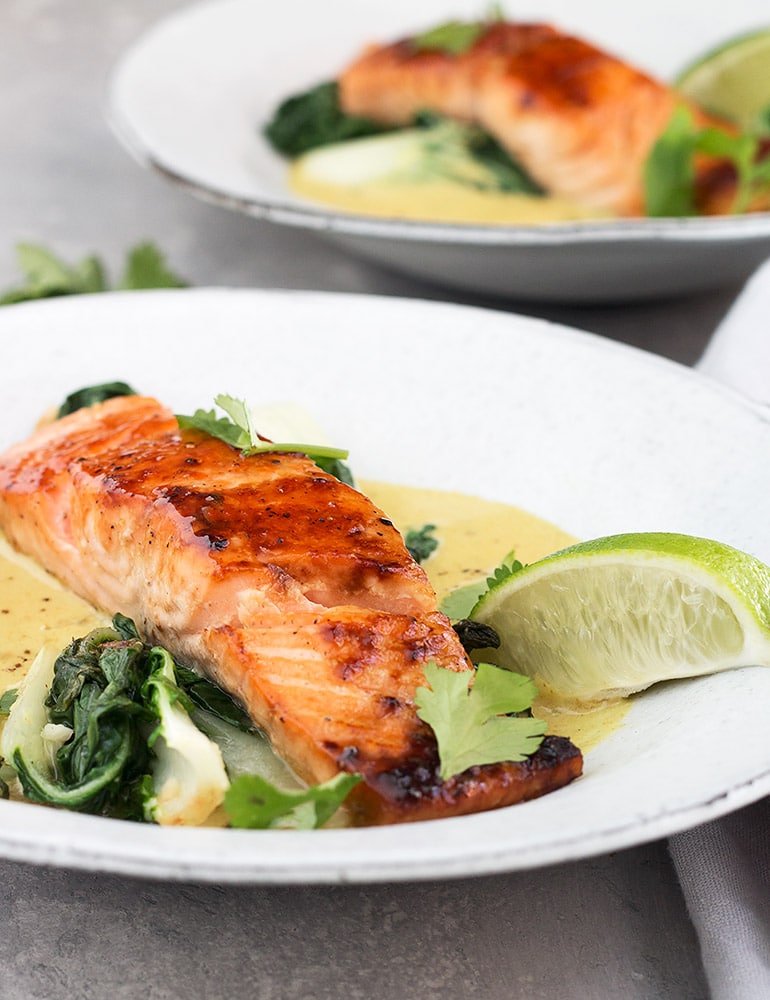 Cook's Notes
I usually use white sugar here, but any sugar will work, such as brown sugar, palm sugar or coconut sugar.
Don't feel you need to use all of the sugar rub. You want an even, generous sprinkling on both sides of the salmon. I add to the top first, then place in the skillet top side down. While they are cooking, you can sprinkle the other side before flipping.
I love the little tubes of lemongrass and ginger paste that are easily found in the produce section at the grocery store and that's what I am referring to in the recipe. Of course, you can use grated fresh ginger and lemongrass instead, using just a bit less of the fresh as it will be a little more potent than the paste.
I found dried Kaffir lime leaves at my local grocery recently and was so happy to add them to my spice rack. For Canadians, look for them at President's Choice stores in the spice section (in a jar and part of their Black Label collection of spices and herbs). Otherwise, they are easily found online (Amazon has them), if you'd like to add them to your pantry as well.
You could use light coconut milk here if you prefer. It will, of course, make for a less creamy and less thick sauce. You could thicken with a slurry of a bit of cornstarch and water if you like.
Speaking of the sauce, it is probably best described as a "little goes a long way" sauce, so you don't need to put a ton in the bottom of the bowl (unless you want to, of course :). You may have left-over sauce. It should freeze, if you'd like to save it for a future meal.
Top Tip!I love the caramelized coating that sugar-searing brings to salmon, but it is sugar and it is prone to scorching if the heat is too high. Watch carefully and adjust your heat down if needed. You don't want the outside to get too dark before the salmon has a chance to cook through. I find a non-stick skillet works well and allows the opportunity to swirl the salmon around in the pan easily, which helps it from over-browning.
Recipe
More Salmon Recipes from the Seasons and Suppers Archives ...