An easy and delicious chocolate soufflé recipe "for two". A perfect chocolate dessert for a date night or Valentine's Day.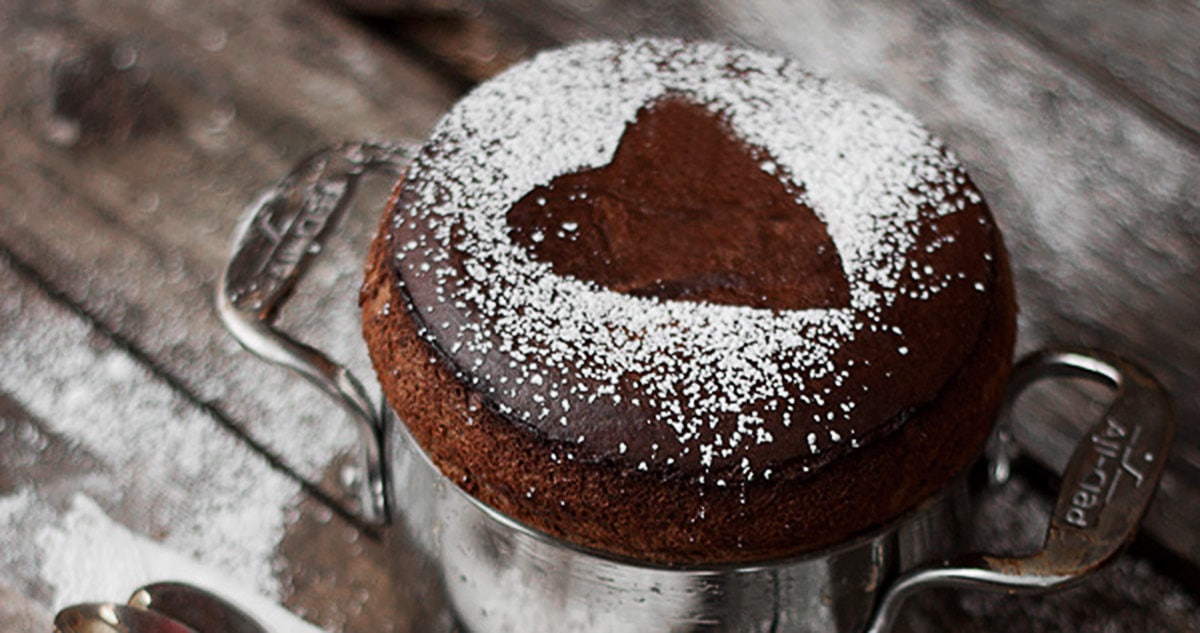 Despite their reputation, soufflés are actually fairly easy to make and require only a bit of extra care in preparation to ensure success. And what's more, you can whip this one with things you probably already have in your pantry! Makes the soufflé perfect for a great date-night or Valentine's dessert.
Another misconception about soufflés is that they need to be made at the last minute. Fact is, you can make this souffle up a couple of hours ahead, refrigerate it and just pop it into the oven after dinner. And don't worry yourself about needing to have everyone seated with spoon in hand to receive your soufflé right out of the oven. Relax, it's going to be delicious. (I may be a wierdo, but I actually like my soufflé lukewarm and a wee bit deflated).
Tips for Soufflé Success
Have your eggs at room temperature, so separate and let sit out for 30 minutes or so before starting.
Start to preheat your oven as soon as you start the recipe, so it has long enough to get up to consistent temperature.
Have all your ingredients measured and at the ready before you start. The process moves quickly, so having everything ready ahead prevents issues. Also be sure to have your baking pans greased, sugared and ready.
Make sure your chocolate base is pretty cool before adding your whipped egg whites. While my egg whites were whipping, I stirred the base a few times, to help it cool more quickly.
Don't over-whip your egg whites. With a stand mixer, I start on speed 6 until, then raise to 7 and finally 8. Check often by stopping the mixer and dipping the whisk into the whites to check the consistency. Whites should be glossy and stand straight up, with only the tip falling over. That's what you're after.
Fold your egg whites gently into your chocolate just until mixed. Try not to over-mix.
Test your soufflé before considering it done. It may look done but be ooey-gooey inside.
Don't open the oven door during the cooking. Of course, it's ok to do so near the end to test doneness.
You can bake soufflés in a variety of vessels, from individual ramekins to small baking dishes. A tall, straight-sided, ovenproof dish, with straight sides, will help the soufflé rise. You can make a collar with parchment or foil to increase the height of low dishes. You can even use an oven-safe saucepan for a unique presentation!
Cook's Notes
Using great chocolate makes for a great chocolate soufflé, so seek out some nice chocolate as a starting point.
As noted above, you can prepare the batter ahead, add to your baking dishes, cover and refrigerate for several hours before baking.
You can switch it the flavour of your soufflé up by using a flavoured chocolate, such as Sea Salt or Orange.
Get the Recipe:

Thomas Keller's Chocolate Souffle
A lovely dessert, perfect for special occasions. Use room temperature eggs and have all your ingredients measured and ready before you begin. An electric or stand mixer is recommended for this recipe.
Ingredients
1

Tbsp + 1 1/2 tsp

(

138

g

)

granulated sugar

,

DIVIDED

1/2

teaspoon

(

2.46

ml

)

cornstarch

2

large

(

2

large

)

eggs

,

separated

1/2

cup

(

122

ml

)

whole milk

1 1/2

Tbsp

(

22.18

g

)

unsalted butter

1

Tbsp + 2 1/2 tsp

(

93.75

g

)

all purpose flour

Kosher salt

1

ounce

(

28.35

g

)

70% chocolate

,

finely chopped

Softened butter and granulated sugar for coating the pan

Icing/Confectioners' Sugar

,

for dusting before serving
Instructions
Preheat the oven to 400° with the rack in the center of the oven.

In a small bowl, mix together 1 Tablespoon of the sugar with the cornstarch. Whisk in the egg yolks and set aside.

For the soufflé base, place the milk in a small sauce pan over medium heat to warm. In a separate small saucepan, melt the butter over medium heat. Whisk in the flour and a pinch of kosher salt into the butter mixture. Whisk for about 30 seconds.

Remove from heat. Whisk in 1/3 of milk to form a smooth mixture without lumps. Whisk in another 1/3 of the milk and then the final third. Return to medium heat and whisk, bringing to a simmer. Simmer for 30 seconds then remove the pan from the heat. Immediately whisk in the chocolate to melt. Whisk in the egg yolk mixture. Place the base in a large mixing bowl.

Brush your baking dish (or dishegenerously with softened butter. At the end, brush the butter vertically around the sides of the pan, so that the soufflé will rise along the lines. Coat the pan withgranulated sugar.

In a large bowl, or the bowl of your stand mixer, whisk the egg whites until they foam. Whisk in 1/3 of the remaining sugar until the whites begin to hold a form. Add another 1/3 of the sugar and continue to whisk until the whites hold a bit more of a shape. Add the final 1/3 of the sugar and continue whisking and add the remaining sugar until the whites are shiny and hold a firmer shape. Do not over whisk the whites. They should be glossy and hold a shape but over-whisking can cause them to break down.

Gently stir about 1/3 of the egg whites into the chocolate mixture to combine and lighten the batter. Fold the remaining whites in the batter.

Spoon the soufflé into the prepared dish to reach the almost top of the pan. (Any extra can be placed in a ramekin and baked alongside the pan). Bake the soufflé anywhere from 15 minutes (for individual ramekinto 30 minutes (for one larger pan), depending on the size of the baking dish, or until it has risen and the top is set (check with a skewer or about 160° with instant read thermometer). *Mine took close to 30 minutes for this one large-ish souffle.

Serve immediately, with whipped cream, creme anglaise or vanilla ice cream and a few raspberries, if desired. Serves 2 - 4.
Notes
Be sure to read the Cook's Notes above the Recipe Card for more tips on making this recipe.
Calories:
209
kcal
,
Carbohydrates:
17
g
,
Protein:
6
g
,
Fat:
12
g
,
Saturated Fat:
6
g
,
Cholesterol:
144
mg
,
Sodium:
72
mg
,
Potassium:
99
mg
,
Sugar:
13
g
,
Vitamin A:
445
IU
,
Calcium:
76
mg
,
Iron:
0.9
mg