Imagine a big stack of warm pancakes. Imagine they have some cooked apples on top. Now imagine that they have been drizzled with maple syrup, that's now a little warm and has soaked into the pancakes here and there. Good job. Now you know exactly what this cake tastes like.
Delicious upside-down maple apple cake recipe, that tastes just like a stack of warm pancakes!
This Maple Apple Cake will make your house smell wonderful for hours. It's almost worth making just for the smell alone! Thank goodness it tastes as good as it smells.
The only tricky part of this great cake is figuring out what to bake it in. If you happen to have a 10-inch round cake pan with 3-inch high sides, you're all set (skip directly to recipe!). If not, you may want to read on.
I don't have a 10-inch cake pan of any variety. I contemplated using my cast-iron frying pan, but decided against it. In hindsight, I think it probably might have worked with a round of parchment on the bottom of it. Instead, I decided on my 10-inch springform pan. If a springform pan is your only option too, you'll have to do a little bit of extra work to try and make it reasonably leak-proof. See the instructions in the recipe for some ideas. At the very least, if you bake this cake in a springform pan, be sure to place it on a baking sheet, just in case.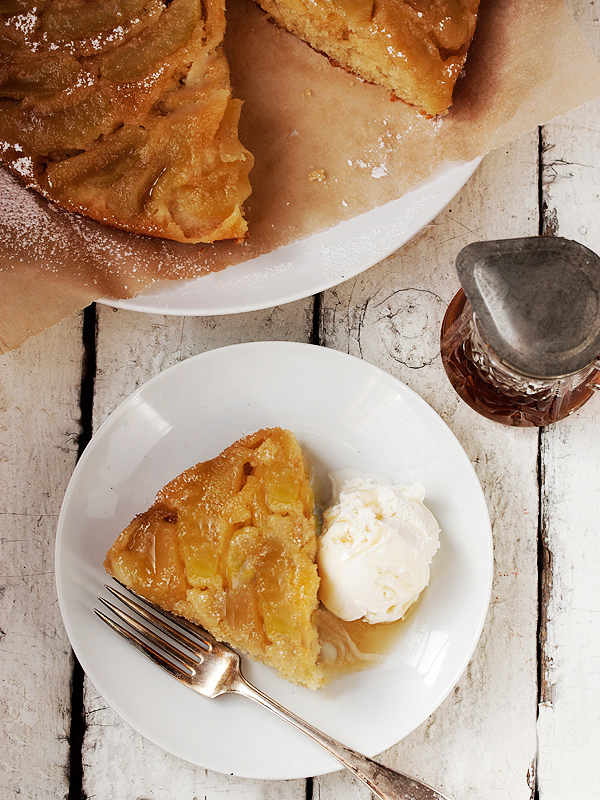 I made my cake with Granny Smith apples, even though it's not usually my apple of choice for cooking. It does hold it's shape well though, which is nice for this cake. Braeburn, Jonathan or any other apple that holds it shape well when cooked would work here.
Upside-Down Maple Apple Cake
This is a delicious apple and maple syrup cake, baked upside-down and reminiscent of a stack of warm apple pancakes. Serve with vanilla ice cream and extra maple syrup.
Author: Jennifer
Recipe type: Dessert
Serves: 8
Yummly
Ingredients
1 cup pure maple syrup
3 Granny Smith apples—peeled, cored and quartered, then cutting each quarter into 3 equal slices.
2 cups all-purpose flour
1 teaspoon baking powder
1/2 teaspoon baking soda
1 teaspoon salt
3 large eggs
3/4 cup buttermilk
1 tablespoon pure vanilla extract
3/4 cup (1 1/2 sticks) unsalted butter, softened
1 1/3 cups sugar
Vanilla Ice Cream and a bit more maple syrup, for serving
Instructions
Preheat the oven to 350° F. Butter a 10-inch round cake pan with 3-inch high sides. Place a round of parchment paper on the bottom. Set aside. **If you don't have a 10x3-inch cake pan, you can use a 10-inch springform pan. See note below on how to prepare it.
If using a 10-inch spingform pan: Take a large sheet of foil or parchment paper (or two pieces joined together as best as you can). Press down onto the bottom and sides of the pan, creasing as necessary to have reasonably smooth sides. Alternately, you can just cover the bottom with parchment or foil and then assemble your springform. The extra bulk is sometimes enough to stop stuff from leaking out. To test, pour an inch of water into it and see if any leaks out. Which ever method you use, be sure to place the prepared pan on top of a baking sheet (to catch any leaks when it bakes), then set aside.
In a large saucepan, bring the maple syrup to a boil over high heat, then simmer over low heat until very thick and reduced to 3/4 cup, about 20 minutes. While the syrup is simmering, you can peel and cut your apples. Pour the thickened syrup into the prepared pan. Arrange the apples in the pan in 2 concentric circles, overlapping them slightly.
In a bowl, whisk the flour, baking powder, baking soda and salt. In a small bowl, whisk the eggs with the buttermilk and vanilla.
In the bowl of a stand mixer fitted with the paddle attachment, beat the butter and sugar at medium speed until fluffy, about 3 minutes. Beat in the dry and wet ingredients in 3 alternating batches until the batter is smooth. scrape down the side of the bowl.
Pour the batter over the apples and spread it into an even layer. Bake the cake for about 35-40 minutes if baking in a cake pan or up to 45-55 minutes if baking in a springform pan placed on a baking sheet. Watch it closely after 30 minutes of baking in any case. You'll want the top to be puffed and golden brown, and a tester inserted in the centre should come out clean. Let the cake cool in the pan, on a cooling rack for 45 minutes.
From a cake pan, place a plate on top of the cake and invert the cake onto the plate; tap lightly to release the cake. Remove the pan. For a springform pan, first run a knife around the outside, then remove the outside ring. Place a place over the top and then invert the cake. Remove the bottom ring and then the foil or parchment. Let the cake cool slightly, then cut into wedges and serve with vanilla ice cream and extra maple syrup.
Adapted from a Food and Wine recipe