This delicious upside down maple apple cake, that tastes just like a stack of warm pancakes!
Imagine a big stack of warm pancakes. Imagine they have some cooked apples on top. Now imagine that they have been drizzled with maple syrup, that's now a little warm and has soaked into the pancakes here and there. Good job. Now you know exactly what this cake tastes like.
I love that this cake can be made virtually any time, as it's made with easy, pantry ingredients. And I always seem to have apples around.
This Maple Apple Cake will make your house smell wonderful for hours. It's almost worth making just for the smell alone! Thank goodness it tastes as good as it smells.
Jump to:
Ingredients
Here are the ingredients you will need for this cake ...
Maple syrup - go for dark or Grade B maple syrup for best maple flavour, but any pure maple syrup will work fine here.
Apples - I made my cake with Granny Smith apples, even though it's not usually my apple of choice for cooking. Granny Smith apples do hold their shape well though, which is nice for this cake. Their tart flavour makes a nice contrast with the sweet maple syrup. Braeburn, Jonathan or any other apple that holds it shape well when cooked would work here.
You will also need - All purpose flour, Baking powder, Baking soda, Salt, eggs, Milk or buttermilk, Vanilla, Butter, White granulated sugar.
Step-by-Step Photos
This is a visual summary of the process of making this cake. Always refer to the complete instructions in the Recipe Card below when making the cake, as not all steps may be illustrated here.
Start this cake by reducing some pure maple syrup, by simmering in a saucepan until reduced. While the syrup is simmering, peel, quarter and core the apples, then cut each quarter into 4 even slices. When syrup is reduced, pour into a lightly greased 9-inch round baking pan. Arrange the apple slices into two circles, slightly overlapping. Set aside while you make the cake batter.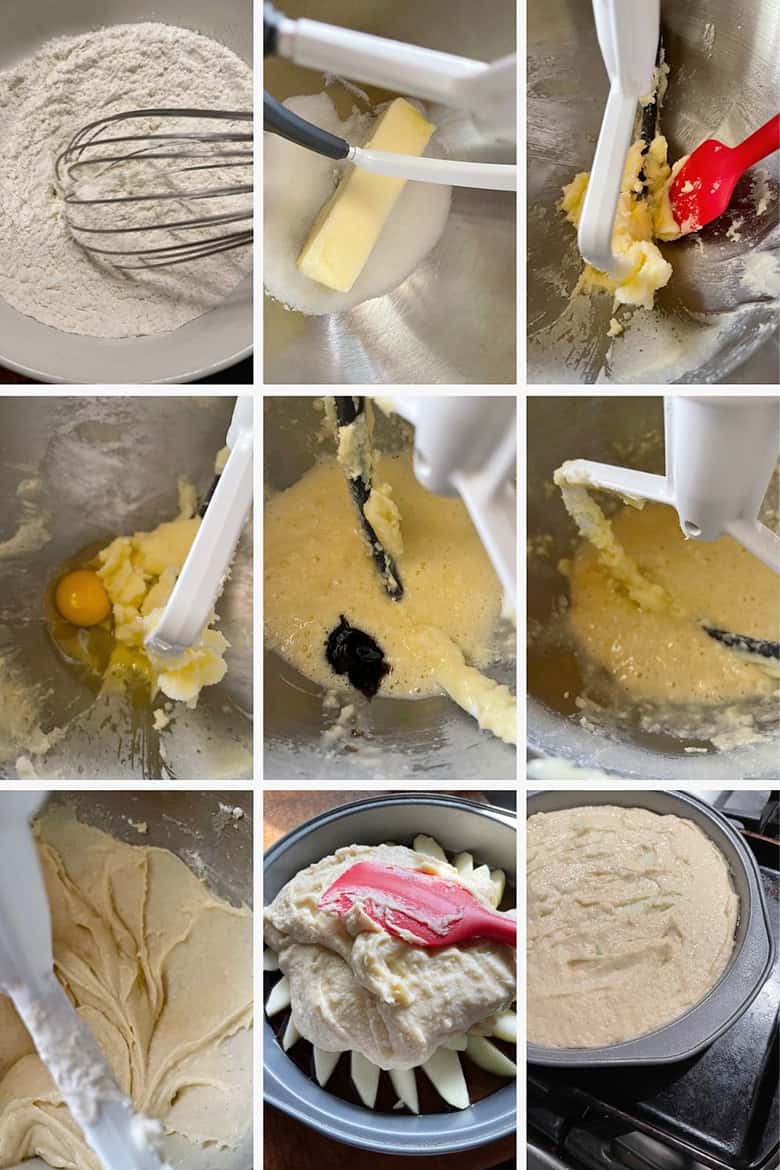 To start the cake batter, whisk together the flour, baking powder, baking soda and salt. Set aside. Cream together the butter and white sugar. Be sure to cream about 3 minutes, scraping down the bowl once or twice. Add the eggs and beat in well between additions. Add the vanilla and beat in. Finally, add the flour mixture, alternately with the milk (so add 1/3 of the flour, mix in, then 1/2 of the milk, 1/3 of the flour, the remaining milk, then the remaining flour). Mix until smooth. Spread batter evenly over the apple slices. Place the baking pan on top of a baking sheet and bake about 35 minutes. You'll need to cool the cake in the pan for 45 minutes, before inverting onto a plate.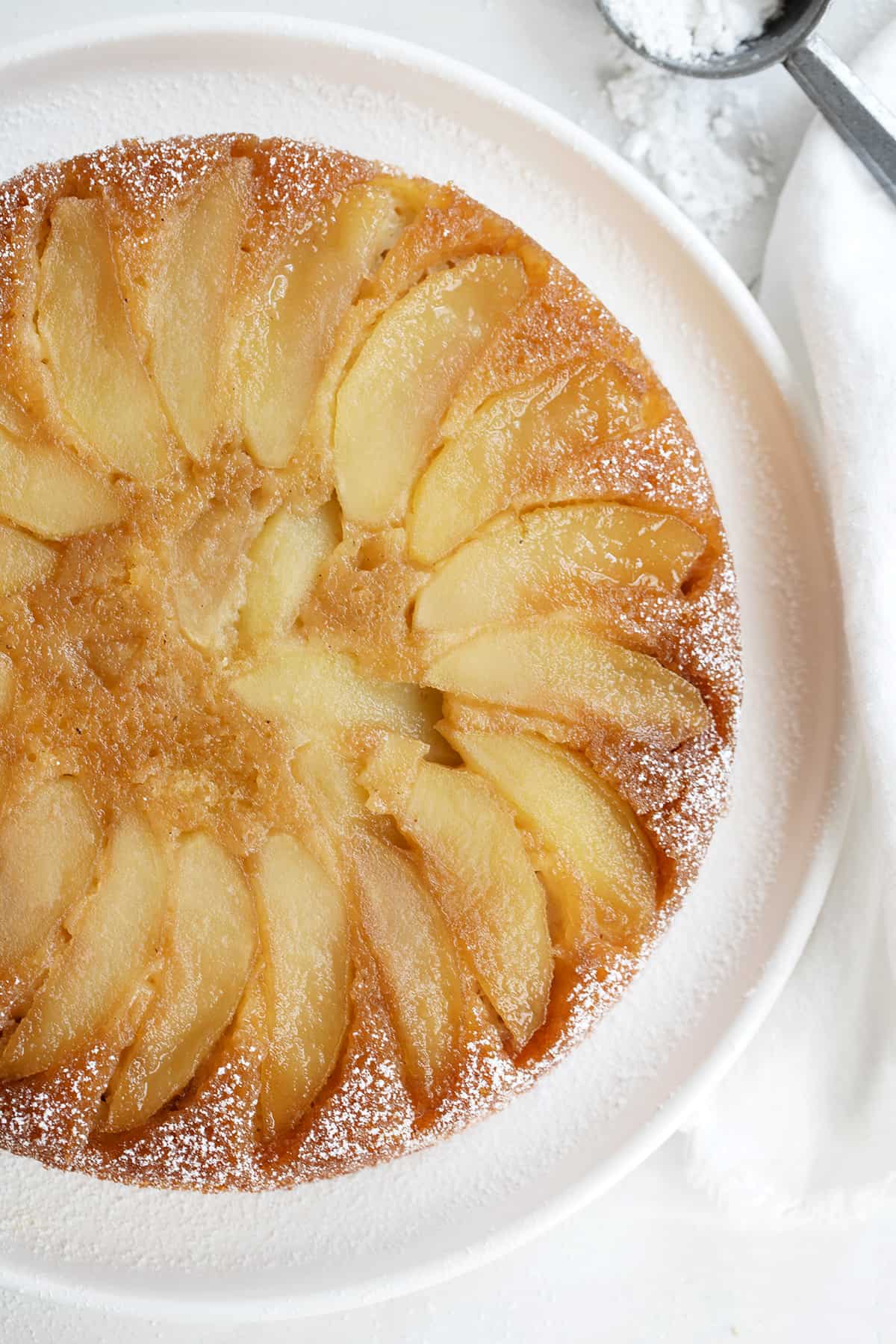 Baking Tips
This cake bakes up perfectly in a standard 9-inch round baking pan. If you don't have a 9-inch round baking pan, you can use an 8-inch round baking pan, but the batter may not all fit in an 8-inch round cake pan. If that is your only option, you can use it, but hold back some of the batter to avoid over-filling the pan. Fill only to the level as shown in the Step-by-Step photos above.
There is no need to put parchment on the bottom of the pan (which will be the top later :). This cake will come out of the pan easily, as long as you allow it to cool the required 45 minutes.
The cake will bake for slightly different times based on your individual oven and the even the colour of your baking pan. Darker pans bake more quickly, while lighter pans more slowly. That's why the recipe provides a 10 minute window of when the cake might be done. Start having a look at it at 30 minutes. Don't open the door or test it until it LOOKS like it might be ready. If it's pale and a bit sunken in the middle still, it needs to cook longer. When it is slightly puffed in the centre, pulling away from the sides of the pan and lightly golden, go ahead and test it with a skewer. The skewer should come out clean when it is ready.
Recipe
Adapted from a Joanne Chang recipe
More apple recipes you might like ...
Save or share this recipe