This quick and easy spicy chicken will be ready before your rice! Use it in a rice or grain bowl, a taco, or lettuce wrap or alongside simple steamed greens or vegetables.
I call this kind of recipe a "back pocket" recipe. It's the kind of recipe you just want to have handy for any night when time and/or cooking energy is short, but you don't want to compromise on delicious. Not only is this spicy chicken quick, easy and delicious, it can be the base for anything from a rice bowl to a noodle bowl to just a tasty protein with a simple salad.
Here I've used always moist and flavourful boneless, skinless chicken thighs. All they need is to be cut into bite-sized pieces, tossed in some cornstarch and quickly fried up in a hot pan. While the chicken is cooking, mix up the easy sauce. Add the sauce once the chicken is cooked and just allow it to cook down until reduced and syrupy.
Jump to:
Ingredient Notes
Here are the ingredients you will need for this recipe. The notes include substitution suggestions, where appropriate.
✓ Chicken: As noted above, my first choice for chicken here will always be thighs and in this case, boneless, skinless chicken thighs. These are almost impossible to dry out while cooking and the dark meat of the thighs has a lot more flavour, in my opinion. Alternately, you can use boneless, skinless chicken breasts. Be sure to cut the chunks fairly small, so that they cook quickly and don't dry out.
✓ Cornstarch: Using cornstarch here will give your chicken a nice bit of crispness on the outside, that while not the same a fried breading by any stretch, does provide a nice bit of coating that definitely has shades of that, without the frying. If you don't have or want to use cornstarch, try another starch, like arrowroot or potato starch, if you have it. If you have none of those, a coating of flour is ok, though it won't produce the same sort of crispness and may impart a "flour" taste.
✓ Cooking Oil: Use whatever cooking oil you prefer. I like to use a vegetable or canola oil, as it takes higher heat well.
✓ Rice Vinegar: Unseasoned rice vinegar is recommended, if you have it only because we are already adding salt and sweet to the mix (through the honey), so you don't necessarily need those seasonings in your vinegar. That said, if you only have seasoned rice vinegar, you can go ahead and use that.
✓ Soy Sauce: Use either regular or sodium-reduced soy sauce, as you like.
✓ Sambal Oelek: Sambal Oelek is an Asian condiment that I am never without! It's great for so many dishes and is easily available at most grocery stores these days. It's definitely worthy of a place in every kitchen. Sambal does pack a heat punch though, so always remember that a little goes a long way :) As written, 1 Tbsp will give you good heat, but not screaming heat. You can probably go up to 2 Tbsp if you have teflon tastebuds :) Likewise, if you are a bit heat-averse or for feeding kids, start with 1 tsp and see how it tastes after it has reduced. You can always stir a bit more in if you want at that point.
An alternative to Sambal Oelek would be Asian Chili Garlic Sauce. I find the Asian Chili Sauce not quite as potent, so you would want to use a bit more for the same heat equivalent. I can't really recommend an alternative beyond that, as I can't think of another sauce that would yield the same flavour profile.
✓ Honey: Any runny honey will work well here. Honey is acting as a sweetener here, as opposed to adding flavour, so I tend to stick with just regular honey.
✓ Sesame Oil: I love a splash of sesame oil in sauces like this, but if you don't have sesame oil in your pantry, feel free to omit. It will still be a lovely sauce.
✓ Garnishes: Diced green onion and a scattering of sesame seeds are great, optional, but recommended garnishes for your spicy chicken.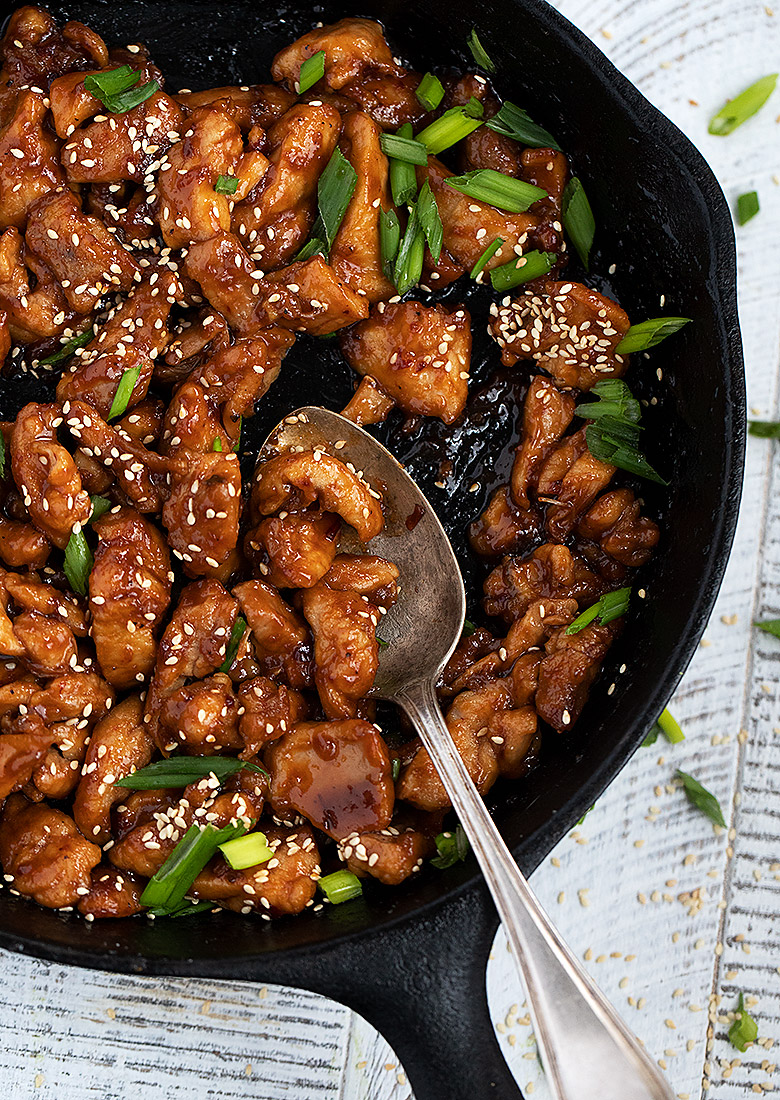 Cook's Notes
This easy spicy sauce is also great with salmon! Or pork. Or tofu. Or just stir-fried vegetables. You really can't go wrong!
This spicy chicken is great with rice and/or steamed greens or vegetables. In fact, it will be ready before your rice is :)
A hot pan is the secret to both cooking quickly and getting a nice bit of browning and flavour. I love my cast-iron skillet for this job, but you can use any skillet that can take high heat.
This chicken re-heats well, so don't hesitate to quickly cook up a large batch and refrigerate or freeze as a base for future recipes.
Top Tip! Try this delicious sauce with thawed salmon chunks, firm tofu pieces, pork pieces or even with variety of vegetables for a quick and easy stir fry.
Ways to enjoy your spicy chicken
Make a bowl: Start your bowl with a layer of rice, quinoa or other grains. Top with some spicy chicken and raw or steamed vegetables.
Make it a stir fry: Before cooking your chicken, stir fry some vegetables in hot oil, then remove to a bowl. Cook your chicken per the instructions and then return your vegetables to the pan at the end to re-warm (or simply serve on top or alongside your chicken).
Try a noodle bowl: Soak some noodles in hot water (like shelf-stable udon) and add to your chicken at the end of cooking to warm. Serve in a bowl topped with grated carrot and lots of green onion. *You can use any noodle, but for a quick meal, go for a noodle that doesn't need boiling, but rather one that just needs softening by soaking in hot water before using.
Put it in a taco: Add your spicy chicken to a warmed tortilla and top with lots of vegetables.
Use it in a lettuce wrap: Add some spicy chicken and cooked rice on top of large Boston lettuce leaves, top with grated carrot, green onion and sesame seeds for delicious and easy lettuce wraps.
Enjoy simply: Enjoy your spicy chicken along with a salad or simple, steamed greens or vegetables.
Recipe
More spicy chicken recipes you might like ...
Save or share this recipe