Easy, store-bought potato gnocchi pairs with a creamy, cheese sauce and is baked to bubbly goodness, then topped with bacon and green onion.
Move over mac and cheese! Potato gnocchi and cheese brings a new twist to the classic. And in keeping with the potato theme, let's load it up by adding some sour cream to the cheese sauce and topping it with bacon and green onion.
Gnocchi and cheese is a loaded baked potato in cheesy, bubbly skillet form!
When only a creamy, cheesy dish will do, you can't go wrong with this one. It's perfect football-watching food!
Jump to:
Ingredient Notes
Gnocchi: I love frozen gnocchi, but I know it's not available in all markets. Alternately, use the shelf-stable gnocchi. Be sure you are using potato gnocchi.
Cheese: Use a good, old/sharp cheddar cheese for the best flavour. You'll want to avoid pre-shredded cheese, as it has an anti-clumping agent on it which can results in a grainy cheese sauce.
Flour: The flour in the sauce is the sauce thickener. I haven't tested with a gluten-free or alternate flour. If you have had success with alternate flours in a butter/flour roux, it should also work just fine here.
Milk: For the creamiest sauce, use whole, 3-3.5% b.f. milk. In a pinch, you could use 2%, but I wouldn't go any lower in fat than that. I haven't tested this with dairy-alternative milks.
Sour Cream: If you don't have sour cream on hand, it's probably not a deal-breaker here. The dish will still be delicious without it. It does bring a slight tang to the cheese sauce or alternately, skip it in the sauce and dollop it on top, instead.
Green Onion: The flavour of fresh green onion is perfect with the potato and cheese, so I'd try to use it. Chives would also work here, as would something like a freeze-dried green onion or chive.
Cook's Notes
Be sure not to over-cook the gnocchi. Refer to the package instructions for boiling time and boil just until tender.
I've used 5-inch cast-iron pans here. You can use one large skillet or baking pan or smaller, individual ones.
Top Tip! When cooking the cheese sauce, be sure to cook until it noticeably thickens. This usually takes about 8-10 minutes. It won't be super-thick though. It will thicken more as it bakes in the oven.
Making Ahead, Storage and Freezing
You can make this dish ahead by preparing up to the point of transferring it to the baking dish(es). Allow to cool slightly, then cover and refrigerate until needed. When ready to bake, simply take from the fridge to the oven and bake. You may need a few extra minutes in the oven as the dish will be starting from cold, instead of warm.
Leftovers can be covered and refrigerated. Re-warm in the microwave or covered with foil in a 350F until warmed through.
Leftovers can also be frozen to enjoy at a later time.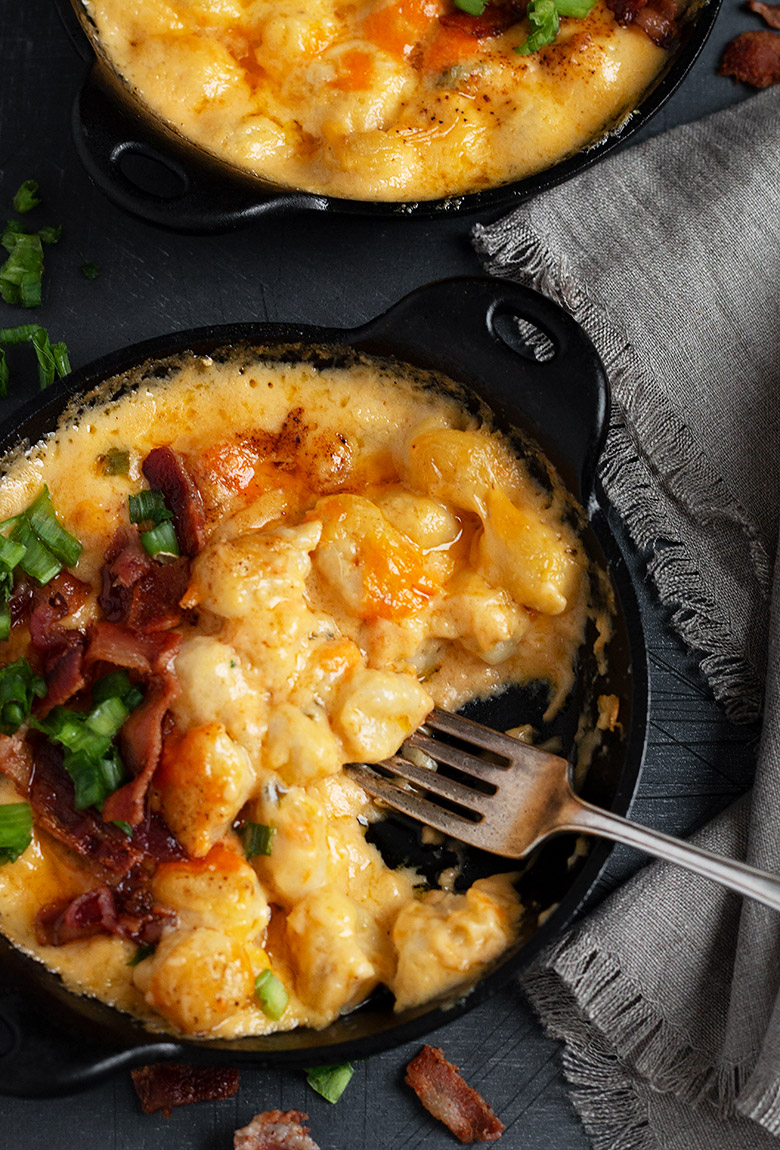 Recipe
More cheese lovers dishes you might like ...