These bacon wrapped pork medallions are simple enough for any night, but also special enough for company! Cook them on the BBQ or in the oven.
This is one of my favourite quick and easy things to do with pork tenderloin. Simply cut the pork tenderloin into medallions, wrap them in bacon, then press into some steak spice. Cook them up quickly on the BBQ or in a hot oven.
The feta topping is optional, but you really don't want to skip it, in my opinion. It is the perfect salty foil for the peppery pork.
Ingredients and Substitutions
Pork Tenderloin – be sure to remove any visible fat and remove the silver skin from along the side of the tenderloin, so the pork cooks evenly.
Steak Spice – I love Montreal Steak Spice for this one, as it is more pepper than salt. Any steak spice will work here, though.
Step-by-Step Photos
I like to pre-cook the bacon slightly, by microwaving for about 1 1/2 minutes and then letting it cool. Use the bacon as a guide to cut the medallions from the pork tenderloin, so that they are the same width as the bacon slice. Secure the medallions with a skewer or toothpick.
Place some Steak Spice onto a plate and press the both the top and bottom of the medallions into the steak spice.
Place the medallions into a lightly greased, oven-safe skillet (cast iron is perfect!). Cook in a 425F oven, rotating and flipping the medallions as they cook, for about 30-35 minutes. While they are in the oven, quickly mix up the feta topping, if using. Cover with plastic wrap and set aside at room temperature until the pork is done. *You can also make it ahead and refrigerate, but bring it to room temperature before using.
Recipe Tips
I find the extra little bit of time to pre-cook the bacon well worthwhile. The 15 minutes in the oven just isn't enough to really cook it well and there's really nothing worse than limp bacon :)
If cooking these in the oven, for a one-pan meal, dice up some potatoes and throw them in the same skillet as your pork and they will cook right along with the pork.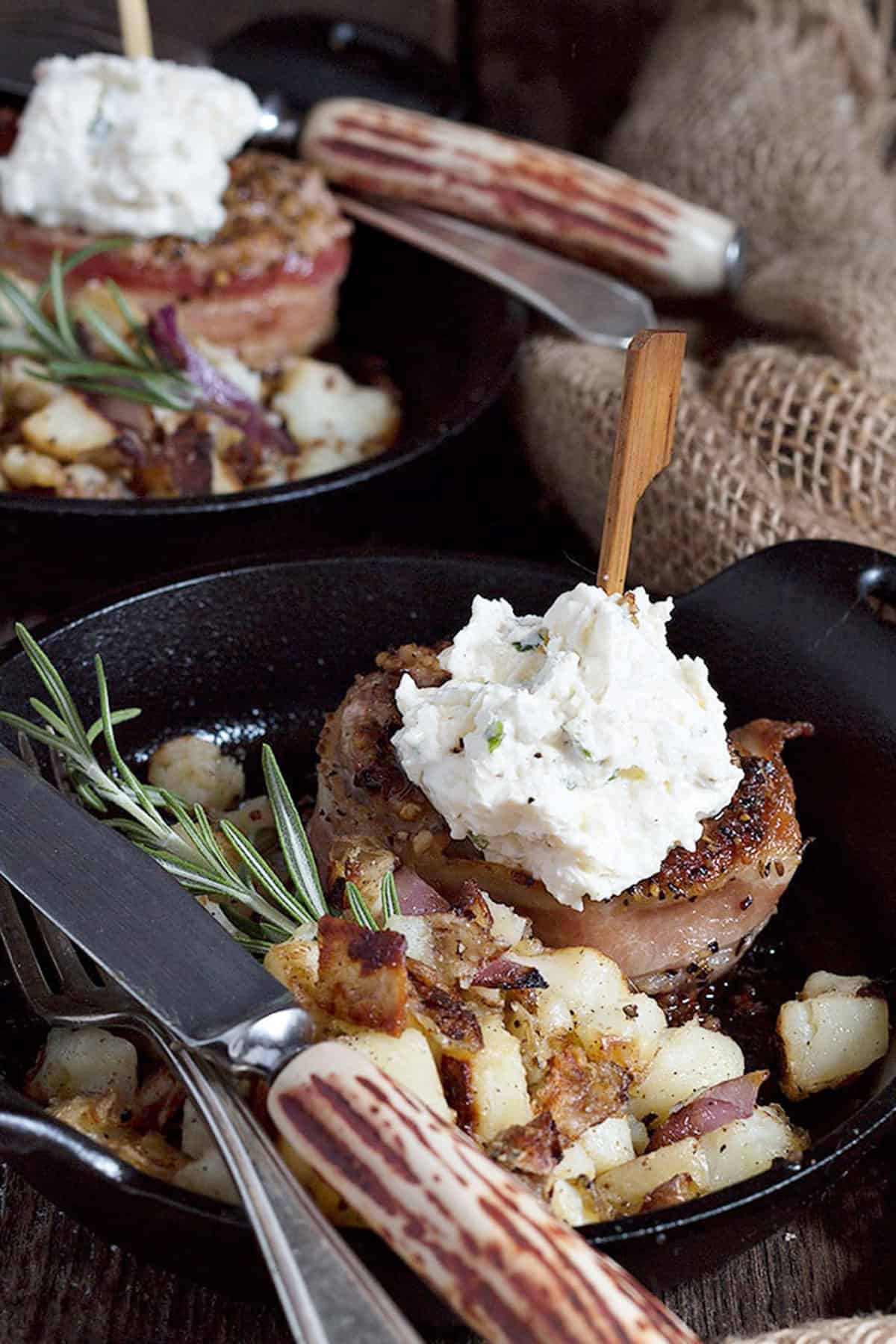 Get the Recipe:

Bacon Wrapped Pork Medallions
Bacon wrapped pork tenderloin medallions, coated with steak spice and topped with an optional feta topping. Cook on the BBQ or completely in the oven. Easy enough for any night, and special enough for company! 
Ingredients
For Pork:
1 1/2

lb.

pork tenderloin

,

silverskin and any visible fat removed

4

slices

bacon

,

1 slice for each medallion

1/4

cup

Montreal Steak Spice

,

or other steak spice mix
For Feta Pate:
1

clove

garlic

,

finely minced

2

Tablespoons

butter

,

at room temperature

1/3

cup

crumbled feta cheese

2

Tablespoon

sour cream

,

or 2 Tbsp Greek Yogurt or 1 Tbsp heavy cream

1

Tablspoon

chopped fresh parsley
Instructions
For oven method, pre-heat oven to 425F. For BBQ method, heat grill to about 400F.

Pre-cook the bacon slightly by layering in paper towel and microwaving about 1 1/2 minutes. Alternately, simply cook slightly in a skillet until some of the fat is starting to cook off. Allow the bacon to cool 5 or 10 minutes.

Remove the silverskin and any visible fat from the pork tenderloin. Cut the tenderloin into medallions, about as thick as a slice of your bacon. *I like to lay the bacon strip right on to the pork tenderloin and use it as a guide for cutting the medallions. Wrap each medallion in bacon and secure on the side with a skewer, threading it through where the bacon overlaps and into the pork slightly.

Pour some of the steak spice onto a plate. Dip both sides of the pork in steak spice by pressing down into the spice.

For the BBQ: Grill on the BBQ until internal temperature of 140F internal temperature. Set aside to rest for 5 minutes.

For the oven: Place prepared medallions into an oven-safe skillet or pan and cook in the preheated 425F oven for 30-35 minutes, turning the medallion over once about halfway through cooking, or until 140F internal temperature. Remove from oven and let rest a few minutes before serving.

For the Feta Topping: While the pork is cooking, make the feta topping, if using, by combining the garlic, butter, feta cheese, sour cream and parsley in a small bowl. Stir to combine well. (I fink a fork works well at first, to press it together, then stir). Set aside or cover and refrigerate if making ahead. Remove from fridge 15-20 minutes before serving.

Remove skewers from meat. Serve with a dollop of feta topping on top of pork medallions.
Notes
If you'd like to serve with potatoes, as shown in the recipe photos, simply dice up some potatoes and onion and toss with olive oil and season with salt and pepper. Roast in the oven in the same pan as the medallions, if there's room, or in another pan next to it. They should cook in the same time as long as your potatoes aren't too large. You can also set a cast-iron skillet of potatoes on the BBQ grill to cook along, as well.
Be sure to read the notes above this Recipe Card, for more tips on making this recipe.
Serving:
1
serving
,
Calories:
388
kcal
,
Carbohydrates:
1
g
,
Protein:
40
g
,
Fat:
24
g
,
Saturated Fat:
11
g
,
Trans Fat:
1
g
,
Cholesterol:
153
mg
,
Sodium:
428
mg
,
Potassium:
737
mg
,
Fiber:
1
g
,
Sugar:
1
g
,
Vitamin A:
259
IU
,
Vitamin C:
1
mg
,
Calcium:
84
mg
,
Iron:
2
mg
More Pork Tenderloin Recipes to Love!
Hi! I'm Jennifer, a home cook schooled by trial and error and almost 40 years of getting dinner on the table! I love to share my favourite recipes, both old and new, together with lots of tips and tricks to hopefully help make your home cooking enjoyable, stress free, rewarding and of course, delicious!