A delicious, one-pan pork tenderloin with fig and balsamic vinegar. Roast some mini potatoes right alongside the pork as well, if you like.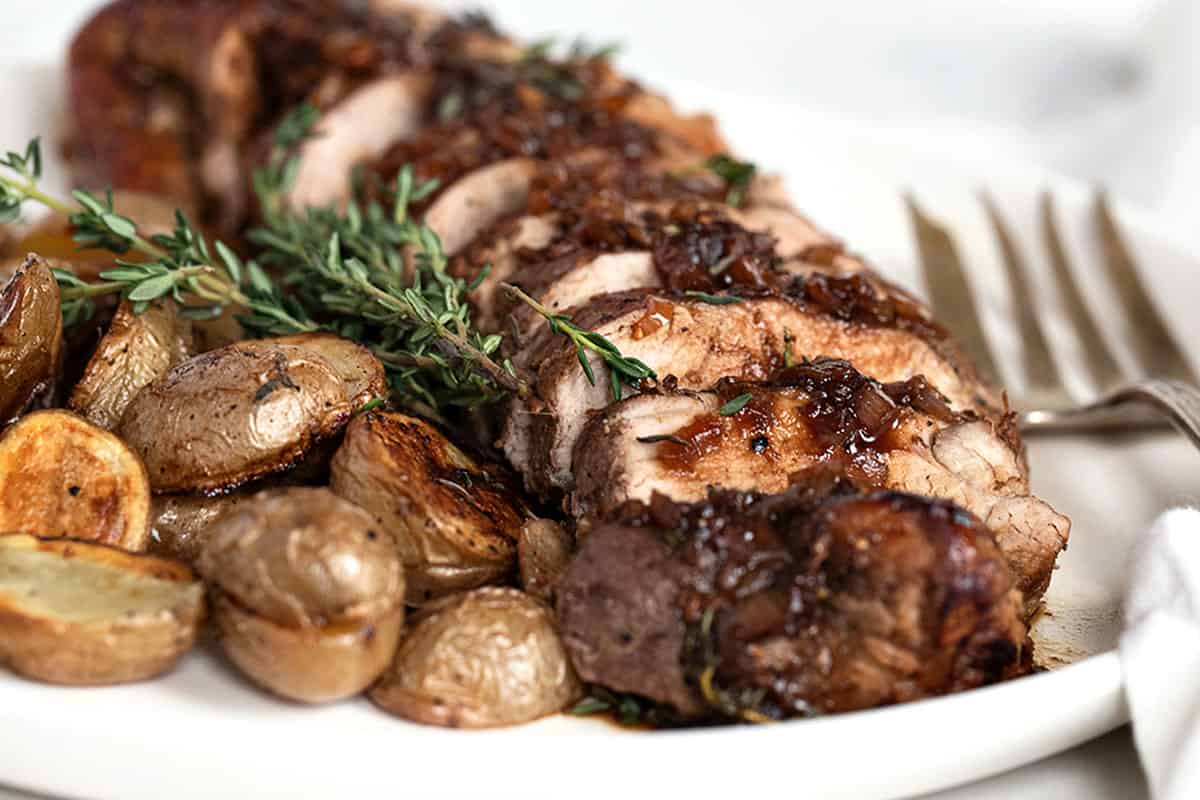 Why you'll love this fig and balsamic pork
If you are like me, you probably already have a jar of fig jam in the fridge. It is a handy condiment for crackers and cheese and entertaining. Here's a great recipe to use up a bit of that fig jam!
This Fig and Balsamic Pork Tenderloin cooks up in a flash, in just one pan, with a perfectly tender pork tenderloin, a delicious fig and balsamic sauce. And if you like, throw some potatoes alongside the pork in the oven, to enjoy some crispy, golden potatoes with your pork.
You'll love how easy this dish is. No need to pre-brown the pork. Simply add to the pan and pop into the oven.
Ingredients and Substitutions
Pork Tenderloin – Any size pork tenderloin will work here. Only the time in the oven will change slightly depending on the size you start with.
Fig Jam (or Fig Spread) – I use Dalmatia Fig Spread, which is easily found here, generally in with the gourmet cheeses (at least in my store). It might also be found in with the jams. It has a bright orange lid. President's Choice (in Canada) also has a Black Label Fig Merlot Condiment, that would work nicely here. Bonne Maman also makes a Fig Preserve, among others.
Chicken Broth – I love to use Better than Bouillon to make small amounts of chicken broth for recipes like this. If you don't want to open a carton of chicken broth for this small amount, you can just replace it with a splash of white wine or even just water.
Shallot – If you have shallots, they would be the best choice, but finely diced white or red onion works fine, as well.
Step-by-Step Photos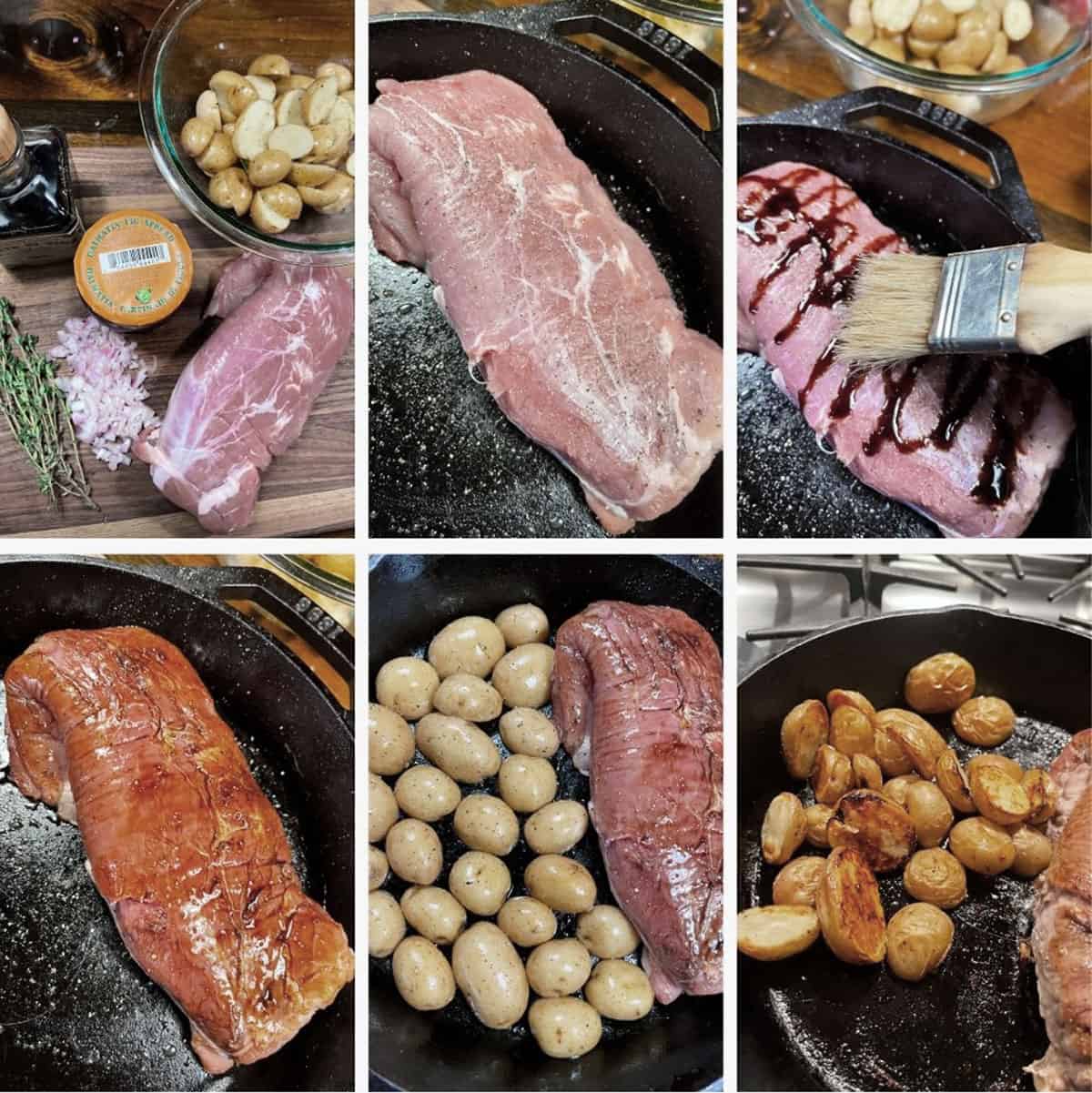 Step 1: Place your pork tenderloin into an oven-safe skillet (cast-iron skillet works perfectly!). I like to fold the thin end of the pork underneath, so that the meat is an even thickness from end to end.
Step 2: Brush some balsamic vinegar on the pork and season with salt and pepper.
Step 3: Place the potatoes next to the pork in the pan, cut side down and pop into the oven until the pork is 145F and the potatoes are golden.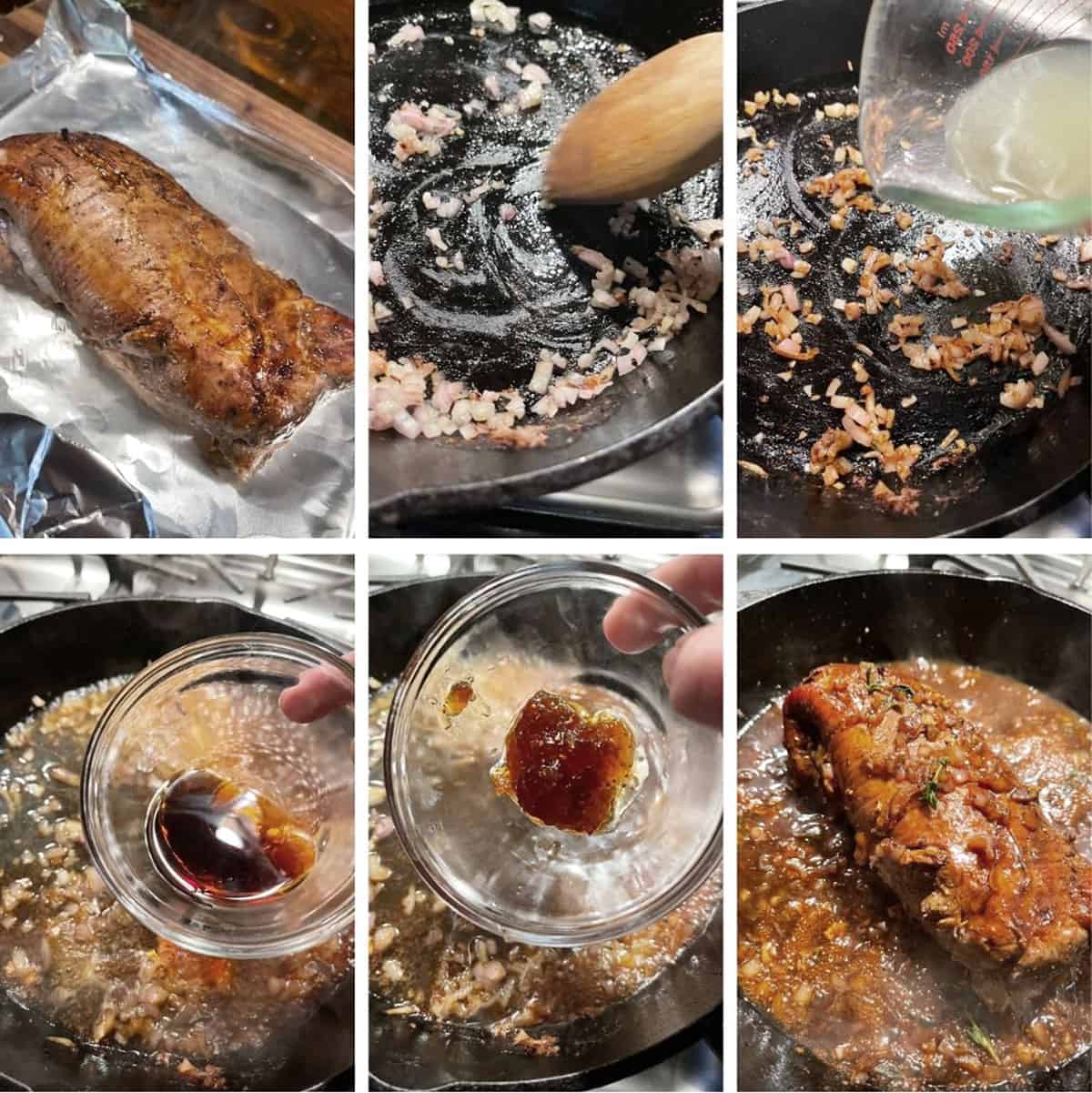 Step 4: Set the pork to rest while you make the sauce and place the potatoes in a bowl and cover loosely with foil, to keep warm.
Step 5: Make the sauce by placing the skillet onto the stove-top. Add the shallots (or onion) and cook until softened, then add the chicken broth, fig jam and balsamic vinegar. Simmer until the sauce thickens and reduces, then stir in the butter until melted.
Step 6: Add the pork back to the pan, turning a couple of time, to re-warm and coat with sauce, then remove to a cutting board to slice. Place sliced pork onto a plate and spoon pan sauce over-top. Serve with potatoes.
Cook's Notes
For always tender pork tenderloin, be sure you don't over-cook it! Pork should only be cooked to 145F internal temperature, which is ever so slightly a little pink, but wonderfully moist and flavourful. An instant-read thermometer is great for checking the temperature, so you will know exactly when to take it out of the oven.
Always let the pork stand/rest for 3-5 minutes before slicing, to keep all the juices with the meat.
If you like, you can swap out the potatoes for Brussels sprouts. Simply halve the sprouts, toss with some oil, salt and pepper. Add them to the pan after the pork has been in the oven for about 10 minutes, so they will be done at about the same time as the pork.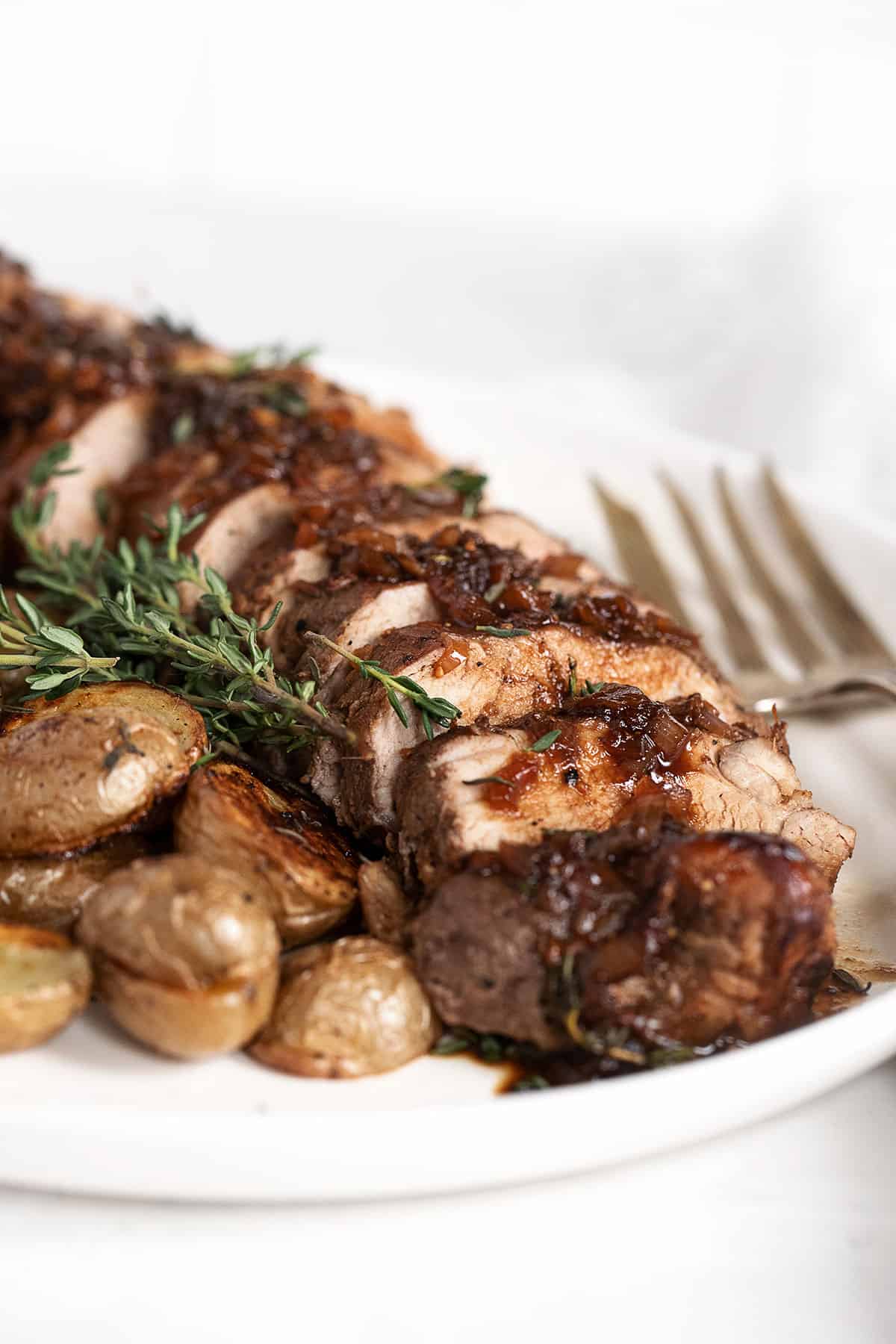 Get the Recipe:

Fig and Balsamic Pork Tenderloin
A delicious, one-pan pork tenderloin with fig jam and balsamic vinegar. Roast some mini potatoes right alongside the pork, if you like.
Ingredients
1

lb.

pork tenderloin

,

approximately, fat and silver skin removed

1

Tbsp

balsamic vinegar

Salt and freshly ground pepper

Mini potatoes

,

optional
For the sauce:
1/2

Tablespoon

butter

2

shallots

,

finely diced or about 3 Tbsp finely diced red or white onion

1/4

cup

chicken stock

1

Tablespoon

fig jam

,

or fig spread

4

teaspoons

balsamic vinegar

Pinch

Thyme leaves

,

fresh or dried

Salt/Pepper
Instructions
Preheat oven to 450F. Grease a cast-iron skillet with a bit of oil and set aside. (Alternately, you can use a rimmed baking sheet. Brush some oil on the baking sheet, as well).

Prepare the pork tenderloin by removing any visible fat and removing the silverskin. Brush pork with balsamic vinegar and season with salt and pepper. Place into a prepared pan or baking sheet, placing it along the side or at the end, if cooking potatoes alongside. Tuck the thin end of the tenderloin under, so that the pork is evenly thick from end to end.

(If cooking potatoes alongside, halve or cube the potatoes, toss with olive oil, salt and pepper. Place into the skillet or onto the baking sheet, cut side down.)

Place into preheat oven and roast for 25-30 minutes, or until the pork registers 145F when measured with an instant-read thermometer and the potatoes are golden.

Remove from oven. Remove the potatoes to a bowl and loosely cover with foil to keep warm. Remove the pork to a plate to rest while you make the sauce.

In the same skillet you used to cook the pork (or a fresh skillet if you cooked on a baking sheet), melt the butter over medium heat. Add the shallots or onion and cook, stirring until softened. Add the chicken broth, balsamic vinegar and fig jam. Increase the heat to medium high and cook, stirring, until sauce reduces and thickens. Taste and season with salt and pepper as needed. Add a few thyme leaves to the sauce, if using.

Return pork to the pan and re-warm, flipping it over a couple of times to coat with sauce. Remove pork to a plate and spoon warm sauce over-top or alternately, slice pork, then spoon sauce over-top. Serve with roasted potatoes.
Notes
Nutritional information is for the pork only (does not include the optional potatoes).
Be sure to read the Ingredient Notes and Cook's Notes above this Recipe Card, for more tips on making this recipe. You will also find step-by-step photos there, that you may find helpful.
Serving:
1
serving
,
Calories:
182
kcal
,
Carbohydrates:
7
g
,
Protein:
24
g
,
Fat:
6
g
,
Saturated Fat:
2
g
,
Polyunsaturated Fat:
1
g
,
Monounsaturated Fat:
2
g
,
Trans Fat:
1
g
,
Cholesterol:
78
mg
,
Sodium:
98
mg
,
Potassium:
518
mg
,
Fiber:
1
g
,
Sugar:
4
g
,
Vitamin A:
47
IU
,
Vitamin C:
1
mg
,
Calcium:
16
mg
,
Iron:
1
mg
More Pork Tenderloin Recipes
Hi! I'm Jennifer, a home cook schooled by trial and error and almost 40 years of getting dinner on the table! I love to share my favourite recipes, both old and new, together with lots of tips and tricks to hopefully help make your home cooking enjoyable, stress free, rewarding and of course, delicious!