These easy tacos al Pastor feature flavoured pork tenderloin, grilled pineapple and onion and served with a fresh pineapple salsa.
Jump to:
What are al pastor tacos?
If you are not familiar with al pastor tacos, they are pork tacos, made by marinated the pork with spices, chiles, pineapple juice and vinegar before cooking "Shepherd style" (the English translation of "al pastor") over a spit for hours or maybe days.
Classic Tacos al Pastor are generally made with boneless pork shoulder, which is perfect for this long, low and slow method of cooking.
Why you'll love this easy tacos al pastor recipe!
This easy tacos al Pastor recipe adapts the classic Mexican dish into an easy-to-make-at-home version. My version starts with pork tenderloin and can be cooked on the BBQ, in a grill pan or in the oven! The marinade uses mostly easy to find ingredients, including pineapple juice, chipotle peppers, vinegar and spices.
Key Ingredients
Pork - pork tenderloin makes great tacos al Pastor, but you can certainly use other pieces of pork if you prefer.
Achiote Paste - I usually try to share recipes that use pretty standard ingredients, but you'll note that this recipe calls for Achiote Paste, which I suspect may not be in most people's pantry. It is a great flavour addition for these tacos and is easy to get through Amazon. So if you are a fan of Tacos Al Pastor, it would be worth picking up.
That said, if you don't want to invest in Achiote paste, you can make your own substitute. Scroll down for the instructions for homemade achiote paste.
How to Make Homemade Achiote Paste
In a small bowl, mix together 4 1/2 tsp paprika, 1 Tbsp white vinegar, 3/4 tsp dried oregano, 1 tsp garlic powder, 1/4 tsp cumin, 1/4 tsp vegetable oil into a paste. Use immediately or transfer to an airtight container and refrigerate up to 2 weeks.
Cook's Notes
The longer you can marinate the pork, the better. I will marinate it up to 24 hours ideally, but at least 8 hours is fine. So set to marinate in the morning, to cook for dinner.
Note that it does take some time for the marinade to cool down before you can add it to the meat, so allow at least 30 minutes for cooling. You can remove to a bowl and pop in the refrigerator to speed up the process, if you like.
I use canned pineapple rings here, simply so I don't have to buy a whole container of pineapple juice for the 1/3 cup needed in the marinade. Using canned pineapple rings packed in pineapple juice, allows you to use the juice from the can for the marinade, as well as using the rings for the tacos.
Tacos Al Pastor are not typically spicy hot. While the marinade has some chipotle peppers and adobo, by the time it's grilled off, it's not spicy at all. If you prefer things a little hotter, feel free to add in some more chilis or heat.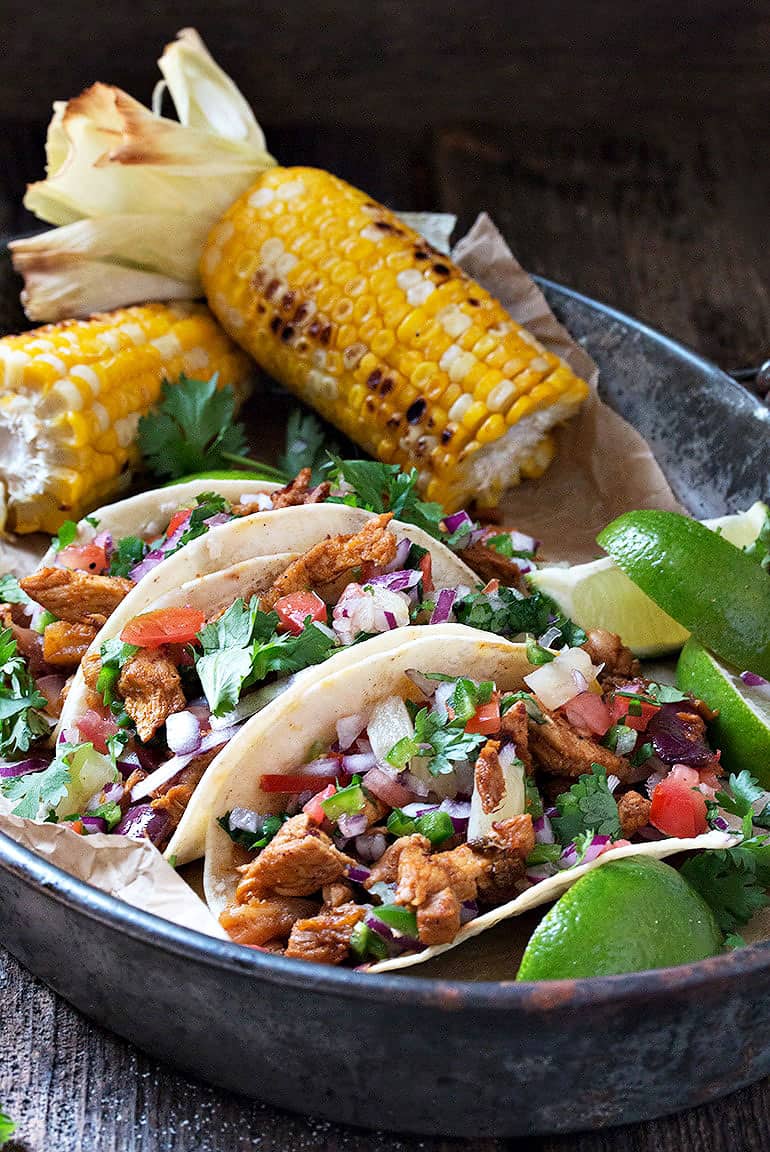 Recipe
More classic Mexican recipes you might also like ...