Bring the Everything flavours to a regular loaf of bread. With all the everything seed mix and onion and garlic flavours baked into the loaf, as well. Makes 1 loaf, that's perfect with butter, toasted or try it for sandwiches!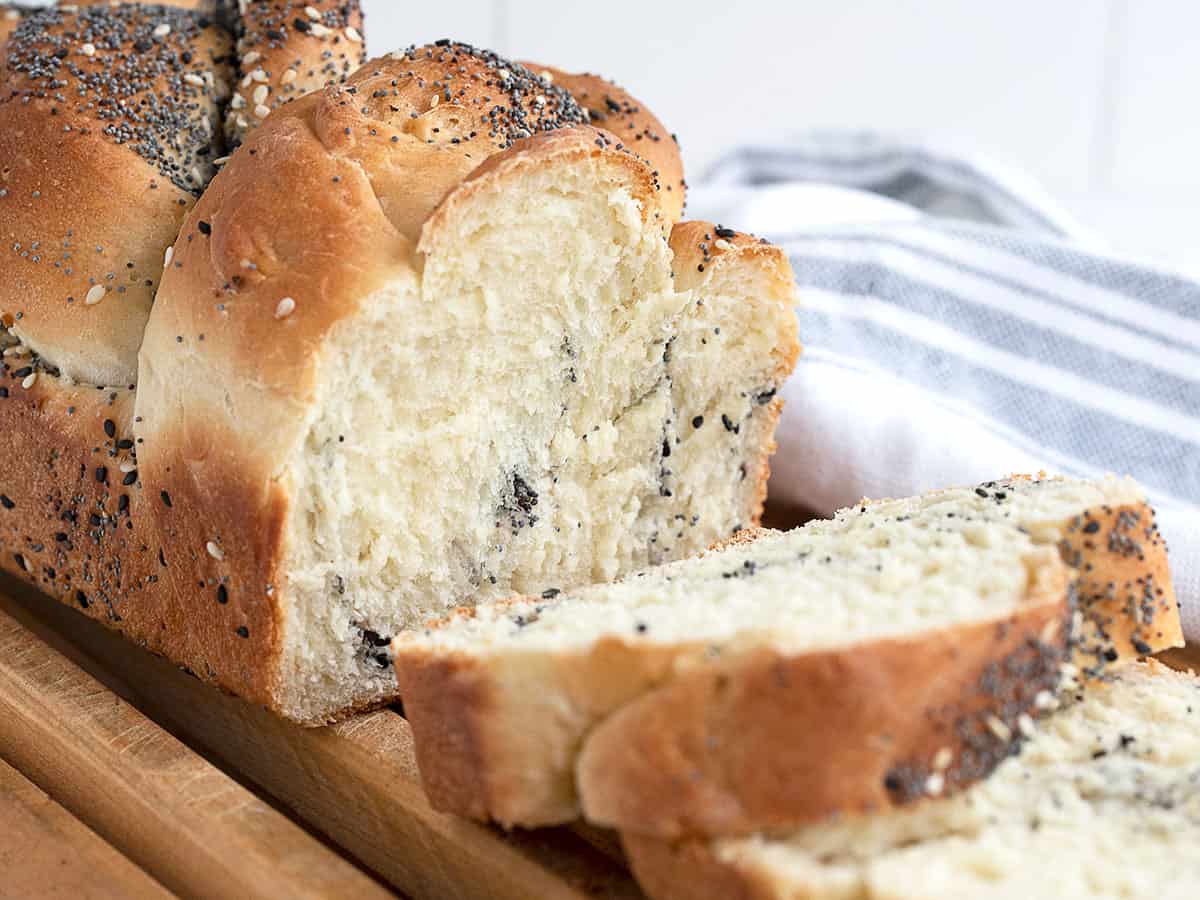 I have always been a fan of Everything seed and spice mix, so it was only natural that I would find a way to bring those flavours to a loaf of bread. This Everything Bread loaf is everything I hoped it would be. It's great plain with just butter, makes great toast and with a spread of cream cheese, it's even better! Try it for sandwiches, too.
Jump to:
Ingredient Notes
All Purpose or Bread Flour - you can use either all purpose or bread flour here. For bread flour, you will probably find you need a little less over-all than stated. Unbleached flour is best, if you have it.
Yeast - you can use either active dry yeast or regular Instant Yeast (such as SAF). Quick or rapid rising yeast is not recommended for this typical two-rise bread.
Onion and Garlic Powder - I've specified garlic powder, but if you only have garlic salt, you can use it, but just reduce the added salt in the bread slightly. In place of onion powder, you could also use minced, dried onion here.
Everything Mix Seeds - "everything mix" typically contains sesame seeds and poppy seeds. If you have black sesame seeds, they are a nice addition with the white sesame seeds. I have used them here. *If you happen to have store-bought "Everything Mix", you can certainly use that instead of making your own mix. You'll need about 3 1/2 Tbsp total.
Sugar - I think people are always surprised by sugar in savoury loaves and might be tempted to reduce it. You can, of course, if you wish, but I think the bit of sugar in savoury loaves help to make them great toasting loaves, so that may be the trade-off.
Step-by-Step Photos
This is a quick summary of the steps to make this bread. Always refer to the complete instructions in the Recipe Card below when making the bread, as all steps and details may not be reflected here.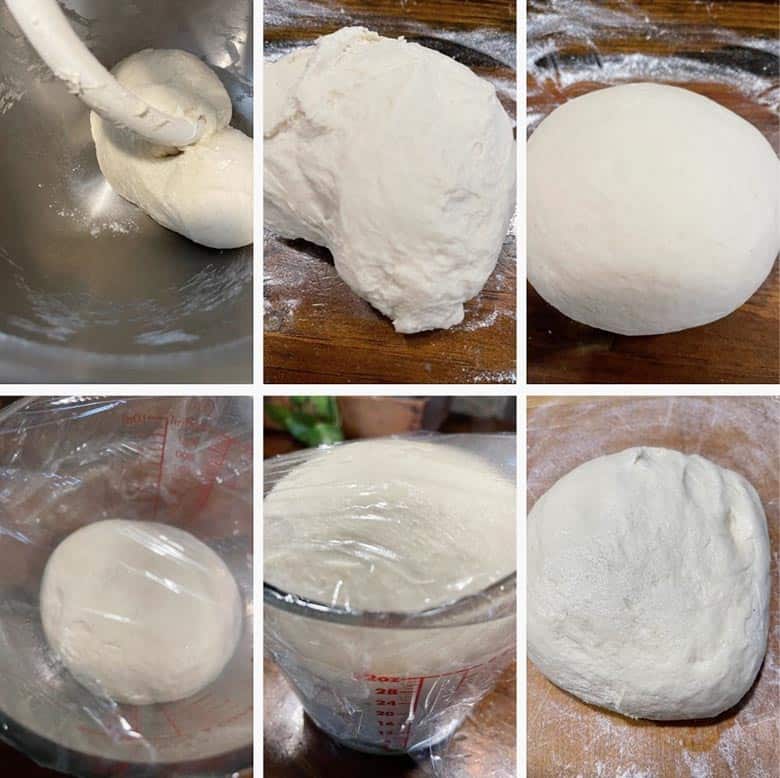 This bread starts with the beautiful dough from my Cheese Bread recipe. It is my favourite dough to work with and makes a wonderfully soft bread and great toast. Once the dough is mixed, it is set to rise until doubled, then gently deflated.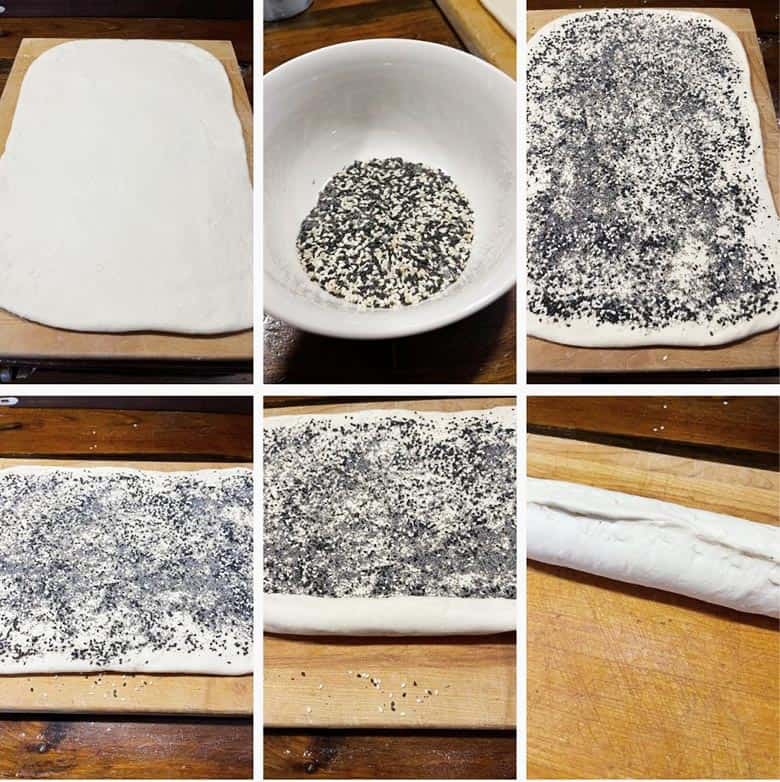 To start shaping, roll the dough into a rectangle. Mix up the Everything seed mix and scatter it over the dough, pressing it into the dough lightly. Roll up the dough, starting from the long side and pinch together the seam.
Using a sharp knife, cut down the centre of the log and separate it into two pieces. Pinch together at the far end, then twist it as shown here.
Place the twisted dough into a greased loaf pan. Cover and let rise until it crests the pan by a good inch. Bake and enjoy!
FAQ
Can I freeze this bread?
Absolutely. Most bread freezes beautifully, well-wrapped, for up to 3 months.
Can I add more or less of the onion or garlic powder?
You can. Simply adjust up or down to you liking. No need to make any other adjustments other that adding more (or less).
Can I double or triple the recipe?
Yes! Use the "2X or 3X" buttons at the top of the Ingredient List in the Recipe Card to have the doubled or tripled ingredient amounts calculated automatically for you. When tripling a bread recipe, always make sure your stand mixer (if using) can take the bulk of that amount of dough. If your mixer seems to be straining, remove to the counter and finish kneading in the last bit of flour there.
Can I make this Everything bread in a bread machine?
I don't see why you can't at least make the dough in the bread machine, as it is a standard 1lb dough recipe. Obviously, you'll want to remove to fill, twist and rise, then bake in the oven.
Baker's Tips
As with all bread recipes, the amount of flour indicated in the recipe is "approximate" and will vary from kitchen to kitchen. You may need to use a bit more or less than what is indicated. The right amount of flour is as much flour as it takes to produce a smooth, moist but not sticky dough.
New to yeast bread baking? Check out my resource page Getting Started with Yeast Bread Baking for some of my best bread baking tips!
I debated (with myself :) whether I should brush some melted butter on the dough before adding the seed mix, but decided not to. It seemed to stick pretty darned well though, so I don't think it's necessary. That said, if you wanted the bit of extra flavour of butter in the bread, you could give it a try.
This bread is perfect for experimenting and tweaking to your taste. Add more or less of the seed mix. Add more or less of the onion and garlic powder flavour. I've been tempted to spread some cream cheese onto the dough before adding the seed mix and baking a bit of the cream cheese flavour into the bread, as well.
Recipe
Everything Bread
Bring the Everything flavours to a sliceable loaf of bread. With all the everything seed mix and onion and garlic flavours baked into the loaf, as well.
Ingredients
1/2

cup

lukewarm water

,

about 95 F.

2 1/4

tsp

Active Dry or regular Instant yeast

2

Tbsp

white sugar

1/2

cup

lukewarm milk

,

about 95 F.

2

Tbsp

vegetable oil

,

or any neutral tasting oil

2 1/2

cups

all purpose flour

,

approximately, plus more as needed

1/2 - 3/4

tsp

garlic powder

1/2 - 3/4

tsp

onion powder

1

tsp

fine salt
Everything Mix:
1 1/2

Tbsp

poppy seeds

2

Tbsp

sesame seeds

,

white or black, or a mix of both

1/8

tsp

garlic powder

1/8

tsp

onion powder
Instructions
In a large bowl or the bowl of a stand mixer fitted with the kneading hook, add the warm water, yeast and sugar. Let stand 5 minutes, the add the lukewarm milk and melted butter (or oil). Mix to combine.

Add 2 cups of the flour, the garlic powder, onion powder and salt. Mix to combine. Begin adding additional flour, in small increments, until you have a smooth, moist, but not sticky dough that cleans the bowl.

Remove the dough to a lightly floured surface and knead a few minutes until smooth. Form into a ball. Place into a greased bowl, cover with plastic wrap and let rise until doubled in size, about 1 hour.

Meanwhile, prepare the Everything Mix by mixing together all the ingredients in a small bowl. Set aside. Grease an 8 1/2 x 4 inch loaf pan and set aside.

When dough has risen, remove to a lightly floured surface and gently deflate. Using a rolling pin, roll the dough into a rectangle about 10 x 15-inches. Scatter the Everything Mix evenly over the top of the dough and use your palms to press into the dough lightly.

**If the shaping instructions below are unclear to you, please refer to the Step-by-Step photos above the Recipe Card or the Recipe Video in this Recipe Card, for a visual summary of shaping.

Starting from the long, 15-inch edge, roll up the dough jelly-roll style. Pinch the seam together and flip the dough log over so the seam is at the bottom. Using a sharp knife, cut down the centred of the log, from end to end, cutting it into two pieces. Rotate the slices slightly so that the cut edge is facing up and place the pieces about 1-inch apart. Pinch together the two pieces at the farthest end, then twist the dough pieces together, pinching together the near ends once twisted. Place the dough into the prepared 8 1/2 x 4-inch loaf pan. Cover with plastic wrap and let rise until it has crested the pan by 1 - 1 1/2 inches in the centre, about 45 minutes.

Preheat oven to 375F (Regular Bake setting), with rack in the centre of the oven. Bake loaf for 35-40 minutes, or until the loaf reaches at least 195F internal temperature. **Be sure to check at about 25 minutes and loosely cover the top of the loaf with a sheet of aluminum foil, if sufficiently browned at that point, to prevent over-browning.

Remove from oven, then immediately remove the loaf from the pan to a cooling rack to cool at least 1 hour before slicing. Avoid slicing a hot loaf, to prevent a gummy crumb.
Notes
Be sure to read the Ingredient Notes above this Recipe Card, for more details and substitution suggestions. You will also find Step-by-Step photos there, Frequently Asked Questions and my Baking Tips for this recipe.
Nutrition
Calories:
144
kcal
|
Carbohydrates:
23
g
|
Protein:
4
g
|
Fat:
4
g
|
Saturated Fat:
2
g
|
Cholesterol:
1
mg
|
Sodium:
200
mg
|
Potassium:
62
mg
|
Fiber:
1
g
|
Sugar:
3
g
|
Vitamin A:
17
IU
|
Vitamin C:
1
mg
|
Calcium:
46
mg
|
Iron:
2
mg
Nutritional information provided for general guidance only and should not be relied upon to make personal health decisions.
Never miss a new recipe!
SIGN UP for email updates!