Easy and delicious, these baked orange chicken thighs start with orange marmalade and cooks entirely in the oven! A great, quick weeknight meal!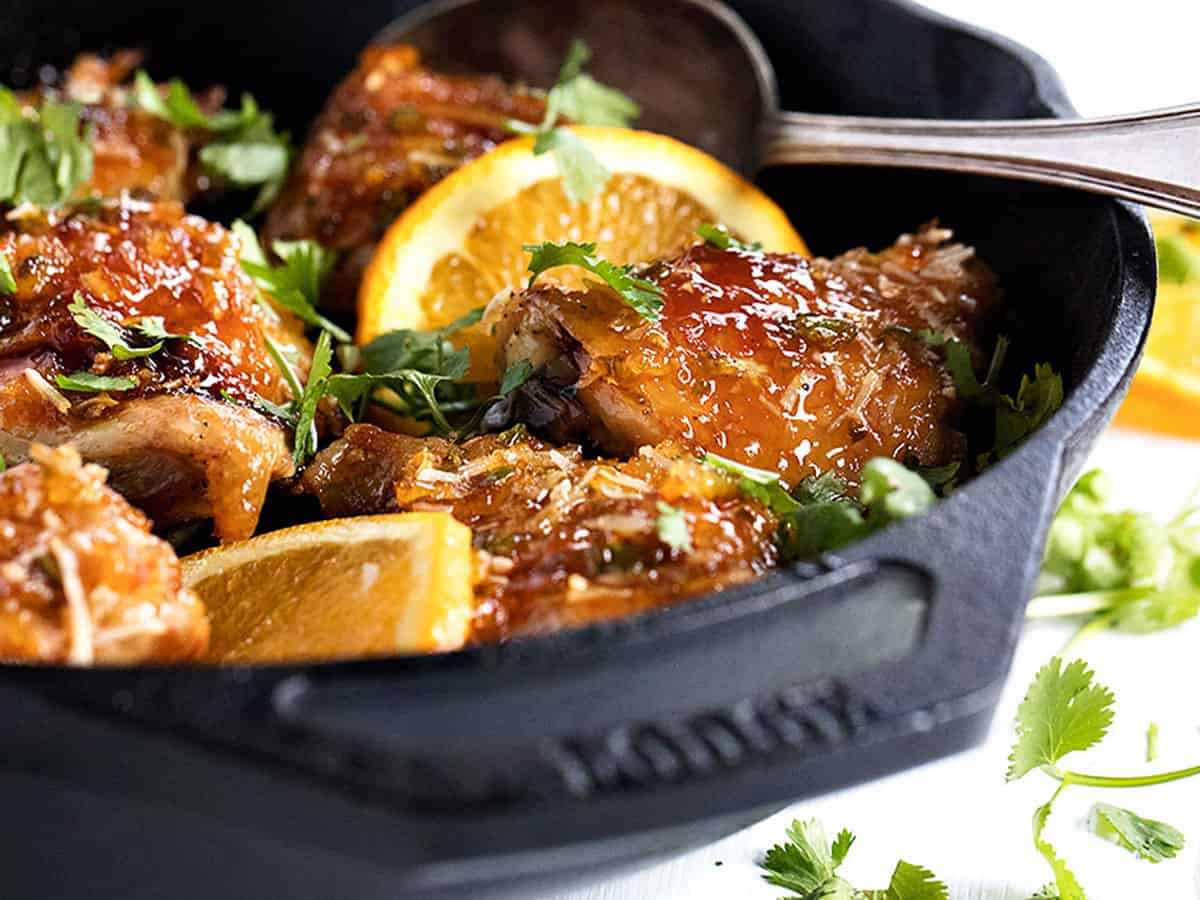 Jump to:
Why you'll love these orange chicken thighs
if you are looking for an easy orange chicken recipe, this one of my favourites! I love that it cooks up completely in the oven, so there is no need to brown the chicken beforehand)
The delicious orange chicken sauce mixes up quickly and making orange chicken with orange marmalade is such an easy way to bring great flavour to orange chicken.
And finally, the jalapeno and sriracha added to the sauce complements the orange flavours perfectly. Don't worry though, as this one is not overly spicy - just perfectly warming and lick-your-fingers delicious.
Ingredient Notes
Chicken Thighs: I've used bone-in/skin-on chicken thighs here, though you could make this dish with just about any chicken, including boneless skinless chicken breasts or boneless skinless chicken thighs. Only the cooking time will change. See the Cook's Notes below for suggested timing adjustments.
Orange Marmalade: Just your regular, grocery-store sweet orange marmalade will work here. I used Smuckers™. You'll want to avoid Seville marmalade, as it is quite strong and bitter.
Sriracha: In case you're wondering, the 1 tsp of Sriracha doesn't make these "spicy", but just a gentle bit of heat. If you'd like spicier, increase the Sriracha to 2 tsp. If you don't have Sriracha, something like Asian chili garlic sauce would be a good substitute.
Jalapeno: When seeded and cored, jalapeno isn't really spicy either. Again, it provides just a nice flavour and gentle heat here. If you don't have a jalapeno on hand, just omit this.
Coconut: I've listed this one as optional. It may not be to everyone's taste and kids might turn their nose at coconut in a savoury dish :) I love the flavour with the orange and Asian flavours. I'd encourage you to try it, but feel free to skip if it doesn't appeal to you.
Orange Slices: Totally not necessary, but they really do brighten up the pan :)
Cilantro: If you are cilantro-averse, substitute flat-leafed parsley for a little colour.
Cook's Notes
If you have a variety of oven-proof skillets to choose from, pick the one that just nicely holds the chicken. This keeps the sauce in and around the chicken as it cooks at the end.
As noted above, you can use other varieties of chicken in this dish. In all cases, you want to cook your chicken to 165F internal temperature. This is best tested with an instant read thermometer. Here is a rough guideline for the total oven cooking time you can expect (will vary somewhat by size) -
Baking time for chicken at 400F:
Bone-in/skin on chicken thighs - 35-40 minutes
Boneless chicken thighs - 25-30 minutes
Bone-in/skin-on chicken breast - 40-45 minutes
Boneless chicken breast (full size) - 35-40 minutes
For boneless chicken pieces, brush with olive oil and seasons with salt and pepper before adding to the pan. You will be able to skip the step for spooning off the fat/liquid in the pan, as you pan will probably be dry.
What to Serve with Sticky Orange Chicken Thighs?
I love to serve these orange chicken thighs with either coconut rice or cilantro lime rice. For coconut rice, cook 1 cup rice, with 2 cups water and about 2/3 cup (or a small can) of coconut milk. For cilantro lime rice, cook 1 cup rice in 2 cups water, then add 1 tsp lime zest, 2 tsp lime juice and 1/3 cup chopped cilantro to the rice after cooking. Simply add a vegetable or salad and you've got a great meal!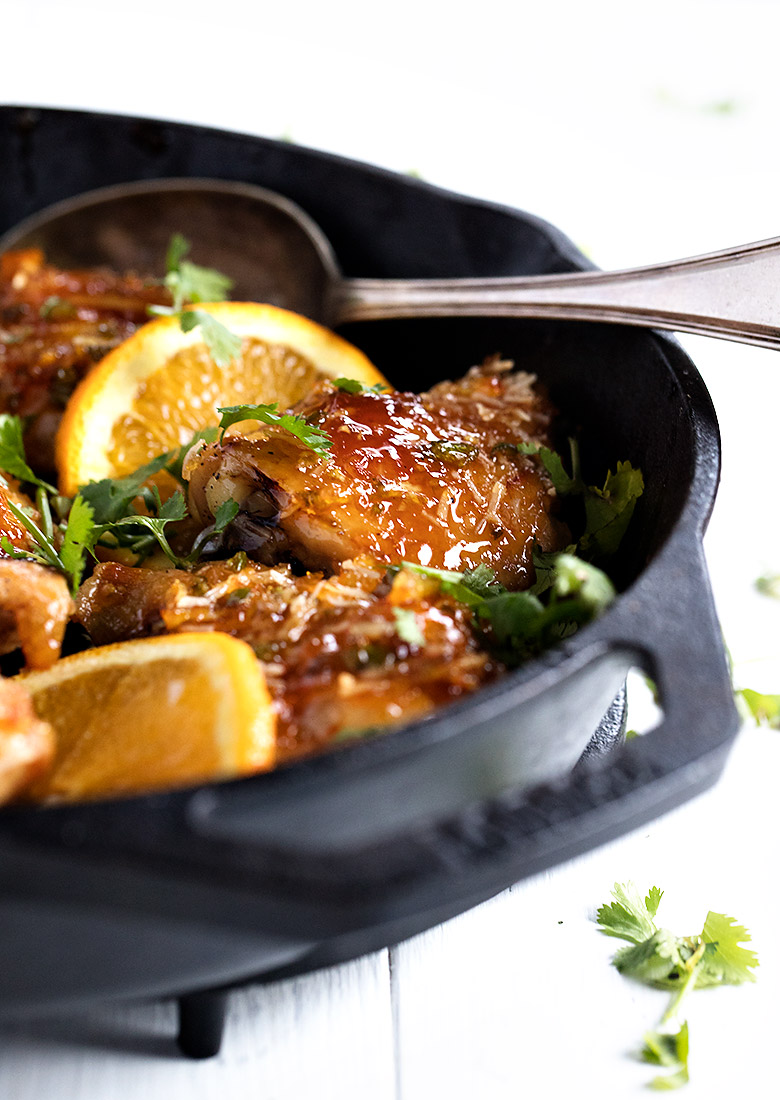 Recipe
More chicken thigh recipes you might also like ...
Save or share this recipe