Classic Bangers and Mash, with sour cream mashed potatoes and an easy onion and mustard gravy. A delicious and easy weeknight meal!
It's hard not to be amused by the name Bangers and Mash, isn't it? And when you say it in your head, do you say it with a bad British accent? Or is it just me? For the uninitiated, Bangers and Mash is simply sausages with mashed potatoes, often served with a gravy.
Ever wonder where the name "Bangers" came from? Apparently during the war, sausages were made with more water to make up for the lack of other ingredients, and they had a tendency to explode when heated over too high a heat. Hence the term "bangers", and a visual that frankly, quite amuses me :)
Beyond the fun name, simple, classic bangers and mash is perfect comfort food, especially when combined with a nice onion gravy. As all the parts of the meal can cook at the same time, this easy meal can be ready in just 30 minutes!
Cook's Notes
If you can find some great butcher-made pork sausage, it's perfect for this dish, or use any sausage you enjoy.
All three components of this dish can cook away at the same time, so it speeds up the process to about 30 minutes total from start to finish. Ideal for a quick weeknight meal.
I've included my method for cooking sausage in the instructions. It's basically poaching them a bit until the water eventually evaporates and then they're left to finish cooking and brown nicely in a dry-ish pan (the bit of oil sticks around after the water evaporates). Again, if you have another method for cooking sausage, freel free to use that.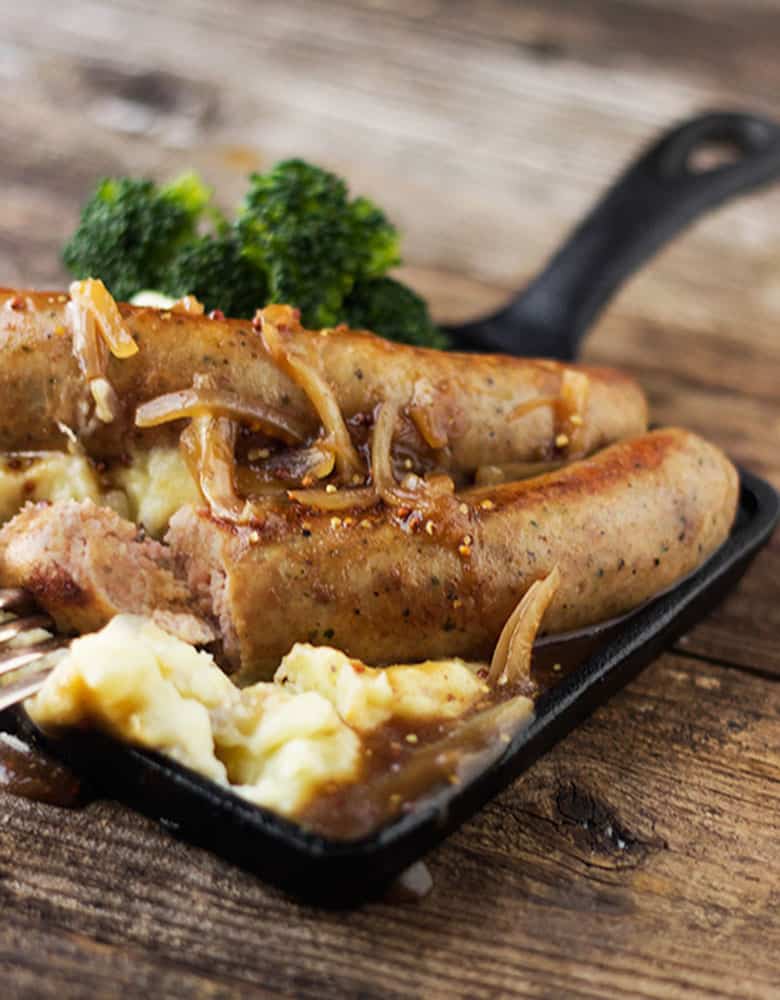 Get the Recipe:
Bangers and Mash with Onion Gravy
Simple, satisfying comfort food. Use whatever kind of sausage you like in this one. As all the components cook at the same time, this one gets to the table in about 30 minutes, so perfect for weeknight meals.
Ingredients
4

(

4

)

pure pork sausages

2

tsp

(

9.86

ml

)

olive oil

1

cup

(

250

ml

)

water
Sour Cream Mashed Potatoes:
2

lbs

(

907.18

g

)

boiling potatoes

,

peeled or washed and unpeeled

Salt

,

for boiling water

1

cup

(

244

ml

)

milk

4

Tbsp

(

59.15

g

)

unsalted butter

1/3

cup

(

76.67

ml

)

sour cream

Salt and freshly ground pepper
Onion and Mustard Gravy:
1

medium

(

1

medium

)

onion

,

peeled and thinly sliced

1

Tbsp

(

14.79

ml

)

vegetable oil

1

Tbsp

(

14.79

g

)

butter

1

tsp

(

1

tsp

)

sugar

1

tsp

(

4.93

ml

)

balsamic vinegar

1 1/2

cups

(

360

ml

)

beef stock or broth

1

Tbsp

(

14.79

g

)

cornstarch

1

Tbsp

(

14.79

ml

)

cold water

2

tsp

(

9.86

g

)

whole grain mustard

Salt and black pepper
Instructions
For the sausage:
Heat oil and 1 cup of water in a skillet over medium-high heat. Add sausage and cook, turning regularly for about 15 minutes, or until browned and cooked through. (Water will eventually evaporate, leaving the bit of oil to brown the sausage).
For the Mashed Potatoes:
Cut the potatoes into 1-inch cubes and place them in a large pot. Cover the potatoes with cold water with enough salt so the water tastes quite salty. Bring to a boil, then lower the heat and simmer, uncovered, for about 10 to 15 minutes, until the potatoes fall apart easily when pierced with a fork.

Meanwhile, heat the milk and butter in a small saucepan, making sure it doesn't boil. Set aside until the potatoes are done.

As soon as the potatoes are tender, drain. Mash the potatoes, then slowly whisk in enough of the hot milk/butter mixture to make the potatoes very creamy. Add the sour cream, a sprinkling of salt and some freshly ground pepper. Stir to combine. Taste for seasoning and add more, if necessary.
For the Onion Mustard Gravy:
Melt the oil and butter in a large saucepan over medium-low heat. Add the onion and cover with a lid. Cook for about 10 mins or until the onions are soft and translucent. Add the sugar and balsamic vinegar to the onions and stir well. Cover with the lid again and cook another 5 minutes.Add the stock and boil gently uncovered for 5 minutes.

In a small bowl mix the cornstarch with the cold water to a thin paste. Pour a little of the hot gravy into the starch mixture and mix thoroughly. Pour the starch mixture back into the gravy, add the mustard, raise the heat to medium-high and boil for 10 minutes, stirring occasionally or until the gravy is slightly thickened. Season with salt and pepper to taste. Keep warm until ready to serve.
Notes
Be sure to read the "Cook's Notes" in the original post, for more tips, options, substitutions and variations for this recipe!
Calories:
769
kcal
,
Carbohydrates:
45
g
,
Protein:
25
g
,
Fat:
55
g
,
Saturated Fat:
25
g
,
Cholesterol:
132
mg
,
Sodium:
1195
mg
,
Potassium:
1516
mg
,
Fiber:
4
g
,
Sugar:
9
g
,
Vitamin A:
773
IU
,
Vitamin C:
22
mg
,
Calcium:
143
mg
,
Iron:
3
mg