These Pan Haggerty Potatoes feature sliced potatoes, bacon and sauteed Onions, topped with old white cheddar cheese. Great comfort food!
Pan Haggerty is a very nostalgic dish for me. I'd never heard of it until I met my husband. Once we were married, it turned out it was just about the only dish he knew how to make, so he made it often in those early years :)
Over time, I've taken to cooking up the Pan Haggerty. This is my version – potatoes, cooked to creamy goodness in a bit of chicken stock, layered with crispy bacon bits and sauteed onion and topped off with a generous layer of melted Dubliner cheese.
Ingredients and Substitutions
Potatoes – start with Yukon Gold (yellow) potatoes or white potatoes. Baking potatoes such as Russets aren't recommended.
Cheese – Obviously you can use whatever kind of cheese you like on top of this dish, but honestly, Dubliner is hard to beat. What ever cheese you pick, go for something that has enough flavour to hold its own – an aged cheddar, Swiss, Gruyere, Asiago etc.
Recipe Tips
It takes a little extra time to cook up the bacon and onions, but I think it's well worth it. If you're feeling lazy, it's perfectly fine to just layer some finely diced (uncooked) onion with the potatoes and skip the bacon, if you like.
The potatoes in this dish cook covered on the stove-top. My skillet doesn't have a lid, so I just cover it with foil. It takes about 20 minutes. Since I can't seem to pass up an opportunity to have some crispy potato bits, my dish then makes a trip to the oven to crisp up a bit under the broiler before I put the cheese. Once they top potatoes have browned, I add a generous layer of Dubliner and put it back under the broiler until it's bubbly and browned.
The amount of chicken stock you put in to your potatoes will vary slightly with the size of your pan. My 8-inch bottom-diameter/10-inch top diameter skillet takes a bit over a cup. The exact amount is not critical though. You want to add enough to cover the bottom of the pan to cook the potatoes, but if you add too much and you have a bit of stock left in the bottom of the pan when it's done and you cut it, simply spoon it off and you're good to go.
Another nice variation is to increase the amount of onion and to caramelized them by cooking them longer. This is especially nice when it's served as a side with dinner. As well, sprinkling a little extra cheese with the layers of potatoes would never be a bad thing. As for the potatoes, I used Yukon Gold (yellow-fleshed potatoes) in this one. White potatoes are great, as well. I don't suggest Russets, as they don't tend to hold up as well.
How to Enjoy Pan Haggerty
Pan Haggerty is a great side-dish for dinner or next to some eggs for a weekend breakfast (or breakfast for dinner). Of course, it's also perfectly acceptable to just sit down with a bowl of it all on its own.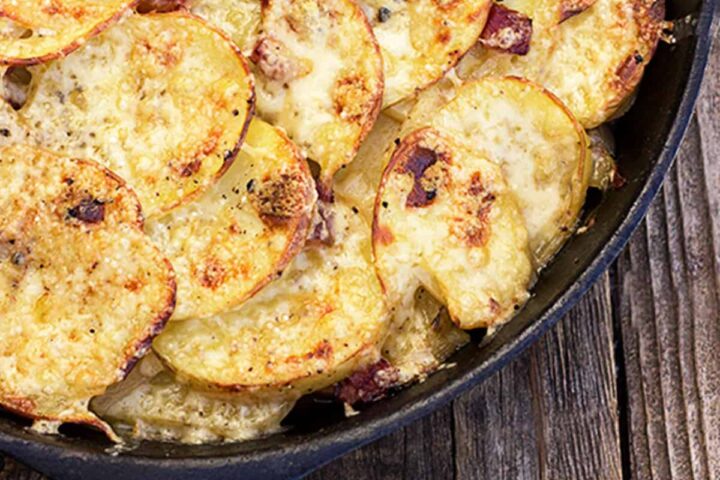 Get the Recipe:

Irish Pan Haggerty Potatoes
Potatoes, layered with crispy bacon and caramelized onions, topped off with a generous layer of melted cheese. I love Dubliner cheese, or try Swiss, Asiago, Gruyere or an aged cheddar.
Ingredients
4

slices

bacon

,

diced

1

medium

yellow onion

,

sliced or diced

6

medium

potatoes

,

thinly sliced into rounds(White potatoes or Yukon Gold - not Russets)

1

cup

chicken stock

,

plus more if needed

Salt and freshly ground black pepper

,

(*remember that the stock will add some salt to the dish)

1

cup

Dubliner cheese

,

grated (or try Swiss, Gruyere, Asiago, aged Cheddar etc.)
Instructions
In an oven-proof skillet over medium heat, heat a small amount of oil or butter over medium heat and add the onions and a pinch of white sugar. Cook, stirring often, until onions are golden, about 10 minutes. Remove from pan and place in a small bowl. In the same pan, fry the bacon until browned and slightly crisp. Remove from the pan and combine in the bowl with the reserved onion.

In the same pan used to cook the bacon, arrange a layer of the sliced potatoes in the bottom of the pan. Sprinkle with 1/3 of the onion/bacon mixture. Add another layer of potatoes and another 1/3 of the bacon/onion mixture. Season lightly with salt and pepper (remember the chicken stock will add some salt to this dish, as well). Add another layer of potatoes and the final 1/3 of the onion/bacon mixture. Top with a final layer of potatoes. Pour about a cup of chicken stock over the potatoes. The goal is to cover the bottom and come up the sides just a bit. You may need a bit more than a cup if your skillet is larger.

Increase the heat to medium high and bring the stock to a boil. Cover the pan with a lid or a piece of tin foil and reduce the heat to a low. Simmer for 15-20 minutes, or until the potatoes are tender (test by inserting a sharp knife into it. It should pass easily, without resistance..

Heat your oven broiler with the rack in the top position. Uncover the pan and place the skillet under the broiler for about 5 minutes, or until the top potatoes have browned. Remove and top with grated cheese. Return to the broiler and heat until cheese is melted and browned, about 5 minutes more. To serve, cut wedges from the pan. (If you have any excess stock left in the bottom of the pan, simply spoon it off).
Notes
Be sure to read the notes above this Recipe Card, for more tips, options, substitutions and variations for this recipe!
Serving:
1
serving
,
Calories:
151
kcal
,
Carbohydrates:
4
g
,
Protein:
7
g
,
Fat:
11
g
,
Saturated Fat:
5
g
,
Cholesterol:
27
mg
,
Sodium:
189
mg
,
Potassium:
111
mg
,
Sugar:
1
g
,
Vitamin A:
150
IU
,
Vitamin C:
1.3
mg
,
Calcium:
147
mg
,
Iron:
0.3
mg
More Potato Recipes to Love!
Hi! I'm Jennifer, a home cook schooled by trial and error and almost 40 years of getting dinner on the table! I love to share my favourite recipes, both old and new, together with lots of tips and tricks to hopefully help make your home cooking enjoyable, stress free, rewarding and of course, delicious!