These Butter Pecan Meltaways are buttery, tender shortbread cookies, with lots of toasted pecan pieces, all rolled in a powdered sugar coating. Perfect 5-ingredient Christmas cookies!
This Butter Pecan Meltaways recipe is my recreation of the popular David's™ Butter Pecan Meltaway cookies that I have enjoyed in the past and sought to make myself at home. These are of course, very much like the popular cookies known by many other names - pecan sandies, pecan snowballs, Russian tea cakes, Mexican wedding cakes etc.
I tested multiple recipes myself and found that this version which uses white granulated sugar comes closest to the texture of the David's cookies. I always flattened them into a "button" shape, rather than leave them in a ball.
With a tender shortbread, a touch of vanilla and lots of finely chopped pecan pieces, these are the perfect 5-ingredient cookie. They also keep and travel well, so they are great for sharing or enjoying as a Christmas cookie.
Jump to:
Key Ingredients
Butter - this recipe is written for salted butter, but I often use unsalted butter. Simply add some salt to the dough as noted in the Recipe Card Notes if you are starting with unsalted butter.
Pecans - I usually start with pecan pieces, then chop them very finely from these. You can start with pecan halves as well. If you prefer, you can substitute the pecans for walnuts, also finely chopped. I always toast the pecans, for extra flavour. Scroll down to learn how to easily toast the pecans.
Step-by-Step Photos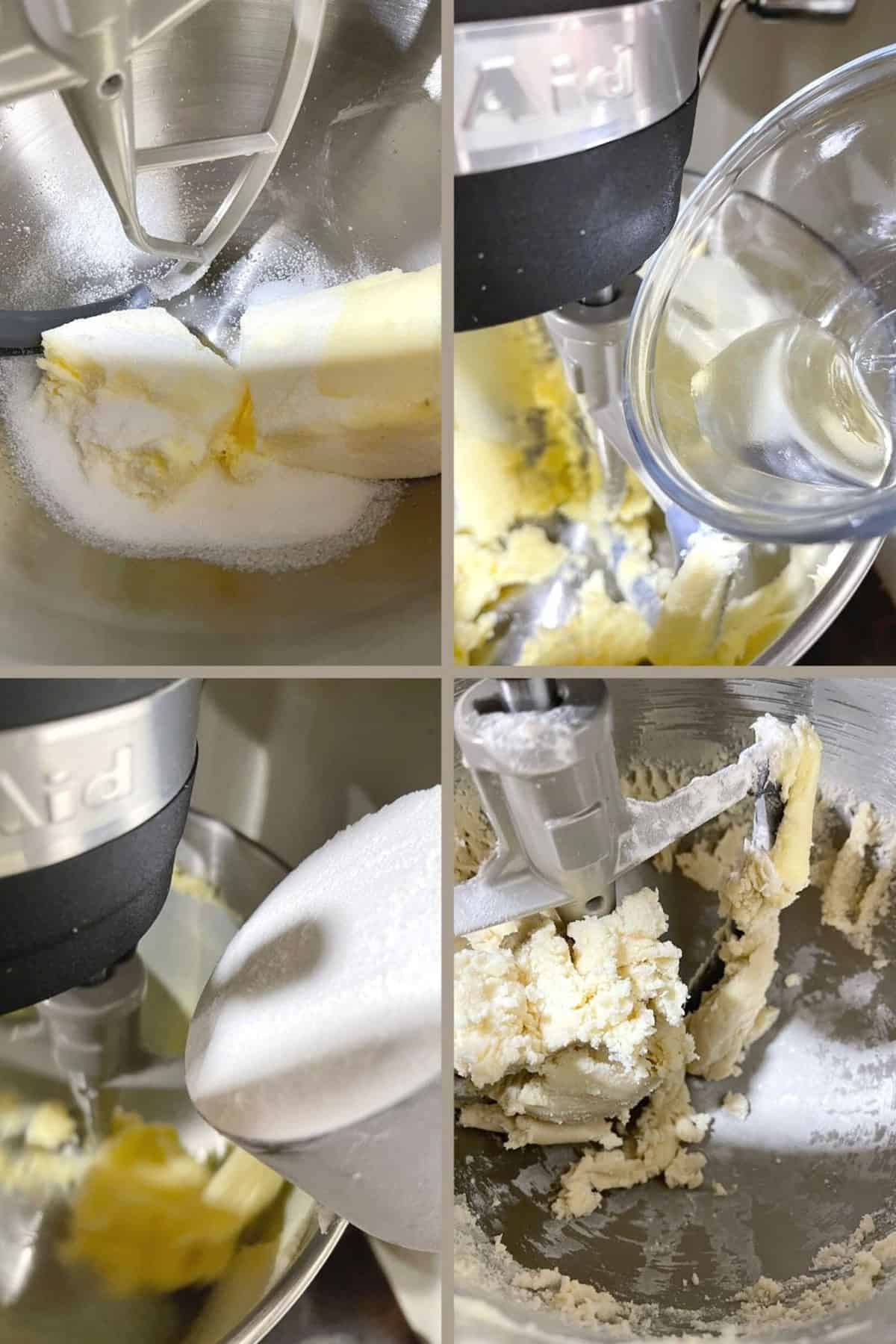 Step 1: Add the room temperature butter and white sugar to a large bowl (with an electric mixer) or bowl of a stand mixer.
Step 2: Cream together until light and fluffy (about 2 minutes on medium speed)
Step 3: Add water and vanilla and mix in.
Step 4: Add flour and mix on low until the mixture comes together into a moist dough.
Step 5: Add the finely chopped pecans and mix in until well distributed in the batter.
Step 6: Use a tablespoon measuring spoon to scoop out dough and form into balls. Make sure they are all roughly the same size.
Step 7: Flatten balls slightly (into buttons) or you can leave them as balls, if you prefer. Place on a baking sheet and place the baking sheet into the fridge to chill for 15-20 minutes. Preheat oven and when dough has chilled, pop into the oven and bake for about 20 minutes.
Step 8: Remove from oven and while still warm, roll in powdered sugar. Allow to cool, then roll in powdered sugar a second time to thoroughly coat.
How to toast pecans
Microwave - scatter nuts (before chopping) onto a microwave-safe plate. Microwave on high in 30 second spurts, stirring between, until nuts are fragrant. Remove from microwave and transfer nuts to a cool plate to cool (to avoid further cooking from the hot plate).
Stove-top - Scatter nuts into a non-stick skillet. Place on the stove-top over medium heat and cook, stirring, until fragrant.
Oven - Preheat oven to 350F. Scatter nuts onto a parchment-lined baking sheet. Place into over for 6-8 minutes, watching carefully and stirring once or twice, until fragrant.
Baker's Notes
Be sure to take the time to finely chop the pecans. As these are small cookies, you don't want large chunks of nut in them. Large pieces of nuts may also cause the cookies to break apart easily while baking or after.
I flatten the cookies into "buttons", as I set out trying to recreate a cookie that is shaped that way. That said, you can certainly skip the flattening and leave them as balls, if you prefer :)
Be sure to roll the cookies in powdered sugar while still quite warm, to make sure it will stick to the cookies. Once the cookies are cooled, you can roll them again, to add more powdered sugar.
Flour for cookies is best measured with the "scoop and level" method, rather than the spoon and level method. I find many cookie recipes assume that method will be used and if you spoon and level, you may end up with less flour than intended.
Variation
I sampled a lot of cookie recipes and I also really enjoyed a version of this type of cookie that uses just a bit of confectioners' sugar. Since I was attempting to recreate a cookie that was a little sandier in texture, that's the one I went with for the main recipe. That said, if you prefer a softer, more "melting" type of shortbread cookie, replace the 2 1/2 Tbsp of white granulated sugar with 2 Tbsp of icing/confectioners' sugar and reduce the water measurement by half (so 1/2 tsp instead of the 1 tsp shown for the 1X recipe).
Storage and Freezing
Like all shortbread, these cookies will keep well stored in an air-tight container at room temperature for several weeks.
You can also freeze these cookies for up to 2 months.
Recipe
More cookie recipes you might also like ...
Save or share this recipe