These Glazed Italian Lemon Cookies are a lemon cookie lovers dream! Lemon, cake-like cookies, bathed in a tart lemon glaze.
If you are a lemon lover and looking for a worthy addition to your holiday baking, look no further than these Glazed Italian Lemon Cookies.
The cookies themselves have a soft, cake-like texture, lightly flavoured with lemon zest. Once baked, they are bathed in a tart lemon glaze, then topped with a sprinkling of pistachios.
These are a lemon lovers cookie and while they would be nice for the Christmas cookie plate, they would also be perfect for Easter or just about any other time of year. They are so easy and delicious, you won't want to just have them once a year!
These cookies keep very well when stored at room temperature in an cookie tin. They are also pretty sturdy once the glaze sets, in case you need to travel with them.
Cook's Notes
I love to glaze the entire top of the cookie, rather than just a spoonful. I think it helps the cookies stay fresh longer, but I also just really love the tart glaze :) You will use more glaze (and much will drip off while you are doing it), but it's just a bit of icing sugar and lemon juice, so don't hesitate to make a big batch and go for it!
If you'd like to add some bling to your cookies, replace the pistachios with coloured sprinkles, small sugar pearls or festive coloured sugar crystals. I little lemon zest would also be nice.
The size of your cookies is not nearly as important as ensuring that the cookies are mostly all the same size, so they cook evenly, at the same rate. They do puff up and spread a bit though, so make them smaller than the size you'd like your finished cookie to be.
Don't attempt to roll your dough on your counter or work surface. It will stick and frustrate you. Simply roll into the log shape between the palms of your hands and don't fret about it being perfect looking or perfectly even thickness. It will be covered up with glaze when you are done, anyway :)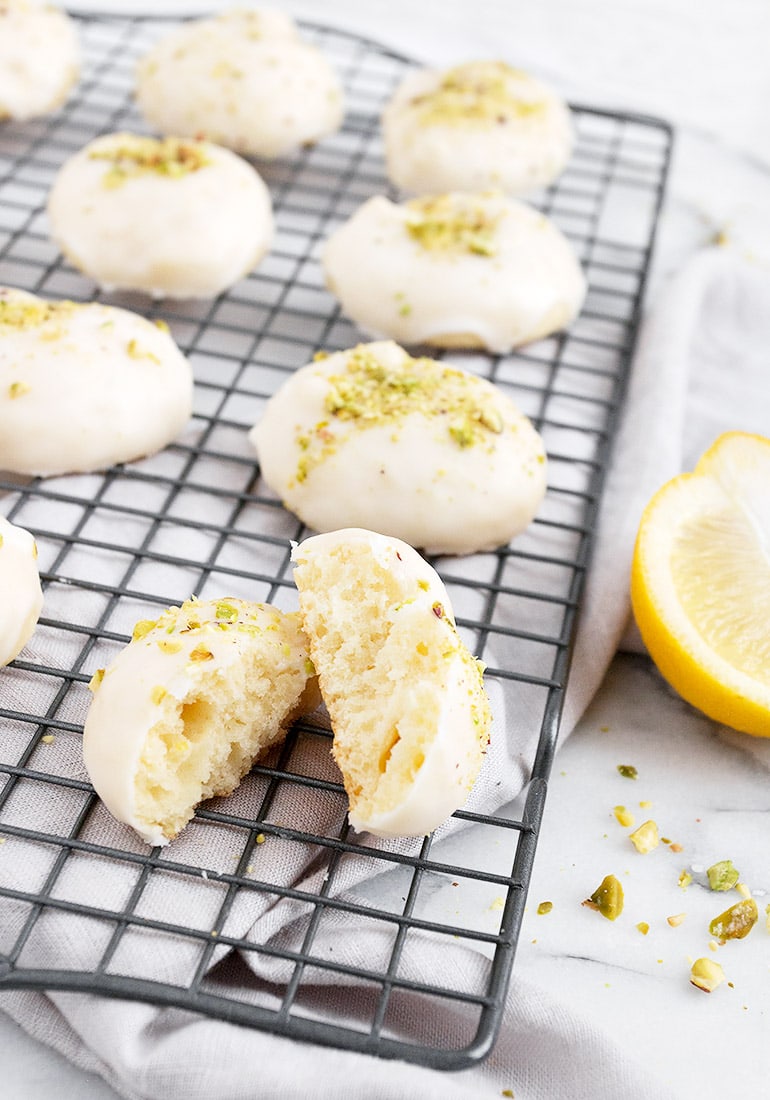 More Lemon Baking Recipes from the Seasons and Suppers Archives